Ireland 1-5 Denmark World Cup 2018 play-off: match report, goals, action
A Christian Eriksen hat-trick put Ireland out of the World Cup qualifier at the Aviva Stadium on Tuesday night after Ireland took an early lead.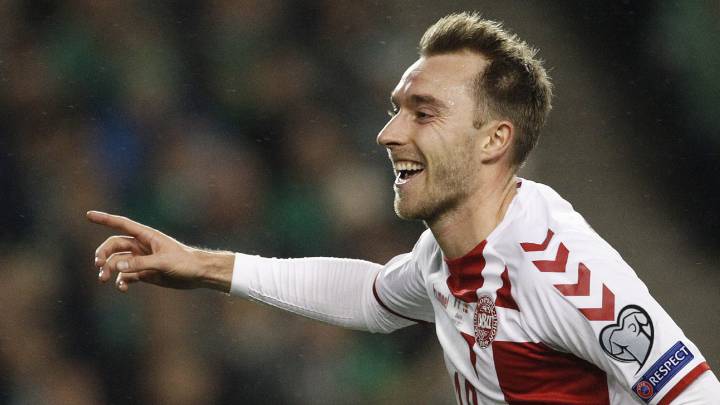 Republic of Ireland 1-5 Denmark: match report
Denmark are the latest side to be added to the growing list of teams that will be playing in Russia next summer. They qualified at the Aviva Stadium on Tuesday night despite Ireland taking an early lead through Shane Duffy.
After a frustrating display that ended in a goalless at Parken Stadium for both sets of fans on Saturday night, Denmark and Ireland came out to play more freely in the second leg. They had to as Ireland were the home side and Denmark were the favourites.
The game started just as Ireland would have hoped when Shane Duffy headed home a long ball after six minutes. The home side, expected to be on the ropes for a lot of the game were really testing the theory that scoring too early is not a good thing. Denmark had a full 84 minutes to figure out a way past Ireland's backline. After some early success with chances, they knew they were onto something too.
They managed to draw level and go ahead on away goals after turning the screw following the goal and Andreas Christensen turned home Pione Sisto cross on 29 minutes. That trouble was compounded for Ireland when Christian Eriksen sent a strike home in off the crossbar just three minutes later on 32 minutes and Ireland's hopes hung by a thread.
Two substitutions by Martin O'Neill at the break, removing two central midfielders, meant the game opened up for Eriksen and Ireland, who were already fighting an uphill battle were left wide open.
Eriksen scored his second and third just over ten minutes apart on 63 and 74 minutes to really put Ireland's World Cup ambitions to bed. The first a curler after receiving the ball from Pione Sisto from the left. His second was the result of a mistake by Stephen Ward as he drove his hat-trick strike to the back of the net.
The final nail in Ireland's coffin was when Bendtner stroked a penalty home just before the 90th minute when James McClean had hauled him down inside the area.
It ended 5-1 at the Aviva on a night to forget after quite a promising result in the first leg for the Irish. Denmark will be in Russia next summer while Ireland will have to get to planning for Euro 2020 in the hope of making a dent in that qualifying campaign.
Ireland vs Denmark live stream online: as it happened
90'+2' Game over! Denmark through to the World Cup in Russia next summer.
90' Bendtner buries it! 5-1 and final nail in Ireland's coffin.
89'   Bendtner steps up.
89'   Insult to injury now for Ireland as McClean pulls down Bendtner. He went to strike it and McClean caught his ankle.
86'   Just a matter of time now for Ireland.
84' Bendnter replaces Jorgenssen.
83'   The atmosphere gone out of the whole stadium now.
80'   Denmark win a corner.
78'   What an effort. Shane Long with a lovely chip but he hits it just too hard and it lands on the roof of the net.
76'   Long penalised now and Denmark have a free out.
73'   Game, set and match! No way back for Ireland now, surely.
73' Hat-trick Eriksen! A mistake at the back by Stephen Ward and Eriksen drives a shot to the roof of the net.
70'   Shane Long replaces Ciaran Clark.
66'   Decent chance for McClean. He heads the ball over from a cross.
65'   Christensen strikes from a corner. He drives it over.
63' Eriksen goal! That should be a wrap now for Ireland, who need to score three now. Sisto feeds him and he curls home with his left foot.
61'   Christie fouled by Delaney.
60'   Ireland really need to make a move here and soon. 
58'   McClean hits Poulsen with a shoulder and he flies straight into Ward, who was arriving late. Pulsen down now with a head injury and it certainly looked like a sore one.
57'   Eriksen clean through. He strikes and Randolph equal to it but it's right into the path of Delaney. An Irish defender gets a foot to the ball and Delaney looks like he wants a penalty but ref says no.
55'   Ireland win a corner and Duffy rises to meet it. Schmeichel gets behind it and saves!
54' Larsen goes off. He hurt his shoulder early on but played on. He goes off for Ankersen.
52'   Sisto through the centre and he strikes! Randolph saves. Corner. 
51'   Denmark in control now. Ireland trying to get on the ball.
49'  Eriksen into the middle and Ireland just get it away. Jorgensen thought he had a handy finish!
48'   Sisto fouled by Christie.
47'   Duffy arrives. Brady swings it in. Dangerous delivery but Denmark header it away.
47'   Ireland win a corner.
46'   We are back underway! Can Ireland get a couple of goals with Denmark scoring another?
46'   Denmark remain as they were.
46' Holohan on at the break along with McGeady. They replace Arter and Meyler.
45'   Half-time. Exciting start for Ireland but their World Cup dreams almost in tatters with two goals from Denmark. The home side need two now to go through!
44'   Ward fouls Christensen in Denmark's penalty area. Free to the visitors. Frustrating night for Ward, who hasn't been great.
42'   Arter does well to keep possession as he moves forward. He gives it to Brady and his left-footed cross hits the side-netting.
42'   Denmark trying to see out the half. Ireland scraping for anything they can get. 
41'   McClean looking for a penalty and he just might have a case. He was pushed in the back with the ball in the air. Delaney the one who looked to foul him but on second luck, McClean backed into him.
39'   Ball arrives in and Murphy heads it into Schmeichel's hands. McClean lurking for anything he can get. 
38'   Denmark taking the sting out of the game too. They're far more capable of passing the ball around than Ireland and that was always going to be a problem for Ireland.
38'   Ireland struggling to get anything going now.
36'   Ward caught out by Poulsen again. He puts it out for a throw to Ireland though.
34'   Meyler sends it in as he receives it short. Duffy rises to meet it and he heads wide.
33'   McClean pulled down by Delaney. He wins a free and Ireland set to send it in.
32'   Incredible finish!
32' GOAL! Ward coughs up possession. Denmark break and Eriksen strikes. What a finish as it goes in off the crossbar. 
31'   Ireland have to come out of their shell now. Christie with another cross that's headed away.
30'   Meyler thries to thread one through and it's picked up by Schmeichel.
29' GOAL! Sisto nutmegs Arter and makes it into the penalty area. He centers and Christensen. It hits the post and Cyrus Christie turns it into his own net.
28'   Sisto strikes. It takes a deflection and flies high and over Randolph's crossbar. Corner.
27'   Christensen takes off down the right. He plays it inside. Eriksen out wide and Delaney gets it. Denmark looking for a way through here and Ireland not offering them any light.
26'   Sisto sends one into the penalty area and Randolph gathers it.
25'   Ireland get the ball back and McClean wants it to his feet but Arter tries to lead him. Too tall a task as the ball rolls out for a throw.
23'   Ireland playing some football now. Brady with a nice pass to Meyler, who gives it to Murphy. He gives it back to Brady, who feeds McClean. He strikes and it drifts just wide.
21'   Sisto and Christie collide in the air. Ireland break when there is no whistle Cross from the right-back and Murphy makes a lovely run but he hits the side netting. Everyone in the Aviva thought that was in.
20'   McClean down the left. he crosses and Murphy takes too long on it. Denmark recover. But Ireland aren't done yet and they win a throw.
20'   Just a small shout for a penalty there from Denmark. Their bubble burst by the ref who tells him to get up.
18'   Sisto gets it at the back post and shoots. Randolph saves again. This is very dangerous from Denmark.
17'   They play it short and end up losing it but McClean fouls and Denmark on the march again.
16'   Strike! Denmark work it well and Kvist strikes it with his right. It takes a deflection and Randolph makes an excellent save. Corner.
16'   There has been very little passing done by either side so far. 
16'   Clearance by Ward and he's clipped as he kicks it. Free to Ireland and a chance to calm things down.
15'   McClean chasing down Denmark defenders. space inside. Hendrick fouls Delaney and the Irish midfielder is limping. We'll see if he recovers.
14'   Another cross to the back post. Ireland manage to scramble it away. They are repelling Denmark for the minute.
12'   Christie lofts a ball towards McClean. He chases it down but Bjelland clears and it hits the West Brom man's head. Throw to Denmark.
11'   A lot of long balls. Not entirely sure that Denmark expected to go down this early.
10'   Long ball to the back post and Larsen makes it to it before sliding along the ground. He seems to have really hurt his shoulder.
9'   It's all very hectic. McClean takes of down the right and gives away a goal-kick. 
8' Ireland need to calm it down now.
6'   Duffy heads home. Joergensen kicks it up in the air and Duffy steals in to give Ireland the lead.
6' Duffy scores! Ireland in the lead. 
4'   Arter slides in and takes the ball and the man with him as Sisto breaks.
4'   Long ball comes down to Randolph. He collects and slows things down, throws it on the ground and launches it forward.
3'   Sisto fouled as he comes out wth the ball. Meyler the perp.
2'   Eriksen pushed in the back by Hendrick and wins a free. Eriksen whips it in but it's headed up by Meyler and into Randolph's hands.
1'   Pione Sisto spreads play out wide to Larsen. He wins a throw. It's about to be launched in by Delaney. And Ireland deal with it.
1'   We have action!
    They line up.
An early goal for Denmark here and it will take the wind out of Ireland's challenge. The chances of them scoring two are slim.
    The atmosphere is electric at the stadium. We are ready for action.
    The national anthem blares at the Aviva. 
Denmark have been to the World Cup four times and made it to the quarter-finals in 1998. They were beaten by Brazil that summer in the last eight on a 3-2 scoreline.
David Meyler speaking of Ireland's second ever World Cup after the qualified for Italia 90 under Jack Charlton. "I've memories of the '94 World Cup and running around the house at home. Being 90 mins away from qualifying for the World Cup is huge. Looking back, the sacrifices I had to go through to give me this opportunity is huge. We all want to qualify. We'll do everything in our power to make sure we do."
11 shots at goal, five on target, for Denmark on Saturday night. Ireland had five total with 2 on target. The Danes also enjoyed 66% of possession but really failed to break Ireland down. It will be much of the same again tonight, I'd imagine. 
Here's what Sisto said, "There are no easy games today. The teams who are having difficulty playing soccer, they do just what Ireland did today. It's a wall you're going through, and it's very hard. We also tried with some longer balls, to many of the taller players we have up front, and we managed to get a single chance to Yussuf [Poulsen], but we could not add to that. It's hard. We know what's going to happen in the away game too - it's going to be much the same - so I think we should be smart."
Sisto, who had some very unflattering things to say about Ireland after the game on Friday, starts today. He might consider himself lucky seeing as he did nothing of note aside from missing a sitter. Hs comments were probably fair though. He doesn't realise that those comments are fuel for Martin O'Neill! He lives off them.
Here is Denmark's team news: Schmeichel, Kjaer, Christensen, Bjelland, Kvist, Delaney, Poulsen, Eriksen, Larsen, Jorgensen, Sisto.
It might be a long night for Ireland but Martin O'Neill is sticking to his guns. 
David Meyler gets the start instead of O'Dowda. Still no sign of Holohan and Murphy starts instead of Shane Long.
Ireland team news: Randolph; Christie, Duffy, Clark, Ward; Meyler, Arter, Hendrick, Brady, McClean; Murphy.
  Struggling with insomnia? We have the perfect solution... watch the full 90' of Saturday's first leg play-off match from Copenhagen and if that fails to do the trick then re-live the game with our minute by minute action from Parken Stadium.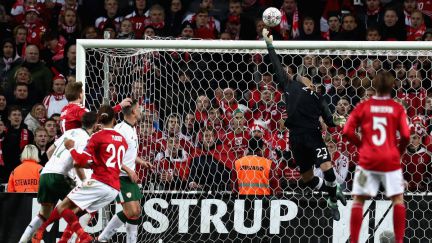 As ever, we've whipped up a handy guide as to how and where you can watch the game tonight.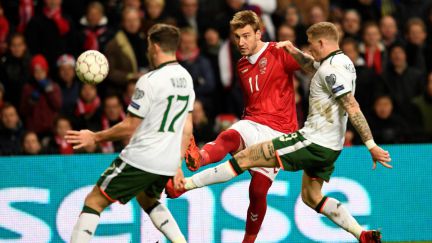 The final Uefa World Cup spot is at stake in Dublin as Ireland host Denmark. The previous leg was a bit of a dour affair but as this is the final roll of the dice we're at leat guaranteed the rippling of the onion bag at some point, even if it is after 120 minutes of cagey football.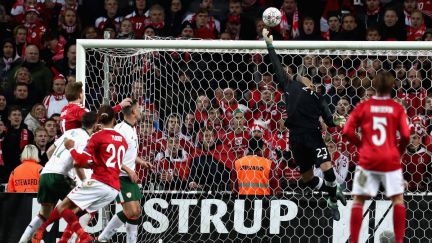 Republic of Ireland vs Denmark live online: match preview
The second leg between these two sides is finaely poised following the goalless draw in Copenhagen on Saturday and the Aviva Stadium is sure to be jumping as the Irish look to make it to their first finals since 2002. Away from home in the first leg, Martin O'Neil can be forgiven for giving up the vast majority of possession to the Danes but will hope to prove more of an attacking force in front of their 12th man. He knows too that a score draw will be enough for those in green and white to kiss goodbye their trip to the world's footballing showpiece.
Ireland
Although home advantage is welcomed for the return leg, Martin O'Neil will be mindful that his side have only won one of their last three games at the Aviva Stadium. Add to this the fact that Denmark are a better opposition that both Serbia and Austria - teams Ireland failed to beat - and that they are unbeaten in ten games, and the tie is truly in the balance. O'Neil had eight players at risk of a yellow-card suspension in Copenhagen but all survived and Hull's David Meyler comes back into contention for a start after he served his previous sanction. Out, however, are James McCarthy, Sean Maguire, Richard Keogh (injuries) and Robert Elliot (personal reasons).
Denmark
Manager Åge Hareide will look once again to his talisman, Tottenham Hotspur's Christian Eriksen, to lead his country to the finals in Russia next summer. The creative midfielder has been in sparkling form in the Premier League and Champions League and despite being stifled by a defensively-focused Irish team on Saturday, will hope to find extra space at the Aviva to make things happen. Ahead of him Hareide could select a former north London striker, one who has shone since his move to Rosenburg, albeit at a lower level of competition. Nicklas Bendtner started on the bench in the first leg but may get the nod over Feyenoord's 26-year old, Nicolai Jørgensen.
Ireland vs Denmark live online: betting odds
The bookmakers don't have much between these sides with Ireland just over and Denmark just under 3/1. If you think that it's likely that one of these sides will lead at half time but end up losing the game after 90 minutes then whatever way you choose you can collect just short of 100 euros for just a €2 stake.
Check out all the odds and bet on Republic of Ireland vs Denmark