Stuttgart 2-1 Borussia Dortmund Bundesliga 2017/18: as it happened, goals, match report
The pressure increased on Peter Bosz after Dortmund fall to defeat at Stuttgart, leaving the Black and Yellows six points adrift of Bayern MunichFrance - Croatia live online: World Cup final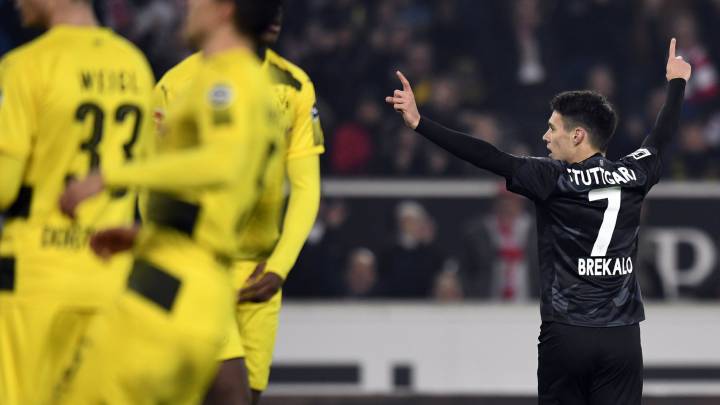 Stuttgart 2-1 Borussia Dortmund: match report
The pressure on Borussia Dortmund manager Peter Bosz increased after his side fell to a third consecutive defeat against mid-table Stuttgart. Roman Bürki gifted the opening goal to Chadrac Akolo after five minutes, but Dortmund drew level on the brink of half-time when Ron-Robert Zieler could only parry Andre Schürrle's penalty in to the path of Maximilian Philipp. Josip Brekalo then scored what proved to be the final goal shortly after the break.
Pierre-Emerick Aubameyang, or the absence thereof, dominated the build-up to the match at the Mercedes-Benz Arena. The Gabonese striker declared himself 'baffled' after being suspended by Dortmund for arriving late to training.
It was clear from the start that Dortmund missed the presence of their leading goalscorer. The away side began nervously, and with five minutes on the clock Marc Barta and Roman Bürki commenced a defensive omnishambles. Bartra hit a firm - possibly too firm – back-pass to his 'keeper, whose heavy touch took the ball straight in to the path of Akolo, who dribbled the ball in to an unguarded net.
Bosz' side, who have a slim chance of qualification from the Champions League group they share with Real Madrid and Tottenham, slowly grew in to the match but lacked the incision that Aubameyang usually provides.
On the brink of half-time, they got their lucky break. 21-year-old Stuttgart defender Benjamin Pavard, who recently received made his international debut for France, was adjudged to have handled the ball in the box. Penalty. Schürrle stood over the ball, exhaled, and shot to the 'keeper's left. Zieler anticipated well and parried the ball. But he was helpless to prevent Philipp drilling the rebound in to the roof of the net.
Akolo was forced off at half-time, with Josip Brekalo taking his place in attack. It turned out to be a goalscorer-for-goalscorer substitution, as Brekalo cut inside on his left foot and fired an effort through the flimsy Bürki.
Stuttgart maintained their lead. Argentine midfielder Santiago Ascaciber was a mobile destruction unit in the centre of the park. They could have added more goals. Berkay Ozcan and Brekalo both wasted clear chances. Dortmund threatened from the wings, but struggled to convert their chances without Aubameyang in the side.
Ascacibar dropped to his knees as the full-time whistle blew and pumped his fists. The victory lifts Stuttgart to eleventh place in the Bundesliga, just two points off the European places. While Stuttgart look up, Dortmund failed to allay their slide. This was their fourth defeat in five matches. Peter Bosz is well and truly under the cosh.
Stuttgart 2-1 Borussia Dortmund: as it happened
90'+3' FT. Ascacibar drops to his knees and pumps his arms. Stuttgart emerge with all three points! 
90'+2'   Dortmund are still pegged back in their own territory. 
90'   Stuttgart have the ball up by the corner flag as the match trickles in to three minutes of added time. 
88' Aogo is booked for a wild lunge on Toljan. The Stuttgart players accuse him of diving. I suppose he did, but he didn't have much choice given that he had a pair of studded soles flying towards him. 
86'   Another chance goes a'beggin' for Stuttgart. Emiliano Insua shapes to cross with his left foot, feigns, and squares it to Brekalo. He is in plenty of space but sends his shot straight at the 'keeper from eight yards out. 
85' And as the Stuttgart fans bounce around behind the goal, their team also make a third and final change: Berkay Ozcan off, Dennis Aogo on.
84' Dortmund's final change sees Raphael Guerreiro replace Schürrle. 
82'   Toljan caresses a nice ball in to the corridor of uncertainty. Are any of his team-mates running on to it? No, they are not. 
80'   Asano darts to the near post and helps Gentner's scuffed shot just over the bar. With ten minutes remaining, the better chances are falling to Stuttgart. 
79'   Observation on Dahoud's performance: looks very nice on the ball, hasn't been very good with it. He plonks Dortmund in the brown stuff with a misplaced pass. 
73'   This is really, really end-to-end. Benjamin Pavard meets an outswinging corner with a downwards header that Bürki smothers. Dortmund gallop up the other end and Schürrle latches on to Dahoud's through-ball. The former-Chelsea forward shoots across goal, but Zieler stretches out a long leg to deny him. 
71' GOOOOO... No! Yarmalenko thinks he has equalised with a delicate dink over the 'keeper, but the referee pulls it back for a handball. Correct decision. Moments earlier, Ozcan blazed a volley over the bar from six yards after Asano made a scurrying run down the right wing. 
69' Josip Brekalo has two players ahead of him to choose from as Stuttgart break forward. He manages to find Marc Bartra, the yellow shirt between them and the only defender back covering. 
66'   Andreas Beck is extremely dischuffed when the referee penalises him for what appeared to be a firm but fair challenge on Götze. The World Cup-winner swings in a free-kick towards Dan-Axel Zagadou. The ball drops behind for a corner, which Zieler claims. Bartra arrives a tad late on the 'keeper as he follows the ball in, drawing whistles from the home crowd. Not much in it though, really. 
64'   Oooooh, Takuma Asano has a glorious chance to extend Stuttgart's lead. Berkay Ozcan's pass dissects the defence and Asano bears down on goal. Just as he is about to pull the trigger towards the far corner, Marc Bartra slides in and steals the ball. 
63' Peter Bosz makes a second change - Mahmoud Dahoud replaces Kagawa. 
62'   A cool head on display from Jeremy Toljan. The right-back watches a deep cross all the way, and calmly chests it down for his 'keeper to claim. Roman Bürki then launches a scything counter-attack that leads to Yarmalenko jostling with Pavard in the box. The defender comes out on top, clawing a leg and clearing the ball. 
59'   Timo Baumgartl swipes at a bouncing ball at the far post after a corner is nodded on towards him. He gets contact on the ball, but that's about the only positive thing that can be said about his shout, which sits up invitingly for Bürki. To be fair, he was a centre-half in nosebleed territory. 
56'   Emiliano Insua nabs the ball off Toljan and bursts in to space through the middle. Julian Wiegl takes him down with a cynical tug on the shoulder, for which he somehow avoids a booking. 
54' Timo Baumgartl was lucky to avoid a yellow in the first half. Now he commits a foul on Jeremy Toljan and doesn't get away with it for a second time. 
51' GOOOOOOL! Stuttgart move back in to the lead through Josip Brekalo, who latches on to a long ball in the right channel, surges in to the box, and cuts back on to his left foot. He takes a moment to compose himself as Schmelzer slides past, before tucking the ball home with his left foot. 
46' Sokratis has also failed to emerge after picking up a knock to his stomach area in the first half. Dan-Axel Zagadou hsa taken his place in the heart of the Dortmund defence. 
46' Stuttgart's goalscorer Chadrac Akolo was forced off at half time, with Josip Brekalo coming on in his place. Both of the home side's strikers have now been withdrawn due to injury. 
46' Borussia Dortmund get the second half up'n'running. 
Out trot the players for the second half. 
Chadrac Akolo capitalised on Roman Bürki's early error to put the home side in the lead, before Philipp equaliser on the brink of half time with a follow-up from Schürrle's missed penalty. 
45'+3' HT.
45'+3' GOOOOOOL! Zieler saves Andre Schurrle's penalty, but Maximilian Philipp seizes upon the rebound and lashes it in to the roof of the net. 
45'+2'   PENALTY TO DORTMUND! Benjamin Pavard handles it in the box. 
45' Enforced change for Stuttgart. Ginczek off, Asano on. 
45'   One minute of added time. 
45'   Santiago Ascacibar does the 'dirty work' excellently. He's really intelligent at tracking runs made by Dortmund's attacking midfielder. This time, he hunts down Götze on the right, sending both of them tumbling to the turf. But crucially, Ascacibar emerges with the ball. 
44'   Yarmalenko cushions a diagonal pass from Schmelzer on his chest before embarking on a long-strided run towards the box. Badstuber reads his pass in to the centre and the home side clear. 
42'   Marc Bartra recovers well after Daniel Ginczek uses his body to roll the centre-half. Bartra comes back with a well-timed toe that has caused the Stuttgart striker to hobble over to the sideline, helped by a pair of physios. 
39'   Now Andreas Beck commits a similar foul on Götze out by the touchline. Kagawa swings the free-kick towards the back post, where the commanding figure of R-R Zieler punches it clear with his indomitable fists of steel. 
38'   Timo Baumgartl goes in strongly on Yarmalenko and looks utterly incredulous to be receiving a ticking-off from the referee. The No.5 avoids a yellow card, but you would imagine that's his last chance. 
35'   Zieler denies Borussia Dortmund a sumptuous goal with a stong fist and a theatrical dive. Kagawa spreads the ball wide to Yarmalenko, who helps it on to the overlapping Toljan with a suave back-heel-drag movement. Toljan pulls it back to Yarmalenko, who pulls it back to Götze to shoot right-footed from 25 yards. Either side of the 'keeper and that was in. 
33'   Sokratis is down on the half-way line holding his midriff. I'm not sure what happened to him, but he looks in significant discomfort. He hobbles gingerly to the touchline, but should be good to re-enter the fray. 
31'   Santiago Ascacibar drops back intelligently from his position at the base of the midfield and slides towards his own 'keeper to intercept Toljan's low cross. That was a goal-saver from the Argentine, as Kagawa was hovering behind him ready to tap in. 
28'   Götze has a dig from the edge of the box, which Ron-Robert Zieler (good name, Sir) is equal to. 
25'   I once saw Stuttgart play away at MSV Duisburg about ten years ago. Can't quite remember why I was passing through that stretch of the Ruhr Valley at the time. But Stuttgart had Mario Gomez leading the line and went on to win the title. That was before Bayern were just daft good. Anyhow... Götze continues to find space between the centre-half and the left-back, and this time he plays the ball back to Kagawa. The Japanese international controls the ball with a silken touch, but Baumgartl arrives on the scene before he can shoot. 
22'   Yarmalenko scoops a cross towards the far post with the outside of his left foot. Max Phillipp dashes infield to meet it, slips on the 'ol snooker table surface, and the danger passes by. 
17'   The burly, tattoed figure of Daniel Ginczek hunts down Barta by the byline, knocks the ball past him, and initiates a foot race towards goal. The Stuttgart No.33 throws his arms in the air when the linesman hoists his flag and indicates that the ball had slipped over the touchline. 
14'   Mario Götze scurries down the right and pulls the ball back in to the centre for Yarmalenko. The Ukrainian leans back six-yards out and doesn't make a clean contact. Badstuber hurls himself in front of the shot and scrambles it clear. Dortmund are beginning to gain control of the match. Lots of nice movement from the away side. 
10'   Bartra has learnt from his overly-La-Masia piece of defending that led to the goal. Covering for Marcel Schmelzer on the left, he wallops a ball half way back to Barcelona with Andreas Beck bearing down on him. 
8'   There we go, a yellow shirt finally makes an impact in the attacking third. Yarmalenko picks up the ball on the right of the box and pings an effort towards Zieler's near post. The 'keeper stands tall and parries clear. 
7'   Dortmund need to switch on. Fast. They're playing like someone has laced their Deep Heat with chloroform. 
5' GOOOOOOL! Stuttgart have an early lead through Chadrac Akolo, who takes advantage of a lack of communication between Bartra and Bürki and dribbles the ball in to an empty net. Bartra tried to pass it back, Bürki wasn't expecting it, and in nipped the attentive Akolo. 
3'   Roman Bürki is very hesitant as a high ball flops down towards his six-yard box. It bounces down on the penalty spot, where Stuttgart captain Christian Gentner, sporting a face mask, is putting his cat amongst the pigeons, so to speak. Sokratis takes charge of the situation and heads clear. 
1' PEEEP! Off we go! Stuttgart kick things off in an all-black kit. And when I say all-black, I mean the sponsor and everything. 
Aaaand, here come the teams! A mascot picks the ball off an unnecessary plinth as they exit the tunnel, and the Stuttgart ultras behind the goal make a right out racket. 
The return of central midfielder and captain Christian Gentner should be a big boost for Stuttgart this evening. Apart from a three-year fling with Wolfsburg, he has been at Stuttgart since 1999. 
Dortmund's forward line enjoy playing against Stuttgart. The men in yellow have scored more than two goals in each of their last eight matches against tonight's opponents. 
Stuttgart XI: Zieler, Insua, Baumgartl, Ascacibar, Akolo, Gentner, Pavard, Badstuber, Ózcan, Beck, Ginczek. 
Christian Pulisic was due to make his 50th Bundesliga appearance this evening, but he has been ruled out with what Dortmund rather vaguely refer to as a 'muscle problem'. 
Borussia Dortmund XI: Bürki, Bartra, Yarmolenko, Götze, Toljan, Philipp, Schürrle, Kagawa, Sokratis, Schmelzer, Weigl.
Pierre-Emerick Aubamayang has played a direct role in 39.3 percent of Borussia Dortmund's goals this season. He has been suspended by the club and will not feature in tonight's game. Will Peter Bosz' side cope in his absence?
Stuttgart also have a young English talent in their ranks: Danny Collinge. The centre-half left the well-respected MK Dons academy at the age of 16 to try his luck in the Bundesliga. He is yet to break in to the first team at Stuttgart, but if he expresses himself as well on the pitch as he does in interviews, he won't be far off. 
For any English people tuning in to our live coverage, there is one Dortmund player you should be paying attention to over the coming years: Jadon Sancho. The 17-year-old winger joined from Manchester City in the summer after becoming disillusioned with a lack of first-team opportunities under Pep Guardiola. He inherited the No.7 shirt that Ousmane Dembélé vacacted at Dortmund, and has already made a few appearances from the bench. 
  There is almost a guarantee of goals tonight. The last five times these two sides have faced each other, there have been 22 goals, which is over four goals per game! There has not been less than three goals in any of those games and Dortmund, luckily for them, have not been on the receiving end in any of those encounters.
As well as the individual milestone for young Pulisic, Stuttgart can celebrate their 500th Bundesliga win if they score more goals than their opponents from the North Rhine-Westphalia.
As mentioned in the preview below, young Christian Pulisic will make his 50th appearance if, as expected, he plays tonight. Only PSG's Julian Draxler and Leipzig's Timo Werner made it to the half century by the same tender age of the American.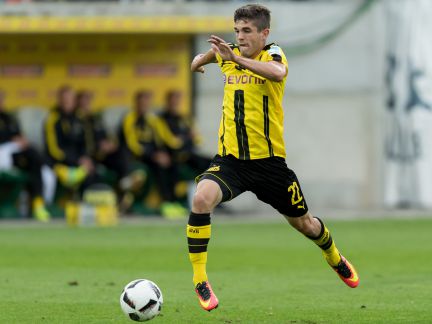 Welcome to our build up to the opening fixture in the Bundesliga following the international break. And this Friday night game pits a side with an outstanding home record against a club targeting a place at the very top of the league. Fascinating it is sure to be and we'll be keeping you across all the facts and news related to the match throughout the day...