Atlético 0-0 Real Madrid: goals, match report, as it happened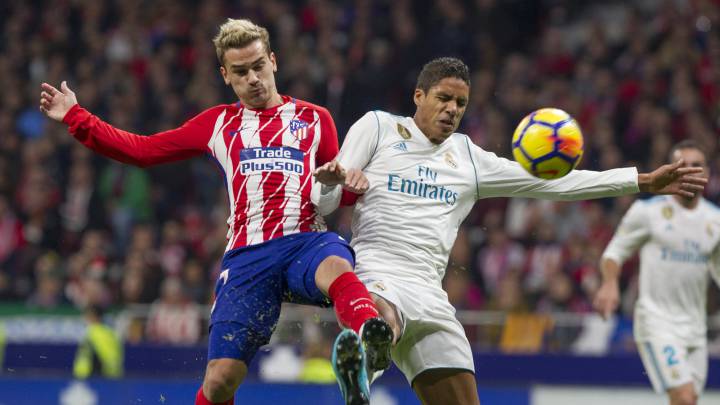 Atlético 0-0 Real Madrid: match report
Real Madrid and Atlético slipped 10 points behind Barcelona in the LaLiga title-race following a goal-less draw in the first derby at the Wanda Metropolitano. Earlier in the day, Barcelona took three points from Leganés after a hard-fought victory in the afternoon kick-off.
Zinedine Zidane retained faith in his trusty Lieutenants. Luka Modric, Karim Benzema, and Toni Kroos have received criticism for perceived staleness. The pre-match clamour was in favour of a start for Dani Ceballos. The French coach opted for a cautious approach.
The echoing chant of 'Atleeeeti, Atleeeeti' rumbled around the Wanda Metropolitano as Ángel Correa squandered a gilt-edged chance after three minutes. The Argentine playmaker is used to dancing around the opposition to forge his own chances. This time, a rogue touch from Raphael Varane presented him with the ball in the box. He beat the onrushing Kiko Casilla, only to see the ball skid wide of the post.
Diego Simeone. Black jacket, black shirt, black tie, wild gesticulation. His surroundings are different now. The Calderón lies empty, eerie on the banks of the Manzanares River. But some things remain constant. He benefits from a symbiotic relationship with the Atlético faithful. They feed off his energy, and he feeds off theirs.
Madrid pushed forward. Like Correa, Toni Kroos fired wide when one-on-one with the 'keeper. Under pressure from Juanfran and Diego Godín, his miss was a little more understandable.
Matches between these bitter rivals are best served with a dash of controversy. There was a generous helping towards the end of the first half. Sergio Ramos stooped to waist-height in an attempt to convert a header. Lucas Hernández stretched to clear the ball and made full, clattering contact with Ramos' nose.
Before the match, Lucas and his brother Theo, who was on the Real Madrid bench, were told not to kick each other by their mother. Lucas heeded that advice, but did not apply it to his brother's team-mates.
The blood flowed, the referee remained unmoved. The Real Madrid captain could not continue beyond the half-time break with what transpired to be a fractured nose.
Real Madrid continued to apply pressure in the second half. The visitors dominated possession and territory. Diego Simeone eased the pressure with attacking substitutions, in particular Yannick Carrasco's introduction in the place of the industrious Thomas Partey. It was another of El Cholo's reinforcements from the bench, Kevin Gameiro, who came closest to breaking the deadlock. The French striker beat Casilla, only to see his shot headed clear by Varane on the line.
The scene appeared set for Cristiano Ronaldo to score the winning goal with minutes remaining. He allowed the ball to roll across his body on the right of the box. By the time he had adjusted to shoot, Lucas arrived to hurl himself in front of the ball. The left-back was indomitable. Powerful in attack and stoic in defence.
The first goal-less derby since 2005 was a more positive result for Atleti. In a season painfully disrupted by a transfer ban and a move ten miles across the city to a new home, a title push appeared overly optimistic. Diego Simeone's retain their unbeaten record this season and continue on course for Champions League qualification.
But for Madrid, a draw is a bitter blow. Zinedine Zidane assured before the match that his side were not in 'last-chance saloon'. He had to say that, of course. But now, with a ten point gap between Madrid and Ernesto Valverde's gritty-win machine showing no signs of slowing, Madrid are finishing up their last drink and heading out of the saloon door. It will take a remarkable turnaround for Los Blancos to retain their LaLiga title.
A
tlético 0-0 Real Madrid: as it happened
90'+2' FT! The Madrid Derby ends goal-less as Real Madrid and Atlético slip ten points behind LaLiga pace-setters Barcelona. 
90'+1'   Savic covers well to prevent Carvajal bearing down on goal. The match has opened up in the last couple of minutes, but Madrid still have the initiative. 
90'   Two minutes of added time.
89'   Ronaldooooo... blocked! Heroic, last-ditch defending by Lucas Hernández, who has been utterly brilliant all evening. He hurls himself at Ronaldo's shot from the right and pings it behind for a corner, which a red-and-white-shirted figure clears. 
86'   Jan Oblak narrowly avoids quite a lot of egg on his face. He can't hold Kroos' vicious shot. Yet instead of parrying it wide, he drops it at Isco's feet. Godín arrives in the nick of time to welly it clear. 
85'   Real Madrid are applying more and more pressure. Atlético have been reduced to hoofing it clear, re-organising, and waiting for the next wave of attack. 
83' Oooh, Ronaldo attempts a flick from the corner, messes it up, but has a second chance to poke it at goal. It hits Juanfran on the arm, but it was in a natural position and from point-blank range. No penalty given.
81' Ronaldo shoots from an acute angle. It dips, fizzes, and Oblak parries it clear. Nacho is booked for penalty-box shovery as we wait for the corner to come in. Nacho and Lucas are booked for pushing and shoving as the corner waits to be delivered. 
80'   Juanfran lays a fant hand on Marcelo's shoulder as the Atleti man tries to scoot around the outside of him. Juanfran avoids a second yellow, but Madrid have a free-kick on the edge of the box. 
78'   Varane clears the ball off the line! Carrasco dinks the ball out to Gameiro, who lifts the ball over the onrushing Casilla. It's heading in until Varane nods it from under the bar. From the corner, Atleti appeal for a handball against Ronaldo. The Portuguese recoiled away from the ball in a rather amusing manner, but it didn't hit his arm. 
77' Zidane also makes a change, with Asensio trotting on in place of Benzema. 
76' Atlético changes: Griezmann off, Torres on. Correa off, Gameiro on. 
76'   Ronaldo snatches at a shot from the edge of the box, sending it wide.
75'   Toni Kroos receives the ball from Marcelo on the edge of the box and drives forward. He tries to chip the ball in to the centre with his left foot, only to slice it on to the roof of the net. 
73'   Carrasco has blown hot and cold since coming on. Moments of brilliance punctuated by heavy touches. This time it's a heavy touch, and Casemiro nabs the ball off him. 
The Madrid Derby has not finished goal-less since 2005. 
70' Koke takes a yellow card. Like Saúl's booking a few minutes ago, it's for a cynical, counter-attacking preventing foul on Luka Modric. 
66'   Varane looks in discomfort after a clash with Griezmann and Casilla as the latter came out to claim a ball in the air. With Ramos already off, Zidane will be in a pickle of Varane is also unable to continue. He continues for now, but gingerly. 
63' Modric takes the ball off his back four and surges forward, beating one, two players. Saúl has had enough, and he hauls the Croatian to the ground and accepts the yellow card. 
62'   Griezmann threads the ball in to the box, but there's nobody in the centre for him. 
61'   Isco falls down on th edge of the box. There might have been contact from Gabi, but the replays don't reveal anything. Atleti take the opportunity to counter attack, and they look good for it until Carrasco runs the ball out of play. 
60'   Atlético break forward very quickly, but when they get to the opposition box, they're good at slowing the play down and searching for gaps. It's not all gut-busting frenetics with Simeone's side. 
58'   Juanfran appears to block Marcelo's cross with his raised arm. White shirts protest, but the referee waves play on. 
56'   The crowd ramp up the volume, jumping up and down and waving their flags. That's in response to Saúl shooting narrowly over from the edge of the box. That attacking change has invigorated the home side. 
54' Atlético sub: Yannick Carrasco replaces Thomas Partey. Koke shifts in to midfield. 
52'   Correa skips along the left flank as Atleti take a rare breather from absorbing Real Madrid pressure. It doesn't last long, though. Modric sticks in a well-judged leg to stop the little Argentine in his tracks. 
50'   Real Madrid have started the first half as they ended the second: a lot of possession, not a lot of incision. 
48'   Ronaldo plays the ball to Modric inside the box with a clever flick. But by the time Modric has the ball under control, the Atleti cavalry have arrived to clear the danger. 
46' Nacho does indeed replace Ramos at half time. The captain is unable to recover from Lucas booting him in the nose. 
46' We're back underway!
Nacho has just trotted through the tunnel with his shirt on. That indicates that Ramos is unable to continue. 
It's clear that Atlético are missing a striker. Antoine Griezmann has spent most of the match isolated. And as good a player as he is, he is not the man to turn to for hold-up play. Diego Costa's arrival in January cannot come soon enough. 
Ángel Correa and Toni Kroos have both missed good chances, and the match is goal-less at the break. 
45'+2' Phew! The referee calls time on a frenetic end to the half. 
45'   Two minutes of added time, says the fourth official's board. 
45'   There's monentary confusion in the Atleti six-yard box as Marcelo's low cut-back bounces off a couple of defenders before Savic leathers it away from goal. Real Madrid are dominating in terms of possession and territory. 
43'   El Cholo. Black jacket, black shirt, black tie, wild gesticulation. He's like a dapper Taz the Tasmanian Devil on the touchline. 
42' Marcelo does a sort of flip-flap and then runs around the outside of Correa. It wasn't particularly consequential, but it looked cool. I would break my leg several times before successfully executing that. 
39'   While Real Madrid take a corner, Ramos is stood behind the goal having tissues stuffed up his nostril. 
36'   Ramos is down on the deck with a bloody nose. He chucks himself towards Casemiro's knock-back, and as Ramos stoops to meet the header, Lucas kicks him in the hooter. A painful one, but not a penalty for me. Ramos will know that if you put your head down there, it might get kicked. 
35'   Ronaldo shoots from the best part of 40 yards. It's dipping towards the corner and probably going wide, but Oblank tips it around the post to make sure. 
34' Savic joins Carvajal in the referee's book. He throw himself in on Toni Kroos with his studs up. That could, and perhaps should, have been a straight red. 
32'   Kroos! Wide! The German midfielder plays a swift one-two with Ronaldo and surges in to the box. Under pressure from Oblak, Godín, and Juanfran, he scuffs a shot wide of the near post. It kisses the side-netting as whistle rain down from the stands. Kroos is sitting down with his arms raised, appealing to the referee. The home crowd are not too happy with that. 
30'   Ronaldo charges forward and lays the ball off to Carvajal, who crosses in to the box, looking to return the ball to the No.7. Thomas Partey positions himself well and, with ice-cold blood in his veins, chests the ball down for Godín to clear. 
29'   Lucas Hernández stretches his legs for the first time on the left. He holds off Modric and gallops in to the Madrid half, but his inside ball to Griezmann's feet is intercepted by Casemiro. 
Griezmann's new lid in all its glory. 

25'   Varane heads the ball as far as Gabi on the edge of the box. El Capitan lets fly on the volley, and although Casilla indulges him with a theatrical dive, it was always bending wide of goal. 
23'   Ángel Correa sets off on another jinking run. He's so hard to stop with that agility and low centre of gravity. He forces a corner, which Koke swings in and Correa himself gets a touch on at the near post. 
20' Dani Carvajal goes in to the book for a late, studs-up challenge on Lucas. The Atleti man makes the most of it, but it's a clear yellow. 
19'   We have a brawl! 20 minutes in and the first bit of hand-baggery. Benzema goes down and, while he's on the deck, Correa absolutely leathers the ball at his head. Real Madrid players get right up in Correa's face (Sergio Ramos, would you believe it, is the cheerleader), but the referee keeps his cards pocketed. 
18'   Varane knocks Juanfran's deep cross behind for a corner, but the linesman lifts his flag straight up to indicate a goal kick. Griezmann walks up to him and remonstrates. The official looks back emotionless. 
16'   Real Madrid burst forward on the counter-attack after Casilla punches a corner clear. Juanfran and Ronaldo engage in a footrace and, would you believe it, Juanfran has him on a slice of toast. 
14'   Isco plucks the ball out of the air and takes it down with a silken touch that I want to run away and start a new life with. He plays the ball back to Marcelo and the move breaks down. But blimey that was nice. 
12'   Juanfran heads the ball behind for a corner under pressure from Benzema. Moments before, Ronaldo threw a pair of stepovers before sliding in Isco, who whipped a devilish ball back from the byline. It didn't come to anything, but that's a reminder to Atlético of the danger the man from Málaga poses. 
9'   Correa slaloms past Marcelo like he's a hologram. Expect to see Correa peeling out to the right frequently in order to exploit that weakness. Casemiro arrives to sweep up the danger, as he so often does. 
8'   Real Madrid's centre-halves look tentative, nervous in the early stages. They both fling themselves towards Lucas' cross, miss, and it falls to Marcelo to clear the danger. 
6'   Real Madrid have settled in to possession after conceding that chance. Thomas loses his patience, has a nibble at Isco, and Real Madrid have a free-kick 40 yards out. Kroos squares it for Modric, who takes a couple of touches before shooting straight in to a crowd of players. 
3'   CORREEAAAA... No! He's missed! The Argentine lets a golden chance go begging. A loose pass from Marcelo allows Griezmann in, and then a wayward touch from Varane puts Correa through on goal. He lifts it over the onrushing Casilla, but it skids a metre wide of the upright. Simeone looks to the sky. 
2'   Koke 'welcomes' Marcelo to the game with an industrial challenge. The referee is lenient and lets the Atleti midfielder go with a warning. 
1'   "Atleeeeti, Atleeeeeti," rumbles around the stadium as the Ultras wave their flags behind the goal. 
1' Peeeep! The first ever Madrid derby at the Wanda Metropolitano is underway!
And out they come! There's a hair-raising atmosphere in the ground. In that respect, it is no difference to the Calderón. 
In come the Madrid boys. Lots of cuddles between the two sets of players. Marcelo gives Godín a slap on the backside. Godín doesn't look happy to receive said slap to the backside. 
The Atleti players are gathering in the airport-hangar like tunnel at the Wanda Metropolitano. You could play a functioning game of five-aside in there.  
With kick-off under 10 minutes away, here's a full re-cap of the team news.
This is the first time since 1981 that Atlético and Real Madrid have faced each other with the same amount of points. They're both on 23. Unfortunately for both of them, Barcelona have 11 more. 
The last time that Real Madrid and Atlético played either other with both sides outside the top two was on 24 February 2007. Fernando Torres and Gonzalo Higuaín were the goalscorers in a 1-1 draw. 
This is what Zinedine Zidane had to say about a supposed rift between messrs Ramos and Ronaldo: "We are talking about two legends of Real Madrid and they respect each other a lot. Sergio is very smart and can say what he wants just like Ronaldo". Read the full selection of his pre-match quotes. 

Cristiano Ronaldo is in a rut. Madrid's No.7 has only scored one goal in LaLiga this season. Perhaps he should look to his son for inspiration... Cristiano Jr. scored six goals for his school team in a 8-6 victory yesterday. His dad watched on with his partner Georgina, and came down to the pitch a full-time for pictures with the young'uns. Here's the full video. 

Diego Simeone hasn't sprung any surprises with his team selection. Stefan Savic retains his place in the heart of defence despite the wishes of Atleti fans. That's a clear indication that in such a high-profile match, he opts for his trusted lieutenants despite questionable recent form. Much like his opposite number with Karim Benzema... 
Atlético XI: Oblak; Juanfran, Godín, Savic, Lucas; Saúl, Thomas, Gabi, Koke; Correa, Griezmann. 
  The team that Zinedine Zidane has chosen doesn't tally up completely with what the Real Madrid fans wanted. Here's the team Madridistas opted for in a Diario AS poll.
Real Madrid XI: Casilla; Carvajal, Ramos, Varane, Marcelo; Casemiro, Kroos, Modric; Isco; Ronaldo, Benzema.  
Atlético Madrid have a staggeringly poor home record against Real Madrid over the last couple of decades, even in the Simeone years. Atleti have won just one of the last 16 derbies at the Calderón. That solitary victory was the 4-0 back in 2014-15. Rojiblancos fans will hope that the Wanda Metropolitano brings better luck... 
Apparently, Florentino Pérez has had a quiet word with Torino honcho Urbaino Cairo about the availability of Italy striker Andrea Belotti. A buy-out clause of 100 million euros is the sum Real will have to find if they want to land the 23-year-old.

Diego Simeone had a bit of a pop at Real Madrid in his pre-match press conference, noting that Saturday's rivals "snaffle" all the best talent in LaLiga. "They have a squad which they've built by bringing in all of the good players from all of the clubs in the Spanish league; obviously that makes a big difference because it means that the rest of the clubs don't have the chance to get to the promising players and those younger players don't have the chance to develop at other clubs," the Atlético boss opined.

Sergio Ramos will make his 36th Madrid derby appearance this evening, bringing the Real Madrid captain level with Míchel and Santillana in the all-time list. The only active player to feature in the top 10, Ramos will require another six derby appearances to match the record of 42 held jointly by Manolo Sanchís and Paco Gento.

Zinedine Zidane has announced his squad for the Madrid derby and the good news (whatever colour your shirt is) is that Dani Carvajal has been passed fit after recovering from a heart condition that the defender feared may have forced him to retire. 

Cristiano Ronaldo may not be popping them in at the moment but Cristiano Ronaldo Jr certainly is... hand him a squad number for tonight Zizou?

As ever, we've provided a handy guide as to how and where you can follow tonight's game, or you can stay right here for build-up during the day and live minute by minute coverage from 20:45 CET.

Both Antoine Griezmann and Cristiano Ronaldo go into the game in a bit of a scoring rut. Will either find the net this evening?

Atlético Madrid host Real Madrid in the derby this evening at the Metropolitano, which will be the 218th meeting between the sides in all competitions. Madrid lead 109-55 in terms of wins but in recent seasons the fixture has been a much more competitive affair.