APOEL-Real Madrid UEFA Champions League: match report, goals, action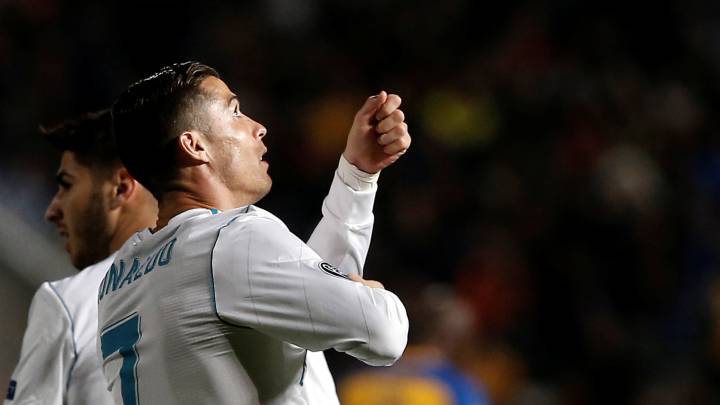 APOEL Nicosia 6-0 Real Madrid: match report
Real Madrid blitzed APOEL Nicosia over six minutes at the end of the first half to leave a massive chasm on the scoresheet that APOEL were never going to close.
Luka Modric opened the scoring for the away side with a lovely volley from outside the penalty area after a lively start from APOEL. They were pressing high up the field and it took Zidane's side the best part of 10 minutes to get a feel for the game.
Once that first goal went in, however, Real Madrid were not for turning back. Karim Benzema curled home a lovely effort on 39 minutes as APOEL's defense went missing and Nacho poked home their third on 41 with the home side's back line out of position yet again at a corner.
Their trouble was compounded when Benzema scored a fourth after a razor sharp counter-attack on the stroke of half-time. It didn't get any easier for APOEL as Ronaldo headed home a lovely, lofted cross into the box by Marcelo and the Portuguese made it six with his second on 54 minutes after another mix-up at the back by the Greeks.
Ronaldo and Benzema will be delighted to get a brace apiece having struggled in front of goal of late and Zidane got the chance to rest Isco and Casemiro while also giving minutes to the likes of Ceballos, Theo Hernandez and Lucas Vazquez. It was a much needed tonic for a Real Madrid side short on luck of late as they regroup for Málaga at the weekend.
APOEL vs Real Madrid live stream online: as it happened
90'+3'   Game over!
90'+1'   Three minutes of added time.
85'   A six on two break for Real Madrid. It falls to Ceballos and his shot is blocked. Real Madrid players actually getting in each other's way.
84'   Casilla taps a cross over the post and out for a corner.
81'   Real Madrid counter. Asensio breaks, finds Theo in suport and he sends a dangerous ball across the box. Mayoral misses.
79'   Theo climbs over Poté and gives away a free as APOEL look to build again.
77'   Free from the right is headed clear.
73'   Reall well worked from the corner in the end. Vazquez put through on goal and tries to curl one home. He was offside anyway but Perez saves.
72'   Asensio strikes with his left foot. Theo ran across his path there and put his teammate off. They win a corner but if Asensio hit that earlier, he might have scored!
72'   Poté offside.
71'   APOEL fans still singing but the sting is gone out of this one.
69'   Asensio sends it into the box. Headed out for a corner by APOEL.
68'   Ronaldo chopped down as he moves forward. He wants a card but the referee doesn't want to book anyone. No cards yet tonight.
65'   Carvajal into Ronaldo and he helps it on with his heel.
63' Benzema off for Mayoral.
62'   Ronaldo and Benzema collide and both men are down in a heap. Might have been Rueda who pushed Benzema into Ronaldo.
60'   Vinicius replaced by Farias.
60'   APOEL win a corner as Varane blocks a shot.
59' Marcelo off for Theo Hernandez.
59' Kroos off for Ceballos.
56'   APOEL break now but they can't get a clean shot away. Blocked and deflects into Casilla. Nacho down now and grabbing his throat after collision with Poté in the build-up.
54'   RONALDO! Again. Mistake by Rueda and Benzema pounces, half-blocking a clearance from the keeper. It falls to Ronaldo and he finishes on the turn into an open goal. APOEL fall apart at the back.
53'   Kroos heads into the penalty area. Crosses and Perez is comfortable with the grab.
51'   Ronaldo breaks and he plays it to Benzema, who plays it back. Ronaldo drives it wide after creating space for the shot.
49' Ronaldo heads home a Marcelo cross!  Lovely ball in from the left and headed home with precision by Ronaldo. 
48'   Vazquez caught wth a kick to the ball of the foot. Lago the culprit and he helps the Real Madrid player back up.
47'   Ball towards Poté is just inside the penalty area and Casilla grabs it. 
46'   Good start by Real Madrid. Vazquez chips one to Modric and he plays it to Asensio. He wins a corner after a run down the left.
46'   Back underway!
Real Madrid with ten efforts so far and four goals. They are also enjoying 65% of possession. 
45'+2'   Half-time.
45'+1'   GOAL! Benzema scores again. Reall unselfish from Ronaldo as he cuts inside and plays it to Benzema instead of shooting himself. Benzema rolls it home.
45'   APOEL have looked dangerous when they go forward but haven't been able to finish. They win a corner now as they look to put a dent on the scoreline. Casilla comes out and miss the ball but Real Madrid break.
41' Nacho. Corner comes in and APOEL switch off again. Varane heads onto Nacho, who pokes it under Perez. APOEL fall apart again as Nacho ghosts into a dangerous position.
40'   Ronaldo with another strike. It takes a deflection this time and goes out for a corner.
39' APOEL fall apart at the back and Benzema slots home. Nice run and he breaks free curling it beyond Perez. 
38'   Marcelo pulled down and wins a free. Real Madrid on the attack!
37'   Free comes in from the right and Casilla gets under it with a safe pair of hands. Counter attack with Carvajal before he sends it all the way across the field.
36'   Poté fouled not by Nacho. He comes through the back of the striker with a knee to the back. 
34'   Benzema to Ronaldo and the Portuguese tries a no-look touch pass back to him but it finds an APOEL man instead.
33'   Marcelo delivered the cross this time. He's really struggling in front of goal now.
32'   Another cross and Ronaldo gets down low to head it wide. He's really not happy.
30'   Asensio with a cross/volley and Perez gathers it before it goes wide after taking a deflection.
29'   Ronaldo tries to dive over a defender to head home a Carvajal cross. He ends up on the ground without getting a head to the ball.
27'   Ball in from the right-hand side and sallai heads just over. He has slightly more time there than he might have thought.
25'   Modric taken down by Poté as he lines up another strike but the striker got the ball first.
23' GOAL! Modric scores. Ball comes across from Carvajal, half-cleared and Modric strikes. Perez really should have done better but lovely strike from the Croatian.
22'   Modric turns Sallai upside down and the APOEL player plays it on the ground. Free to Real Madrid.
21'   Ronaldo with a free from miles out. Shouts and it goes well wide.
19'   Benzema cuts back and tries to feed a teammate but APOEL clear.
19'   Backs to the wall stuff here for APOEL at the moment. 
18'   Ronaldo strikes from distance. That was close but a little more hopeful than anything. Perez had his angles covered.
17'   Another cross from the left this time and Casilla gathers. Real Madrid counter and they try to break down APOEL when that ends. 
15'   Poté crosses from the right and Casilla catches. It ends up straight back at the feet of an APOEL player with a poor clearance and Vinicius strikes over.
14'  14' Free for APOEL and it is pinged into the box. Headed wide though.
13'   Ball to the back post again and Vazquez tries to head it back down to Benzema but APOEL clear. Ball comes back in from Carvajal and Perez saves again.
12'   Real Madrid gaining control now but APOEL look lively on the break. Also making Real Madrid sweat on the ball with their press in the middle of the field. Real Madrid players being forced to solve problems under pressure.
11'   Through ball to Ronaldo as he chases it down. Perez comes out and instead of grabbing, he connects with his legs and does the job but not as concincingly as he probably should have. 
9'   Perez kicks it out for a throw to Real Madrid. They are trying to gret something going. APOEL pressing them high up the field. Modric fouled as the pressing gets a little too eager.
8'   Not a bad start at all by APOEL. Perez seems to have recovered and APOEL on the attack.
5' It was a shin to the jaw that Perez got. 
5'   Perez, the keeper from Las Palmas, is down again and looks like he can't continue.
4'   He recovers and Kroos sends it towards Lucas Vazquez. He flicks it on but APOEL clear it.
2'   Real Madrid break. Benzema sends a cross to the back post and the Ronaldo. He takes it down with his chest and drives a shot towards goal. Peréz saves but fumbles it and hurts himself as he grabs the follow-up.
1' We are underway!
We are just minutes from action! Two sides in the tunnel.
Ronaldo looking to break his poor run of form in front of goal tonight. He loves the Champions League and has scored 16 in his last nine!
There seems to be a section of the Real Madrid fanbase who are keen to see a change at the striker position. Karim Benzema has scored just once this season. Apparently, Real Madrid are lining up Mauro Icardi for next season too as the club realise they have to replace the goals they lost with James and Morata's departures.
Asensio, who gets a start tonight, explains why he is happier to sit on the bench than Alvaro Morata. "Morata's case is very different [than mine]," Asensio told the prematch news conference. "When he returned to Madrid, he wanted to be more important. I am 21, just starting out in this. I always want to take advantage of the playing time I get from the coach, whether 15 or 20 minutes, or when starting, so that I can be counted on for important games in future."
APEOL: Perez, Lago, Rueda, Pote, Vinícius, zahid, Sallai, Morais, vouros, Aloneftis, Carlao.
No Casemiro in the starting eleven as Lucas Vazquez and Asensio replace the Brazilian and Isco. 
Real Madrid XI: Casilla, Carvajal, Varane, Nacho, Marcelo, Kroos, Modric, Lucas Vazquez, Asensio, Ronaldo, Benzema.
Marco Asensio is hoping to get a start tonight after dropping out of the first team and having to suffice for minutes off the bench. A photo has surfaced of the player posing beside a boat owned by Florentino Perez many moons ago as it seemed he was always destined to be close to los Blancos.

Zinedine Zidane has admitted that Karim Benzema "could give more" and the Frenchman was on the score sheet last time Real visited the GSP Stadium, hitting two in a 3-0 victory.

Good morning! Join us for build-up ahead of tonight's Group H clash in Nicosia!

APOEL vs Real Madrid: Champions League preview
Reigning champions Real Madrid travel to the GSP Stadium in Cyprus to play APOEL, where Zinedine Zidane's side can seal their qualification for the knock-out stages of the Champions League with victory and could go through with a draw if Borussia Dortmund fail to beat Group H leaders Tottenham at the Westfalenstadion.
APOEL
The Cypriot champions came through the qualifying rounds the hard way and required extra time to see off Romanian outfit Viitorul Constanta to reach the group stages but have been a surprise package in the tournament proper and are in with a chance of snatching the Europa League spot from Dortmund in arguably the trickiest Champions League round robin of 2017-18.
Successive 1-1 draws against the Bundesliga giants were somewhat unexpected and have left the 1996-97 champions and 2012-13 runners-up on the verge of elimination.
APOEL boss Georgios Donis has a few injury problems going into the game, chief among them first-choice keeper Boy Waterman, midfielder Fucundo Bertoglio - who holds the distinction of a single cap and two goals for Argentina - and Bulgaria international defender Zhivko Milanov.
Real Madrid
Zinedine Zidane's side may have fallen 10 points behind Barcelona and six adrift of Valencia in the league but remain on track in Europe despite a 3-1 defeat at the hands of Tottenham in the last round of fixtures.
The Real boss has avoided any defeatist talk about his side's Liga position after the weekend's draw against Atlético but the Frenchman did note that Madrid are not scoring goals as freely as he would like. In the Champions League at least Cristiano Ronaldo has been knocking them in and is the competition's top scorer with six, one ahead of Spurs striker Harry Kane, and he was on target with a brace in the reverse fixture.
Usually, a game against opposition as modest as APOEL would lead many to lean towards a feast of net-rippling but the Cypriot side showed against Dortmund that they know how to defend. Madrid can expect Donis' side to sit back and look to hit on the counter-attack, a tactic that may frustrate Zidane's side if they don't get on the score sheet early. That will leave Isco to play the role of lock-picker and he is likely to play behind Ronaldo and Karim Benzema with Zidane's preferred midfield three of Casemiro, Toni Kroos and Luka Modric in support.
The Real boss will be without captain Sergio Ramos after the defender suffered a fractured nose in the Madrid derby and Gareth Bale, who is absent with a muscle problem. First choice keeper Keylor Navas also did not make the squad as he continues his recovery from an adductor issue while Mateo Kovacic, also nearing a first-team return after a knee injury, was also omitted. Under-19s keeper Moha once again makes the squad as deputy to Kiko Casilla.
---
APOEL vs Real Madrid live online: possible line-ups
APOEL: Nauzet; Roberto Lago, Rueda, Carlao, Vouros; Nuno Morais, Vinicius, Sallai; Zahid, Poté, De Camargo.
Real Madrid: Casilla; Carvajal, Varane, Nacho, Marcelo; Modric, Casemiro, Kroos; Isco, Benzema, Ronaldo.
---
APOEL vs Real Madrid live online: selected betting odds
Real Madrid are overwhelming favourites in the GSP Stadium at 1/6 while the hosts are chalked up at 16/1 to pull off a surprise. A Cristiano Ronaldo hat-trick is priced at 5/1 and the Portuguese is at 4/11 to score at any time.