Gremio-Lanús live online: As it happened, goals, match-report
An 83rd minute Cicero goal broke the deadlock at the Arena do Gremio giving the Brazilian side a slight advantage going into the second leg of the Copa Libertadores 2017 final.Champions League draw 2018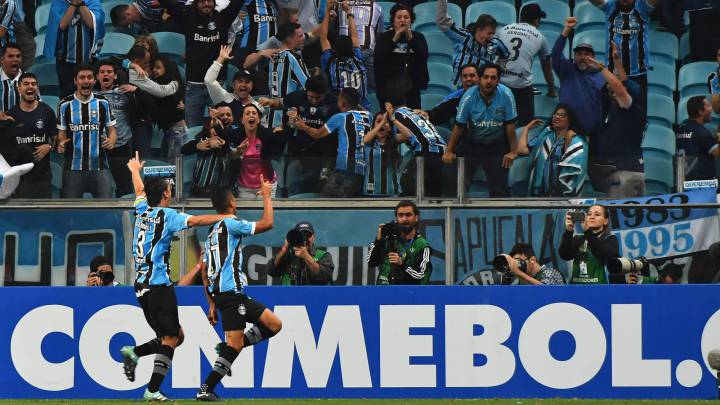 It wasn't pretty and at the end it got somewhat ugly as players pushed and shoved each other as match official Julio Bascuñan appeared to lose control.
In between there was a game of football. This will not go down in the history books as a classic as Lanus almost got the 0-0 draw they clearly set out to secure.
In the end the added second half impetus employed by Gremio paid dividends with substitute Cicero latching onto a cross ball tapping home to see the Brazilian outfit go into next week's second leg with a slender advantage.
Gremio vs Lanus live online: latest news
That's all from the Arena do Gremio. It wasn't pretty but Gremio take a slender leg into next weeks second leg. 1-0 it ended !   
Ugly scenes as players surround the ref. The return leg promises to be interesting with everything to play for. 
90'+6' The match official has lost control as the game comes to an end ....
A full scale rumble is now ongoing as players shove each other around ...not a positive image ....
The card is out again as Acosta seems to be getting his marching orders 
90'+4'   Foul after foul littering the game now as the clock ticks down. Gremio now very much in control ....
90'+2' Now it's Lanus with urgency as it's the Brazilian side taking their time. The tie is still very much alive with 1-0 being margin, but a slender one. 
90'   5' to be added
89'   Into the last minute of normal time but at least 5' to be added after the brief halt in the game post Gremio goal 
87'   Still no football as smoke wafts across the field. 
85'   Play held up as the match official seems to be anxious that the game is not in progression with the quantity of flares burning .... 
84'   Lanus paying the price for overly negative tactics? The Arena do Gremio has come alive ... smoke and flares and plenty of noise follow Cicero's goal.
80' Gol . Cicero breaks the deadlock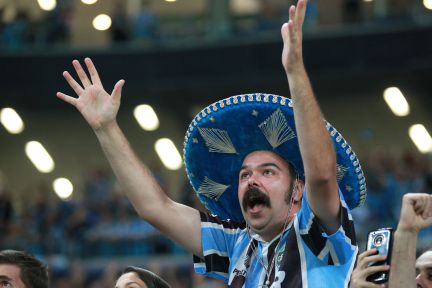 80'   Into the last 10' we go. Can Gremio break the deadlock as Lanus have struggled to get out of their own half in this second half.   
Change for Lanus as Maxi Velazquez (on a yellow) makes way for Aguirre
78'   Just on and Jael tries his luck from long range but the shot is easuly gathered by Andrada in the Lanus goal
Barrios off and Jael on for Gremio
75'   15' to go as Cicero gets onto a free-kick but no danger from the attack.
Final change for Gremio as Gaucho as Maxi Velazquez is booked
Cicero booked ...one minute after coming on !
71' Cicero on for Marcelo as Gremio coach Gaucho looks for the key to unlock the Lanus defensive line
68'   Lanus still comfortable despite the added rhythm from Gremio and there seems to be a nervousness creeping into both home fans and the players.
62'   Gremio go close as Jailson heads over from close range failing to get his effort on target
60'   The 0-0 result seems to be suiting Lanus more than the home side with the men in whit happy to take their time with dead-ball situation as opposed to the Brazilian's who are trying to hurry things along. 
Change for Gremio: Everton on for FernandinhoX in a clear tactical change for the Brazilian side   
56'   Great shot from Cortez rifling a fierce left footed drive goal-bound which forced the Lanus keeper into action....  
A pic that pretty sums up the first half at the Arena do Gremio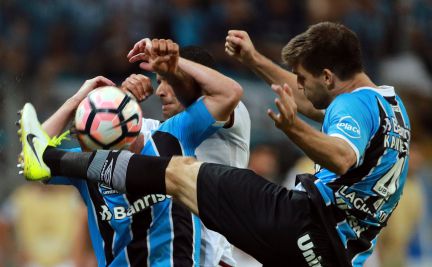 54'   Better from the home side with the Brazilian side pushing Lanus deeper into their own half with an added intensity that was absent in the first 45'.   
49'   Gremio win a dangerous free-kick outside the Lanus area as three men stand over the ball. In the end it's Edilson who tries his luck launching a outside of the boot drive which fails to trouble Lanus keeper Andrada. 
47'   Tension as Edilson fouls Acosta and the Argentine player looks for a card which is not forthcoming. Stop-start second half so far with fouls littering the game.
46' Lanus players and the match officials waiting for the home side to emerge from the dressing room.... A cheer rings out as the home side take to the pitch with Lanus set to get us underway. 
Lanus are back on the pitch as we await for the men in the rather smart black, blue and white striped shirts....
Head coach of Gremio Renato Gaucho reacts during the first half at the Arena do Gremio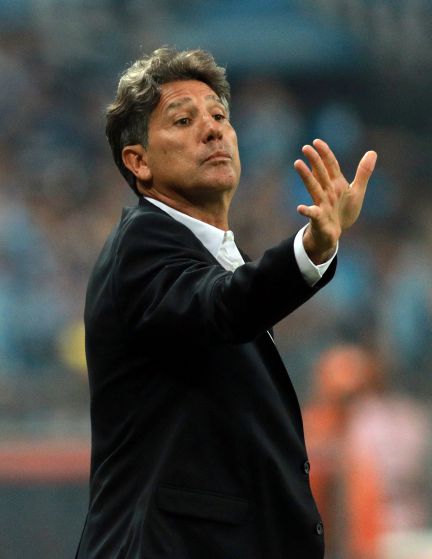 45'   Gremio coach Gaucho looking for a VAR check after Ramiro was upended in the Lanus box... Repeats show very little contact .. the half-time whistle blows with Gremio players surrounding the match official.... Little to get the pulse racing to be honest in the first 45'... Quick break and we'll be back with the full second period from the Arena do Gremio.
45' Jailson (Germio) booked as once again Lanus almost invite the hosts to score with another mix-up at the back. Pressure from the home side as we go into added time. 
43'   Acosta breaks into the Gremio and takes a tumble/ is pushed ... Mister Bascuñan is having none of it and waves play on....
Garcia (Lanus) also carded in the pre-corner antics
40' What a chance as Costa gets on to a  corner to head downwards and force Grohe to make a spectacular reflex dive. Kanneman booked for shirt pulling antics in the follow-up corner.
37'   Slow, patient build-up play once again from Gremio but as previously the fall ball is a shocker. Lanus ahead on points for me in this chess-esque tactical battle.
32' First decent chance of the night falls to Lanus after good world from Sand near the corner flag and the ball falls to Martinez who drives a right footed shot which forces Grohe into action.  
30'   Lanus sitting deep and inviting Germio to come onto them. Impressed with their solidity and the Argentine look like a side that will be difficult to break down.
28'   Still nothing to resemble a goal-scoring chance with both sides possibly showing too much respect for one another ... Gremio shading the possession stakes ever so slightly (55-45).  
26'   Mix-up at the back for Lanus but the Argentine side manage to make amends as Almiron's team insist in playing the ball out from the back....
23' Very discreet performance so far this evening from Lucas Barrios (who has played with BVB, in China, Russia, Mexico) as Acosta (Lanus) is booked for a foul on Edilson
20'   Shots on goals so far this evening: Gremio 0-0 Lanus... it is a lively game but just lacking a creative spark with both defensive blocks well disciplined.
18'   Luan (R) of Gremio, vies for the ball with Alejandro Silva (C) of Argentina's Lanus, during their Copa Libertadores 2017 first leg final match at Arena Gremio stadium,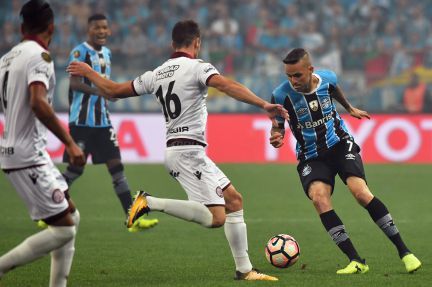 15' Luan (Gremio) tries his luck from a long way out but the strike was always high and rising...
15'   Two things to remember for tonight's game... VAR is present and  there is no away goals rule in the final !
12'   More pressure coming from the men in white now as Lanus win a series of corners and a dangerous free kick. Jorge Almirón's men unphased by the hostility of the Arena do Gremio....
10'   Similar to a boxing match with plenty of posturing but little in the way of punch, just as Gremio are forced to concede the first corner of the night... 
Possibly the most famous player to wear the blue, black and white stripes of Gremio....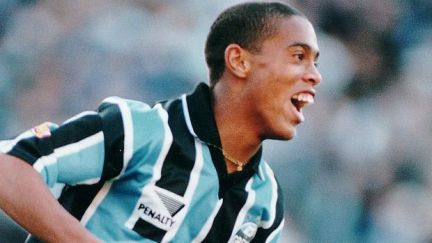 7' Neither keeper called into action so far tonight with the bulk of the action in the centre of the park with both teams sounding each other out...
4' Lanus fans cheer for their team before the start of the Copa Libertadores 2017 first leg final match against Brazilian Gremio at Arena Gremio stadium, in Porto Alegre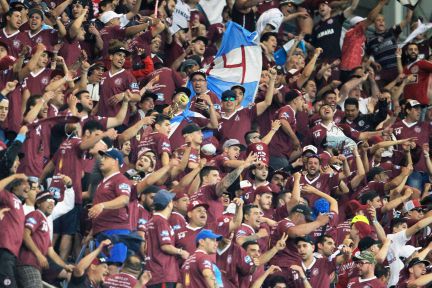 2' Not a spare seat in the house tonight with all 60.540 tickets totally sold-out and it's the home side who dominate early proceedings...
1' Off we go, match official this evening is Chilean Julio Bascunan. Pitch looking good just days after Coldplay were in concert in Porto Alegre.
The teams are on the pitch at a packed Arena do Gremio... 180 minutes of football await... The blue, white & black "Tricolor" from the city of Porto Alegre or the team from "the biggest neighbourhood in the world" (as Lanus boasts).  4,000 Lanus fans in the stadium too !  
Don't forget the winners of the Copa Libertadores will play at the FIFA Club World Cup in the UAE in December. Traditionally the South American champions are the main rival for the UEFA representative (this year Real Madrid).
Lanus are set to play in their white away shirt this evening....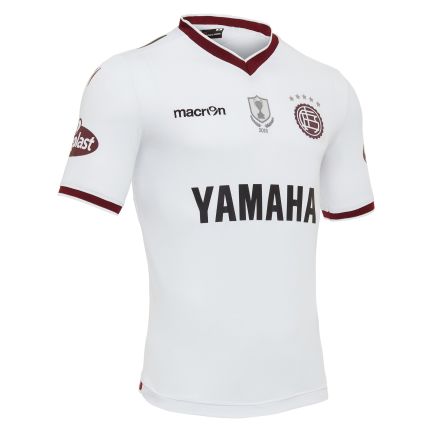 Gremio or Tricolor as they're known will be in their classic blue, black and white striped home shirt. Possibly one of the most iconic and arguably nicest shirts in the game !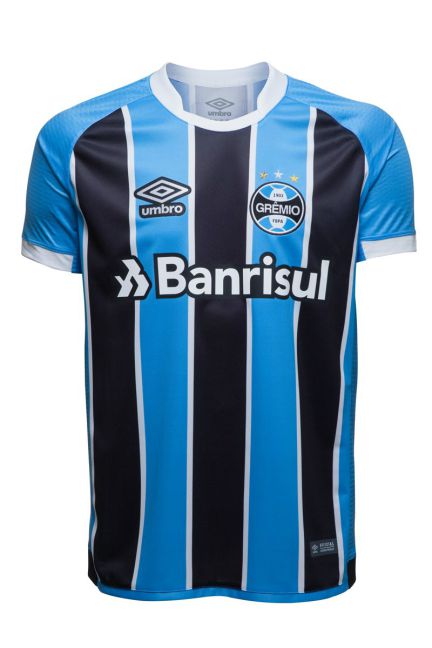 0% chance of rainfall during the game this evening but the temp. set to drop as the night wears on...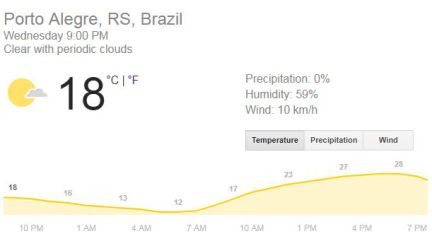 Confirmed Lanus XI: Andrada; Gómez, García Guerreño, Braghieri, Velázquez; Martínez, Marcone, Pasquini; Silva, Sand, Acosta.
With Lanus based in the Greater Buenos Aires region, and Gremio in the southern city of Porto Alegre, the two clubs are fairly close to each other in South American terms. Though that still means there's a good 15 hours by car between the two stadiums...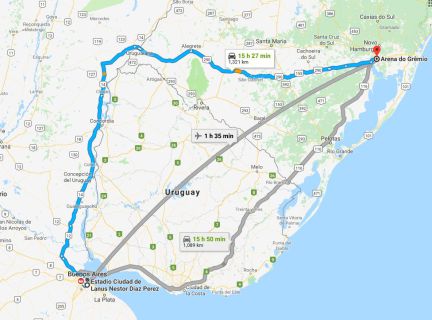 Temperature in Porto Alegre is around 20 degrees, but it'll be a few degrees cooler by kick-off. By the end of the match we might be down to around 11. So bring a jumper if you're coming. 
This is Lanus' first time in the final of the most prestigious club competition in South American football. They have previously made it to the finals of the other Conmebol competitions, being champions of the Copa Conmebol in 1996 (v Santa Fe) and the Copa Sudamericana in 2013 (Ponte Preta). They were runners-up of the Copa Conmebol in 1997 and the Recopa of 2014, both against Atlético Mineiro.
Gremio have been in four Copa Libertadores finals in their history, winning it in 1983 (v Peñarol) and 1995 (Atlético Nacional), while they finished runner-up in 1984 (Independiente) and 2007 (Boca Juniors).
Lanús won the Argentine Primera División in 2016, and still have several key players from that side. Veteran striker Pepe Sand is still on the scene, as is winger Lautaro Acosta. Yet the key player from that season has left for pastures new. Miguel Almirón, a supremely-gifted Paraguayan No.10, moved north to the MLS to join Atlanta United. It came as a surprise to many that he did not move across 
Evenin'. It's Matt here, taking over the build-up to tonight/tomorrow morning's match until Señor Reidy arrives. Lanús was the first club I went to upon arriving in Buenos Aires last year, where I would stay for a few months. It was an introduction to the barmy nature of South American football. It started before the match. Before entering the stadium, even. I remember feeling pleased with myself, having bought a ticket from a small kiosk and receiving a plastic card as well as the slip of paper. I looked up from studying my new item of wallet furniture to see a full car gliding round the corner. As it turned in to the bend, the front wheel just fell off and rolled, apologetically, towards a group of tethered police horses. The car ground to a halt. Four or five people emerged, each looking as bemused as the policemen who strolled over. The wheels fell off for Lanús as well (sorry), as El Granate fell to a 0-1 defeat to Unión. 
Here's the full story on the alleged Gremio spying which wasn't just for the final of the competition
Hello and welcome to our live online coverage of Gremio vs Lanus, the first leg of the 2017 Copa Libertadores. The game will be played at the new Arena do Gremio in Porto Alegre in Rio Grande do Sul state with a 00:45 CET start today Thursday 23 November 2017, and we'll be building up to it throughout the day, bringing you the latest news as it happens.
Preview Gremio vs Lanus: Copa Libertadores 2017 final (first-leg)
It's a battle of two time winners Gremio against first time Libertadores finalists Lanus, an established power-house in Brazilian football against a mid-tanking side from a city to the south-west of Buenos Aires, there's also the small matter of another Brazil vs. Argentina footballing duel set to be played out over two legs. An intriguing match-up in many ways.
Gremio
Renato Gaúcho, coach of "El tri-color" rested many key players in last week's domestic defeat to Santos with the Porto Alegre side currently second in Brazil's Serie A with the title already having been sewn up by Corinthians.
"This is the game of the player's lives" he claimed sitting alongside defender Pedro Geromel, adding that "we're ready in a sporting capacity and it's now time to work on the psychological aspect, but we are driven and mentally strong".
The cutting edge threat for Gremio comes from Paraguayan international striker Lucas Barrios who is now forging ahead after forward partner Pedro Rocha moved to the Russian league. Gremio dispatched Ecuadorian side SC Barcelona in the two legged semi-final with a 3-0 home win in the first leg ensuring a relatively placid game in Guayaquil. The Brazilian outfit start as clear favourites but after Lanus' elimination of powerhouse River Plate, Gaucho will certainly not be underestimating his rivals.
Possible XI: Gremio: Marcelo Grohe - Edílson, Pedro Geromel, Kannemann, Bruno Cortez, Jailson, Arthur, Ramiro, Luan, Fernandinho and Lucas Barrios. coach: Renato Gaúcho.
Lanus
Local Argentine press claim of a "festive atmosphere" in the city of Lanús, with optimism that their local side will make history with the return leg which will be staged at the Estadio La Fortaleza next week.
Unlike Renato Gaúcho, Lanus boss Jorge Almirón has already confirmed his starting XI and will play the same side that overcame River Plate in the semifinal. The men in burgundy trained in Porto Alegre normally yesterday after the previous fuss about the Gremio drone the previous day.
A 3-0 defeat in the domestic league at the weekend has done little to dilute the enthusiasm around the club with many of the key regulars being rested ahead of tonight's first leg.
"Lanús have being doing the right thing for some time now and for many us qualifying for the final has come as a surprise to many observers. This will work in our favour" claimed striker Lautaro Acosta speaking to Brazilian media on Monday.
Lanús XI: Esteban Andrada - José Luis Gómez, Rolando García Guerreño, Diego Braghieri, Maximiliano Velázquez, Román Martínez, Iván José Marcone, Nicolás Pasquini, Alejandro Silva, José Sand, Lautaro Acosta. coach: Jorge Almirón.
Gremio vs Lanus: Copa Libertadores 2017 final: selected betting odds
Fancy the Brazilian side to be ahead at the break and Lanus to emerge victorious? A long shot perhaps and currently on offer at a price of 67/1.
Place your bet on Gremio-Lanus