Real Madrid players pick up their new Audis
Cristiano and Zidane selected the cars with the most hp, 605, and the players took part in a virtual race with Carvajal taking the checkered flag.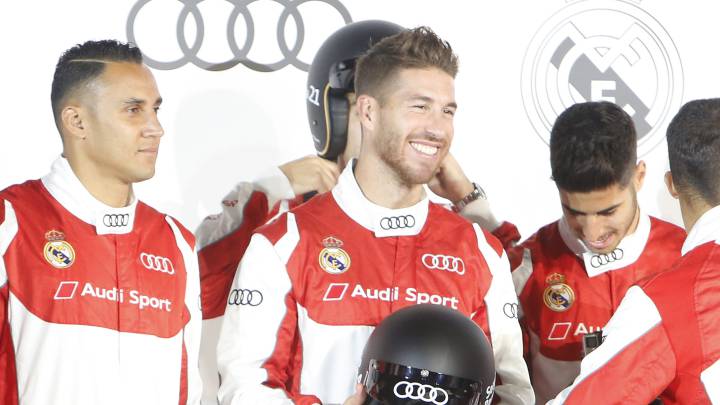 Real Madrid players received their official Audis as part of the car brand's sponsorship deal with the club on Thursday.
The cars were presented at the Ciudad Deportivo at Valdebebas and the players took part in a virtual race in a simulator, Formula E. On the podium after the race was Marco Asensio in third, Sergio Ramos in second and Dani Carvajal, who took the chequered flag.
After the race, the players picked up the keys to their cars. Ronaldo and Zidane picked the most powerful with 605 hp as they selected the RS7 and RS6 respectively. In terms of price, Keylor Navas and Cristiano Ronaldo chose the most expensive model, the Audi RS7 (8 speed).
The Audis selected by each Real Madrid player
Player

Model

Horsepower

Price (€)

Marcelo
RS6 Performance 4.0 TFSI 605cv 8 speed
605
145,025
Kroos
SQ5 3.0 TFSI 354cv 8 speed
354
81,620
Luca Zidane
Q7 Sport 3.0 TDI 272cv 8 

speed

272
75,280
Mayoral
Q7 Sport 3.0 TDI 272cv 8 

speed

272
75,280
Nacho
RS6 Performance 4.0 TFSI 605cv 8 

speed

605
145,025
Achraf
Q7 Sport 3.0 TDI 272cv 8 

speed

272
75,280
Vallejo
Q7 e-tron sport 3.0 TDI 8 

speed

373
85,840
Lucas
RS5 2.9 TFSI 8 

speed

450
100,505
Kiko
SQ7 4.0 TDI

8 

speed

435
114,445
Theo
Q7 e-tron sport 3.0 TDI 8 

speed

373
85,840
Ceballos
Q7 Sport 3.0 TDI 272cv 8 

speed

272
75,280
Llorente
Q7 e-tron sport 3.0 TDI 8 

speed

373
85,840
Carvajal
Q7 Sport 3.0 TDI 272cv 8 

speed

272
75,280
Varane
RS6 Performance 4.0 TFSI 605cv 8 

speed

605
145,025
Kovacic
Q7 Sport 3.0 TDI 272cv 8 

speed

272
75,280
Keylor
RS7 per 4.0 TFSI 8 

speed

605
152,570
Casemiro
Q7 Sport 3.0 TDI 272cv 8 

speed

272
75,280
Benzema
RS5 2.9 TFSI 8 

speed

450
102,410
Modric
Q7 Sport 3.0 TDI 272cv 8 

speed

272
75,280
Asensio
S5 3.0 TFSI 8 

speed

354
99,390
Bale
Q7 Sport 3.0 TDI 272cv 8 

speed

272
75,280
Isco
Q7 Sport 3.0 TDI 272cv 8 

speed

272
75,280
Cristiano
RS7 per 4.0 TFSI 8 

speed

605
152,570
Ramos
R8 Spyder 5.2 FSI 540 7 

speed

540
211,440
Zidane
RS6 Performance 4.0 TFSI 605cv 8 

speed

605
143,700



LaLiga Santander
*Update 23 de noviembre de 2017