New Delhi: India's second official Real Madrid supporters' club
The Peña Madridista Delhi celebrated its first birthday on Saturday, with 1,000 fans getting together to watch Atlético Madrid-Real Madrid.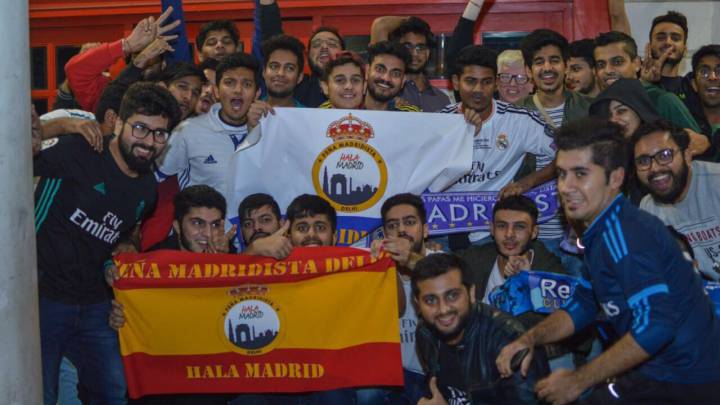 Real Madrid have around 264 million fans in Asia; that's 44% of the LaLiga giants' 600 million followers worldwide. The Asian market is becoming ever more influential at the Bernabéu club. Yet until last year, the world's second-most populous country, India - whose total of 1.3 billion inhabitants places it behind only China in size - only had one official Real Madrid supporters' club, based in the 18.75-million-strong city of Mumbai.
Peña Madridista Delhi celebrates first anniversary
However, thanks to the efforts of Rajat Samuel, the president of the first such organisation in the capital of New Delhi, which is home to 21.75 million people, Los Blancos' presence continues to grow in a country dominated by cricket. Founded in November 2016, the Peña Madridista Delhi celebrated its first anniversary last Saturday by gathering at their usual meeting place, the bar 38 Barracks on Connaught Place, to watch Zinedine Zidane's men take on Atlético Madrid in the derbi madrileño - with as many as 1,000 fans of the LaLiga and Champions League holders turning out to see the game.
"We don't think Real Madrid's LaLiga title challenge is over..."
Kartik Jhingan, the New Delhi supporters' club's secretary and one of its four founding members, gave his thoughts to Diario AS on where the 0-0 league draw leaves Real's season: "Despite being 10 points behind Barcelona, we don't think our title challenge is over," he said. "There's still a long way to go; we have to have faith in our team. The silverware isn't handed out in November and, come May, we're sure we'll have trophies to celebrate."
Since the Peña Madridista Delhi's birth 12 months ago, its members have already enjoyed five...