Real Madrid 3 Málaga 2: goals, action, report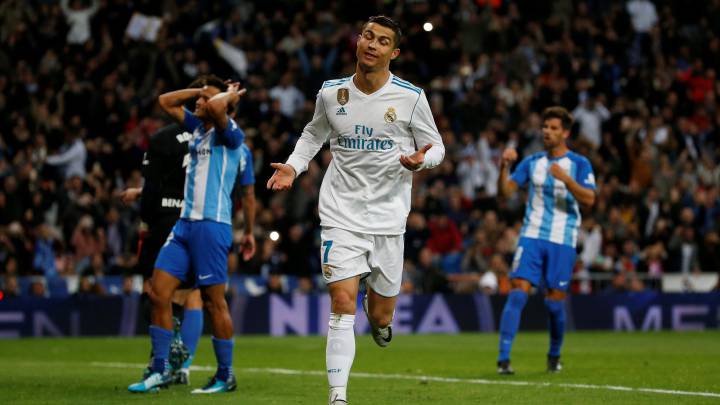 The rebound is a dangerous thing in the amorous sphere but Cristiano Ronaldo felt the adulation of the Bernabéu after he pounced on his own saved penalty to hand Real Madrid three points against a spirited Málaga side who twice came from behind to throw the cat among the Bernabéu pigeons.
Dropped points were not on the menu on Saturday afternoon with Real already playing Liga catch-up after only 12 games and chasing a 10-point Barcelona lead. It was another cat, Karim Benzema, who opened the scoring as he stooped to head in another rebound from Ronaldo header onto the bar but Málaga hit back swiftly, Keko squaring for Diego Rolán after Toni Kroos played a no-look ball to nobody in particular into his own area.
Casemiro popped up at the other end to head Real back into the lead after forcing a corner himself with a stinging drive but even the all-action Brazilian could not prevent Málaga levelling again in the second half as Real's defence had a collective meltdown. Raphael Varane's poor clearance fell straight to Keko, who fed Chory Castro on the edge of the area. Given all the time in the world, the Uruguayan buried a shot under the dive of Kiko Casilla to make it 2-2.
Ronaldo's take two saves Real's day
With the Bernabéu increasingly on the backs of their side, it fell to substitute Luka Modric to move centre stage. Receiving a Lucas Vázquez ball in the area, the Croatian went down under a clumsy Luis Hernández challenge and referee Gil Manzano had no hesitation in pointing to the spot.
Cue Ronaldo. The Portuguese saw his effort saved by the excellent Roberto but was swiftest to the rebound and poked home with his left foot to seal the game.

Real Madrid 3-2 Málaga: as it happened

90'+3' And that's it! Madrid see off Málaga 3-2 at the Bernabéu, but only just. Not exactly champagne football from the home side but Zidane will be happy with a job done and three points.
90'+2'   Madrid hoof it down the pitch. Anywhere will do at the moment, as long it's not anywhere near Casilla's goal.
90'+1'   Casemiro keeps his cool to shield the ball from Rolán in the area and the Málaga striker is pulled up for a foul. Two minutes to go...
90'   Three added.
89'   Just a few minutes now for Madrid to cling on. Ball to the corner flag?
88' Benzema goes off, to a deserved ovation, with Borja Mayoral on for his customary cameo.
88'   10, is the answer to that. 10 offsides...
86'   Ronaldo has the ball in the net after good work from Lucas but again, the flag is up for offside. How many have there been for the home side this afternoon? Anyway, 3-2 it remains.
85'   And Recio is not able to come back on so Míchel will have to reshuffle for the final five minutes. That's a tough gig for the Málaga captain, who has run himself into the turf this afternoon.
83'   A nice combination between Ronaldo and Benzema is in vain as the flag goes up.
81'   Into the final furlong now. Can Málaga spring pop the cat back among the pigeons. There is some not good news for the visitors as Recio goes down clutching his hamstring. Míchel has no subs left of course...
80' Zidane makes another change, bringing on Theo Hernández to shore up the left flank., where Rosales has been making a nuisance of himself. Kroos the man to make way.
78'   Málaga carve through Real's defence like a chainsaw taking on battenburg cake and Rosales sends in a dangerous cross but it eludes everyone, including the onrushing Bastón.
77'   Possibility of a handball in the area for Madrid, Kroos getting in the way and the ball hitting his arm, but it was tight to his body and the ref would have been brave to give that. Málaga not lying down though, despite that body blow.
75' Goooooooooal! Ronaldo's effort is parried but he's swiftly on the rebound and pops it in with his left foot. The relief on his face was pretty plain after that... 3-2 to Madrid!
73'   And there it is! Apologies, Málaga... Modric goes down in the area under a heavy challenge from Luis Hernández and Gil Manzano points to the spot....
71'   Ronaldo is cutting a solitary figure in the area as Lucas sends in two ineffectual crosses. Lots of eye-rolling and shoulder slumping from the Portuguese, who would probably enjoy the opportunity to have a go from the penalty spot. Lucas had a half-shout earlier on but the ref was unmoved.
67'   Vallejo! What a tackle from the youngster to deny Málaga a glorious opprtunity in the area. The Real defender gets the very tip of his boot to the ball with Borja Bastón closing in on Casilla's goal. That had to be perfect and it was.
67'   Carvajal almost wriggles through on the right but is pulled up for a foul on Juanpi.
65' That rather sums up Real's afternoon. Marcelo takes a throw in to Kroos, whose heavy touch sends the ball straight back out for a Málaga throw. The first jeers from the stands starting to become audible.
64'   He really can't believe his luck.

62'   Ronaldo! The Portuguese grimaces towards the heavens as he fails to get a touch on Varane's header into his path. Two yards from goal, all he had to do was tap that and it was 3-2.
61' And Zidane makes his first change, Isco trotting off to make way for Luka Modric.
60' Change for Málaga, Peñaranda heading off for Borja Bastón.
60'   Recio is down again after a tangle with Marcelo. He's been in the wars today, the Málaga captain.
58'   Varane won't want to watch too many replays of that either. It was his poor half-learance that allowed Keko to tee his teammate up. And he didn't do a lot to try and rectify his mistake.
57'   Goooooooooooal! Chory Castro! What a strike! Having just said that, Casilla might have done better there. It was  avicious hit and swerving away but fairly central and just slipped under the keeper's gloves. 2-2!
55'   Isco and Recio come together rather painfully in midfield. Málaga then break and Keko gets a decent cross in that's deflected into an inviting bit of grass in the Real area but Casilla reads the danger and smothers it. It will be an interesting call for Zidane now that Navas is back. Casilla has done little to suggest the Costa Rican should just waltz back into the side.
53'   And there's the Real keeper's first as he drops to stop a long range Recio effort.
53'   Save count: Kiko Casilla, 0. Roberto, five, and they've all been top class as well.
51'   Keko swings a cross over to Rolán but its overhit and trickles out for a Real throw. What a save from Roberto again! Benzema streaks away down the left and tees up Kroos for one of his trademark instep hits and the Málaga keeper flies through the air to claw it to safety. Man of the match stuff from Roberto today.
50'   Marcelo is penalised for a foul in midfield. Bit of scrappy start to the half from both sides.
48'   Vallejo and Peñaranda are getting a stern talking to from the ref after a collision. Didn't seem to be any malice on the part of either. He's having a good game though, Gil Manzano.
There's some good news on that Juankar injury. Apparently the Málaga full back was able to walk to the dressing room after being stretchered off and the early diagnosis is a sprained knee, pending official confirmation.
46'   We're back underway at the Bernabéu. No changes at half time by the looks of things.

Benzema in full flight...

45'+3' And that's the half! 2-1 it remains, not without a little controversy.
45'+3'   Disallowed goal! Substitute Baysse rises above the defence and sends an arching header into the far corner, but the officials suggest he used Vallejo as a bit of leverage and it's ruled out! 50-50 that at best. Míchel is not amused.
45'+2' Marcelo goes in the book for dragging down Málaga captain Recio.
45'+1'   Benzema does a little bit of keepy uppy in the middle of the pitch to bring down a Vallejo clearance, to admiring applause from the stands.
45'   Three minutes added.
44'   That's four saves that have more or less prevented a goal going in from Roberto now. He's having the game of his life and will probably be youtubing that one later on. One for the grandkids for sure.
42'   And the Portuguese almost breaks his curse! What a header from the number 7 but Roberto makes a glorious leaping save to deny him. Ronaldo thrashes the turf in frustration but that was a top drawer save from the Málaga stopper.
Casemiro now has as many league goals this season as Ronaldo and Benzema combined.

39'   The game has slowed down a touch after Juankar's injury. Lucas is back on and scampers towards a Marcelo cross but it's a bit too close to Roberto and the keeper gathers gratefully.
37'   Lucas limps off to the sidelines after a half that has included battering into a camera and the hoardings, a boot in the leg and a little twist of the knee there in the build-up to Ronaldo's shot.
36'   Ronaldo! The Portuguese almost looks surprised to find himself with a clean shot on goal and duly skews a half-effort into the righ tpaw of Roberto. The wait continues...
35' Juankar is replaced by Paul Baysse, a central defender, as Míchel has no other natural left-sided full backs available.
33'   Carvajal nicks the ball off the foot of Recio with a well-timed challenge. In the middle of the park Juan Carlos is down in agony and it looks like a bad one. The medical team is out with a stretcher and Míchel has players warming up. The number 7 is carried off and that looked very much like a nasty knee injury.
31'   Lucas puts in a cross and Benzema almost meets it but Málaga get it clear and break again. This time there are three shirts in the middle of the area and none of a blue and white hue.

30'   Half an hour in, three goals, some comedy defending and plenty of goalmouth action. There's a couple more in this one we fancy.
29'   Uffff! Benzema! The Frenchman is clean through from Carvajal's incisive ball but hitting a shot on the half-turn he sends it wide. It was a tricky chance but he really ought to be hitting the target from there.
28' Peñaranda goes in the book for a challenge on Vallejo. The Real player made a bit of a menu del dia out of it but there was a little contact from the Venezuelan.
27'   Isco sends Vázquez chasing a ball down the right but the Gallego can't quite reach it and goes thudding into the hoardings.
26'   But it's not a good delivery and pinballs about in the area before being hooked clear. Not very composed defending from the home side there either.
25'   Málaga have a free kick in a dangerous position. They have decent deliverers as well. Recio standing over it...
23' Ronaldo thinks he's got a clear shot at goal but he's called offside, albeit a touch late. The Portuguese is not a happy camper and wags his finger at the lino.
22'   That was a timely intervention for Madrid, who had looked like slipping into their default headless chicken panic stations after conceding.
21'   Gooooooooooooooal! Casemiro! The Brazilian hits another as Kroos sends in a vicious inswinging corner. Varane did enough to put the Málaga defense off and Casemiro poached the header almost unchallenged. 2-1
20'   Málaga have their tails up now and break quickly. Rolán again drives into the area but he tarries just a tad too long and squares harmlessly. Madrid rattled now.
18'   Goooooooooooooal! Málaga level! Rolán buries a low shot past Casilla after being given the freedom of the Real penalty area. That, ladies and gentlemen, is The Anchovies' first away goal of the season. 1-1.
16'   Kroos delivers but Roberto punches clear. Isco gets a shot in on the rebound but the Málaga keeper makes another excellent stop. Málaga in possession now.
15'   Málaga almost carve out a chance but a loose return ball towards Keko lets Real clear with ease. Decent move by the visitors up to that point. Ronaldo goes down on th elft and Madrid have a free kick.
13'   Great save! Carvajal finds himself on the end of a Kroos ball into the area and pokes a shot towards goal, but Roberto gets down to make a glorious one-handed stop.
That was Benzema's 185th strike for Real Madrid, inching him closer to Hugo Sánchez in the all-time list.

10'   Redemption for Benzema, who in the lead-up to that goal played a ball across his own half, which Dani Carvajal had to mop up.
9' Gooooooooooal! Benzema! Ronaldo got up to meet a hail mary cross and sent his header onto the bar. Málaga are caught napping and the Benz just has to stoop and nod into an unguarded net. All too easy for the home side there. Míchel will be furious with his back four.
8'   Chory almost gets away down the left but the ball, an outside of the boot job from Peñaranda, went out then back in. Flag up.
7'   Ronaldo has a pop from distance but its wide of Roberto's far post. Not very wide though. Setting his sights there the Portuguese.
6'   Something occurred off the ball there, Ronaldo is down and asking the linesman if he wouldn't mind awfully employing his eyes. Nothing given though.
5'   Málaga attempt to break through the Madrid centre but Marcelo is there to clean up. Peñaranda sends Chory Castro scurrying along the touchline but Vallejo is across with a sliding tackle to snuff out the danger.
3'   Isco steals a yard and sends in a low cross but Roberto is down to meet it and punches clear.
2'   First opportunity for the home side, Marcelo pings in a cross and Vázquez rises to meet it but he can't keep his header down and it's into the stands behind Roberto's sticks.
1'   Casemiro is already having a little dig in midfield, looked like a little nudge in the small of a back of a Málaga player. Never been sent off, amazingly. Madrid on the attack...
1'   Off we go! Madrid in white, Málaga in blue and white, and for those of you watching in black and white, the turf is green.
Here come the teams... the handshakes are underway. A warm salute between Míchel and Zidane, who seem to have visited the same tailor before the game. Madrid in a 4-4-2, Málaga mirroring the formation.
Difficult to see where the goals are going to come from for the visitors this afternoon. Míchel's side have managed only 10 all season and their top scorers are Rolán (2) and Recio (2).
In case you'd missed it, Cristiano Ronaldo has scored one (1) goal in the league this season. But he does enjoy a game against Málaga, who has bagged 16 against in 16 Liga games. Only Sevilla (23) and Getafe (21) have been beaten more times by the Portuguese. Will he extend that record today?

Around 20 minutes to go until kick-off now as Míchel prepares to try and stick one over on his alma mater. Málaga have beaten Madrid just once in their last 23 attempts in the league, so the former Bernabéu midfielder has his work cut out for him.

Real Madrid's players have energed from the tunnel for the warm-up, to a huge cheer from the stands. We wonder how long that will last if the home side don't bag an early goal.
And here's the Madrid bench for today: Keylor Navas, Modric, Theo, Marcos Llorente, Mayoral, Kovacic, Ceballos.
Zinedine Zidane has announced his starting XI for today's game. Isco and Lucas Vázquez both start with Jesús Vallejo coming in for the injured Sergio Ramos and the suspended Nacho. Real XI: Casilla; Carvajal, Vallejo, Varane, Marcelo; Casemiro, Kroos, Isco; Lucas Vázquez, Cristiano Ronaldo, Benzema.

Zidane said during his pre-match press conference that he has missed the influence of Gareth Bale in the side. The Welshman has not played since September 26 as he recovers from various twangs and strains and he did not make the squad today, although he is back in training.

It will be interesting to see whether Zidane throws Keylor Navas back into the fray or retains Kiko Casilla, who has kept a clean sheet in his last three starts. We can't be alone in feeling a tinge of regret that Moha didn't get a game during Navas' layoff. The under-19s keeper must be pretty special to have leapfrogged all of Castilla's stoppers in Zidane's thinking.

Zinedine Zidane announved his squad on Friday evening for the Málaga game. Gareth Bale and Sergio Ramos both miss out but Keylor Navas and Mateo Kovacic return.