Valencia 1-1 Barcelona LaLiga: goals, as it happened, match report
Goals from Rodrigo Moreno and Jordi Alba established a draw in the top-of-the-table clash at Mestalla, but Lionel Messi's ghost-goal was the main talking pointSevilla - Barcelona: Copa del Rey quarter-final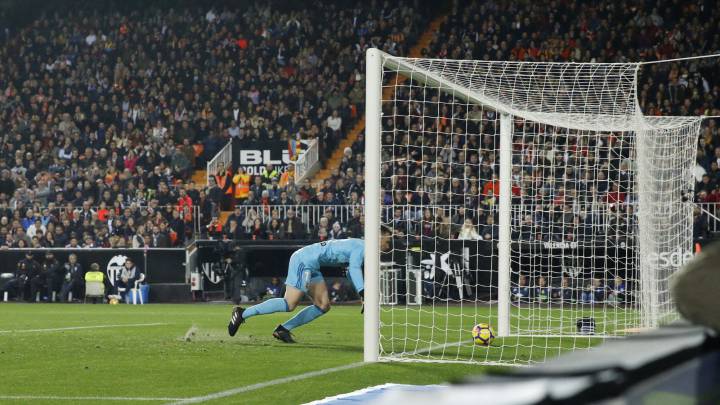 Gol fantasma. Ghost goal. The billboard-clash between LaLiga's top two sides was shrouded in controversy after 30 minutes. Lionel Messi's shot squirmed through the arms of Valencia 'keeper Neto. He clawed it away from the goalmouth, but only after it had crossed the line. Barcelona players wheeled away to the corner, first to celebrate and then to remonstrate. Meanwhile, the game continued behind them.
Valencia and Barcelona drew 1-1 at Mestalla to maintain the status quo at the top of LaLiga. Rodrigo Moreno latched on to José Gayà's low cross to cause pandemonium on the Mediterranean coast after an hour. The Spain international celebrated by pulling on an orange wig in tribute to Jaime Ortí, the former club president who died recently.
Jordi Alba drew the visitors level with eight minutes remaining, latching to Messi's wonderful diagonal pass.
MOTM: Samuel Umtiti. The French centre-half was lucky to avoid conceding a penalty for a nudge on compatriot Geoffrey Kondogbia. But his performance was otherwise commanding and classy.
Where are Barcelona and Valencia in the table?
Barcelona remain in top spot with 35 points. Valencia are four points behind, with 31. Atlético and Real Madrid sit another four points back, with each on 27.
Who do Barcelona and Valencia play next?
Barcelona face a home tie against Real Murcia in the Copa del Rey, before then hosting Celta Vigo next weekend.
Valencia host Zaragoza in the cup, and will then travel to Getafe for their next LaLiga clash.
Valencia 1-1 Barcelona: as it happened
90'+4' Full time! 
90'+4'   A hectic final 30 seconds! Barcelona press forward, and although Paulinho can't latch on to Suárez' pass, Gabriel is forced to play a risky back-pass to Neto. Valencia bomb up the other end and a deep cross falls to Zaza at the far post. He shapes up to meet it on the volley, miskicks, and it bounces on to the turf and over. 
90'+3'   Pereiraaaaa! Whoosh, side-netting! Half of the stadium leaps up, ready to celebrate as the net ripples. But Pereira rifles his shot just the wrong side of the post. 
90'+2'   Messi delays a pass from the left, and by the time he releases Deulofeu, the substitute has edged offside, just.
90'   The fourth official lifts his board to indicate four minutes of added time. 
90'   Barça have a half-chance from Deulofeu's corner. Busquets helps it on at the far post and Paulinho meets it near the penalty spot. It's a touch too high for the Brazilian, who nods it in to the Valencia fans behind the goal. 
90' Valencia sub: Santi Mina replaces Carlos Soler. 
89' Manchester United loanee Andreas Pereira receives a well-deserved booking for a nasty kick on Busquets. 
87'   Gerard Deulofeu is making a nuisance of himself. He challenges Gabriel and forces the centre-half in to a weak clearance. Deulofeu fails to capitalise as he spends too long spinning around to locate the ball. 
86' Valencia substitution: Garay off, Ruben Vezo on. 
85'   Barcelona are pushing for a second goal. It looks like Valencia will remain compact for the last five minutes and break on the counter attack when appropriate. 
82' GOL GOL GOL! Jordi Alba peels in to space at the far post and converts on the volley. But really, that goal is all about Messi's diagonal pass. Weighted to perfection. 
82' Rodrigo, the goalscorer, trots off in to the Valencia dugout. Andreas Pereira takes his place. 
81'   Valencia bomb forward and have a two-on-one advantage. Only Umtiti is back for Barça. Rodrigo threads the ball to Guedes, who miscontrols and allows the defence to recover. 
80' The visitors make a final substitution: Aleix Vidal on for Nelson Semedo. 
78'   Valencia have had one shot on target to Barça's seven. 
75'   Suárez on the spin... Neto saves! That was a smart swivel-and-shot from the Uruguayan, forcing Neto in to a save down to his right as Barça begin to force the issue. 
74' Ex-Bolton Wanderers man Rodrigo is booked for a swiping challenge on Paulinho. 
73' Denis Suárez comes on for Iniesta. 
71'   Guedes cuts in, fools Semedo, shoots.... Aaaand it goes out for a throw-in! That was a slice and a half. 
70'   Deulofeu runs sideways a bit and then misplaces a pass. Not a great first contribution. 
68' Ernesto Valverde makes his first change, as Gerard Deulofeu replaces Ivan Rakitic. 
66'   Superb, strong run up the wing from Carlos Soler. He is rather agriculturally halted by Vermaelen, but once again, the referee lets it slide. He appears to be feeling a bit guilty... 
63'   Valencia steam forward down the left flank again, Gaya's laying the ball off to Guedes on the overlap. Guedes chops inside and is fouled by Umtiti inside the box. Not given. 
62'   Suárez looks set to draw Barcelona level, but the Uruguayan strayed offside in order to meet Messi's through-ball. The volume has really gone up a notch in Mestalla. 
60' GOOOOOOOOOOOL! Rodrigoooooo! The striker tucks it in at the near post from Gaya's low cross, and celebrates by borrowing an orange afro wig from someone in the crowd and plonking it on his head. 
57'   Nelson Semedo makes a bit of a fool of Zaza, provoking the striker in to an emphatic slide tackle before whipping the ball away from him at the last moment. But he then undoes his good work by passing the ball straight to Rodrigo. The Valencia No.19 can't space to shoot at first. In the next phase of play he does get a shot away, which Ter Stegen saves with his leg and then scrambles across the floor to claim.
55'   Valencia have made a positive start to the second half. They're actually dictating some of the play, rather than reacting to Barcelona. 
52'   Thomas Vermaelen escapes his marker and meets Rakitic's corner with an unchallenged header at the near post. The ball flies over the bar. Given the lack of attention from the Valencia defence, he should have done better. 
51'   Simone Zaza claps and waves his hands to get the crowd going, not that they need it. The Italian forward collects a cut-back from Guedes on the edge of  the box, sets himself with a touch, and flashes a shot just wide. 
49'   Kondogbia falls down in a heap as a Valencia corner swings in. The fans howl for a penalty behind the goal. He got a shove from Umtiti, but it would have been a tad soft. 
48'   Garay has a sizeable tear in his sock. Someone must have caught him on the calf with a stray stud. He heads over to the touch-line to put a fresh one on. 
46' Simone Zaza rolls the second half underway! 
The players are limbering up in the tunnel ahead of the second half. 
LaLiga are going to implement VAR from next season, but not goal-line technology. That is absurd. The latter is objective (it either crosses the line or it doesn't) and instantaneous, whereas serious teething problems remain with the former.  
0-0 at the break. Barcelona have been by far the better team, and would have been ahead if the officials had spotted that Messi's shot crossed the line after 30 minutes. 
45' The referee puts his whistle to his lips and calls time on a half in which he has been the protagonist. 
44' Gabriel Paulista is booked for a cynical block on Messi, who was making a darting run in behind the defence. NFL-style defending from the Brazilian. 
42'   Suárez takes down a long ball for Messi, who chips the ball over for the Uruguayan to run on to. He shrugs Gaya away and shoots from an acute angle. Neto has his angles covered and saves with an outstretched foot. 
39'   Umtiti is stepping high up and almost playing as an auxiliary midfielder as Barça continue to apply pressure. The move culminates in Iniesta shooting from the edge of the box. The looping shot lacks welly, and Neto is able to save comfortably. Valencia then have a rare foray in to enemy territory, but that man Umtiti is back to clear the danger as Zaza prepares to pull the trigger. 
36'   Barça have continued to dominate possession and territory after that 'ghost goal' (is this the first time Freddie Sears and Leo Messi have had something in common?). Suárez puts that to an end by straying offside, again. 
33'   Neto manages to claim the ball cleanly this time. 
32' Kondogbia becomes the first player to have his name scribbled in the book for a foul on Messi just outside the box. If Messi tucks in this free-kick, it would be justice served. 
30'   Madness at Mestalla, absolute madness! Leo Messi's shot squirms through Neto's hands and it comfortably crosses the line! The referee waves play on though while the Barça players are still celebrating/protesting, and Valencia bomb forward. Zaza sends a low shot just wide. Imagine, just imagine, if it had gone in. Iniesta is actually angry here. It must be bad. 
28'   67% possession for Barcelona. The Valencia back-four is well organised, though. Messi tries to curve a ball towards Suárez with the outside of his boot. Gabriel is waiting, in position, to clear. 
25'   Umtiti reads Dani Parejo's rasping diagonal pass like a David Baldacci novel. The Barça defender, who is playing as the right-sided centre-half tonight, has been exemplary so far. 
23'   Parejo steams in on Busquets. A 'pwopa old-fashioned challenge'. Yet the referee blows for a free-kick. Messi takes it short and Barça try to work it down the left flank, but it comes to nothing and Paulinho is forced to pass it back to the defence. 
21'   Phwoar, what a pass from Messi. With the outside of his left foot he scoops a 40-year ball straight in to the path of Jordi Alba, who fails to give it the control it deserves and eventually concedes a foul. That's the sort of pass you want to walk with, hand-in-hand in to the sunset.
18'   Messi exchanges a neat, backheel one-two with Paulinho on the edge of the box. He doesn't reclaim the ball, but it ricochets through to Suárez nonetheless. It looks like he'll have a chance to shoot... until the linesman raises his flag again. 
17'   Umtiti goes straight through the back of Guedes inside  the Valencia half. The early stages have been frenetic. Lots of tackles flying in, not too much silk. In a possibly related note, the man standing in the Valencia dugout in the absence of Marcelino looks just like Mick McCarthy. 
16'   "VAMOS," urges Ernesto Valverde from the touchline with a swift clap of his hands. 
13'   Iniesta threads a rather nice through-ball to Suárez, whose excitement is dashed by the hoisting of the linesman's flag. 
12' Ezequiel Garay is playing at centre-half for Valencia. His name sounds like the answer you get when you ask a Gary from Birmingham what his name is. Garaaaay. 
10'   Ivan Rakitic pops a shot straight down Neto's neck from 25 yards. It bounces just ahead of the Valencia 'keeper, who still manages to gather it cleanly. Barça have been limited to shooting from distance so far. 
7'   Simone Zaza leaps on to a loose pass from Ivan Rakitic on the edge of the box and lays the ball off for Rodrigo. The Spain international ushers the ball on to his left foot and shoots. Umtiti, throwing his body across, blocks it behind for a corner. Parejo whips it in, and a Barça head concedes another one. At the second time of asking Valencia fluff a short-corner routine and Barcelona have a goal kick. 
6'   Barça's formation is slightly tricky to make sense of. It appears to be a flat four-man midfield (Rakitic, Busquets, Paulinho, Iniesta) when Valencia have the ball. When the visitors are in possession, it becomes more fluid. 
4'   Paulinho whistles a shot just over the crossbar, via a hand from Neto to tip it on its way. That was fierce effort, but Valencia nod the subsequent corner clear. 
2'   Kondogbia intercepts a pass to register Valencia's first touch, but the ball bounces straight back to Andrés Iniesta and on Barça go with the ball at their feet. Cautious possession from the visitors so far. It's mostly in their own half. 
1' Peeeep! Barcelona get the match underway and their early possession is greeted by a shower of whistles from the crowd. 
Ahead of kick-off, the stadium is holding a minute of applause following the death of former Valencia president Jaume Ortí. 
Barcelona players are wearing t-shirts with "#aguanteToto" on the front, which is a tribute to Sevilla manager Toto Berizzo, who was diagnosed with prostate cancer last week. 
A reminder that Marcelino will be watching his Valencia side from the stands, as a result of being a naughty boy on the touchline last time out against Espanyol. Down in the bowels of Mestalla, the teams are gathering in the tunnel... 
Just over five minutes to go. There's a right racket inside Mestalla, which is packed to the rafters. 
A cracking match has just come to an end up the coast from Valencia, where Sevilla have come from 2-0 down to beat Villarreal 2-3. Hopefully there's something in the Mediterranean air this evening. 

It's quite tricky to deduce what formation Ernesto Valverde has opted for, given that there are four central-midfielders in his line-up, and no natural wide players. I think it will probably be a 4-1-3-2, with Busquets sitting behind Rakitic, Paulinho, and Iniesta. Suárez and Messi will be up front. We shall see... 
In the absence of Javier Mascherano and Gerard Piqué, due to injury and suspension respectively, David Costas steps up in to the matchday squad from Barça B. The 22-year-old is on loan from Celta Vigo, which is a slightly curious arrangement. 

Valencia have formed solid hat-trick fodder for Lionel Messi over the last few years. The Argentine has taken the match ball after matches against Los Che in 2010, 2012, and 2013. To find the last hat-trick scored by a Valencia player against Barça, you have to go all the way back to Waldo Machado in 1961.
Paulinho is in the Barcelona starting line-up. Our very own Robbie Dunne has written about the maligned midfielder, who allows others to shine from his position in the shade.

TEAM NEWS! 
Valencia XI: Neto; Montoya, Garay, Gabriel, Gayà; Soler, Parejo, Kondogbia, Guedes; Zaza, Rodrigo. 
The lesser-spotted Thomas Vermaelen slots in to the centre of defence alongside Samuel Umtiti. Gerard Piqué is suspended after picking up five yellow cards. 
Barcelona XI: Ter Stegen; Semedo, Vermaelen, Umtiti, Alba; Rakitic, Busquets, Iniesta, Paulinho; Messi, Suárez. 
Simone Zaza has attracted a lot of attention in attack for Valencia, perhaps because he has risen from such a low (a barren spell at West Ham and a high-profile penalty miss for Italy). Yet his strike partner Rodrigo has also enjoyed a fine start to the season with seven goals in LaLiga. The 26-year-old was born in Brazil, but moved to Galicia in his early teens and is now part of Julen Lopetegui's Spain squad. He recently extended his contract at Valencia until 2022. 

From a 7-0 drubbing by Barcelona to potential title contenders... here's an opinion piece on how Marcelino has drastically turned things around at Mestalla and won the trust and backing of the Valencia fans. 

Tonight sees the return of... you guessed it, Thomas Vermaelen! The Belgian centre-back is due to partner Umtiti at the heart of Barça's defence, providing cover for Piqué (suspended) and Mascherano (injured).