PSG win in Monaco and move nine points clear in Ligue 1
It was France's top two sides meeting in a game that would likely influence how the title race would be defined. Goals from Cavani and Neymar aided a comfortable night.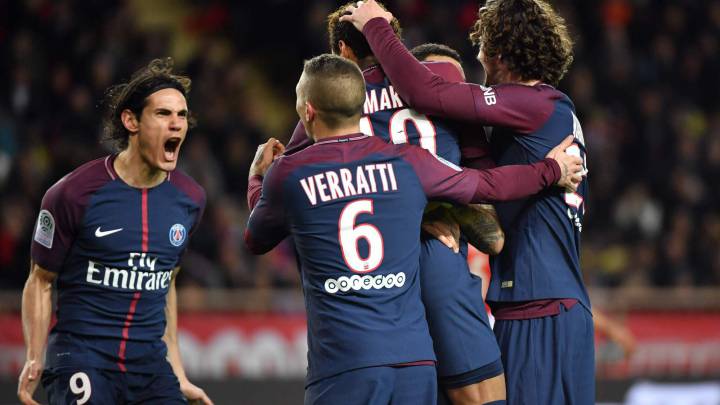 We brought you live coverage of Monaco vs Paris Saint-Germain in Ligue 1 on Sunday evening as France's reigning champion looked to make a dent in the Parisien powerhouse's domestic aspirations. Their efforts will have pleased manager Leonardo Jardim however despite a spirited last push, were never a match for Unai Emery's machine.
Monaco vs PSG: match report
PSG have been brushing teams aside of late - both in their own natonal league and that of Europe's elite - so the trip to last season's French champions was not seen as an overly tricky affair. Monaco still had some excellent players to call upon after a summer where their resource sales made more headlines than their far-from-cheap purchases, but the loss of players of the ilk of Mendy, SIlva, Bakayoko and Mbappé were always going to impact. The fact that the latter was in the opposite XI in this game after his loan-to-permanent move would only make the challenge harder, though he almost inadvertently helped the cause.
It wasn't a particularly swashbuckling PSG tonight but there were times when their hosts couldn't live with their pace and creativity going forward. Mbappé always had the legs to get in behind and had the teammates to find him. Cavani, Neymar and Draxler were all heavily involved in what was good about the play of the champions-elect while at the back Marquinhos and Silva kept Monaco at bay time and time again.
The first goal came when little looked on. Some clever play on the left by Draxler laid the chance on a plate for Cavani who took full advantage with a neat jab to lift the ball into the net. But despite being the dominant side, with Monaco struggling to get any level of control, the teams went in at the break with just that single goal between them.
Home fans, and players alike, seemed to lose what belief they had shortly after the break when a penalty was won, then converted by Neymar. Some purists may question how the spot kick was gained but there was no doubting the class of his execution. Two up and that should have been that. Monaco did give their supporters something to cheer about in the closing stages - a Mbappé deflected free kick reaching the net - but the lead was always more likely to be extended rather than clawed back.
PSG are now nine points ahead of both Lyon and Monaco in the table and, unlike other challengers for Europe's top club prize, could be entering the new year with opportunities to rest players in league games. That could be telling.
Monaco vs PSG: how it happened
Thank you for joining us tonight wherever you have tuned in from and we hope to see you again very soon for more live football coverage. Our match report will be up shortly.
90'+4' That's it! PSG take away all three points in what was a generally comfortable game. Monaco fought hard but were lacking in various areas and know they are likely to be battling it out for the Champions League places below the title-winners elect.
90'+3'   Last chance it seems for Monaco which sees Jorge lift in a cross to the gathered strikers but Marquinhos ensures it comes to nothing and the referee grabs his whistle as PSG try to get a late break away.
91' Berchiche comes flying into Sidibe and the ref is quickly across the pitch to wave a card. That more than can be said for the Monaco player who hobbles across into the area to prepare for the cross. As has been the story of the night, the curling delivery isn't bad, but the defensive group header clear. Time almost out.
90'   The board goes up to tell us we'll have another three minutes of added time. Can Monaco dent the leaders charge?
88'   A nice one-two looking to set Mbappé free results in a sloppy free-kick being given away by Glik. Di Maria stands over it and...comfortably saved by the keeper moving sharply to his left.
85'   Verratti picks up possession and tries to create some danger with a whipped cross into the Monaco area but again it's cleared. Then Monaco break forward and Falcao gets a rare shot away from around 20 yards out. It's a clean enough strike but easy for Areola to get his body behind and gather.
84'   Chance here for PSG as the newly-introduced Di Maria wins a corner. The Argentinian then takes the set-piece and it's cleared well by Jorge.
82' Angel Di Maria and Javier Pastore come on for Cavani and Draxler
81' Gooooaaaaallll! Mbappé on the edge of the PSG wall ducks out of the way of the curling (rather tame) effort and the ball deflects off him, up and into the net over Areola. Poor from the young lad.
80'   Free kick to Monaco on the very edge of the PSG area after Alves brings down Lopes. This is a chance!
79' Keita off and Djibril Sidibe takes his place. Just over 10 minutes to make his mark.
75'   Two more chances in quick succession as PSG take advantage of a home side looking to get something out of the game. First Cavani crosses towards the back post and Jemerson's intercepting header comes back off the post to the defender's relief. Then Cavani is the receiver of a pinpoint chipped cross. Unmarked just a few yards out the Uruguayan can't direct the ball on target.
73'   Oooohhhh! The outside of the post is shaved as Mbappé again gets his legs pumping to meet a perfectly weighted Neymar pass in behind the pushing defence. He clips it over the onrushing keeper but just off target.
71'   After Monaco staging somewhat of a challenge, PSG's front men are getting more of the ball again and Mbappé tries to remind the home fans of what he was doing for them last season. A shimmey and a turn almost opens the goal but he is forced away.
69'   Another chance, this time Mbappé runs into the inside right channel and lets fly. Looking for the near top corner it is a couple of feet too high.
68'   Patient build up from PSG, starting with Dani Alves on the right and ending with Mbappé and Draxler on the left, ends with a shot at the edge of the area from Cavani. It's hard, it's high. Nice passage of play that shows how the higher gears can be engaged at will.
65'   PSG seem to have taken their foot off the gas and Monaco are finding a little more joy in the final third. This time Keita picks up a great position and is played in with the goal almost at his mercy, until his miscontrol takes it away. An incorrect offside flag saves his blushes.
63'   No Neymar-shaped prisoners being taken by Tielemans who cuts a frustrated figure as he throws the Brazilian down. No card.
62' Andrea Raggi off and Rony Lopes comes on
61'   Another disappointing cross from Toure on the right, too high and collected by Areola despite pressure.
60'   That's better from the red and whites. Some interplay centrally, smarter movement around the PSG defence and Keita found nipping in behind by Moutinho. His header across goal is just too close to Areola to cause a real problem though.
56'   Two crosses in the last couple of minutes have been swung in from wide positions by Monaco, by Toure then Kurzawa, but Marquinhos and co. are getting to clear them much too easily. Something more inventive is going to be needed by the hosts if they've to even hint at turning this around.
54'   Monaco players must keep their heads in this game. The chances were always going to come for the PSG stars but they need to try and ride them out while making some of their own. Their is a risk now that the game, and scoreline runs away from them. 
52' Goal!! Neymar stutters, stutters, and.....slides it into the side of the net that Subasic is not diving into.
51'   Penalty!! Neymar is fed in behind Toure but instead of running on, slows up so that the defender falls over him. Hmmmm?
48'   Another chance opens up for the visitors. Young Kylian free on the right does well to spot Cavani's supporting run on the other side of the area. His delicate chip across is deflected by Subasic and cleared.
47'   POST! Neymar smacks a shot off the right-hand upright after great build up from Mbappé and Cavani to tee him up.
45'   Monaco get onto the front foot and win a throw in level with the PSG penalty spot. It's thrown long towards that white circle but the referee's whistle blows for a rather soft foul on the headerer Rabiot.
We're underway at the Stade Louis II as Monaco play from left to right as we watch.
The teams are coming out, rather slowly I may add, and PSG's Silva wanders onto the pitch in deep conversation with referee Francois Letexier. I know some games where that would lead to controversial conspiracy claims.
Jardim will likely consider some changes, whether simply player freshness, or trying out Plan B. At a goal down his side are far from out of this match but he'll be disappointed at the composure when in good positions. Keita has worked hard across the front line but the delivery into the area has been hopeful rather than considered.
The Parisien powerhouse goes in at the break with a deserved lead. They've not been a completely dominating performance but the control of the game has certainly been with the visitors. With about 60% possession, and more creativity in the final third Emery will be pleased with his team's first half. Their defensive line too has done well at closing out the occasional danger created by Monaco.
45'+2' Half-time | The players trott in to their plush changing rooms to hear what their gaffers feel about their performance. I'll give you mine in a moment...
45' Neymar goes into the book for a foul on Glik. It could have been painful for both players but they're up and ok. One minute to be added.
43'   Almost a second goal for PSG. This time the ball is worked from right to left in front of the home penalty area and as Draxler tries to place it into the far post a touch from Subasic takes it agonisingly wide of the post and out of the reach of Mbappé who was coming in. 
40'   Mbappé getting his boots white on the right and leaves Raggi for dead. His ball into the danger area is well dealt with and Monaco look to see what they can develop.
39'   Jorge gets forward for Monaco and delivers from a position on the left that just begs for a curler onto attacking heads. Way over everyone. Crowd deflation heard. 
37'   Neymar and Mbappé try to connect with some neat exchanges, and a drop of the shoulder thrown in for good measure. The spaces in the Monaco final third that they almost exploited quickly close though.
34'   Monaco are struggling in the last few minutes to make anything creative look like happening in the opposition half. Instead a lofted header and a route one Subasic clearance are seen as viable alternatives. PSG certainly much more in control of the play.
32'   Some sustained possession from the visitors, pushing the ball wide to the right, then direct across to the left, back through the middle and then towards their own half so as not to lose it. As an opportunity is spotted by Thiago Silva he fires it forward but a quickly-backtracking Jorge sorts it out for Monaco.
30' Another card, this time for Jemerson after what seemed to be a delayed challenge on Neymar from behind. More grimaces from the Brazilian but it didn't look too bad.
28'   It is the ex-Chelsea and United man stepping up...and it's a foot or two over the bar. Firmly hit but never troubling Alphonse Areola. Good to see a little more pressure from the hosts.
26'   Keita gets onto the scraps of that last opportunity and his shot/pass towards goal is deflected for a corner. Again the ball in is cleared, Keita picks it up, runs at the line and is fouled, this time by Draxler. Chance on the edge of the area and it looks as if Falcao will have a go...
24' Clear card shown to Kurzawa bringing down Keita who was flying around him and would have been free to run into the area. The free kick though is disappointing and PSG clear through Silva again.
22'   Alves charges forward into the right channel but strays offside as the ball is played in for him. The Monaco defence seemed to have it pretty well under control.
21'   Falcao drops a little deeper and gathers with space to run into. The cross that is delivered in is easily cleared by Silva under no pressure.
20'   What can Monaco do now? Some fans have their heads in their hands - surely too early for that.
18'  17' Goooaaaalllll!! Cavani fires home from a Draxler pass. Almost out of nowhere the German lays it on and his strike partner jabs it into the roof of the net over Subasic.
16'   Monaco push right up on the PSG defenders who look to play their way out of trouble wiht some neat triangles. Verratti then draws the foul of Moutinho who was getting in to close and the brief pressure is relieved.
15'   Neymar grimaces as he may have been caught. He can't have expected a non-contact night tonight
12'   A Marquinhos foul on Tielemans brings about a chance for Monaco to deliver into the area. Moutinho does but its Kurzawa who clears.
10'   Kamil Glik does well to break down another attack from PSG and Monaco look to make something happen at the other end as the Mbappé runs are proving hard to pick up 
9' Jorge was shown a card for that Alves challenge
9'   Chance for Draxler as Mbappé is freed into the area on the right by Dani Alves (who gets a clattering from Jorge) and the man on loan fires the ball across the area, clipping Cavani en route to a stretching Draxler at the back post who can only guide it into the side netting.
8'   Neymar not being given much time when he drops deep to pick up the ball. Sensible thinking...until he beats that man and leaves the team open.
6'   Falcao gets a shot away from the edge of the area but it flies high and over. Against another side he may have looked to take more time over the chance but he gave a sense of "I may not get many of these tonight" in his approach.
4'   PSG happy to go long when needed - and with the intelligent pace ahead, who blames them? Mbappé again looks to picked out wide on the left but Verrati's pass is intercepted well.
2'   Chance! Neymar turns inside two Monaco players and scampers away in the middle of the park. Just when it looks like he may go solo he threads a beautiful pass in behind the home defence with Mbappé sprinting onto it. He toes it around the onrushing Subasic but from a slightly wide angle hits the side netting. He should have scored!
1'   Immediately the home side push forward with purpose and Balde Keita is judged to be offside. 
We're off!
For most neutrals out there, a Monaco win would certainly be a shot in the arm for Ligue 1. It would bring the hosts to within just three points of the leaders and the narrative would change.
The teams are out on the pitch, shaking hands and eyeing each other up and down in a rather friendly manner. It's almost time to get this game going...
Talking of that visiting midfield, Julien Draxler has been making some headlines in Sunday's papers. Suggestions are (once again) that Premier League pair Liverpool and Arsenal are both sniffing around a potential January move for the player that Emery may allow to slip out of his plans. He's in the starting line up tonight so let's see what he can do to impress at home or abroad.
It will be interesting to see how Fabinho and Tielemans get on today in the middle of the park with one of the most impressive midfields up against them.
As the players warm up in front of us there are some silky skills to be enjoyed. That Neymar kid can't help but lay it on for the watching public, forget all the money and headlines involved, he just loves kicking a ball about.
The attacking force from the hosts will be a hard-working mix of Falcao, Moutinho and Keita, but how many chances they can create against an almost all-conquering capital side will be what many are asking. It's worth noting that in front of their own fans Monaco have managed to score at least two goals in all but one of their last 16 games.
No real surprises in the team news as PSG leave in the big guns as they look to further stretch the gap at the top. Kylian Mbappé hopefully was guided to the correct dressing room upon arrival, this being the young forward's return to his parent club.
The teams are in
Monaco XI: Subasic; Glik, Jemerson, Raggi, Jorge; Touré, Fabinho; Tielemans, Moutinho; Balde, Falcao
PSG XI: Areola; Alves, Marquinhos, Silva, Kurzawa; Rabiot, Verratti, Draxler; Mbappé, Cavani, Neymar
Another important player for the hosts tonight could be Stevan Jovetic. The Montenegrin has spent time at Man City, Inter Milan and Sevilla (among others) so is now just a Bundesliga appearance away from completing the Big 5 European leagues. His goal against Amiens last weekend - after coming off the bench midway through the second half - earned his side a point, and he'll be hoping to play more minutes as the season progresses. Here he is performing in LaLiga.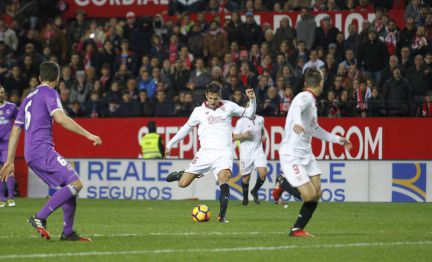 The pitch is looking in fine nick for tonight's clash which should mean for some quality football. Monaco may have offloaded a few of last season's stars but in Youri Tielemans, Fabinho, Joao Moutinho, Balde Keita and a well travelled Radamel Falcao, there should be enough to trouble their visitors. Team news shouldn't be far away and we'll bring you it here...
  PSG travel to the reigning Ligue 1 champions as favourites and for those that have seen some of their sparkling Champions League performances you'll not be surprised by that. But - listen up hopeful Monaco fans - we've been bringing you live coverage of PSG's games all season and can assure you that even with that star-studded frontline, Emery's side have, at times, just stumbled over the line in games.
Don't forget that we've also got live, minute-by-minute coverage of Valencia and Barcelona's top-of-the-table LaLiga clash, which kicks off at 20:45 CET tonight. We're building up to the game at the Mestalla now.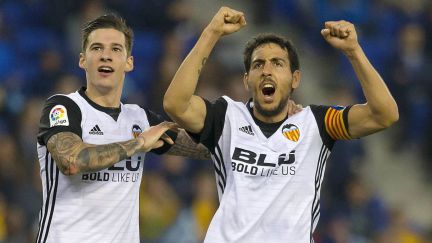 After scoring two in the Champions League demolition of Celtic on Wednesday night, this Uruguayan onion-bag-botherer is now just five goals short of Zlatan Ibrahimovic's club-record haul of 156 for Paris Saint-Germain.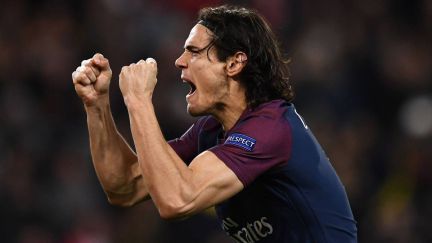 Monaco and Paris Saint-Germain come into today's week 14 clash on the back of differing results not only in Ligue 1, but also the Champions League: Leonardo Jardim's men, who had reached the semi-finals last season, exited Europe's premier club competition at the group stage in midweek after a comprehensive 4-1 defeat to Germans RB Leipzig. Meanwhile, already-through PSG maintained their 100% record with a thumping 7-1 win over Celtic - a victory that saw them bring up a record 24 goals so far in the group phase, with one game still to go.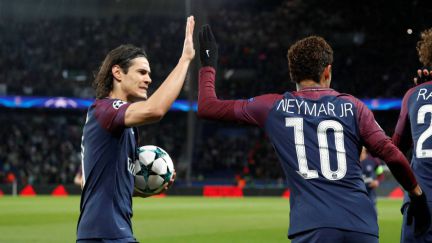 Monaco drew 1-1 with Amiens last weekend in Ligue 1, a stalemate that saw the French champions slip to six points behind today's visitors, who thumped Nantes 4-1.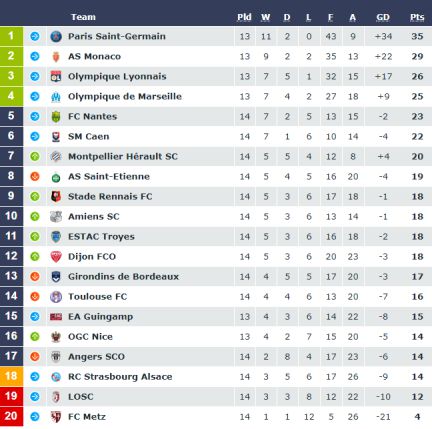 Good afternoon! Join us for the build-up to this evening's box-office Ligue 1 clash at the Stade Louis II!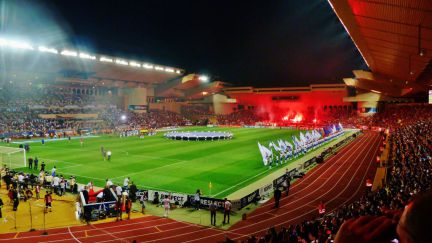 Monaco vs PSG live online: match preview
Paris Saint-Germain arrive at the principality aiming to open up a nine-point lead at the top of Ligue 1. On paper this should be their toughest fixture of the season, against last year's French champions, however, both sides come into this on the back of very different midweek Champions League experiences: PSG demolishing Celtic, Monaco embarrassed by RB Leipzig..
Unai Emery's men head to Monaco looking for a fourth straight win over their nearest title rivals, who will be smarting from being dumped out of Europe following that 1-4 reverse at the hands of the Bundesliga side. PSG's run of four consecutive titles was ended by a surprise Monaco side last season but, boosted by the world-record signings of Neymar and Kylian Mbappe, have been rejuvenated this season.
PSG's Ligue 1 cruise puts focus on Champions League
Few expect anything other than a cruise in the league for the capital club, and even coach Emery claimed their final Champions League group game at Bayern Munich will be more important than this top-of-the-table showdown. PSG take on Bayern on December 5, needing only to avoid a four-goal defeat to wrap up top spot in Group B, after their stunning 7-1 victory over Celtic on Wednesday saw them smash the previous group-stage goals record with 24 in just five games.
"Sunday's game away at Monaco, whom we respect, will be a great test as well but Bayern is the big match," Emery said.
Belgian right-back Thomas Meunier was not so confident, though, insisting that there is still a long way to go before PSG can feel comfortable in the league. When asked if victory on Sunday would all but end the title race:
"No, far from it, not after 15 league games.There will be a nine-point gap if we win over there, but we know that at any moment things can happen. For me, it would be pretentious to say that we can win the championship on Sunday."
After reports of a rift between Spaniard Emery and world-record signing Neymar, the Brazilian was in sparkling form on Wednesday, scoring a brace to take his tally for the club to 13 goals.
"He was extraordinary," gushed Emery. "There were a few matches where he stopped playing for different reasons but when he is in form physically and his mentality is right, he can play."
Monaco looking to give season real meaning
Monaco have struggled to match the achievements of last season, when they also reached the Champions League semi-finals, after seeing their title-winning side decimated in the transfer market. After the departures of left-back Benjamin Mendy, midfielders Tiemoue Bakayoko and Bernardo Silva, and teenage sensation Mbappe, among others, they failed to find a win in five Champions League group-stage outings.
But victory at the Stade Louis II on Sunday would drag them back to within three points of PSG, as Radamel Falcao's 13 goals in just 10 Ligue 1 games have helped Leonardo Jardim's side keep fighting at the summit.
"We have to recover from this defeat on Sunday," Monaco vice-president Vadim Vasilyev said after Tuesday's loss to Leipzig. "The goal is to be stronger next year in the European Cup, it takes time for a team to work well. I know that the players will show their quality, the season is still long."
Monaco vs PSG live online: betting odds
If you think the home team can repeat the scoreline from this fixture last season (3-1) then you can get 33/1 with bookmakers. If you can't see past a comfortable 0-2 win for PSG then you can still turn 10 of your hard-earned euros into 90.
See all the odds and bet on Monaco vs PSG here