Simeone: "Tonight's win puts the draw against Madrid into focus"
El Cholo Simeone praised Gameiro and Griezmann for their "extraordinary effort" in helping Atlético stride to a five-goal victory against Levante.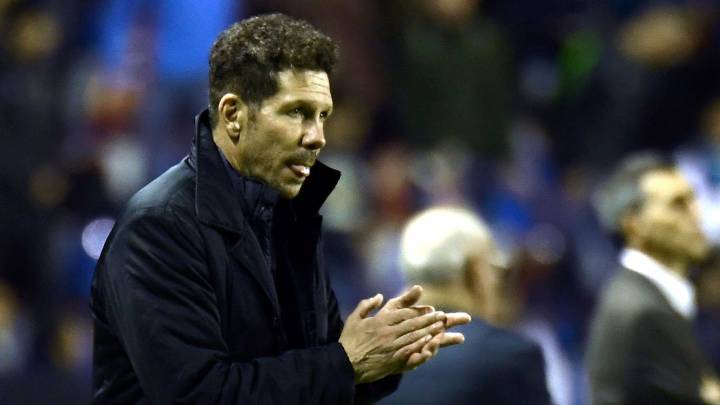 Diego Simeone aired his thoughts on Atlético's 0-5 away at Levante and praised his players for their teamwork at the Ciutat de València.
Comprehensive win: "We went into this game on an upward path, for the last three or four games we've been improving in several area - in applying pressure, in intensity and aside from the work we did today in attack, I was very pleased with the work everyone did as a team - with Correa, who was great, Torres had two or three chances during the short time he was on the pitch... The team is more relaxed and the lads have got their spirits back, they have positive energy and that's a real boost for all of us".
Team effort pleases Simeone
The most positive side of today's performance: "The work the players put in - with the team effort. Both the more established players and the younger ones want to compete, I'm the one who always loses. If I field Torres and it turns out badly, I get criticized, and with Gameiro as well... The group is pushing as one, and that's something I love to see".
Analysis: "We're fresher because we're playing better, the players know how to read the game and know where we can punish our opponents, that's what helped us to put in a good performance against Roma, particularly in the second half, and tonight against Levante Griezmann had an early chance which encouraged us to look for areas where we could do damage".
Valencia-Barcelona: "We have to win our games, there are still a lot of games to get through... I was concerned about beating Levante, it's always a difficult ground to come to; this win was important because it brings the draw we gained against Real Madrid into focus".
Atleti's rut now at an end: "We're always trying to improve. The team put in a very good performance. Every day we are growing and improving a little. Now the attacking partnerships are starting to work, and when that functions, the team is able to fly".
Midweek Cup return leg
Third in the table: "Let's stay calm and keep improving. We've got Elche midweek. I hope this result serves to strengthen the group. The work which Gameiro and Griezmann did was unbelievable, and Torres did really well when he came on…".
Wins away from home: "We don't think about where we play. We have the same desire to win. We have to take it day by day, and as of now, we're only thinking about Elche".
LaLiga Santander
*Update 25 de noviembre de 2017