Wanda Nara: the Inter defence against Real Madrid Icardi attack
Mauro Icardi's wife and agent has plenty of influence when it comes to where the striker scores his goals and may hold the key to keeping the Argentine in Milan.
Mauro Icardi guarantees goals. Well, that is certainly true going by the way the Argentine striker is performing at the moment for Seria A side Inter Milan. With 15 goals in 14 league appearances he is currently joint-second in the running for Europe's Golden Shoe along with Lazio's Ciro Immobile. Only PSG's Edison Cavani is ranked higher.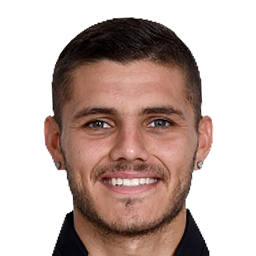 Icardi targeting record season
This season is suggesting it could be the player's best yet, as he continues to impress in front of goal. In his previous three seasons with Inter (discounting his first 2013/14 where he featured less) Icardi has scored 22, 16 and 24 goals respectively. He is on track to exceed his best by some distance and this form has brought praise from around Europe as well as interest from the top clubs.
One such elite club that has been reportedly interested is Real Madrid, a team that many believe is in desperate need of striking reinforcements if they are to claw back Barcelona's lead in LaLiga. If this target is to be achieved, though, it would seem that various positions would have to change. For instance, only this week the player and his manager suggested that there was nothing to say about a move to Los Blancos. This contradicts, however, a view from another Italian. Also, it's worth noting that after renewing in the summer, according to the Italian paper Corriere della Sera, there is a clause in his contract for 110 million euros, although this is certainly not out of the reach of Florentino Pérez, especially with players to use as part of any deal.
Wanda holds the cards to Mauro move
Icardi's wife and agent, Wanda Nara, is famous in her own right and is playing a key role in what happens to her husband-client. She was instrumental in securing a five-million-euro payment each season for the 24-year old at Inter and would need to be persuaded to make a move from a place the family appears extremely settled. Their five children (three from a previous marriage to footballer Maxi López) have their networks in Milan and the links to the I Nerazzurri both physically in terms of location and emotionally are said to be important and strong.
If Real Madrid are serious about tempting one of Europe's hottest properties to the Santiago Bernabéu, it's likely to take a lot of wooing.