The World Cup in Russia starts today, with the draw. We'll see what it holds. For the moment, what we do know is that it has been preceded by extraordinary events. Its own appointment, in 2010, at the same time Qatar was assigned 2022, unleashed an abrupt backlash against FIFA, one that saw the FBI bursting onto the scene, within its sacrosanct space. We all know what came out of that: arrests, the fall of Blatter, a revised set of controls. It all seemed akin to the situation Captain Louis Renault found himself in in the film Casablanca when told to close Rick's Café. "But everybody's having such a good time!" he replied. It's worth remembering, though, that this World Cup had not been awarded to Russia in any less scrupulous conditions than previous ones.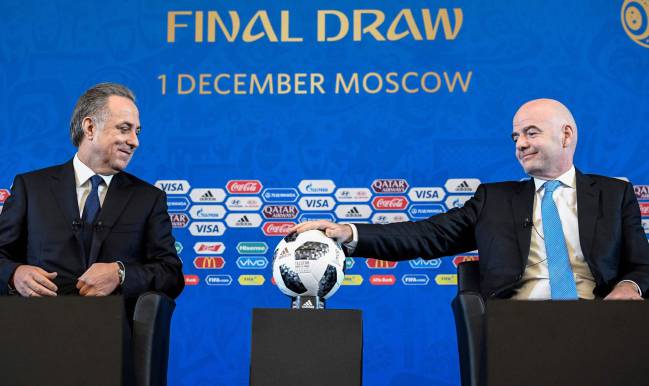 Blatter and the Russian power plan
Blatter fell, but Russia's prize of the World Cup could not be taken away. And so it is there that we go today, with this draw in minus five degrees in a country where we can joke a little about the idea of a 'Soviet plan'. Putin is trying to rebuild the strength of the old USSR and everything is encapsulated in this: from capturing Crimea and the entanglement in Ukraine, to covering up state doping of athletes, to the control over this World Cup that is now at our door. Blatter, once removed from office, spoke about his own plan for Russia to host in 2018 and the United States in 2022, but that he had been crossed by Sarkozy who supported Qatar for the latter and that altered the plan. Blatter tried to keep several plates spinning at the same time during his late reign but once one was removed, they all collapsed.
Hoping football can benefit Russian culture
Fortunately, we are not living in the times of the Cold War, which caused so many headaches for the IOC. Now there is another player, China, and things are a lot less black and white. Fifa saw a Lampedusian change, Infantino for Blatter, and took a step forward. Today Moscow is the capital of football. I hope for a kind draw for Spain (we sit uneasily in pot 2 and are ripe for picking in an eventual 'group of death') and that football, with the charitable force that I attribute to it, will help Russia to be infiltrated by two positive elements from its European neighbours: that doping is a disaster and that homosexuality is not.