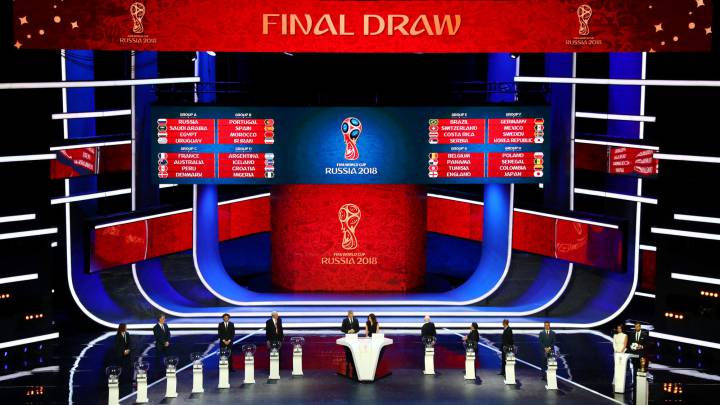 Roll on June 14 with the opening game of World Cup 2018 being hosts Russia facing Saudi Arabia in Moscow after the draw for the Group stage was held today at the Kremlin in Moscow.
Group B
Spain were drawn in Group B and will open their campaign in Sochi on June 15 with a kick-off at 2100 (local Russian time). They then move onto Kazan where the Iranian national side await before finishing the group campaign in Kaliningrad against Morocco.
Should Lopetegui's men progress from Group B, they then face the first or second placed side from Group A (a group which features Russia, Uruguay, Egypt and Saudi Arabia) in either Sochi or Moscow.
World Cup 2018 draw live online: as it happened
So no real "Group of Death" ... we do like Group D with Argentina, Iceland, Croatia and Nigeria ... a classic WC group !   
Japan complete the full draw and head to Group H (team H4) joining Poland, Senegal & Colombia  
South Korea head to Group F (Germany, Mexico and Sweden) 
Debutants Panama head to Group G (G2) along with Belgium, Tunisia & England 
Nigeria off to Group D... joining Arg, Iceland & Croatia (team D4)  
Next out..Australia and they head to Group C (C2) joining France, Peru & Denmark  
Next up into Group B is Morocco who join Portugal, Iran and Spain ....(team B3)
Next out is Serbia who skip into Group E (E4) with Brazil, Swi and Costa Rica 
Final Pot 4 to go .... first name out is Saudi Arabia into Group A (with Rus, Uru & Egy)  
Senegal join Colombia & Poland in Group H (H2)
Tunisia join Belgium & England in Group G. The African side are team G3
It's Sweden F3 and they head to Group F along with Mexico & Germany
4 balls left ... it's Costa Rica (E3) and and head to Group E with Brazil and Switzerland  
Iceland next out and head to Group D and will be team D2 along with Argentina & Croatia
Group B beckons for Iran (B4) who face Portugal and Spain
Cafu draws Denmark (C4) who skip into Group C along with France & Peru  
It's Egypt (A3) ... who head to Group A with Russia & Uruguay  
Off we go to Pot 3.... 
Last from Pot 2 is Colombia who head to Group H joining Poland 
England will be grouped with Belgium in Group G  
Next out.... Switzerland who head to Group E along with Brazil (in place E2) ...Mexico next side out ... into Group F and in with Germany
Croatia head to Group D along with Argentina
Peru head to Group C and will meet France (C3)
Second Pot 2 is Spain who head to Group B !!!! Portugal v Spain   
Uruguay are the first name from Pot 2 (Team A4) 
Now it gets intersting as Pot 2 and actual match-ups start to appear .... 
Belgium are Group G bound (G1) with just Poland remaining who will be (F1) 
  Next up we'll have: Germany (current holders) and they head for Group G (Team G1)  
It's Brazil !!!!!!! Group E bound .... 5 times winners !
Nikita draws Argentina !!!!! Group D bound for Messi, Dybala, Higuain and co. (D1) 
The third team to be drawn are France who take their plece in Group C  (C1)
Banks draws ball 2 which confirms what we already knew.... Russia are A1 and will feature in the opening game.... B1 are Portugal
Buckle up folks, the Russia 2018 World Cup draw is about to start as Lineker talks us through the draw process.... Groups A-H about to be completed. Off we go .... ball number 1 is drawn .... and it's: Russia A1 and hosts 
Here's what it's all about ....the World Cup trophy with Russian Dancers in the background

Gary Lineker and Maria Komandnaya take to the stage so I reckon it's game on ....Let the draw begin !  
Gordon Banks, Diego Forlan, Maradona, Nikita Simonyan, Puyol, Blanc, Cafu, Cannavaro each take a place beside a large bowl filled with white balls 
The traditional Russian dancing is over and recieves a rich round of applause from the hall. Next up .... a history of the World Cup video with shots of the all-time greats....Cryuff, Pele, Baggio, Ronaldo, Hurst, Zidane, Maradona etc .... a decent 5-a-side  team ! 
Still no sign of Gary Lineker and Maria Komandnaya yet but I guess when they appear it's business time !

Local presenters now run through the varying Russian host cities and the rich variety of culture available in each city as traditioanlly dressed dancers take to the stage. The rambleometer is hitting 7 !!!
Here's a panoramic of how the packed Kremlin Palace hall looks right now

Miroslav Klose (currently playing in Japan I think ?) is on stage talking about who it feels to win the World Cup with Germany  
So to the draw process. No teams for the same confederation can be in the same group (barring UEFA nations, where only 2 Euro sides can be in the same group). i.e Mexico and Costa Rica despite being in diffeerent pots must be placed apart.  
GOAT !

Infantino & Putin live !


Moscow, St. Petersburg, Sochi, Volgograd, Nizhny Novgorod, Rostov-on-Don, Kazan, Samara, Saransk, Yekaterinburg and Kaliningrad are the 11 host  cities.... as Infantino closes his speech... he's still thanking people !!!!
Warm round of applause for Mr. Putin as Infantino fires out a few words in Russian before adressing the audience in English. He proceds to welcome the crowd and television viewers to the draw and alos thanks the Russian government. 
Mr. Putin talks us through what the 2018 World Cup will hold in Russia with great hospitality and great football for all fans wanting to visit next summer. "All supporters will be welcomed like friends" states the head of the Russian state.   
Here we go Russian president Vladimir Putin and head of UEFA Mr. G. Infantino take to the stage so I guess we're underway !!!!! 
Dates for the diary: The 2018 WC starts on  June 14th with the final taking place on July 15th. The second phase of tickets go on sale next Tuesday should you fancy heading to Russia.  

We'll go through the draw process during the preamble but it's pretty straight forward... 8 groups of 4 from four pots  

Recent UEFA draws have been rather good with just the right amount of preamble and videos before the actual draw process. What will FIFA have in store ? We'll start the rambleomoter at 1600 CET and keep it ticking but rest assured there will be videos of goals with pumping a Euro house soundtrack  
Here's the infamous Spain first team kit that caused plenty of furore when released over a month ago.  

  Here's a stat attack from Robbie .... Highest average attendance ever at any World Cup was USA 1994 with an average of 72.000 fans per game. Robin Williams was on hand that day for the draw.  

Former player and BBC presenter Gary Lineker and local Russian TV personality Maria Komandnaya are the draw hosts today.... 

Introducing the Telstar 2018. Official match ball which will be used at Russia 2018 and rather smart too !

What do you mean you haven't seen photos of Russia 2018's most bizarre stadium.... The Ekaterinburg Arena...Have a browse at this photo album for some innovative engineering 

Sadly it's been reported that Rod Stweart will not be on hand today at the WC 2018 draw   

Maradona arrives at the Kremlin Palace with just a hint of Naples in his demeanour...

Amuse yourselves pre-draw with the "Which World Cup Team Should You Root For?" from US based FiveThirtyeight 
Brazil, Spain, Sweden & Nigeria is the AS English group of death... 
3 legends !

Nigerian journo @ToyinIbitoye is in da house ... and wins the prize for funkiest headwear at the draw 

Brazil / Spain / Denmark / Nigeria - that's one potential group that AS director Alfredo Relaño is not hoping for as he looks ahead to the draw in today's editorial.
  African side Nigeria are expected to be drawn in a tough group today as they will be pulled out of Pot 4. But that's not stopping coach Gernot Rohr building the confidence of the team insisting his players are ready for anyone. 

Good morning and welcome to our live coverage of the 2018 World Cup draw. The actual ball selection formalities are scheduled for 16:00 but we have so much to bring you ahead of then...