Barcelona-Celta Vigo 2017/18 LaLiga: match report, goals, action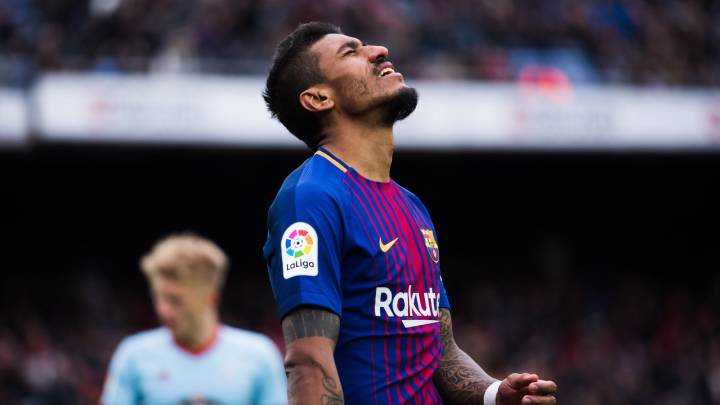 Barcelona 2-2 Celta Vigo: match report
Barcelona dropped points for the second consecutive week as Celta Vigo came to the Camp Nou and leave with a point earned as daylight between Barcelona and the rest continues to fade.
On Juan Carlos Unzué's return to the Camp Nou where he once worked alongside Luis Enrique, he seemed to know exactly when and where to press Barcelona to hurt them the most. Despite Valverde's side lop-sided possession percentage, Celta Vigo were a constant threat as they countered with purpose.
They took the lead on 20 minutes as Iago Aspas jumped the offside trap and squared to Maxi Gomez, who saw his shot saved by Ter Stegen. Aspas, who had followed the play, tapped home as the Camp Nou was stunned.
That lead only lasted two minutes, however, as Lionel Messi sprung to life and slid under Ruben Blanco after a flowing move involving all of Barcelona's attacking players.
Barcelona seemed to be out of ideas as the second half wore on and as Celta continued to look dangerous on the break. It would take a Messi moment to break the deadlock yet again as he played a perfect pass to Alba, who squared to Suárez as both Messi and Suárez got on the score sheet for the same time in a game since September.
Celta kept their cool, however, and stuck to their gameplan. They had their reward when Iago Aspas, the protagonist yet again, broke free down the right and played it back to Maxi Goméz. The big striker made no mistake this time as he waited for the right time to pull the trigger and pull Celta Vigo level.
Barca, who looked sluggish throughout, continued to knock on the door but it never opened and Celta continued to do their own knocking up the other end of the field. The game ended with Barca frustrated and Celta realising how important a point that might just be after an impressive performance.
Barcelona vs Celta Vigo live stream online: as it happened
Piqué and Barcelona asking the ref about added time after the free and then the corner but ref points to the dressing room.
90'+5'   Game over. It ends with Messi seeing his free being headed out for a corner. Referee doesn't want anymore time. Barcelona complaining.
90'+5' Yellow for Mallo. Chance for Messi.
90'+5'   Messi wins it back and makes his way along the side of the box. He loses it and Busquets gets it before Mallo cleans him out of it! 
90'+5'   Sergi Roberto tries to pull it back to Messi but he falls over. 
90'+3'   Sergi Roberto with a lovely cross but Paco Alcácer heads just over.
90'+2'   Barca win a throw. Suárez down on the ground looking for a free but he jumps up once Barca win the throw. Ref says he didn't see anything and he was perfectly positioned. 
90'+1'   Valverde really not happy with all the time-wasting.
90'+1'   Denis fouled by Hugo Mallo on the edge of Barcelona square. More time killed.
90'+1'   Five minutes of added time? 
90'   Wass wins a corner off Vermaelen as he kicks it straight off the defender.
90'   Suárez looking for a corner but ref and linesman in unison, didn't look like it hit the defender's foot. He has a go at the linesman but nothing happening. 
89' Free comes in and Celta break. Nothing comes of that but they win a throw. Loads of time-wasting now as Sisto is booked for the same.
88' Wass pulls down Suárez now. Really cynical but he won't mind.
87'   Sisto put through by Aspas but it's just a yard ahead of him. Ter Stegen saves.
86' Ruben Blanco booked now for time-wasting.
86'   Suárez obliges and moves forward. Pulled back for Denis and his shot is half-blocked before Messi heads wide from two yards out. He was at an awkward position but needs to get that on target! 
85'   Camp Nou fans urge their team forward.
83' Tucu Hernandez on for Jozabed.
83' Vermaelen the latest to go in the book. He hauls Maxi Goméz down.
83'   Alcácer pulls it back to the crowd in the middle but Celta deal with it.
81' Jozabed booked for a nasty lunge on Denis Suárez. Stopped the counter.
80'   Aspas through again and he forces Piqué to dive in before pulling it back. So close to being able to poke it to a teammate. Barcelona clear.
78' Rakitic off for Alcácer.
78'   It carries on as Alba throws the ball at Mallo and Mallo has a little poke at Alba's ribs. Suárez in to seperate the two.
78'   Ruben Blanco comes out with his fists and levels his own player without getting the ball. Some agro out on the left now between Celta captain, Mallo, and Alba. They wanted the ball out of play but Alba wanted to play on, it looks like.
This tweet sums up Celta Vigo's attack. They're getting shots off nearly every time and looking very dangerous.
76'   Mallo fouled be Denis Suarez.
75'   Free for Barcelona. they take it short and it ends up at Piqué's feet. He dribles it past Blanco and hits it off the outside of the post. So close. 
73'   Paulinho drives a shot just over the bar. Suárez with the attempted diving header before that.
72' Umtiti replaced by Vermaelen as it looks like the defender has a muscle injury. 
70'   Aspas beat Umtiti on the right and he is hobbling badly as it looks like he can't continue.
70'   Aspas with the nice run down the left and pulls it back to Gomez. 
70'   GOAL! GOAL! GOAL! Maxi Gomez drives home. 
69'   Denis thinks he has a corner but the ref points for a goal kick. 
68'   Ball in behind looking for Wass but Alba does really well to step in front and win it back. Nice, neat control.
67'   Aspas from downtown as he curls it towards Ter Stegen. Nice and handy one for the keeper to add to the list of saves this season.
65'   Just before that and Blanco with a point blank save from a Messi header.
65'   Sisto plays it out wide and to Wass. He clips one into the box but Aspas is too far away from it. 
64'   Wass got caught out by Alba in behind but it was Sisto, who fell asleep at the other side of the field as he kept Alba on. The ball by Messi to Alba was incredible and Suárez with a calm finish. 
62' What a pass by Messi. He plays it through to Alba and he squares to Suárez, who just slots home. 
60'   Sisto fouled by Sergi Roberto. Probably not a foul, maybe, but he went in slightly over the ball. Rakitic complaining but the ref's mind is not for changing.
59'   Celta almost caught out but Fontas fouls Denis Suárez on the break. Looked harsh but he had his hands around his torso. And you can't do that.
58'   Brais Mendez looks for Aspas in a forward position but the pass it out of reach. Barcelona back in possession. Celta pressing higher up the field now too.
55'   Busquets fouls Piqué as he tries to build on a counter. Barcelona unluck earlier in their own right as Messi dispossessed outside the box after Celta coughed up possession. All very tame from Barcelona now as they seem to be waiting to see what Celta are going to do.
54'   Cross comes in and Blanco grabs it. Slight lull now as Barcelona try to figure out how they go about taking the lead here.
53'   Messi fouled just before the substitution. 
53' Iniesta replaced by Denis Suárez. 
51'   Denis Suárez coming on for Barcelona, it looks like.
50'   Iniesta makes a move forward, looks to be fouled, but carries on. He pokes it to Alba but he's drifted offside. 
49'   Paulinho with a chance. He is put through by Messi and he takes it towards goals, goes out left, beats the keeper and can't get it back on target.
48'   Celta with a four on two but Aspas goes out wide to the right and it's too far for Wass!
47'   Suárez nearly through but it's stolen off the tip of his toe. 
46'   No changes for the second half for either side. 
46'   Back underway for the second half.
Massice discrepency in the possession stats but the shots are similar. Barcelona enjoying 65% of the ball and have five total shots. Celta have four! 
  Since then it has been all Barcelona but Celta hanging on and have the quality up front to keep hurting Barcelona on the break.
Celta took the lead through Aspas and couldn't hold out longer than two minutes before Messi equalised.
45'+1'   Half-time at the Camp Nou!
45'   One minute of added time.
45'   Really good chance for Celta again. Sisto clips it out to Wass and he strikes but completely mishits it. Gomez waiting behind him, all it needed was to be pulled back.
44'   Sisto has a crack after a breakdown in defense from Barca gifts them the ball high up the field. He strikes well wide.
42'   What a chance. Sisto cuts inside and plays it wide to Brais Mendez and he crosses. Aspas nearly reaches it and so does Gomez but neither make contact. All it needed was a touch and it was in!
41'   Maxi Gomez through now but he's offside. Unzue turns away and it upset. Very frustrated too, I'm sure, and a little bit nervous. Barcelona having it all their way recently.
39'   Celta really struggling now. They can't hold onto the ball. Doing well in the centre sometimes when they have it back that ball forward is failing time and time again.
36'   Rakitic crosses perfectly to Paulinho and he almost can't believe he's in so much space. Heads at Blanco, who saves. 
36'   Messi runs out to the left looking for a shot but plays it to Alba instead, who ends up cutting it back to the Argentine. Looks for space against but Celta scramble it away. All Barcelona since the goals.
34'   More pressure from Barcelona as Messi get a shot away this time after taking the ball off Sergi Roberto. Blocked.
33'   Sergi Roberto wins it back off Pione Sisto on the edge of the square. Textbook defending.
33'   Busquets fouls Maxi Gomes. Very little in it really but Celta with a slight break from defending. 
31'   Shout for a penalty but referee says goalkick.
31'   Excellence from Sergi Roberto, Suárez takes it down on the chest and tries to play it back. Celta recover and Barcelona get another chance but it goes wide. 
30'   Rakitic lines up a shot and drives over. All very congested that time for Barcelona.
30'   Barcelona win a corner.
27'   Barcelona finding more space in behind now. They've started to open up Celta and getting more chances. Coming from the right a lot too. Latest nearly finds Jordi Alba at the front post but he's squeezed out by a couple of Celta defenders.
26'   Suárez through and toes it home. He's offside, according to the linesman but he was on.
24'   A quick shot of Dembele in the crowd, wondering when he will get the chance to play at the Camp Nou again. 
22' GOAL! Messi responds. He slides it under Ruben Blanco. They were almost all involved. Suárez, Paulinho, Iniesta and finally Messi. 
20'   Barcelona go behind thanks to Aspas. Eight goals from the gallego now. He was put through, played it to Maxi Gomez and he sees his shot saved by Ter Stegen before Aspas follows up and scores.
20'   IAGO ASPAS! GOAL!
19'   Really even so far. 
18'   Aimed at Umtiti but cleared. Messi wins it back and Barcelona start again.
17'   Messi with an unbeliavble pass out with to Alba from deep in midfield. He lands it straight onto his foot! Alba wins a corner.
16'   Pione Sisto with a lovely pass to Brais Mendez and he cuts inside but doesn't have a shot to match the pass that put him through.
16'   It bobbles around for a minute and Messi eventually strikes. Blocked.
15'   Hugo Mallo fouls Messi. Not in a shooting position but chance to whip one in.
13'   Cross comes in from the right and Ter Stegen reaches it. Decent move and ball in with Ter Stegen under a little bit of pressure to reach that one.
12'   Celta try to break again. They've contained Barcelona well so far. Holding the ball really well too.
10'   Sisto slightly isolated on the left and is forced to turn around.
9'   Paulinho drives forward but gets turned around and Barcelona have to rethink their strategy. 
8'   Didn't look like a dangerous position but Rakitic receives a one-touch return pass from Messi and sends it towards the far corner. Barcelona win the second ball and Suárez shots. Blanco is comfortable with that one.
6'   Crossed into the box, headed out and then back in again by Wass before it's headed out and Messi runs from "coast to coast" as they say in the NBA. Well, almost, he didn't have the slam dunk to match as his shots dribbled wide.
5'   Brais Mendez fouled as Celta have a free from a position out on the right. Ter Stegen organising his wall.
4' Wass drives through the middle and loses out in the end as he does a little too much. Celta have started well here.
2'   Yellow for Luis Suárez. Sergi Gomez returns from a soleus injury is hauled down by the Barca striker in the first minute and needs to be replaced.
1'   We are underway at the Camp Nou.
Chilly in the Camp Nou. Messi is donning a pair of gloves. Loads of hugs and smile. Denis Suárez and Ruben Blanco in the tunnel, now Hugo Mallo is waiting for Iniesta, who is greeting someone else and taking photos. Up for the toss and we are nearly ready for action!
  On the same day, 17 years ago, Celta and Barcelona drew 3-3 with Frank de Boer and Kluivert (2) helping Barcelona come back from 2-1 and 3-1 down. It was the same day Catanha scored his triple.
Here is a list of players who have pulled on both the Celta Vigo shirt and the Barcelona one. Albert Celades, Andreu Fontàs, Dagoberto Moll, Enrique Costas, Eusebio Sacristán, Francesc Ribas, Jordi Cruyff, José Manuel Pinto, Juan Aretio, Manuel 'Nolito', Rafinha Alcántara, Richard Dutruel, Santiago Castro, Sylvinho Mendes.
Lionel Messi is Barcelona's top scorer with 12 goals and between Iago Aspas and Maxi Gómez, they have him beat with seven apiece - making 14 by my terrible maths.
Luis Suárez has been in seriously poor form in front of goal but if he is looking for a team he likes to play and score against, he's in luck. He's the last player to score a hat-trick in this fixture. Before that, Catanha was the last player to score three in this game. That was back in 2000!
Sergi Gómez has recovered sufficiently from a soleus injury and makes a start too for Carlos Unzué.
Luis Enrique's former right-hand man has his big three up front too with Aspas, Gómez and Pione Sisto in too!
A change at goalkeeper for Unzue as Sergio sits and Ruben Blanco takes his place. 
Celta Vigo team news: Rubén Blanco; Hugo Mallo, Fontàs, Sergi Gómez, Wass; Jozabed, Lobotka, Brais Méndez; Iago Aspas, Maxi Gómez and Pione Sisto.
Paulinho wins his place back in the side with questions over whether Valverde would opt for a more attacking front three. Deulofeu's omission from the squad meant the Brazilian was fairly certain of a start but Andre Gomes and Alcácer also pushing for a place. Meanwhile, Sergi Roberto back after some time out with an injury. He came on against Real Murcia and returns to the starting line-up in place of Nelson Semedo.
Speaking of that stalemate at Valencia, apparently there was some sort of controversy...

Having dropped just four points so far this season, Ernesto Valverde's men sit four points clear of Valencia in LaLiga - and a further eight clear of Real Madrid and Atlético Madrid. Meanwhile, Celta Vigo have recovered from a dicey start to the season to lie ninth going into this afternoon's clash.

Good morning! Join us for the build-up to today's lunchtime kick-off in Catalonia!
Barcelona vs Celta Vigo: LaLiga match preview
Barcelona and Celta Vigo get Saturday's LaLiga action underway in a match that has brought plenty of goals in the past couple of years, albeit mainly for the Blaugrana.
It's a game that sees Celta coach Juan Carlos Unzué return to the club where he spent the last three seasons as assistant to Luis Enrique, Ernesto Valverde's predecessor as Barça boss, having also had a spell there as a player.
Barcelona
Barcelona dropped points for only the second time this season in last weekend's top-of-the-table draw at Valencia, a stalemate that kept the LaLiga leaders four points clear of Los Che.
At home, Barcelona's record in the top flight this term is still flawless, and immediate history would seem to point towards that 100% record remaining intact, given that their last two league meetings with Celta in Catalonia have seen the visitors thumped 5-0 and 6-1.
But it's worth noting that those thrashings are part of what is in fact something of a mixed bag of recent results between the two: indeed, Celta won 1-0 at the Camp Nou in 2014/15, while Barça have also been beaten two years running at Balaídos.
Lionel Messi is among a raft of first-team players to come back into the squad after being rested for the 5-0 Copa del Rey win over Real Murcia in midweek, which saw Barça ease through to the last 16 by an 8-0 aggregate scoreline.
Meanwhile, André Gomes returns from injury and Gerard Piqué is available in LaLiga once more after missing the Valencia clash through suspension, but Gerard Deulofeu and Nelson Semedo miss out and Arda Turan, Rafinha, Javier Mascherano and Ousmane Dembélé remain injured.
Celta Vigo
Appointed in the summer to the post that Unzué had himself been linked with, Valverde will be wary of the advantages that the "studious" Celta boss's inside knowledge may bring, admitting: "The fact he knows the team so well makes him dangerous."
As he looked ahead to his Camp Nou return, meanwhile, Unzué explained: "Perhaps the most special thing about it is the build-up to the game. The questions you [the media] ask, the memories that come to your mind...
"But that's as far as it goes," cautioned the 50-year-old, who coincided with his touchline counterpart as a Barça player. "When the game kicks off, I'll be like any other opponent."
Having replaced Eduardo Berizzo in the close-season, Unzué suffered a wobbly start at Celta, winning just one of his first five LaLiga games; however, four victories and two draws from the last nine have since lifted the men from the north west to the respectability of ninth.
The most recent of those league wins came last time out, with star man Iago Aspas' penalty handing the Galicians a narrow, 1-0 triumph over Leganés in Vigo.
And, like their hosts, Celta are also fresh from progressing in the Copa this week, after a 1-0 win at Balaídos saw them claim a 3-1 aggregate victory over Eibar.
Left-back Jonny Castro is suspended, and midfielder Andrew Hjulsager and third-choice keeper Iván Villar have been left out, but defender Sergi Gómez is fit for the visit to his former club after overcoming a calf strain.
Barcelona vs Celta Vigo live stream online: betting odds
Celta Vigo are not fancied to repeat their heroics of three seasons ago, with an away win valued at 16/1, and Barcelona priced at 1/7 to come out on top.
Place your bet on Barcelona vs Celta Vigo.