Athletic Bilbao 0-0 Real Madrid 2017/18 LaLiga: match report, goals, action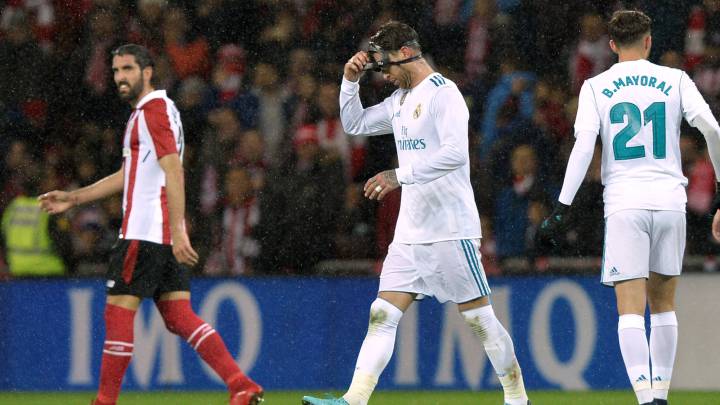 Athletic Bilbao 0-0 Real Madrid: match report
Real Madrid missed the chance to gain ground on La Liga leaders Barcelona as they drew 0-0 at struggling Athletic Bilbao on Saturday despite hitting the woodwork twice, while their captain Sergio Ramos was sent off for the 24th time in his career.
Barcelona's 2-2 draw at Celta Vigo offered Real the chance to cut their deficit with the Catalans to six points. They nearly got off to the ideal start against Athletic when Karim Benzema chested down an Isco cross, but the Frenchman fired against the post.
Athletic went into the game 16th in the standings and reeling from a shock King's Cup defeat to tiny Formentera but the Basques upped their game with the help of the raucous home support.
Real goalkeeper Keylor Navas had to make two vital saves in the first half from Athletic forwards Aritz Aduriz and Inkai Williams after being highly questioned for his performance against Fuenlabrada on Tuesday.
Down the other end, Athletic custodian Kepa Arrizabalaga showed why he keeps on being linked with a move to Madrid, making a double save in the second half to thwart Marcelo and then Cristiano Ronaldo, who hit the post after the interval.
The usually prolific Portuguese has only two league goals this season and has failed to score in any of his five visits to Athletic's San Mames stadium since it was rebuilt in 2013.
Ramos returned to action wearing a protective mask after two weeks out with a broken nose and picked up an early booking for elbowing Raul Garcia, earning a second with four minutes remaining to earn a record-extending 19th red card in La Liga.
Real are fourth in the standings on 28 points, eight behind leaders Barca, two off third-placed Atletico and three from second-placed Valencia, who visit Getafe on Sunday.
Athletic Bilbao vs Real Madrid live stream online: as it happened
90'+4'   Full-time! What a game. Spoils shared.
90'+4'   Marcelo with the push in the back on Athletic Bilbao player but Mateu won't give it.
90'+4' Ronaldo booked now. 
90'+2'   Modric fouled as the ball swings in and Real Madrid just about get it away.
90'+1' Carvajal fouls Cordoba.
89'   Two minutes of added time.
87'   Ramos with a second yellow for an elbow on Aduriz.
86' Ramos sent off.
85'   Another header. An almost replica.
84'   Ronaldo with a header that Kepa saves. 
82'   Mayoral and Kovacic coming on for Isco and Benzema.
82'   Athletic Club will be doing very well for themselves if they can hold on here. They can't hold the ball for longer than five seconds.
80'   Isco cross. Athletic Bilbao put it behind for a corner.
79'   Ramos driving everyone forward now. Cravajal crosses, Kepa punches away and Marcelo drives the volley wide! 
77'   Another chance. Modric driving Real Madrid forward and crosses but Kepa gets to it before Ronaldo.
77'   Marcelo absolutely drives a shot towards Kepa. He palms it away.
75'   Still no subs from Zidane? 
75'   Cross and Kepa gathers. Chucking it down now in Bilbao. 
74'   Another corner. Real Madrid turning the screw here. Can Athletic Bilbao hold on?
73' Aduriz gets Casemiro booked as the two jump in the air and the Athletic Bilbao striker goes down. Might have caught him with an arm but very harsh.
73'   Iñigo Lekue replaces Oscar de Marcos.
72'   Ronaldo drives a shot on the volley that he had taken down on his chest from Isco. So close. Ronaldo is raging.
71'   Athletic Bilbao go further and further back here. Struggling to get out of their own half.
69'   Benzema makes his way down the right. Crosses but it's put out for a corner.
68'   Modric crosses but it's out behind the goal.
67'   It was Nunez who got a hand in the face from Casemiro. Free to Athletic Club.
65'   Injury now for De Marcos and play is stopped. It starts back up again and Casemiro and Raul Garcia getting into it.
64'   ronaldo pulls it back to Isco but his shot is blocked. 
63'   Casemiro tries one over the top but that's way too far.
61'   Headed up into the air and Kepa grabs it. Real Madrid getting closer but nothing doing yet.
60'   Casemiro fouled by San Jose. 
59'   Game picking up again. 
59'   Williams in on the left. Crosses and Raul Garcia can't reach it again!
57' Modric taken down as he reaches for the ball. Could have played advantage as Ronaldo looked to be through.  Yellow card in thre end for Etxeita
56'   So, so close yet again! Athletic Bilbao this time. Susaeta tries to chip it over Navas but he half-blocks it. Corner.
55'   Casemiro shot blocked and flies up into the air. Kepa goes up to fist it away and Carvajal gets under him. Free to the keeper.
54'   Ronaldo crosses and it's headed out to Kroos. Blocked but Real Madrid press again.
52'   Isco coughs it up again. Athletic Bilbao win a throw. 
51'   Isco looks forward into space but Etxeita gets back and wins it back.
50'   Ronaldo fouls Rico as he catches the midfielder. Just a flick of the leg but enough to merit a whistle.
49'   Ball arrives out to Isco. He can't control it.
48'   Penalty shout!=! Aduriz hits the ground and Mateu looks on but says no. Cross comes in and Ramos catches his legs. Would have been very harsh.
47'   Aduriz again with a strike. Navas saves.
47'   Rico loses possession and then wins it straight back again.
46'   Back underway at the new San Mames.
Ramos puts the mask back on which means it's time for action.
Los Blancos also dominating possession.
Real Madrid with two shots on target to Athletic Bilbao's two as well. The visiting side have had six of target though to Athletic Bilbao's one.
45'+1'   Half-time. 
45'+1'   All sorts of pressure now.
45'+1'   Corner again!
45'   They go across the goal and Modric plays it out before it's crossed in Varane heads towards goal and Athletic Club get it away!
45' Oscar de Marcos booked for his part!
45'   Marcelo turned upside down on the left. Chance before the break to swing one in.
43'   Better possession from Real Madrid but Ronaldo cross meets nobody. They win it back and hold onto it again but can't create any danger.
40'  Williams nearly turns Ramos and thinks he was pulled back but ref says no.
38'   The Athletic Bilbao midfielder hit the ground without the ball near him. Looks like a muscle injury.
38' Mikel San Jose warmin up and ready to come on for Iturraspe. 
36'   Ronaldo at the back post. He drives the shot wide. Marcelo crossed it into the mixer and it landed nicely to the Portuguese. He is disgusted with himself.
34'   Ball comes in from the right but Varane headers it away.
32'   Corner comes in and falls to Marcelo on his right. His teammates scream 'NOOOO!' but he says 'yes, please!' but slices it terribly and wide.
32'   Susaeta gets back and takes it off the toe of Carvajal. Corner for Real Madrid.
31'   Madre Mia! Kroos drives a shot wide that comes across from Dani Carvajal. That was just inches wide.
30'   How did they miss! Ball comes in and Raul Garcia touches it into the path of Aduriz but he can't get anything on it as he swings his foot at it! A hint og offside but he missed anyway.
29'   Casemiro obstructs Iturraspe. 
28'   Ronaldo breaks and passes to Kroos but too far behind him. Frustration now from Real Madrid.
27'   Williams drives a shot towards goal. Navas saves! Marcelo let Williams go and he nearly hurt Real Madrid. 
26'   Marcelo tripped up in the penalty area. Aduriz the culprit. He left a sneaky leg in and tripped the defender.
25'   Calmer and more controlled from Real Madrid now.
23'   Kroos looks for Marcelo and misses the target completely. Throw Athletic Club.
22'   Everything happening so fast here. Shot from Rico hits his own player and Real Madrid have a free. Athletic Bilbao looking dangerous when they attack. Likewise, Real Madrid always capable of breaking through and have had a couple of chances themselves.
21'   Kroos shoots and Kepa saves. Nice move from Real Madrid but tame effort in the end.
20'   Ball comes into Benzema and he is hit in the back but Real Madrid win it back. That's risky defending as Benzema caught in the back but the defender has to go for it, I suppose. 
19'   Really heated early on too. Raul Garcia and Dani Carvajal being talked to by the referee now.
18'   So, so close. Athletic Bilbao knocking on the door here. Williams can't wrap his foot around the ball. Susaeta with two shots with the first being blocked.
17'   He is looking for a free? But it was just a hand that caught him. He's up again and fine, it seems.
17'   Ronaldo shot is saved by Kepa. Marcelo down on the ground and grabbing his thigh. 
15'   Raul Garcia wins a throw for Athletic Club.
14'   Ronaldo shoots from way out on the right. No chance.
14'   Ronaldo tripped up by Nunez on the left of goal. Chance for a set-piece.
13'   Cross comes in and Aduriz heads it towards Navas, who turns it away. Good save. Real Madrid on the counter.
12'   Hectic start to this one. 
11' Yellow card for someone? Raul Garcia gets a fist in the face from Ramos and hits the ground. Ramos lucky not to get a card. 
11'   Ronaldo cross is dealt with. Another one comes in from the other side this time but it's gone wide.
10'   Varane throws Susaeta out of the way down the sideline and Real Madrid win it back. Very heavy-handed from the defender. 
8'   Eight minutes in. End to end! Iñaki Williams the latest but he's offside. And he missed also. 
7'   Athletic Club seem to have settled into this one. Lovely move sees Ronaldo play it out to Isco, he crosses to Benzema and he takes it down on his chest before driving a low shot against the post.
6'   Another chance for the home side but Casemiro collides with Raul Garcia. He had the chance earlier in the move but couldn't get his toe to it. 
5'   Isco falls as he tries to win the ball and Athletic Bilbao looking to build now. Ramos pushes Aduriz, it looks like, in the back but Mateu Lahoz points at the attacker as if to suggest he initiated the contact.
4'   Carvajal and Modric link up on the right and the right-back takes the last touch as it goes out for a goal-kick. Nice move by Real Madrid.
3'   Benzema crosses and Athletic Club deal with it but Real Madrid straight back up the field.
2'   Ronaldo on the right and he does a step over or two before dropping the pass backwards. 
2'   Marcelo with a tame enough cross into the penalty area. Cleared. Athletic Bilbao giving up possession early on.
1' We are underway at the New San Mames!
Some basque motifs unveiled at the new San Mames. Quite the atmosphere there it seems as the Athletic Club fans try to get behind their team in a bad spot! Can they lift their side out of the slump.
Given the fact that it's the same eleven as Juventus, worth reminding of what Max Allegri said about Isco in the line-up. He said, "he plays more centrally[compared to Bale] and makes them more unpredictable [in attack], but also makes them defensively more disorganised."
They've won just one in the last 10 after a fairly decent start to life under Ziganda.
This could be the worst possible time for Real Madrid to play against Athletic Bilbao. They were beaten in the Copa by Formantera during the week and are winless in five with their last win coming against Sevilla. 
A couple of the players who played for both sides include Aitor Karanka and Luis Bergareche. There have been 10 players to don both shirts in total.
They won that game against Juventus. You can relive it here, if that's what you're into.
The exact same XI that started in Cardiff for Zidane. 
Athletic's starting XI: Arrizabalaga, Iturraspe, Williams, Susaeta, X.Etxeita, Mikel Rico, De Marcos, Aduriz, Raúl García, Balenziaga, Núñez
Athletic Bilbao XI: Kepa, De Marcos, Etxeita, Nunez, Balenziaga, Iturrapse, Mikel Rico, Williams, Raul Garcia, Susaeta, Aduriz.
Real Madrid XI: Keylor; Carvajal, Varane, Ramos, Marcelo; Casemiro, Modric, Kroos, Isco; Benzema, Ronaldo
Team news is coming in...
"Athletic are languishing in 16th place, are out of the Copa after losing to Formentera – enjoying their first season in Segunda B after promotion from Tercera last year – and are still not assured of progress from a fairly amenable Europa League group", writes the AS Oracle on the Basque side's plight this season. Read the rest of his crystal-ball prediction for this evening's game. 

The reports in recent weeks have named Athletic's Kepa Arrizabalaga - recently called up for Spain and very likely to be on the plane to Russia next summer - as the chosen one to replace the Costa Rican keeper. Here's Zidane's take in Friday's press conference. 

As tonight's spotlight will undoubtedly shine bright on both goalkeepers, here's an opinion piece in defence of Real Madrid keeper Keylor Navas, who has never managed to reach a transfer window without the rumour mill grinding out a potential replacement. 

With Barcelona slipping up against Celta, Real Madrid will be seeking goals, goals, goals. Ronaldo will be hoping for the same, but he'll have to break his (new) San Mamés hoodoo - the Portuguese striker has come away empty-handed from four visits to the stadium the Basque side unveiled in 2013. 

Here's how it stands at the top of the table after that draw in Barcelona:

Don't forget that we've also got live coverage of Barcelona's home clash with Celta Vigo, which is inside the final five minutes at the Camp Nou - and is all square...
If your plan is to park yourself in front of a television screen for this evening's match at San Mamés, then you may wish to peruse our useful guide on how and where to watch Athletic Club vs Real Madrid.

Good afternoon! Join us for all the build-up to tonight's clash in Bilbao!
Athletic Bilbao vs Real Madrid: LaLiga match preview
Athletic host the reigning champions at San Mamés with José Ángel Ziganda under a fair bit of pressure with his side languishing in 16th in LaLiga and knocked out of their favourite competition, the Copa del Rey, by third-tier Formentera in midweek.
The Lions' new stadium has not been a particularly happy hunting ground for Saturday's visitors, who have won two of the four games between the sides since Athletic inaugurated their new home in 2013. The new San Mamés also holds the distinction of being one of very few stadiums to have defied Cristiano Ronaldo, who has not scored there in four attempts and was sent off in 2013-14 in his first visit, to the delight of the home support.
The match has a little added interest in the form of Athletic keeper Kepa Arrizabalaga, who has emerged as a potential target for Real Madrid in the oft-discussed position of number one, although Zinedine Zidane refused to be drawn on the subject in his pre-match press conference.
Athletic
Ernesto Valverde is enjoying a splendid 2017-18 season on two fronts. Not only is the former Athletic boss leading Barcelona on an unbeaten run of 20 games in all competitions since the campaign started in earnest, but his alchemy at San Mamés in his four seasons in charge is being cast in an ever more favourable light by the struggles of his successor. If everything Valverde touched in Bilbao turned to gold, Ziganda is having quite the opposite effect.
The Athletic boss has not exacted a smooth succession at San Mamés and despite a few encouraging performances the consistency that Valverde's side displayed has been lacking this season. At this stage in the previous campaign Athletic were eight places and seven points better off and although their goals for and conceded totals are not much different, four games have been lost by a single strike and even when they took a 3-1 lead against Málaga in the 70th minute, three points eluded them.
Athletic conceded three in their opening five Liga games but have shipped 15 since and only kept one clean sheet. That defensive frailty is Ziganda's Achilles heel and the loss of Aymeric Laporte through suspension will not help his cause on Saturday.
Óscar de Marcos and Kepa are also doubts, although the keeper is expected to start, and with Yeray Álvarez yet to feature this season and Beñat sidelined in recent games with a knee injury, Ziganda's back four will remain vulnerable on Saturday.
Real Madrid
Things haven't exactly been all roses at Real Madrid this season but Zidane has steadied his ship with six wins in his last eight Liga outings and qualified his side for the latter stages of the Champions League with a game to spare – another consideration for Ziganda ahead of the champions' visit with Athletic needing to avoid defeat away at Zorya Luhansk next week to progress.
However, the old Madrid defensive issues have raised their head again and clean sheets have been at a premium. Málaga had failed to score away from home in six attempts this season but pushed Madrid all the way last week by striking twice in the Bernabéu and Athletic have the players to punish any lapses at the back.
Zidane will therefore be relieved to have Sergio Ramos back from a fractured nose and Nacho from suspension for the game in San Mamés.
Gareth Bale will be absent with a recurrence of his calf issue and Marco Asensio remains sidelines, depriving Zidane of two of his most effective attacking players. Ronaldo and Karim Benzema have hardly been prolific this season in the league but at least the Frenchman knows where the Bilbao onion bag is in the new San Mamés, having scored twice in a 2-1 win in 2015-16 and once in a victory by the same score line last season.
Real face a testing run of games before Christmas, culminating in the Clásico at the Bernabéu, and can afford few further slip-ups in their pursuit of Barcelona and Valencia. Like Athletic, they were a lot better off this time last year: six points clear at the top of the table with 11 more goals scored.
---
Athletic Club vs Real Madrid live stream online: selected betting odds
Athletic are 5/1 to beat Real Madrid for the first time in three seasons with the visitors priced at 1/2. Iñaki Williams is a 10/1 punt to score first with Cristiano Ronalso at 23/10 to finally get off the mark in the new San Mamés.
Bet on Athletic vs Real Madrid.