Barcelona 2-0 Sporting CP Champions League: as it happened, goals, match report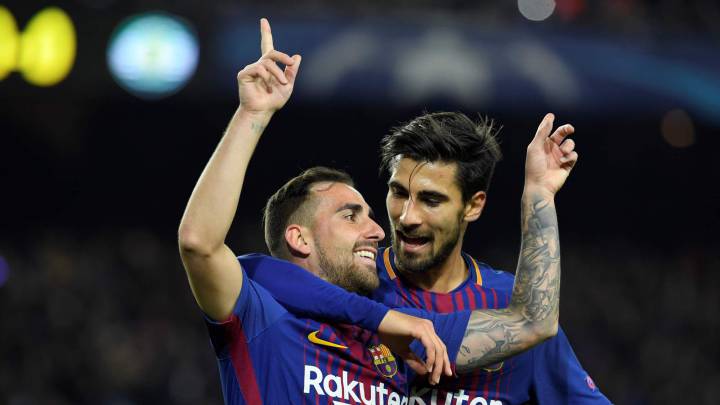 Barcelona cruised through the final match of the Champions League Group Stage with Lionel Messi starting on the bench. Paco Alcácer glanced Luis Suárez' corner inside the far post just before the hour mark. Jeremy Mathieu - who joined Sporting from Barça in the summer - secured the win for his former club with an own goal in stoppage time.
MOTM: Luis Suárez. The Uruguayan turned in an industrious performance and showed signs of regaining the sharpness that has evaded him this season. No goals, but his general play was positive.
Who qualifies to the next stage of the Champions League?
Barcelona qualify from Group D in first place. Juventus' victory over Olympiacos means Sporting will head to the Europa League courtesy of a third-place finish.
Who is up next?
Both sides will return to their domestic leagues and refocus on a title challenge. Barcelona make the trip down the Mediterranean coast to Villarreal at the weekend, while Sporting travel to Boavista.
Barcelona 2-0 Sporting CP: as it happened
A Paco Alcácer header and a late own goal from Jeremy Mathieu send Barça through to the knockout stage with a victory. 
90'+2' FT. 
90'+1' GOOOOOOOOL! Barça have a late second, and it's an own goal from Barça old-boy Jeremy Mathieu, who launches himself desperately towards Denis' low ball. With Alcácer lurking behind, Mathieu had to do something. That probably wasn't what he had in mind. 
89'   Oooh, Alcácer comes very close to a second goal. He points to where he wants the ball and Messi duly obliges. Piccini is with Alcácer every step of the way and deflects his shot just behind, not that he knew a great deal about it. 
88'   Sporting are defending increasingly narrow... but it works. André Gomes turns inside and delivers a cross that Patricio can claim. Dost then goes up the other end and comes within inches of latching on to Fernandes' cross. 
85'   Alcácer outmuscles Gelson Martins and plays a ball in to Denis. Despite a sequence of twists and turns, he can't find space to shoot and is forced to play back towards the Barça defence. 
83'   Sporting try desperately to make progress on the counter-attack. Bas Dost's pass deflects in to the path of Fernandes, but his cross-field ball for Martins is intercepted. 
82'   Rui Patricio dives to his right and denies Messi with a splendid one-hand save. 
79'   Messi comes very close to bringing down Sergio Busquets' diagonal pass in the box. It just escapes the Argentine. 
78'   A brief hiss of whistles as Fabio Coentrao overhits a first-time cross from the left. 
74' Luis Suárez heads off, with Paulinho coming on in his place. No goals for the Uruguayan, but a very decent performance. 
73'   The Barça fans behind the goal are having a cracking time bouncing from side to side. They briefly pause as Messi lashes a shot narrowly wide.
67'   Sporting's start-of-the-half burst of energy has come to an end. With the introduction of Messi, they're back to hanging on. The No.10 plays a ball to Digne and he allows it to run through his legs to Suárez, who sees his shot blocked by Patricio.
64' Ernesto Valverde also makes a change. Sergio Busquets comes on, Gerard Piqué goes off. That's a centre-half preservation strategy. 
64' Ex-Madrid man Fabio Coentrao comes on to a shower of boos. Bruno Cesar makes way. 
62'   Jasper Cillessen grins in disbelief after denying Bas Dost from point-blank range. The Sporting striker leaps on his compatriot's back, half in congratulation, half in incredulity. 
61' Perhaps he will be coming on after all... Aleix Vidal ambles towards the touchline and Lionel Messi trots on to a raucous cheer. 
59' GOOOOOOOL! Barça take the lead as Paco Alcácer glances Luis Suárez' corner in to the far corner. Messi was stripping off on the bench. He may now be putting the tracksuit back on... 
56'   Nelson Semedo wins a free-kick on the edge of the box by putting his head in where it hurts and drawing a high foot from Bruno Cesar. Luis Suárez thumps the ball in to the midriff of the wall from 25 yards. 
53'   Half-time substitute Gelson Martins controls a bouncing ball on his chest and rounds a couple of challenges. By the time he has an angle to shoot, he's off balance, and drags his shot wide. With Dost and Martins, Sporting already look more effective. 
50'   A nice 'pausa' from Suárez allows Vidal to jog in to a shooting position before the Uruguayan releases the ball. Vidal's shot deflects behind and from the corner, Suárez tries a little too much skill in the corner, allowing Sporting to clear. 
48'   The Sporting defenders trot forward as Marcos Acuña prepares to hurl in a long throw. Not for the first time this evening, Piqué rises to clear. 
46' The second half is underway! 
Sporting make a double change: Bas Dost comes on for Alan Ruiz, and Gelson Martins comes on for Stefan Ristovski. 
The two teams are ambling back out for the second half. 
Will we see this chap in the second half...?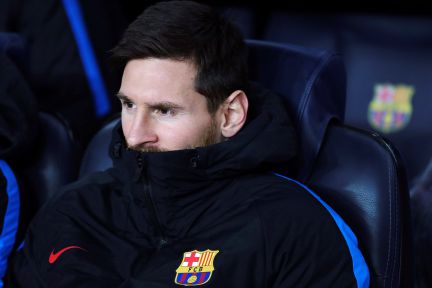 45'   Half time. 
44'   Neat interplay on the edge of the box almost sets Ivan Rakitic up for a shot. The chance escapes him but the Barça pressures continues. 
40'   Marcos Acuña has been impressive on the left for Sporting. The barrel-chested Argentine is well up for the physical challenge and possesses a devilish delivery. 
38'   Denis dances through a raft of challenges and looks on with a wince as his threaded pass, intended for Vidal, runs out of play. 
36'   Sporting take a quick free-kick to Acuña on the left of the box. Barcelona deal with the danger until the ball drops nicely for Fernandes to strike it on the bounce. He loops a shot towards goal and Cillessen brings it in to his chest. 
35' Nelson Semedo will miss Barça's next match after receiving a booking for bundling over Bruno Cesar as the Sporting No.11 made his way in to the box. Jorge Jesus was gesticulating frantically for a red card on the touchline. 
34'   Piqué rises bravely to head a corner clear, with a sea of bodies jumping towards him. With Barcelona's scant resources at centre-half, every knock he takes will be greeted by a wince from the crowd. 
32'   Juan Cuadrado has scored for Juventus against Olympiacos in the other match in Group D. As things stand, Sporting will not qualify regardless of what happens at Camp Nou. 
30' Alan Ruiz is the first player to receive a yellow card, and deservedly so. He slides in late, and studs-up on Gerard Piqué. The Barça captain for the evening winces and hobbles, but is able to continue. 
29'   Sporting have shown themselves capable of knocking the ball around nicely in the centre. Some intricate stuff on show thus far. But the visitors have been unable to replicate that in areas that will trouble Barcelona. 
27'   Sporting tease forward on the counter-attack, with Semedo and Piqué needing to be alert in order to usher out Ruiz' ball through to Fernandes. 
24'   Luis Suárez just might, just might be regaining some sort of form. He looks razor sharp. The Uruguayan picks the ball up on the half-turn on the edge of the box. With Coates coming towards him, he knocks the ball around one side of the defender and runs around the other, before forcing Patricio in to a good save with his feet. That was a hark back to his Liverpool days. 
The still image doing Marcos Acuña absolutely no favours.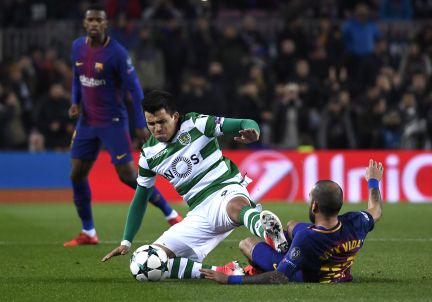 20'   Sporting have set up with a back three - and they look vulnerable with it. Alcácer and Suárez are dragging two of the centre-halves down to the town centre and back, while Digne and Semedo buzz up the wings. As a timely demonstration of Barça's threat, André Gomes drives a low shot narrowly wide of the near post. 
18'   Aleix Vidal and Suárez switch positions momentarily, with the Uruguayan drifting out to the right. He looks up and arrows a ball to Vidal, who is waiting in the 'D'. A smooth touch creates time for a shot, but outrushing Sporting defenders cause a panic and the ball flies over. 
16'   Fernandes finds a pocket of space in the No.10 neighbourhood and flashes a low shot in to the arms of Cillessen. A gentle warm-up for the back-up 'keeper. 
14'   Bruno Fernandes hacks Rakitic down in good range for a whipped delivery in to the box. The Croatian climbs to his feet and takes it himself, but doesn't clear the first man. At this level, that should be punishable by some kind of custodial sentence. 
12'   Cristiano Piccini makes an extemely alert and positionally-intelligent block to prevent Vidal's cross finding Alcácer, who was running across goal. The ball drops to Denis Suárez, who fires the first shot of the game in to the Camp Nou faithful. Pipas flying everywhere, no doubt. 
9'   Suárez is causing trouble once again. This time he dashes to the byline on the left-hand side and pivots, sending in a cut-back at the same time. There are a couple of Barça shirts charging in. Neither of them can make contact, however. 
8'   Luis Suárez chips a diagonal ball in to the path of Denis Suárez, who edges in to the box. The cruise-ship frame of Sebastián Coates gets back and he cushions the ball down on his chest. 
6'   Marcos Acuña, a recent arrival in Europe from Racing Club of Argentina, draws a foul from Vidal, buying Sporting some time on the ball. But it's not long before the home side win it back. 
4'   Jeremy Mathieu plays his team in to trouble on his first return to Camp Nou. The left-back lazily drags a pass across his defence and Denis nips in to intercept it. Sporting do well to recover their shape and force Barça to work the ball back. 
1'   It doesn't take long for the hosts to threaten. Paco Alcácer bustles through the centre and lays the ball to Aleix Vidal on the right. The former-Sevilla man whips the ball in to the box but Rui Patricio dives out to claim. 
1' Peeep! Barça get proceedings on their way. 
And here they come, emerging in to the din of the Champions League music. Hand-shakes to go and then we'll be off. 
The teams are wandering down the steps of the Camp Nou tunnel. Rakitic is very generous in his dishing out of high-fives to the mascots. 
Jasper Cillessen (right) getting his obligatory run out in the cups. Marc-Andre ter Stegen, the incumbent goalkeeper in La Liga, has made an exceptional start to the season. So Cillessen has to be content with his secondary role for the time being.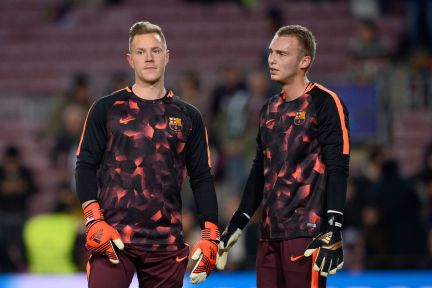 With 20 minutes until kick-off, why not settle in to some pre-match reading? This article by Simon Curtis about Malcolm Allison's brief spell in charge at Sporting in the early 1980s is a great read. 
The Portuguese side have named a slightly surprising starting line-up, with leading scorer Bas Dost dropped to the bench along with Fabio Coentrão and Gelson Martins, whom Barça have reportedly been following for some time. 
Sporting sit in second place in the Primeira Liga, level on points with FC Porto. Despite that, Jorge Jesús' team are undefeated this season in domestic competition. Their only defeats have come in the Champions League - against Juventus and Barça. 
Camp Nou is looking very festive this evening. Sporting will certainly be feeling the Christmas cheer if they can pull off a result (and if Olympiacos do them a sizeable favour against Juventus).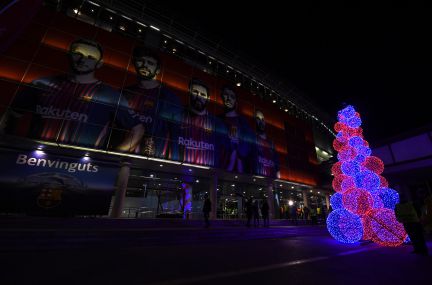 This is the full list of Barcelona substitutes with whom Lionel Messi will share the bench: Ter Stegen, Sergio, Messi, Paulinho, Deulofeu, J.Alba, S.Roberto.
    TEAM NEWS! The headline is that Lionel Messi does not start for Barcelona. 
Sporting XI: Patricio; Piccini, Coates, Mathieu, Bruno César; Battaglia, Carvalho; Ristovski, Fernandes, Acuña; Ruiz.
Barcelona XI: Cillessen; Semedo, Piqué, Vermaelen, Digne; Vidal, Rakitic, Denis, André Gomes; Suárez, Alcácer. 
Barcelona are undefeated at the Camp Nou in the Champions League since May 2013. Since then, they have won 21 matches and drawn just two. That last defeat was a semi-final thrashing at the hands of eventual winners Bayern Munich. 
  Sporting CP must get all three points at the Camp Nou to stand a chance of going through to the last 16, but beware: Slade's 'Mama Weer All Crazee Now' was at number one in the UK the last time a Portuguese club won away to Barcelona, when FC Porto secured a 1-0 Uefa Cup victory back in September 1972.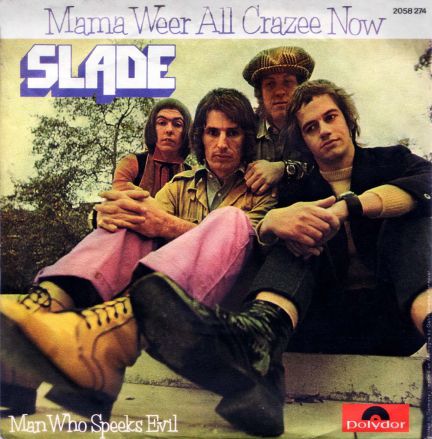 This should be a game for the purists tonight as both sides enjoy having possession and looking for weaknesses in the opposition defence, picking holes, making cleverly-timed runs. And although assured passage to the next stage, Valverde has said that his side have a responsibility to the fans to turn up and perform. Juventus will be hoping they do too, just in case there is a slip up from the Old Lady.
Several changes to the home team's starting line-up have been rumoured and we'll keep you right up to date with any news that breaks on this.
Good morning and thank you for joining us as we get the build-up rolling towards our live coverage of the final group game for Barcelona as they welcome Sporting Clube de Portugal to the Camp Nou.