Wenger denies employing mind games with Lacazette
Arsène Wenger insists he wasn't using gamesmanship when he picked Lacazette to face United 24 hours after saying he would miss the game with a groin injury.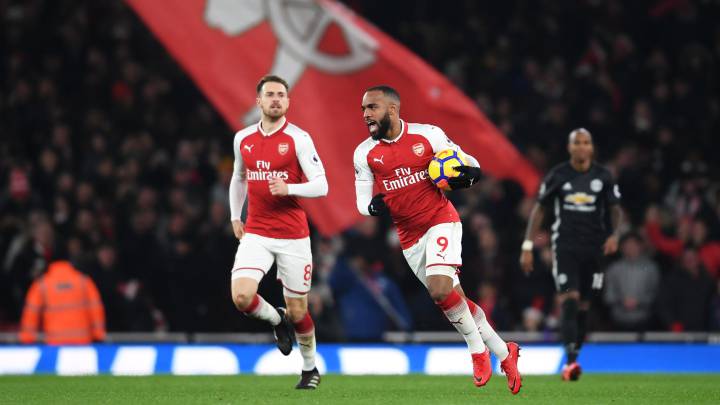 Arsène Wenger has hit back at José Mourinho by insisting he wasn't using gamesmanship when he fielded Alexandre Lacazette in last week's Premier League meeting with Manchester United just 24 hours after saying the player was ruled out with a groin injury.
Lacazette's miraculous recovery
Lacazette was a surprise selection for Arsenal's meeting United last weekend. Gunners boss Wenger had stated the player would miss the game as a result of the injury he suffered against Huddersfield. Yet the striker was declared fit to start at the Emirates Stadium and scored Arsenal's only goal in the 3-1 defeat.
Mourinho made a pointed jibe at Wenger when asked about his team news ahead of Sunday's derby against early Premier League leaders Manchester City. "I'm telling the truth," Mourinho said when listing the availability of some of his players. "It's the truth, eh? No stories of Lacazette or David Silva…. all the truth."
Wenger, who faced the press this afternoon ahead of Arsenal's Europa League game against BATE Borisov, was asked about Mourinho's comments and said he was expecting to go into the United game without the former Olympique Lyon star. "I thought he wouldn't play. In the end, he could play. What did you want me to do, leave him at home? "I'm always honest. I thought really that he wouldn't play, that's what I had been told. After, he had a test on Friday morning and went to the game. We weren't sure he would play but he tried and he played, that's part of football".
Wenger to rotate squad against BATE
Arsenal entertain Belarusian Premier League champions BATE on Thursday having already sealed top spot in Group H. Wenger has made mass changes throughout the competition, handing valuable game time to the likes of Theo Walcott, Jack Wilshere and Olivier Giroud.
Even though progression into the last 32 has been assured, the Frenchman still intends to play those on the fringes of the first team, rather than blood a team of youngsters. Asked how winning the group would affect his team selection, Wenger said: "Not too much, because I have many players available who need competition. Next week we go into a week with three games and so some players need competition, some experienced players. We'll play quite an experienced team tomorrow".