FOOTBALL
Courtois resists Chelsea renewal efforts and waits for Real Madrid
According to English media, Courtois has agreed personal terms but is considering his options as Real Madrid could be in the market for a keeper very soon.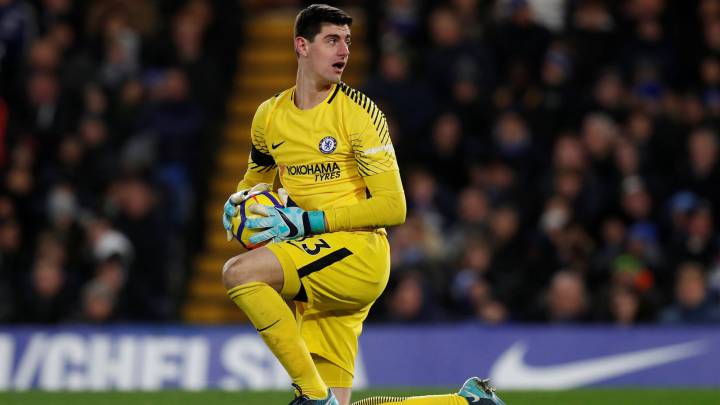 Chelsea are reportedly struggling to convince Thibaut Courtois to sign a new deal despite agreeing terms on salary. The goalkeeper is set to be joined alongside David de Gea as the top earner in the Premier League between the stick but according to the London Evening Standard, the Belgian will not sign for personal reasons.
Ver galería
Otros porteros deseados por el Real Madrid
Oblak
Blindado por el Atlético de Madrid con una cláusula de 100 millones de euros, se antoja difícil su llegada al club blanco, pero nunca se sabe...
Foto:
AFP / GUENTER SCHIFFMANN
Thibaut Courtois
El belga es uno de los principales candidatos a defender la porterí­a del Real Madrid para la temporada 2017/2018. Termina contrato con el Chelsea en 2019.
Foto:
REUTERS / John Sibley
David de Gea
A pesar del intento fallido de contratarlo en 2015, el interés por el madrileño sigue intacto. El principal escollo sería José Mourinho, actual técnico del Manchester United.
Foto:
REUTERS / John Sibley
Gianluigi Donnarumma
Con 18 años recién cumplidos y tras dos buenas temporadas al frente de la porterí­a del Milan, el joven portero internacional italiano se ha convertido en el objetivo de los principales clubes europeos. Hubo una gran polémica este verano que terminó con una multimillonaria renovación.
Foto:
AFP / OLIVIER MORIN
The 25-year-old has asked the London club to double his salary but that might not be enough to keep him in the Premier League. He has never made a secret of his love for Madrid and his desire to return one day and with his two kids living in the Spanish captial, it makes it all the more credible. If he does agree to stay at Stamford Bridge, he will be earning €230,000 a week, in line with Manchester United shotstopper, David de Gea.
Athletic Bilbao keeper, Kepa Arrizabalaga, is on los Blancos' radar and he is putting off signing a new deal with the Basque club to test the market for his services and there are reports that Real Madrid won't wait until his contract expires, possibly purchasing him in the winter and being forced to part with a fee that could be close to €20 million.
Regarding the free agency market for Courtois, there are several teams who would push the boat out for him, with Jan Oblak being linked with a move away from Atlético Madrid. Courtois, of course, developed at the rojiblanco club on loan, before returning to Chelsea, his parent club where he has continued to earn laudits for his displays. PSG and Juventus could also be considering a goalkeeper spending spree with Trapp and Buffon possibly needing replacing.
Eden Hazard has already rebuffed Chelsea in the hopes that Real Madrid will come calling and Antonio Conte has told the club that resigning both player should be the priority before the World Cup next summer. "I'm waiting to renew because I want to be focused on my football," Courtois said after the Atlético Madrid draw in the Champions League on Tuesday night.