'Missing' Marco Asensio a concern for Zinedine Zidane
The Mallorcan dazzled in August, but has since failed to recapture that form. He suffered a similar lull in the 2016-17 season.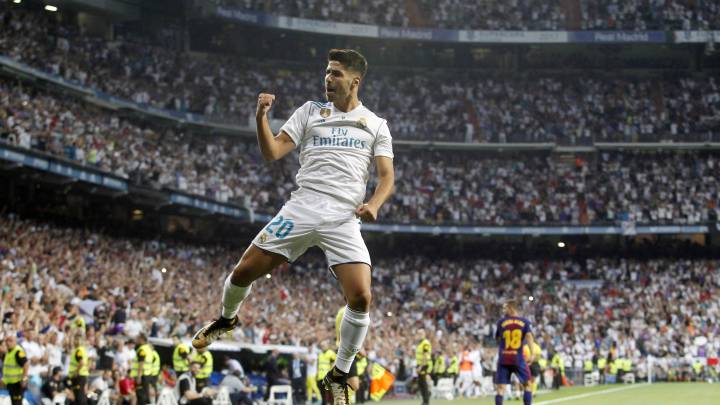 Marco Asensio was electric in August. The Mallorcan's vertical trajectory appeared set to continue throughout the season. But it has curved out on to a plateau. A drop in form and three matches out with injury have buffered his progress.
Asensio began in blistering form
The final match in Group H of the Champions League against Borussia Dortmund ostensibly presented Asensio with an opportunity to return to his groove, yet he did not make Zinedine Zidane's starting line-up.
Four of the seven goals Asensio has scored this campaign came in August. In LaLiga, he dazzled against Valencia, scoring twice to secure a point against Valencia at the Bernabéu. He was the talk of the Spanish capital, mentioned in hushed tones as a future Ballon D'Or winner. He also scored in both legs of the Spanish Super Cup victory over Barcelona.
Asensio's season has not continued at the same rate. That would have been too much to expect. After that double against Valencia, he endured a six-game run without scoring a goal, despite starting five of those and playing the full 90 minutes in four.
Zidane needs a return of the August version
The 21-year-old experienced a similar lull last season. He did not score from 24 September until 3 March. He started the first four matches of the league season, but only formed part of the line-up in one of the following 17 matches.
The departures of Álvaro Morata and Mariano Díaz in the summer created, in theory, a larger role for Asensio. That has not materialised. Despite the protracted absence of Gareth Bale, Asensio is the 13th most used player this campaign.
A return for the Asensio of August would be welcomed by Zinedine Zidane as the coach tries to inject life in to Real Madrid's LaLiga season.