Barcelona have a 44% chance of meeting Chelsea in Champions League last 16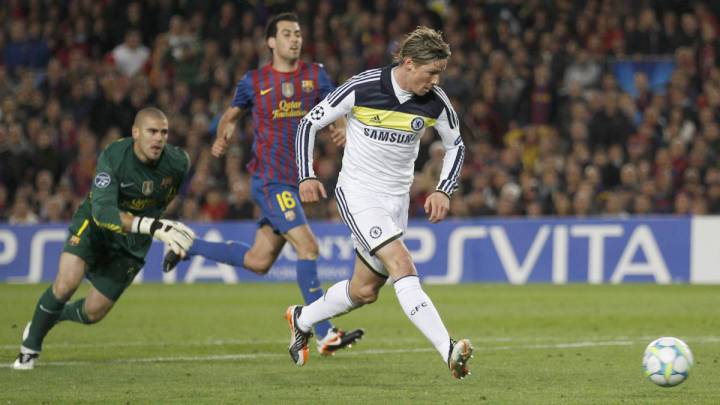 It's 2005 and it happens in a split second. Ronaldinho barely takes a backswing before punting the ball past Petr Cech. "He just didn't see it coming, and in the blink of an eye... back of the net," enthuses Martin Tyler, the commentator. It's 2009 and Barcelona are visiting Chelsea again. Didier Drogba seeths. He jabs his finger at referee Tom Henning Ovrebo, his eyes widen. It's 2012 and Fernando Torres takes long strides towards goal. A skip past Victor Valdes, a Gary Neville squeek, and the ball rolls over the line.
Chelsea and Barcelona a Champions League attraction
Some of the most iconic Champions League moments of the last decade have been forged in matches between Chelsea and Barcelona. And they are disproportionately likely to meet again in the 2017-18 Round of 16.
Misterchip - the doyen of football statistics in Spain - has calculated that Chelsea and Barcelona have a 43.747 percent chance of meeting in the next round when the draw is made on Monday. Never before has a Champions League draw been weighted so heavily in favour of a certain tie.
The anomoly is a result of UEFA's stipulation that a team in the draw for the last 16 cannot face a team from the same country, or a team they have already faced in the group stage. The rules of the process also state teams that finished first in their group will face teams that finished second in other groups.
Chelsea qualified in second position in Group C, behind AS Roma. Therefore, Antonio Conte's side cannot face Roma. And as four other English teams - Manchester City, Liverpool, Manchester United, Tottenham - finished first in their respective group and are in Chelsea's 'side' of the draw, Chelsea cannot face five of eight of the first-place finishers. Barcelona, PSG, and Bestiktas are the only possibilities.
Barcelona's situation is less extreme, but similar nonetheless. Barça cannot face Sevilla or Real Madrid because they both Spanish, and Juventus also qualified from Group D. As such, Bayern Munich, Porto, Chelsea, Shakhtar Donetsk, and Basel are the possible opponents for Barcelona. Ernesto Valverde's reward for guiding his side to the top of the group is the 44 percent chance of a meeting with Chelsea, and a 58 percent chance of meeting either Chelsea or Bayern.
The remainder of the possible ties are between 12 percent and 29 percent in probability.
Aquí tenéis TODAS LAS PROBABILIDADES de TODOS LOS ENFRENTAMIENTOS que se pueden dar en el sorteo de 1/8 de UCL que se celebrará el lunes. Es el SORTEO MÁS CONDICIONADO EN LA HISTORIA del torneo: Chelsea sólo tiene 3 rivales posibles y un 44% de opciones de jugar contra el Barça. pic.twitter.com/J0kMSjvd4E

— MisterChip (Alexis) (@2010MisterChip) 6 December 2017
Barcelona possible Champions League ties:
vs Chelsea - 43.747%
vs Bayern - 13.544%
vs Porto - 13.544%
vs Shakhtar - 14.582%
vs Basel - 14.582%
Real Madrid possible Champions League ties:
vs PSG - 12.813%
vs Man City - 18.334%
vs Man United - 18.334%
vs Liverpool - 18.853%
vs Roma - 18.853%
vs Besiktas - 12.813%
Sevilla possible Champions League ties:
vs PSG - 12.813%
vs Man City - 18.334%
vs Man United - 18.334%
vs Tottenham - 18.853%
vs Roma - 18.853%
vs Besiktas - 12.813%