Mourinho puts Cristiano Ronaldo on a par with Pelé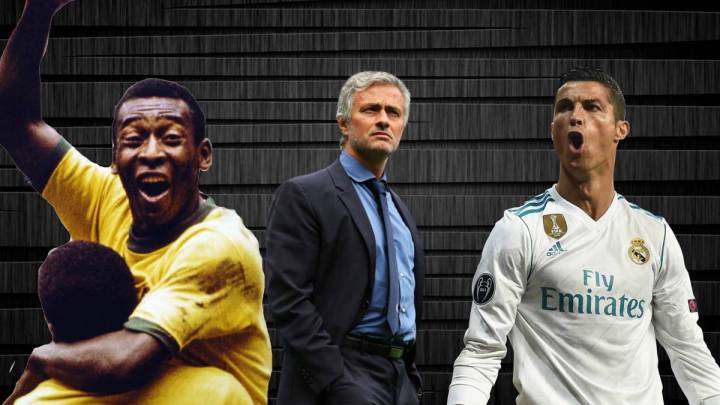 José Mourinho believes that Cristiano Ronaldo, who picked up his fifth Ballon d'Or in Paris last night, is now on a par with the rest of the greats the Beautiful Game has produced - Lionel Messi, Diego Armando Maradona, George Best, Pelé and Eusébio.
Cristiano's name in the history books forever, says Mourinho
"My children never saw Pelé play but they know who he is. And in 40 years from now, kids will know who Cristiano is. Cristiano, along with the other player's I've named will always be part of football history. They are indescribable", Mourinho declared in an interview with France Football.
Mourinho, the most decorated coach to have emerged from Portugal, was in charge of the Real Madrid forward from 2010 to 2013, and reaped successes such as a long-awaited Copa del Rey in 2011 and the league title in 2012 but their relationship was sometimes fraught. Mou explained his working relationship with Cristiano: "It's part of my job and not something which I have to discuss publicly. A lot has been written or said which is false or exaggerated. The only thing I can say is that I don't have any personal problems with him. And I think he feels the same way about me".

Mourinho talks about his relationship with Cristiano
The United coach explained that his relationship with Cristiano was not like a father-son relationship or that of an older brother but more "a good relationship between a coach and a player".

He added: "What united us was the drive to win things together, and a keen interest in the small details. I think that in the three years we spent together, he improved as a player under me and I became a better coach because of him. We share many great memories ".
Mou hails Cristiano's Camp Nou winner in 2012
For Mourinho, Cristiano's most memorable goal was the winner he scored against Barcelona at Camp Nou in April 2012 which handed Real Madrid the league. "We needed at least a draw and he scored the winner right at the end so that we could win the game. That goal will go down in eternity", he said.



LaLiga Santander
*Update 8 de diciembre de 2017