Pachuca 1-0 Wydad (AET) Club World Cup: as it happened, goals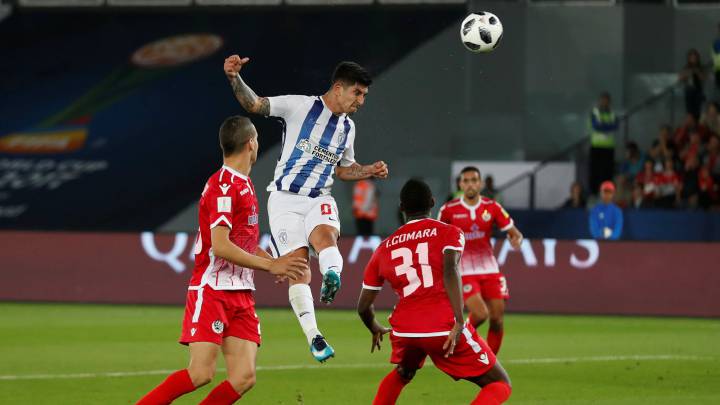 Érick Gutiérrez was the hero as Pachuca ground down ten-man Wydad Casablanca to set up a tie against Gremio in the semi-final of the Club World Cup.
The 22-year old scored the decisive goal deep in to injury time. Jorge Hernández split the Wydad defence with an incisive through ball to Jonathan Urretaviscaya, who crossed for Gutiérrez to finish in to the corner.
Wydad were reduced to ten men after 69 minutes, when captain Brahim Nekkach collected a second yellow card for a foul on Erick Sánchez.
Pachuca 1-0 Wydad
Cas
ablanca
(AET): As it happened
120'+2' FT! Erick Gutierrez' goal in extra time means Pachuca will face Gremio in the semi-final of the Club World Cup. 
120'+1'   That was a big chance for Wydad. Bencharki gets his head to a deep cross, but a combination of Pérez and Herrera prevent it trickling in to the bottom corner. Half-hearted penalty claims for handball are waved away. 
119' El Hachimi is on the deck once again as the match goes scrappy in the final stages. The Morocccan is the one booked though, for a painful looking rake down Hernández' leg. 
118' A final change for Pachuca with Omar Gonzalez replacing Victor Guzman. 
116' Noussir is booked for some overzealous complaining after a penalty appeal was turned down. Murillo appeared to grab El Hachimi and the Wydad players are furious. What will VAR say...?
115'   Wydad are rallying, desperately looking for an equaliser. But with ten men, they look dead on their feet. 
112' GOL GOL GOL GOL GOOOOOOL! Pachuca lead! Hernández threads an incisive ball to Urretaviscaya, who does well to keep the ball in play and cross from the right for substitute Erick Gutierrez to nod home. 
110'   OOOF! Half the stadium thought that Wydad had taken the lead as Hajhouj rifles a fierce shot that kisses the side netting on its way out. 
108' Reda Hajhouj is booked for raising his foot too high on Murillo. 
107'   Hernández has a pop. Why not? It's a bouncing ball, very inviting. Unfortunately it flies wide. 
106'   We're back after a brief break. 15 minutes to avoid the 'dreaded' penalty shoot-out. 
105' Half time in extra time. Still goal-less. These teams both look really keen to not face Gremio. 
105'   One minute of added time. 
105'   Hondaaaaa... Well, it's on target. That's about all that can be said for that effort, which loops in to the 'keeper's arms. 
104'   Free-kick to Pachuca in prime Honda territory after Atouchi sends Sánchez up in the air with an agricultural challenge. 
102'   Hajhouj is down clutching his face. He doesn't even have the excuse of being knackered - the No.37 only came on towards the end of normal time. 
99'   Laaroubi punches clear when the ball first comes in. When it comes back to him, he manages to hold on to it and launch the ball forward for some temporary relief for the Wydad defence. 
97' Baby-faced Erick Sánchez receives a caution for a two-footed lunge on Hajhouj. We'll put that down to youthful over-exuberence. 
95'   El Hachimi claps his hands in frustration and grimaces after conceding a corner. Herrera meets the corner at the near post with a flicked header, which Laaroubi does very well to palm clear. Yet Pachuca get the ball back, and start again. They're camped in the Wydad half. 
93'   Honda's neat backheel fools Comara and allows Martínez to sneak down the wing. Urretaviscaya is waiting patiently by the penalty spot and watches as the ball flies over his head and out for a throw-in to Wydad. 
91' Peeep! Shake off that lactic acid, it's time for another 30 minutes. 
Both coaches have their players in a huddle, with frantic instructions being dished out. 
90 minutes ends goal-less, but Wydad will have to face extra time with ten men after their captain, Nakach, saw red for two bookable offences. 
90'+3' Full time! On we go to extra time. 
90'+2'   Franco Jara at the far post! Side netting! Keisuke Honda jinks on to his left foot and lofts a delicious ball to the far post - think Messi's assist for Jordi Alba a couple of weeks ago - where Jara meets it but can't guide the ball inside the near post. 
90'   The fourth official shows three minutes of added time... 
90' Khadrouf is about to make way for Reda Hajhouj.
87'   Laaroubi juggles a few kick-ups in his box, which is quite a flamboyant timewasting ploy. 
85'   Pachuca are really applying the pressure and making their one-man advantage count. Erick Sánchez has provided a welcome addition of industry in the centre. 
83'   Franco Jara has a player to his left and a player to his right. Instead, he goes alone and his shot cannons off Atouchi's back. 
81'   Urretaviscaya receives the ball out on the right after busy play from the youngster, Erick Sánchez. The No.10's cross is too close to the 'keeper, who claims it with ease. 
80'   Wahey! We've got a centre-half taking goal kicks! Atouchi steps in to boot the ball upfield, with Laaroubi ostensibly struggling to shake off a knee injury suffered in the first half. 
79' 18-year-old Erick Sánchez comes on for Erick Aguirre. 
76'   El Hachimi cuts on to his right foot and swings a lovely cross towards Bencharki. Óscar Pérez punches clear, and catches plenty of his centre-half, Murillo, who is now receiving treatment. 
75'   Aguirre drifts inside and blasts the ball over from 30 yards. Pachuca are short of ideas and movement in attack. 
72'   El Haddad slips in possession on the edge of his own box, allowing Martínez to lay the ball off to Urretaviscaya. The Uruguayan's shot takes a deflection, and from the corner Wydad bomb straight up the other end and win a set piece of their own. 
71'   Urretaviscaya goes for goal from a good 35 yards out and slams the free-kick in to the wall. Aguirre chaperones the ball behind for a corner, which Guzman volleys in to the arms of the 'keeper at the far post. 
69' RED CARD! Wydad captain Brahim Nakach receives a second yellow card for a late tackle on Hernández. Fully deserved, a nasty challenge with studs showing. 
65'   Comara is a tad lucky to avoid a red card. He responded to a humiliating nutmeg on the right wing by bundling over Urretaviscaya. 
64'   Pachuca have a string of corners that come to an end when Herrera nods Urretaviscaya's whipped corner over the bar. 
63'   El Haddad is close to an immediate, decisive impact. He holds off his marker and powers to the byline before dinking a cross over the aghast Óscar Pérez and on to the top of the bar. It bobbles along the woodwork and behind, as the stadium collectively holds its breath.  
62' Youssef passes the ball straight out for a goal kick after a misunderstanding with El Kharti. That'll be his last contribution, with El Haddad coming on. 
59'   Martínez misjudges the flight of Khadrouf's ball from the right, allowing Youssef to nip in behind him and cut back inside. The No.9 tries to dribble his way through a crowd of players in the box, and does not succeed. 
58' A first change for Pachuca sees Franco Jara replace Angelo Sagal. 
57'   Keisuki Honda gets right under a bouncing ball on the edge of the box, scooping his shot high in to to the air and well over the bar. 
56'   Aguirre dashes down the left and has Urretaviscaya loitering in the middle. It needs a good delivery, which Aguirre can't provide. He slices the ball straight over the top of Laaroubi's goal. 
52'   El Hachimi concedes a corner on the slide. That was an important tackle with Sagal creeping up behind him. The corner goes all the way to the far post, where García sends the ball flying through the six-yard box and out the other side. It just needed a slight touch. 
50'   Noussir delivers an appetising cross from the left, forcing Murillo in to some smart defensive action. 
49'   Honda nearly made me eat my words there, flashing a wicked shot inches wide from 30 yards. 
47'   Honda is pulling the strings for the Mexican side. Or he's trying to, at least. Things aren't quite falling in to place for him. 
46' Pachuca kick off the second half!
Out come the teams for the second half with Black Eyed Peas' song about it being a good night n'that booming in the background. 
45'+3' Half time. 
45'+2' Nakach is cautioned for a arriving slightly late to a 50:50 with Sagal. The Wydad captain hurt himself in the process. 
45'   Two minutes of added time... 
The absolute definition of 'spread-eagled'. 

43'   Stoic defending from Atouchi to prevent Sagal nodding in a loose ball on the edge of the six-yard box. That chance came about because Laaroubi continues to show a strong aversion to catching the ball.
40'   Laaroubi, who has looked shaky since taking a knock to his knee earlier in the match, punches an overhit cross straight up in the air, placing his team under added pressure. Luckily for him, Pachuca waste it by smashing a ball straight over the bar. 
38' VAR alert! Comara steams in on Guzman, leaving him in a heap on the floor. After a couple of minutes the referee draws out a square with his hands to indicate that the VAR bods have made the decision, before brandishing a yellow card. 
36'   Bencharki jinks in to the box, approaches the byline, and directs his cut-back straight to the feet of Murillo. 
34'   Aoulad Youssef takes a heavy touch on the right, allowing García to nip in. The ball changes hands a couple of times in five seconds before Pachuca finally emerge with it. Yeah, it's been scrappy. 
32'   Honda drops deep from his position 'in the hole' in an attempt to knit some play together. He initiates a smooth counter-attacking move, but Pachuca can't find a way past Saidi, Wydad's midfield patroller. 
29'   It's a shame Khadrouf didn't manage to run all the way through for 'Khadrouf is on fire' reasons. 
28'   Khadrouf robs the ball from Hernández with Pachuca players committed forward and immediately gallops forward on the counter-attack. It looks dangerous for a moment, until the Mexican rearguard hot-foot it back to their own goal to cover. 
24'   Laaroubi resumes play after that lengthy stoppage with a bandage wrapped around his right leg. His first action is to boot the ball straight out of play. 
20' There is a nasty mark on Laaroubi's knee, and Erick Aguirre has gone in to the book for that over-zealous entry. 
19'   Urretaviscaya latches on to Honda's pass on the right, leaps over the challenge of Comara, and closes in on the box. He looks for a cut-back but Atouchi knows what he's thinking and blocks it out for a corner. Pachuca stay on the attack and Aguirre tries to take advantage of a weak, chested back-pass from El Hachimi to his 'keeper. The 'keeper claims it, and Aguirre follows through on to his knee. 
18'   Martínez comes to the rescue again with absolutely perfect positioning. Khadrouf swings a teasing cross towards the penalty spot. Martínez tracks the run of Youssef and tucks in from right-back to clear. Reall switched on defending. 
17'   Martínez heads away Nakach's cross on the edge of the box. 
15'   Ice with that slice, Señor Murillo? The Colombian defender skews a volley straight out of play and concedes a corner. 
13'   Wydad try to catch their opponents out with a quickly-taken free kick in to the box, but Murillo is attentive to the danger. Pachuca then burst up the other end with Urretaviscaya on the right, he whips in a cross for his Chilean team-mate Sagal, who stretches but can't quite apply the touch. 
11'   Keisuke Honda is becoming increasingly influential in the No.10 role as Pachuca begin to feel their way in to the match after a shaky start. The Mexican team are pressing high up the pitch, harrying the Wydad rearguard. 
7' Joaquín Martínez is on the ball for Pachuca on the right flank. His Wikipedia page says he is nicknamed 'Shaggy' due to his resemblance to the character from Scooby Doo. I think he looks more like Javier Bardem's villain in No Country For Old Men. It's mildly disconcerting. 
4'   Murillo sprints back towards his own goal to cut out Bencharki, who was poised to cross in from the right. Wydad win a corner, which Bencharki waits to take while veteran 'keeper Óscar Pérez does a lot of pointing and shouting. It comes to nothing. 
3'   Tit-for-tat in the first couple of minutes. It's fair to say Wydad have made a slightly brighter start. 
1' Wydad get this Club World Cup match underway! Boos ring out as soon as Pachuca get their foot on the ball. 
"Moroccan Heritage" reads a large tifo behind the goal. There's a tasty atmosphere in Abu Dhabi. 
A reminder that VAR will be used in the Club World Cup. 
Ravshan Irmatov is the referee, and he's from Uzbekistan. 
There is a generous spread of Wydad fans painting the Zayed Sports City Stadium red. The players are shaking hands, and then we'll be underway. 
Fear not! The man in the dressing gown has gone and the football has arrived. 
Spanish television is taking its time to switch over to the football. We currently have the pleasure of an interview with a dressing-gown clad water polo player. This live feed could take an unexpected turn... 
A vast legion of loanees from Pachuca. 

Achraf Bencharki is worth keeping an eye on for Wydad. The 23-year-old forward recently made his debut for the Morocco national team. 
There were no Cornish miners in Morocco. Or if there were, they weren't forming football clubs. But don't worry, you can still have your piece of Wydad trivia... Wydad Athletic Club initially came in to existence as a swimming club in 1937. The football came a year later.
Pachuca's history is an interesting one. The club was founded in 1901 by emigrant miners from Cornwall and is widely considered to be the oldest club in the country. The President of Mexico at the time - General Porfirio Díaz - gave concessions to British mining companies, and from that grew the roots of Mexican football. 
Keisuke Honda - formerly of AC Milan and CSKA Moscow - will be on the left flank for Pachuca. Criminally, he will have the No.2 on his back. TWO! A left winger! 

Team news ahoy! 
Wydad Casablanca XI: Laaroubi; Noussir, El Hachimi, Atouchi, Comara; Nakach, Saidi, El Karti; Khadrouf, Bencharki; Aoulad Youssef.
Pachuca XI: Pérez; Herrera, Martínez, Murillo, García; Guzman, Hernández, Aguirre, Honda; Urretaviscaya, Sagal. 
It's not quite the Liverpool Spice Boys of 1996, mind. 

There has been little Spanish influence on the history of Wydad Casablanca... but they were the last stop on the hefty managerial career of John Toshack. The Welshman had a spell at the club between 2014-16, having previously led Real Sociedad, Deportivo, Real Madrid, and Real Murcia. 
Ahead of a last-eight clash that sees the Concacaf Champions League winners take on the Caf Champions League holders, why not get yourself started with a read of our match preview below?
Good morning! Join us for the build-up ahead of today's first Club World Cup quarter-final at 14:00 CET!
Line-ups
25

Mohamed Ouattara

11

Ismail El Haddad

7

Mohammed Ounnajem

19

Amin Tighazoui

12

Badreddine Benachour

13

Youssef Rabeh

8

Badr Gaddarine

37

Reda Hajhouj

10

Guillaume Nicaise Daho

29

Yassine El Kharroubi

24

Aït-Ben-Idir