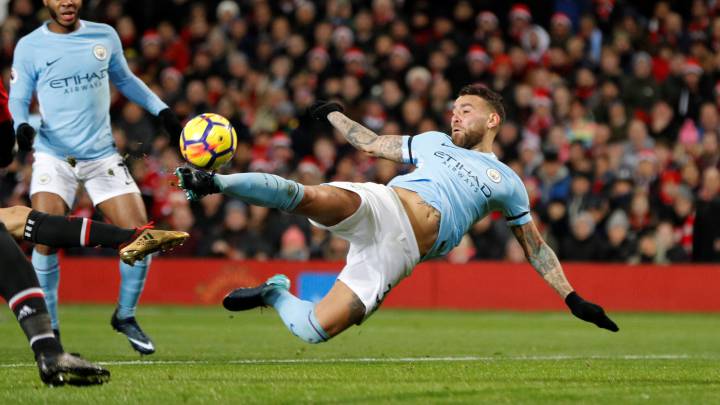 Manchester City emerged with a crucial three points as the immovable object met the unstoppable force at Old Trafford. Manchester United were undefeated in 40 home matches going in to the Derby match, while City had won 13 consecutive games in the Premier League.
Goals from David Silva and Nicolás Otamendi as the snow fluttered down ensured that United's record melts away, while Pep Guardiola's side set one of their own - becoming the first side to win 14 consecutive matches in a single season. A Fabian Delph error allowed Marcus Rashford to equalise shortly before half time, but City's superiority was clear. They move 11 points clear at the top of the Premier League.
MOTM: David Silva. 'El Mago' ('The Magician') was at his sting-pulling best for the visitors, and also chipped in with a goal. As full time approached he showed a comprehensive knowledge of the dark arts to run down the clock and strip United of any momentum.
Manchester United 1-2 Manchester City: as it happened
Manchester City move 11 points clear of their rivals thanks to goals from David Silva and Nicolas Otamendi. Marcus Rashford momentarily drew the home side level just before half time. 
90'+5' FT. 
90'+5'   Another corner for City as a red smoke bomb goes off in the background. 
90'+4'   Bernardo Silva makes a fine run on the left but leaves it too late before shooting. By the time he does, the angle is narrow and De Gea blocks behind for a corner. Naturally, City will keep it there. 
90'   Four minutes of added time. 
90' Ashley Young grows frustrated with Raheem Sterling repeatedly taking the ball to the corner and takes a swipe at the No.7. That's a yellow card. 
88' Leroy Sane shuffles off (very slowly) and Bernardo Silva takes his place for the last few minutes. 
84'   What an incredible double save by Ederson! He stops Lukaku's close-range effort with his face, then gets up and makes himself big to prevent the follow-up going in. Mangala scrambles the ball away and Ederson will reveive some treatment. Possibly to waste time, possible because he took one square in the dish. 
82' Mourinho makes a final change, sending on Juan Mata in the place of Ander Herrera. 
81'   Gundogan attempts to recreate *that* De Bruyne to Sane reverse pass after Lindelof passes the ball straight to him. This time, Sane isn't expecting it. 
79' Ander Herrera is shown a yellow for taking an almighty flop in the area. 
76' Zlatan Ibrahimovic comes on for Jesse Lingard. 
Delph is caught napping again. He fails to deal with a swirling ball from Lindelof, allowing Rashford to steal in and sting Ederson's palms at the near post. 
74'   Careful, Silva. He steams straight in to another challenge while the ink is still wet on his name in the referee's book. 
73' David Silva is booked for a full-blooded entry to a 50:50. He got some of the ball, and also a fair chunk of shin. 
70'   Kevin De Bruyne draws a strong, one-handed save from De Gea down to his right. The Belgian drifted inside and shoots with his left foot. His aim is true, but not much finds a way past De Gea. 
69'   Raheem Sterling gets back to do dirty work, ensuring Martial's surging run did not take him in to the box. Rashford blasts the subsequent free-kick over from 25 yards. 
68'   Gundogan hurls himself towards Sane's low cross but can't quite stretch to apply the crucial touch. 
66' Romelu Lukaku runs on to a through ball and shoots. It's always rising, and is only a threat to someone's cup of tea in the crowd. 
65'   Oooft, Silva pauses on the ball, waits for Gundogan to move in to the box, and then slides the ball through to the German. He cuts it back towards Sane and Young is well-placed to clear. 
63' Marcus Rashford is booked for dissent. He threw the ball down in disgust after the linesman awarded a throw in to City. 
62'   David Silva is playing as a false nine for City as the game goes through a five-minute scrappy spell. 
60'   That change allows Fernandinho to move back in to midfield. He had been deputising in the heart of defence after Vincent Kompany didn't come out for the second half. 
59' Guardiola makes a second change: Centre-half Mangala replaces centre-forward Gabriel Jesus. 
58'   De Bruyne is caught in possession by Matic. The Belgian has not been at the races today. 
57'   Mourinho has sent Juan Mata and Zlatan Ibrahimovic to warm up. 
54' GOL GOL GOOOOL! City are back in to the lead, and once again Lukaku provides an inadvertant assist from a set piece. The striker tries to clear but catches the ball with the bottom of his boot. It richochets off a team-mate and sits up nicely for Otamendi to convert with a scissor kick from close range. 
53'   Leroy Sane dances inside, and inside a bit more, and still further. He is off balance when he eventually works space to shoot and his effort flies in to the crowd. 
51'   The game has opened up in these early stages of the second half. Otamendi cuts out Rashford's fizzing low cross and sets City away on the counter attack. 
48'   Gabriel Jesus spins past Valencia by the corner flag. He waits a fraction too long before cutting the ball back to Sterling - taking the momentum from the move. De Bruyne then gives the ball away with an underhit pass aiming for Sane. 
46' For Manchester United, Victor Lindelof is on for Marcos Rojo, who received a bang to the head in the first half. 
46' Vincent Kompany has been replaced by Ilkay Gundogan. Given the former's injury record, you would imagine that is an enforced change. 
46' Off we go in the second half! 
Ilkay Gundogan is warming up as the two teams re-emerge. He looks like he'll be coming on before too long. 
The average player positions show how deep Manchester United are playing.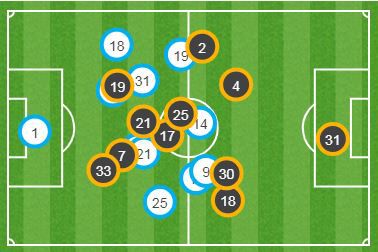 City should be a few goals ahead. They would be, if their decision making around the box was slightly better. On a few occasions the visitors have attempted to weave intricate play when it wasn't really there to be done. 
Manchester City made their dominance count when David Silva turned the ball in from a corner, then a mistake from Fabian Delph presented Marcus Rashford with the chance to equalise in added time. 
45'+4' Michael Oliver calls time on the first half. 
45'+2' GOOOOOL! United equalise through Marcus Rashford after Fabian Delph fails to deal with a diagonal ball in to the box. A neat finish, but also a reminder that City don't have a natural left-back on the pitch. Delph's positioning was all wrong. 
45'+1'   David Silva gets stuck in on Marcus Rashford with a snappy sliding tackle. 
45'   City surge forward with a 4v3 advantage. If there's one player you want in this situation, it's De Bruyne. He's uncharacteristically sloppy this time, playing the ball behind Sane and allowing United to clear their lines. 
43' GOOOOOOL! Otamendi places Lukaku under pressure from the corner, causing the ball to bobble kindly for David Silva on the edge of the six-yard box. He swivels and shoots at the same time, tucking the ball in to the bottom corner. 
42'   What a save from David De Gea! Delph swings a deep cross to Sane, who brings it down and jinks on to his right foot. His shot flashes towards the near post and the Spanish 'keeper parries over. 
39'   Silva looks for Jesus in the box. As has been the case often this evening, the intricate combination play does not come off. 
38'   Marcos Rojo sidesteps back on to the pitch with a bandage wrapped around his head. 
36' Rojo received a yellow for his part in that clattering. He also has a massive egg on his forehead. 
35'   Marcos Rojo is down in a heap after a clash of heads with David Silva. Mourinho makes a questioning 'substitution' gesture with a twizzle of his fingers, gives and affirming nod, and prepares a replacement. 
34'   Sterling dances in to the box, plays a swift one-two with Silva, and then lets the ball run away from him. He collides with Young and the Michael Oliver gives the foul. 
32'   Jesse Lingard has the ball in the net. He also has Otamendi on the deck, and the referee has blown his whistle. 
30'   Sterling takes the ball down on his chest. Rojo applies the pressure, and makes sure that the City forward doesn't have time to let the ball drop. 
28'   Some tip-tappery between Jesus and Silva wins a corner for City, which is woefully hit and allows United to counter-attack. Kyle Walker holds off Lukaku and plays a rather lively back-pass to Ederson. With an exquisite first touch, the 'keeper turns defence in to attack once again. 
Sterling and Smalling appear to have become conjoined twins.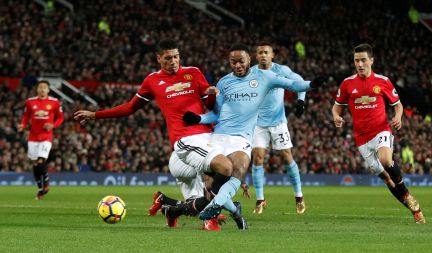 24'   Fernandinho has enough of all that passing nonsense and has a pop from 25 yards out. Straight in to the crowd. 
22'   Kompany puts in a 'derby day' tackle on Herrera. All of the ball, and plenty of the man. 
21'   Garbriel Jesus glides in to the box and knocks the ball from his left foot to his right foot in an attempt to take Smalling out of the game. He tumbles to the turf, but doesn't really appeal for a spot kick. 
20'   United have barely seen the ball. Every time they have possession, it's hoofed upfield and City just come back again. It's hard to see the home side surviving another 70 minutes of this pressure. 
17'   Fernandinho threads a gorgeous pass forward in to the channel for his compatriot, Jesus, who had peeled away from Rojo. He then beats Rojo with a stepover and gallops in to the box. The move deserves a goal but he can't provide the finish. A weak shot is easy for De Gea to hold. 
16'   Sterling shoots straight at De Gea, under heavy pressure from Chris Smalling. Both end up sprawled on the floor. 
14'   Sane wins a free kick out on the right, and Valencia turns De Bruyne's deep delivery behind for a corner. The Ecuador international had a bit more time than he thought. Nemaja Matic almost has an 'own goals and gaffes' moment at the near post. He tries to clear with his right foot but the ball hits his standing leg and deflects towards goal. De Gea is alert and prevents the own goal. 
12' City are sending rasping diagonal passes to Leroy Sane, who is staying tight to the right touchline. It seems that the aim is to create situations in which Sane and attack Young one-on-one.
10'   Sterling feeds Jesus on the edge of the six-yard box. Instead of shooting, he tries to flick the ball backwards to David Silva. David De Gea points to the touchline, Rojo takes notice, and hoofs it clear. 
9'   Leroy Sane cuts in to the box from the right and tries to squeeze through a gap between Young and Rashford. He gets crowded out by City continue in possession. 
6'   Ederson and Otamendi play some risky stuff inside the City penalty box. But it comes off, as it so often does for City, and they scythe through the press of red shirts to feed De Bruyne. Sterling in his target, but the Belgian overhits a long diagonal pass. 
4' Kyle Walker has gone in to the book for a late follow-through on Ander Herrera. The man from Sheffield faces 85 minutes on thin ice. 
2'   Leroy Sane spins away from Lingard on the left flank. Antonio Valencia is not so acquiescent... he places a bulky shoulder on the City winger and sends him toppling to the floor. Michael Oliver puts his whistle to his lips. 
1' Peeeep! Lingard gets the match underway and United immediately pump the ball towards Lukaku in the corner. 
A firm handshake between Mourinho and Pep. The United manager follows it up with a pat of his opposite number's head. N'awww. 
We have teams in the tunnel... Antonio Valencia and Vincent Kompany will lead them out. 
Jose Mourinho in full wind-up mode: "If you ask me one thing that I don't like a lot it's that they lose their balance very easily. You know, a little bit of wind and they fall."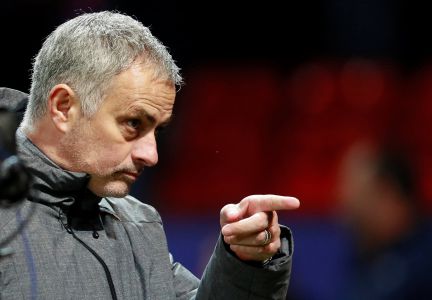 Pep Guardiola was cocksure in his pre-match comments: "When you see in every game the statistics - not just the way we play - we are better in terms of potential goals, possession and chances conceded."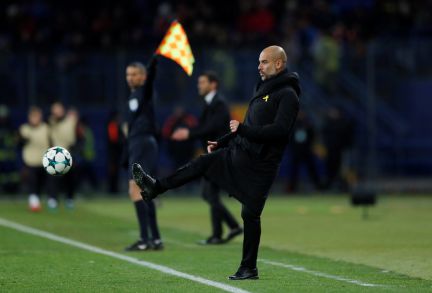 This man is on the bench for United. He has made three substitute appearances since returning from a serious knee injury, but has yet to find the net.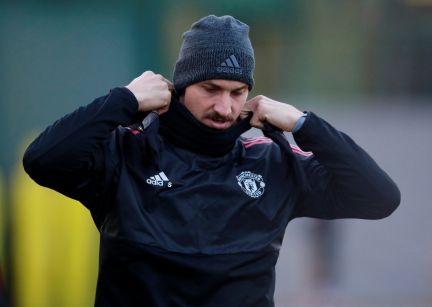 This is how the Premier League table looks. If City were to win this afternoon and establish an 11-point gap, it effectively be the end of the title race.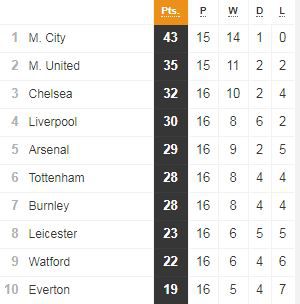 Full time at a snowy Anfield, where a Wayne Rooney penalty has secured a point for Everton. Liverpool dropping points is good for both City and United. 
It looks like one of those matches where something has to give. City have won their last 13 Premier League matches, while United are undefeated in their last 24 Premier League matches. Unstoppable force, immovable object, etc, etc.  
The main news from the starting line-ups is that Ander Herrera comes in for United with Paul Pogba suspended, while Sergio Agüero is on the bench for City. With a central-midfield pairing of Herrera and Matic, aided by Jesse Lingard buzzing around ahead of them, United will be extremely solid. 
TEAM NEWS! 
Manchester City XI: Ederson; Walker, Otamendi, Kompany, Delph; Fernandinho, De Bruyne, Silva; Sterling, Jesus, Sane. 
Manchester United XI: De Gea; Valencia, Smalling, Rojo, Young; Matic, Herrera; Lingard, Rashford, Martial; Lukaku.
Manchester United 1 - 6 Manchester City, 23 October 2011. One of the most iconic derbies of the last decade. Mario Balotelli (2), Sergio Agüero, Edin Dzeko (2), and David Silva were on the scoresheet for Roberto Mancini's side. Darren Fletcher scored the solitary goal for United.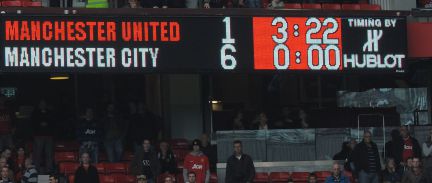 The blue side of Manchester ushered in the Millennium with relief. City did not win a single match against Manchester United in the 1990s (D4, L9).
Alex Ferguson explained the reasons behind not selling Ronaldo sooner and why Florentino Perez made the transfer easier when he eventually moved in 2009.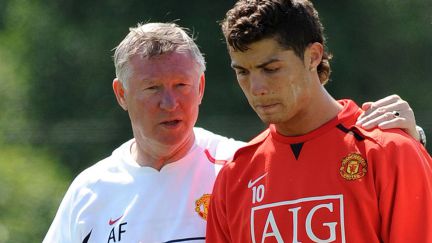 Guardiola on Mourinho: "We are like twins" . Pep is treating the Manchester Derby like any other game and says the Premier League is a marathon, declaring nobody will win the title on Saturday.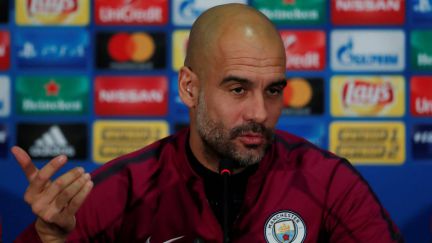 Hello and welcome to our live coverage of the Manchester derby. We'll be building-up to kick-off all day with the latest news and developments surrounding the game.