Gremio 1-0 Pachuca (AET) Club World Cup: as it happened, goal
The Copa Libertadores champions needed extra time to seal their place in Saturday's final in Abu Dhabi, after overcoming Pachuca in an attritional encounter.Champions League draw 2018
Gremio will play either Real Madrid or Al Jazira in the final of the 2017 Club World Cup after edging past Pachuca in a scrappy semi-final that went to extra time.
Everton scored the decisive goal for the Copa Libertadores champions after 95 minutes, moving inside and curling the ball around veteran goalkeeper Óscar Pérez. Pachuca midfielder Victor Guzman received a second yellow card soon after to make the Liga MX side's task even greater.
Despite the defeat, Pachuca ventured further in the competition than any CONCACAF club had done previously. While Gremio reach the final for the first time since 1983, when the tournament was still in its previous guise as the Intercontinental Cup.
Gremio 1-0 Pachuca (AET): as it happened
120'+2' FT! Everton's goal in extra time means Gremio will face Al Jazira or Real Madrid in the final of the Club World Cup.
120'+2'   The Pachuca players are pointing furious fingers at the officials after Luan is awarded a free-kick. 
120'   The Gremio defence is holding firm as we enter two minutes of added time. 
119'   Pachuca look closer to another red card than an equaliser, as perpetual irritant Jorge Hernández commits a niggling foul on Jailson. 
117' A final change for Gremio sees Rafael Thyre replace Fernandinho, who is in no rush to leave the pitch.
115'   Keisuke Honda's deep cross forces a Pachuca corner, which Marcelo meets with a firm punch. 
113'   Luan fires over at the end of a swift counter-attack, which began when Gremio cleared a speculative Pachuca delivery in to the box. 
113' Jaer is the next player to be booked. His crime is an arm across the face of Erick Sánchez. 
112'   Jaer tucks the ball in to the net with a sweet finish off the post. But on the other side of the white line, the linesman has his flag up. Replays show it was the right decision, albeit a close one. 
110'   10 minutes and 10 men. It's not looking good for Pachuca. 
109' RED CARD! Pachuca's Victor Guzman receives his marching orders. A late challenge on Leo Moura earns him a second booking, and he goes off with few complaints. 
107'   Omar Gonzalez puts the ball behind for a corner, to prevent Jaer tapping in at the far post. 
106' Off we go again. 15 minutes for Pachuca to force a penalty shoot-out. 
Pachuca switch Germano Cano for Jonathan. A No.9 on and a No.10 off. 
105'+1' Half time in extra time. 
105' Jorge Hernández receives a long-overdue booking. This one wasn't a foul, let alone a yellow. He jumped fairly with Everton, who lost his balance. But he's been putting himself about throughout the match and punishment was coming. 
104'   Luan slides in at the near post but the ball somehow squirms through a gap between the Gremio striker and the Pachuca 'keeper. 
101' Pachuca make an attacking switch, with striker Angelo Sagal replacing left-back Emmanuel García.  
98'   Pachuca manager Diego Alonso frantically gestures at his players while the Gremio fans bouce in the background. The atmosphere has heated up somewhat in the Hazza Bin Zayed Stadium.
95' GOOOOOOOOOOOOOOOL! It took a while coming, but it was worth the wait! Substitute Everton picks the ball up on the left and drifts inside before curling a wicked effort beyong Óscar Pérez and in to the top corner. 
93'   This is the second time in fours days that Pachuca have played extra time. Gremio, on the other hand, are fresh. You wonder when that contrast will start to manifest itself. 
Gremio also made a change ahead of extra time: Leo Moura on for Edilson. 
92'   Cortez dinks a cross in to the box from the byline. It has Pérez scrambling, but Garcia is ready and prepared to head clear at the far post. 
91' Extra time is up and running! 
91' Robert Herrera replaces Franco Jara for Pachuca. 
  Well, this pretty much sums it up.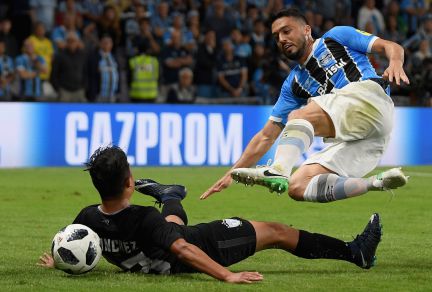 90'+2' The match ends 0-0. Extra time it is...
90'   Two minutes of added time seperate us from another 30 minutes of this attritional sludge. Please score. Anyone. 
90'   Erick Sánchez picks up the ball on the half-turn and aims for the bottom corner from 25 yards. It's comfortably wide. 
89'   It's one-way traffic in Gremio's favour as the match creeps towards extra time. 
87'   Gremio go close! Fernandinho whips a corner to Geromel, who helps it on towards the far post. Luan is alone in the six yard box, but the ball comes at him too fast, crashes in to his midriff, and bounces for the 'keeper to claim. He had no time to react. 
86'   Luan buzzes around the edge of the box, linking up play and trying to find an opening. He looks like the only Gremio player likely to create, but there's no joy this time. 
82'   This match has got penalties scrawled all over it. In permanent marker. 
80'   Jonathan's corner is cleared back out to him, and his second delivery is more dangerous. He whips it to Guzman at the near post, and his header flashes just wide of the far post. 
77'   Everton twists Martínez inside and out, leaving him in an unceremonious heap on the floor. Omar Gonzaéz proves a more difficult object to navigate. The USA international blocks Everton's shot inside the box. 
75'   Edilsooooon! Side netting! Pérez is static as the ball swirls over the wall, and he breathes a sigh of relief as it kisses the netting on the wrong side of the post. 
74'   Hernández and Luan are at it again. The Gremio man fizzes away from Pachuca's enforcer on the edge of the box and receives a clip to his heels. A free-kick well within Edilson taction-engine range. 
72' A second change for Gremio sees Everton take the place of Michel. 
71'   Luan asks the referee to show Hernández a yellow card, Hernández asks the referee to watch Luan's high feet. The German official takes them both to one side and has a stern word. 
70'   This tournament may act as a shop window for Erick Sánchez, who brightened up Pachuca against Wydad and is brightening them up again today. He plays with maturity beyond his 18 years. 
66' Diego Alonso makes his first change, throwing on young Erick Sánchez in the place of Aguirre, who was one yellow card away from suspension. 
64'   The game is finally beginning to open up as legs become weary. Jael outmuscles his marker and glances a header wide of Pérez' goal. 
61'   Martínez is penalised for planting his palm on Ramiro's chin and Luan whips the ball in from near the corner flag. It's a devilish delivery that Jael just misses, and Pérez flaps at. The 'keeper's contact is flimsy, but enough to send the ball on its way out the other side of the box. 
60'   Brilliant save from Óscar Pérez! Luan rifles a low shot from outside the box, which looks set to sneak inside the near post. Pérez scrambles across his goal line and tips it on to the post. 
59'   Luan jostles with García and Murillo as the ball bounces in to Pachuca's penalty area. Luan gets the shot away, but he's hopelessly off balance and it loops in to the empty seats behind the goal. 
57'   Edilson limbers up to hit a free-kick from range and swerves away from the ball at the last minute, allowing Luan to swing a cross to the far post. Bruno Cortez heads it over the bar. 
56'   We've had a shot on target! Wahey! Victor Guzman tests Marcelo with a curling effort from outside the box. It was never particularly taxing for the 'keeper, but hey, us beggars can't be choosers. 
55' Renato Gaucho rolls his dice for the first time. Big No.9 Jael comes off the bench. He will replace Lucas Barrios
52'   One gorgeous pass aside, Luan has failed to rise from the quagmire of niggling foulplay that this match has become. 
51' Ramiro has been booked for treading on Hernández' ankle while both were watching the ball out of the air. Ridiculous decision. That was clearly unintentional. At no point did Ramiro take his eyes off the ball. 
50'   Óscar Pérez limbers out from his line to punch a corner clear. He's certainly spritely for his years. 
46' We're back underway! 
The teams are ambling out for another 45 minutes of kick seven shades out of each other. 
There were 19 fouls and 0 shots on target in a scrappy first half in Abu Dhabi. 
45'+1' HT. 
45'+1' 45'+1' Keisuke Honda nips on to a through ball on the edge of the box. He tries to poke it beyond Pérez with his first touch, but Cortez has tucked in from left-back to get in the way. 
45'   Just the one minute of added time, thankfully. 
44'   Hernández and Barrios both put a foot in towards a loose ball and they come together. Hernández shouts loudest and gets the free-kick. This match has been desperately disjointed. It's like a heavily scratched record. There's no flow whatsover. 
42'   Jorge Hernández catches the ball before Barrios has even made contact with him, such was his level of 'looking for a foul'. The referee acquiesces anyhow. His whistle is getting plenty of action tonight. 
41'   Luan stutters, but it's Fernandinho who shoots. The ball moved a fair bit in the air, without ever threatening to drop beneath the crossbar. 
40'   The sizeable frame of Oscar Murillo flattens Ramiro, and Gremio have a free-kick 25 yards out, to the right of goal. Three blue shirts stand over it, hands on hips, while Pérez yells at his wall. 
39'   If Real Madrid are watching this, they won't be watching with a great deal of trepidation. 
38'   Fernandinho faces up to his full-back and darts outside, inside, and outside again before cutting the ball in to the six-yard box. There's nobody there and Óscar Pérez trots out to scoop the ball up. 
37'   Arthur's absence is being sorely felt by Gremio, who are lacking anyone capable of setting the tempo. 
34' Victor Guzman is booked for playing a pass and then spinning past Ramiro. Apparently he caught the Brazilian in the face with a stray arm. It looked unintentional. 
31'   Luan - who is dropping deeper and deeper to affect the game - dinks a lovely ball over the top of the defence for the inward run of Ramiro. The winger jabs at the ball with the outside of his right boot, but he can't direct it on target. 
27'   Edilson darts inside and is immediately tripped by Guzman. That's pretty much how the game has gone... as soon as one side threatens to show a modicum of skill, the other side deploys the dark arts. 
24'   Aguirre's delivery is quite spectacularly poor. It's headed away by the first line of defence on the edge of the 'D'.
23' Walter Kannemann upends Jonathan with a nasty, studs-up tackle. The referee is swift to draw the yellow card from his pocket. It could have been rouge...
21'   Frustration for Bruno Cortez as he miscontrols the ball and it trickles over the line for a throw in. Gremio are playing very deep, as Brazilian sides tend to do. Applying more pressure to the Pachuca defence might serve them better. 
18'   Pérez chips his goal kick delightfully for Luan to intercept. The Gremio dangerman jinks on to his left foot, then on to his right, and lets fly. Luckily for Pérez, it's blocked and Murillo hits it clear. 
17'   Hernández goes from foulee to fouler 35 yards out... The defence lines up to defend a whipped cross, but it's the right-back, Edilson, who steams in and wallops it towards goal. It swirls all over the place and goes just over the bar. 
14'   Another foul for Pachuca on the edge of the box, thanks to a clumsy shove from Kannemann. Jonathan, with the No.10 shirt on his back, swings it in and the 'keeper beats the ball away with a flying punch. 
12'   Lucas Barrios commits a striker's challenge on Hernández and is penalised by the referee. Jailson leaps to clear the inswinging free-kick. 
10'   Germany national team coach Joachim Löw is watching on from the stands. The only German on the pitch is the referee. Business or pleasure for Mr Löw? 
8'   Michel bursts to the byline and cuts the ball back towards Barrios. Omar Gonzalez is well-placed at the near post to pump the ball clear. Up at the other end, Honda records Pachuca's first shot of the game with a rasping effort that flashes past the bottom of the post. 
7'   Paraguayan forward Lucas Barrios gets his head to a corner at the far post. No bother for Óscar Pérez, who uses all of his 44 years experience to watch it loop beyond the post. 
6'   A cagey first five minutes. That is, of course, a euphemism for lots of running and not much football. 
3'   Pachuca settle in to an early spell of position, with deep midfielder Jorge Hernández pulling the strings. Ramiro gives away a foul for shoving that man Hernández, sending him in to an elaborate forward roll on the turf. 
1'   30 seconds in and we've got two balls on the pitch. 
1' Peeep! Gremio get the game underway and the first pass is met with a roar of adulation from the Brazilian fans. 
The referee is Felix Bryche from Germany. We also have a Senegalese, a Frenchman, and another German on VAR duty. 
Here come the teams! 
The winners of tonight's match will go on to face the winner of Real Madrid and Al Jazira, who play on Wednesday evening. Gareth Bale and Raphael Varane are back in training after recovering from injury problems, and could play a part for the European representatives. 
In the Gremio ranks, it's hard to look beyond Jailson. Just because of his name. With the absence of Arthur (who is still carrying a knock picked up in the Copa Libertadores final), Luan will be Gremio's unrivalled star man. 
USA international Omar González comes in to the defence for Pachuca. Franco Jara - who came off the bench against Wydad - has also been handed a starting berth. 
TEAM NEWS! 
Pachuca XI: Pérez, Honda, González, Guzman, Jonathan, García, Aguirre, Hernández, Martínez, Murillo, Jara. 
Gremio XI: Marcelo, Edilson, Geromel, Kanneman, Michel, Luan, Cortez, Ramiro, Lucas, Fernandinho, Jailson.
Keisuke Honda is likely to line up for Pachuca despite playing the full 120 minutes against Wydad Casablanca in the quarter-final. The 31-year-old, who has clocked up 90 caps for Japan, floated in and out the match against Wydad, but was always a threat from set pieces. 
With Arthur missing from the tournament because of an injury sustained in the Libertadores final, the spotlight will fall even more brightly on their main attraction, 24-year old attacking midfielder Luan. It was he who helped guide Brazil to their first Olympic gold last year and his swift movement and deft passes won him the Copa Libertadores' Player of the Tournament award last month.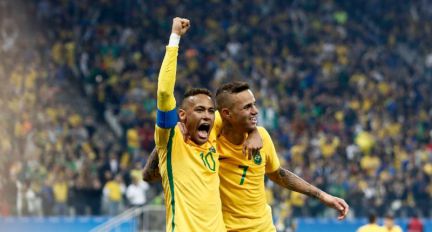 Gremio's club captain Pedro Geromel spoke ahead of their involvement in the tournament and said they were conscious of the errors that recent Libertadores representatives had faced. "The other teams are there on their own merit and they are there to compete," said the 32-year old centre half. "Our primary focus right now is on the semi-final. We won the Libertadores by keeping our feet on the ground and we're going to stay that way."
Gremio may be making their first appearance in this format of the tournament but did you know that they did win it in its previous guise of the Intercontinental Cup. It was back in 1983 when they beat Hamburg SV 2-1...and the man who scored both their goals that day is now the club coach. Renato Portaluppi, a man who unabashedly claims he was a better player than Cristiano Ronaldo, has installed the same swagger in this current Gremio side.
Why not get yourself prepped for today's clash at the Hazza Bin Zayed Stadium by reading our match preview below?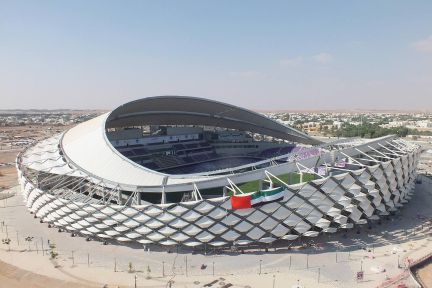 Good morning! Join us for the build-up to the first 2017 Club World Cup semi-final, which kicks off at 18:00 CET!