Real Madrid's Marcelo looks to the most important LaLiga title
The Real Madrid full back was interviewed by Fifa where he talked about the elements of his career, his dream final and playing football with his son.
Ahead of the Club World Cup semi-final, Real Madrid's Brazilian left back Marcelo gave an interview to world football's governing body Fifa  in which we were able to get a little more of an insight into his life, both professional and personal.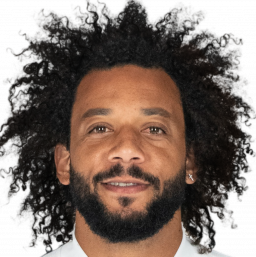 Here is a selection of what one of Madrid's key players over the last decade had to say:
On the pressure faced: "It was hard to start off with, but now it's a case of 'no pressure, no fun',"
On the present and future: "I don't look back for my motivation, Football has a short memory, and for me, the most important title is always the next one."
On offensive mindset: "I'm a defender, but I like to attack,"
On playing football with his son: "I'm really tired when I get home and I don't have the energy to be playing with him all day. I just go in goal," (Eight-year old Enzo plays as a forward for Madrid's junior teams)
On helping the young players: "Roberto Carlos helped me a lot when I arrived at Madrid, and I try to do the same with the youngsters, because Madrid is not an easy place to come to when you're 19 or 20. I've been through that and I had help from people like Roberto, Sergio [Ramos], [Fabio] Cannavaro, Iker [Casillas], [Michel] Salgado and [Ruud] van Nistelrooy. I try to do the same thing."
On a potential third Club World Cup: "It's a challenge. We don't look at other teams. We do what we have to do."
On not getting ahead of themselves: "We've got the semi-final first, and we have to win it, so that we can then start thinking about the final. We want to win the Club World Cup, which is a very important tournament, but we know that we have to take things one game at a time. We can't just turn up and say: 'We're going to win and that's that'. No. You have to respect all the teams, like they respect us, and give all you can to win the title."
On working hard for success: "Nothing is easy, especially in football. I've played in two Club World Cups and won them both, but it was difficult. Nothing comes easy at Madrid. I've been here for many years and everything's been tough. We've won a lot of titles, but we've had to work for it."
On a dream final: "I'm proud of the fact that a Brazilian side made it to the final of the [Copa] Libertadores, which is a very difficult competition, and that they made it to the Club World Cup too. Playing Gremio in the final would be really exciting. That would be amazing."
Gremio face Pachuca in the first semi-final and you can follow it live with AS English. Real Madrid are in action against Al Jazira on Wednesday.