Kuwait re-awarded host nation status for 2017 Gulf Cup
With 10 days to go until the bi-annual tournament kicks off, Kuwait has been chosen to host after Qatar elected to cede the tournament amid regional tensions.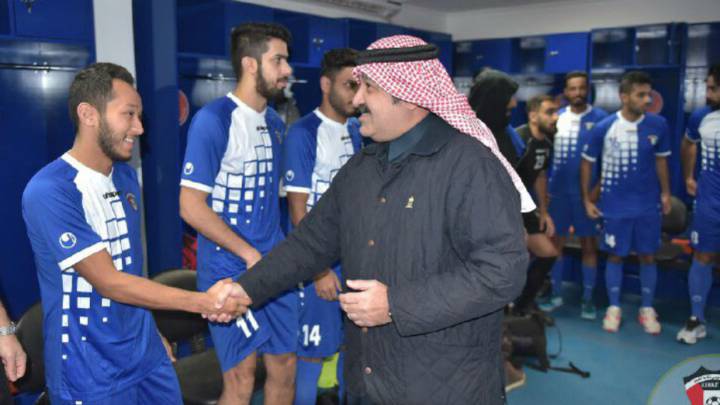 The 2017 Gulf Cup of Nations will be held in Kuwait and not Qatar after the tournament overcame political and administrative obstacles.
The decision was officially announced this week by Arab Gulf Cup Football Federation (AGCFF) general secretary Jassim al-Rumaihi.
The tournament has been plagued by problems.
It was originally scheduled to take place in Kuwait last year, but that country's football association was suspended by FIFA in October 2015 over alleged government meddling in sports.
After Kuwait's suspension, the tournament was switched to World Cup 2022 host Qatar.
Any hopes that would ensure the tournament would go ahead were dashed by the region's worst political crisis in years.
A bitter dispute erupted on June 5 when Qatar was diplomatically isolated by a quartet of neighbouring countries including Saudi Arabi, UAE and Bahrain over alleged support for terrorist groups and Doha's warming relations with Riyadh's great regional rival, Shiite-dominated Iran.
Qatar denies the allegations, but the dispute has now continued for more than six months.
In November, Saudi Arabia, UAE and Bahrain were "withdrawn" from the tournament after failing to respond to an invite to take part from the Doha-based AGCFF.
Since the current dispute began, the boycotting countries have cut all communication with Qatar.
Fifa lifts Kuwait's suspension
🏆 After the lifting of Kuwait's FIFA ban, the 2017 Gulf Cup is back on. It is set to begin on 22 December, and the AGCFF will reveal more details on Monday.

Yalla #Iraq, let's win it! 🇮🇶 pic.twitter.com/cUu5MZk4We

— Soccer Iraq (@SoccerIraq) 10 December 2017
However a breakthrough came earlier this month when FIFA lifted Kuwait's suspension after the national parliament adopted a law meant to end government interference in the sport.
That cleared the way to move the tournament back to its original host.
Following the lifting of Kuwait's suspension, the Qatar Football Association said it was willing for the tournament to go ahead in Kuwait.
The move has been backed by FIFA chief Gianni Infantino who said he would attend the tournament's opening games.
"It will take place at exactly the same dates, the 22nd of December to the fifth of January," al-Rumaihi said, the first confirmation from a Gulf Cup official that the competition would go ahead.
He added that organisers were still waiting for confirmation from the federations of Saudi Arabia, United Arab Emirates and Bahrain, but it is widely expected they will now take part in the eight team competition.
Gulf Cup go-ahead allays fears over 2022 World Cup boycott
The fact they would only play after the tournament was switched from Qatar could raise further fears over a potential boycott of 2022.
Qatar has said they expect up to 1.5 million fans to attend the World Cup, the majority coming from the region, mainly from Saudi Arabia.
Last month, the country's most senior World Cup organiser, Hassan al-Thawadi publicly urged the boycotting countries to allow their nationals to attend 2022.
The Gulf Cup is usually played every two years between Bahrain, Iraq, Kuwait, Oman, Qatar, Saudi Arabia, United Arab Emirates and Yemen. Qatar are the current holders.
A draw for the tournament took place in September, which saw Bahrain, Iraq, Qatar and Yemen placed in Group A.
Meanwhile Saudi Arabia, Kuwait, Oman and the UAE make up Group B.