Zidane: "I'll continue to defend Benzema to the death"
Real Madrid's coach previewed the Club World Cup final: "I don't agree with the criticism of Benzema. His job is not only about scoring - he's a different player".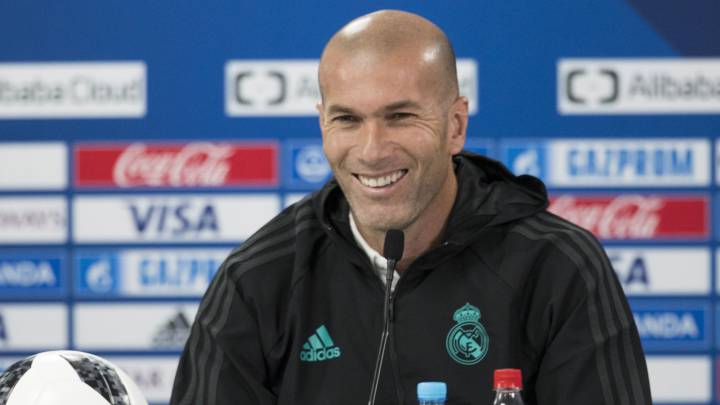 Zinedine Zidane attended the international media to preview tomorrow's Club World Cup final in which his Real Madrid side will be defending the trophy against Grêmio de Porto Alegre. The coach once again defended under-fire striker Karim Benzema: "I don't agree with the criticism..."
Madrid up preparations for Club World Cup final
How are you confronting this final on a personal level and as a team?
With hope. That's the word we like most of all. With the hope that we will be bringing another trophy back home. We've spent a week preparing for this final and now the moment has arrived, we want to go home with the Cup.
Have you studied videos of the semi-final against Al-Jazira? Do you think the team needs to cast a critcal eye on their performance?
I didn't think we were that bad, particularly when we had the ball. What was strange was that we didn't score in the first 45 minutes. These things happen, but people start talking about this and that about game - all we are thinking about is improving, playing the final and winning it. We'll be playing against a rival who are a lot better than Al-Jazira.
Do you think Madrid are suffering too much when they're hit on the break?
We'll be trying to improve that side of our game, because Grêmio is a very technical and physical side, who also like to play on the break. We'll prepare for this game more thoroughly than we did for the semi-final. Gremio are a strong side but we're convinced that we'll play better than we did the other day - in defence and when we have the ball.
In a week's time Madrid take on Barcelona… is this Club World Cup a good way to gather momentum?
Yes, for one reason, we are only here for winning the Champions League. Winning trophies is one of the nicest things that exists in football, so we're not thinking about Barcelona just yet. I think we're growing as a team, but we have to show it and this final is an ideal moment to do so.
Did you ever watch Renato Gaucho in action? He says he was a better player than Cristiano...
That's a bit much... but everyone is entitled to their opinion and he has every right to say what he thinks. He was a very good player, but I don't share his view. Cristiano is a much better player, for what he has done, for everything he's shown out on the pitch. But if he said that, then he has to prove it.
Renato was also asked if he was also a better player than you. He said you were a brilliant player...
I'm very flattered by his words. We didn't play in the same position. I did see him play… And he was a very good player.
Benzema has come in for a lot of criticism… is he aware of the stick he's getting?
I don't agree with the criticism he's received. It's no big deal. What I am concerned about isn't just him scoring all of the time. Karim's role isn't only about getting goals. He's a different player, he's not going to score 60 goals, but he does other things. I like what he does for the team. Football is a team sport and he is one of the best players in that aspect of the game. And that is what I like in him. I'll continue to defend him to the death. He's not the only one who gets a hard time from the critics. There are players who sometimes don't have a good game, but I defend my players when they could take these things to heart, which isn't the case with Karim by the way.
Are Madrid the favourites tomorrow?
No, the final is 50:50.
How's Bale?
I'm very happy for him and more so for the team. I like that I can now watch him train normally, which is the important thing for us. He seems happy to me and he's clearly delighted to be back with his team mates. He's ready to play the final.
Zidane speaks highly of Mo Salah
What do you think of Liverpool's Mohamed Salah? Do you like him?
He's a great player. I think he showed what a great player he is when he was at Roma and he's doing that now with Liverpool. He's an important player and he is growing into an even better one. He's still young. He has a lot more to give. He's a player who I think very highly of.