Real Madrid-Gremio: as it happened, goals, match report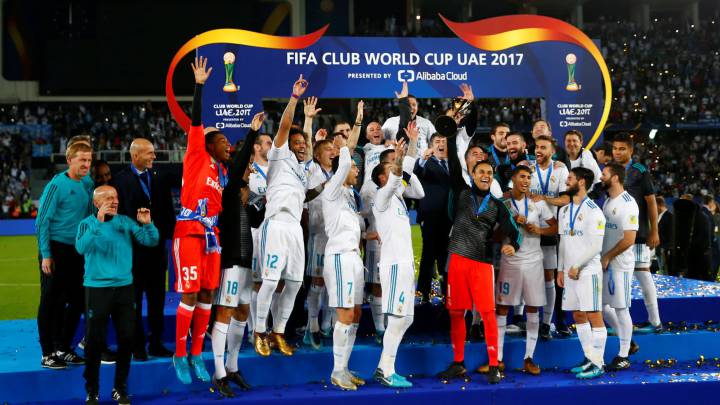 Cristiano Ronaldo's second-half free-kick ensured Real Madrid picked up a fifth trophy of 2017 by beating Gremio 1-0 in Abu Dhabi on Saturday to retain the Club World Cup.
A third Club World Cup in four years brings Madrid level with rivals Barcelona as the most successful side in the competition's history and adds to the La Liga, Champions League, UEFA Super Cup and Spanish Super Cup titles already won by Zinedine Zidane's men this year.
Ronaldo was once again Real's man for the big occasion as his strike went through the Gremio wall eight minutes after the break to ensure the European club champions were also crowned world champions for a fifth straight year.
Real Madrid vs Gremio live stream online: as it happened
A telling stat: Shots on goal: Real Madrid 20-1 Gremio...shots on target: Real Madrid 7-0 Gremio   
Real Madrid are 2017 World Club Champions with a Cristiano Ronaldo free-kick enough to secure the victory for Zidane's men. 
90'+2' Where is the urgency from Gremio ???? 
90'   Great play from Bale streaking down the pitch and lays off a delightful ball to Modric who blazes his shot well over.... 3 minutes of time to be added
88'   Madrid playing down time moving the ball around with little danger from the men in blue and white. 
85'   5 to go in Abu Dhabi...Madrid have done their job well, played a professional game but can't express the disappointment with Gremio.
Michel off for Gremio with Maicon the player given a chance to make a difference for the Brazilian side.
81' Great right footed effort from CR7 which pulls a great stop from Grohe....A second Madrid goal looking more viable than anything from Gremio as Bale tries an excellent dink which needs to be tipped over from Grohe. 
81'   Ball falls to Kroos with the German player fluffing his right footed effort. Gremio yet to muster a shot on target in the 81 minutes so far. 
Gareth Bale on with Karim Benzema making way for the Welsh striker
Gareth Bale set to come on ... Benzema the player likely to be changed....
75'   Ball falls to Benzema and the French stiker fails to get any proper purchase on the ball as it drifts into Grohes arms. Gremio have really failed to respond to the CR7 goal and yet to muster a proper chance in the half an indeed in the game barring the early free-kick from Edilson.
Isco off, Lucas Vazquez on
72'   Lucas Vazquez set to enter the fray as we head into the final 20' with Madrid edging closer to retaining their Club World Cup trophy.
70' Another change for Gremio as Everton comes on for Ramiro
Possession: Real Madrid 66-34 % Gremio
66' Navas intercepts a dangerous ball in from Jailson. First proper intervention from the Madrid keeper all evening.
65'   Gremio fans doing their bit pushing their side forward as Modric hits the post with a right footed effort. 
Jael set to come on for the Brazilian outfit with less than 30' to go ...Barrios off-Jael on for Gremio   
60'   Casemiro fires a long range effort on target but fisted away by the Gremio keeper. Can the Brazilian side amend their gameplan? Their response to the opeing goal would suggest not...time for Gaucho to shuffle his pack ?
Real Madrid's Cristiano Ronaldo celebrates scoring their first goal of the night. 

57' 57' The ball is in the net but the match official rules it out for offside....No goal and no VAR....
At least the goal will now propel Gremio into playing ....Hoped for so much more from the Porto Alegre outfit....
CR7 puts Madrid ahead .... driving home the free-kick with the ball going through the wall
52'   Cristiano hacked on the edge of the box winning his side a dangerous free kick... The Madrid No. 7 to take ...and scores ... Goooooooooooool  
49'   As we were pre-break... Madrid with all the possession and offensive play... Gremio sitting deep and hoping to launch counter attacks. Ball falls to Cristiano on his less favoured left foot and his shot always heading off target.
Real Madrid fans find their voice with chants of "Madrid, Madrid" ringing out at the Zayed Sports City stadium
46'   Keylor Navas kneels pre-half as is the tradition for the Costa Rican.

46'   Off we go again in Abu Dhabi ....Gremio get us underway...  
That's all for the moment as Mr. Ramos (Cesar) calls time on the half... Real Madrid 0-0 Gremio. 
45'   1 minute of time to be added on.... 
44'   Into the final minute we go....All set to head into the break with 0-0 on the scoreboard. 
40'   Very disappointed with Gremio. Nothing like the team I saw win the recent Libertadores final with their second leg performance in Lanus light years from what we're seeing tonight.   
39'   Free-kick for Madrid...Cristiano takes and the ball dips just an instant too early. Nice strike from the Madeira born striker.  

36'   Great work from Isco combining well with Marcelo and the Brazilian defenders are called into action as Madrid up the tempo. The ball falls to CR7 in the area and the No. 7 goes to ground looking for a spot kick. Nothing doing for the Mexican match offical....correct decison!   
33'   Casemiro carded earlier on .... the Brazilian player will need to be careful as any red card will see any RM player miss the next game .....El Clasico ! 

31'   Into the final 15 of the half and it's not quite the classic we were hoping for. Madrid certainly on top with Gremio really yet to have any spells of dominance.  
28'   Edilson tries a long range drive and the ball grazes the roof of the Madrid net. Closest effort from Gremio all evening. 
First card of the night for Casemiro as he take out Luan. Dangerous free-kick for Gremio...
25'   Modric again and this time the Croatian goes very close. The trusty left footed drive going inches wide. Gremio now being outclassed and the Brazilian side struggling to impose any pattern of play on the game.
23' This is what it's all about .....Who will hoist the trophy in approx. 60 minutes? 

22'   Now it's Isco's turn to try his luck and his drive drifts well off target. Keylor Navas yet to be tested by Gremio so far this evening.
Will we see this man in action this evening ?

20'   Great world from Modric who dinks a ball into the box with the ball breaking to Carvajal who drives over on the volley  
19'   Real Madrid in the ascendancy..pushing the Brazilian side deeper back with the "Tricolor" as Gremio are known looking to counter on the break. 
17'   Gre---mio, Gre---mio rings out the chant from the Brazilian fans as Cristiano tries his luck from long range and fails to catch his shot properly.  
15'   First 15 of the final and nothing to get the blood racing just yet on the pitch with the early rash challenge from Geromel on Cristiano being the major incident so far this evening in Abu Dhabi. 
12' Varane (yes Varane) breaks into the Gremio area and the ball falls to Benzema who sees his shot get a touch from a Gremio player. The Madrid corner comes to nothing. Zidane's men starting to dominate proceedings slightly more now.  
10'   Little flow to the action so far with niggly foils from both sides.... no real dominating side so far...
7' Something tells me it's going to be a busy night for the Mexican match official. Gremio taking no prosiners with their robust challenges.  
5' Fraught and frantic start to the game with the Gremio fans outsinging their Madrid opponents with a ring of boos sounding each time CR7 touches the ball.    
3'   Any other point of the game and the Gremio No. 3 gets a card for that poor tackle.... 
Cristiano caught by Geromel and the No. 7 is in pain .... A nasty challenge from the Gremio defender who is lucky not to be carded. 
1' Off we go in Abu Dhabi....
45.000 fans packed into the Zayed Sports City stadium in Abu Dhabi with tickets totally sold out. 7,000 Gremio fans present and 2,000 Real Madrid supporters present.  
  Tonight's match official is Mexico's Cesar Ramos 

Perfect conditions for football in Abu Dhabi this evening with a mild 21C. A very outside chance of a shower later on but ideal for players and spectators alike.  

One of the finest shirts in world football ....

Here's the Gremio starting XI: Grohe, Edilson, Geromel, Kannemann, Bruno Cortez, Michel, Ramiro, Jailson, Fernandinho, Luan, Lucas Barrios. The full lowdown on tonight's team news is here.
The Gremio manager is a character that divides opinion, but a character nonetheless. He recently declared himself (when he was a player) better than Cristiano Ronaldo but that's not all that has caught the attention. When Pele once mentioned he scored 1,000 goals, Portaluppi replied, "one for every woman I've slept with." He also once chased and caught a vulture – the symbol of Flamengo - thrown onto the field by fans.
Plenty of lovely statistics and figures about the Intercontinental / Club World Cup in here.

Talking of Arthur, he may be missing this tournament but certainly remains on the radars of Europe's footballing elite.

The Gremio manager is without one of his young stars, namely Arthur, for today's clash and has a few decisions to make on the style of play to adopt against the European Champions. Here's a look at some of the options available to him, which includes a key role for Luan.

He may have got a run-out the other day against Al-Jazira but Mateo Kovacic is finding chances hard to come by at Real Madrid after recovering from a knee injury. Apparently, this has not gone unnoticed at Old Trafford.

Sergio Ramos has been in the wars recently. " I had a bit of discomfort in my calf but I'll recover. I also suffered a sprain in my back, close to my neck," he said on Friday. He'll be able to play against Gremio, but will need painkillers to do so. 

Let's get straight in to the important issue. Namely, which way does Don Diego Armando Maradona think the final will go? He discussed the Club World Cup in his wide-ranging interview with AS, and his prediction might surprise you. Then again, it is Maradona, so perhaps nothing should be even remotely surprising. 

Buenos días! We're going to be building up to the final of the Club World Cup, which sees Real Madrid pitted against Gremio as the champions of Europe face the champions of South America. 
Real Madrid vs Gremio live stream online: match preview
Real Madrid can cap their most successful year ever with victory in the Club World Cup final against Brazilian side Gremio at the Zayed Sports City Stadium, Abu Dhabi (UAE), which would see them become the first team to successfully defend the trophy and end 2017 with five titles. Defeat, however, would be the latest of a series of setbacks in a haphazard last few months for Zinedine Zidane's side, who are fourth in La Liga, trailing leaders Barcelona by eight points in the standings.
At times, they have looked a shadow of the team that swept to Champions League and Liga glory last season and crushed Manchester United and Barca to win the European and Spanish Super Cups. No South American side has managed to beat their European counterparts in the Club World Cup since Gremio's compatriots Corinthians stunned Chelsea with victory in 2012, although an upset is not entirely out of the question in Abu Dhabi.
Real only narrowly avoided a catastrophic defeat to Abu Dhabi side Al Jazira, who took a remarkable 1-0 lead at halftime in a chaotic, action-packed semi-final which the double European champions eventually won 2-1. The Spanish side dominated the game but, not for the first time this season, showed remarkable profligacy in front of goal until Cristiano Ronaldo equalized in the second half and Gareth Bale hit a late winner 30 seconds after coming off the bench.
Real are sure to face an even sterner test from Gremio, although the Brazilians also had to battle their way through their semi-final, overcoming Mexicans Pachuca 1-0 after extra-time.
Gremio's coach Renato Gaúcho won the Intercontinental Cup (the forerunner to the Club World Cup) with the club as a player and underlined his reputation for courting controversy by recently proclaiming he was a better player than Real's Ronaldo.
The Portuguese, who was recently named the world player of the year for a joint-record fifth time, became the top scorer in the history of Club World Cup by netting for the sixth time in three separate tournament appearances. The previous record of five was jointly held by Luis Suarez, Lionel Messi and Cesar Delgado.
Real were given an almighty scare in last year's final, falling behind Japanese side Kashima Antlers before eventually winning 4-2 in extra-time with the help of a Ronaldo hat-trick and Zidane said he expected another difficult final.
"I don't know the Brazilian league well but I watched their semi-final and they are a good team and we will have to lift our standard of play against them," Zidane said after the nervy win on Wednesday. "It will be a complicated game because there's no such thing as an easy game, as we proved against Al Jazira."
Real Madrid vs Gremio live stream online: betting odds
If you fancy a Club World Cup final flutter, why not stick €10 (or any value of your local currency) on a Gremio win and get a nine-fold return?
See all the odds and bet now on Real Madrid vs Gremio.