Real Madrid's Cristiano Ronaldo worth more than Gremio squad
The striker's value of 100 million euros is, per Transfermarkt, more than his Club World Cup final opponents' entire first-team group.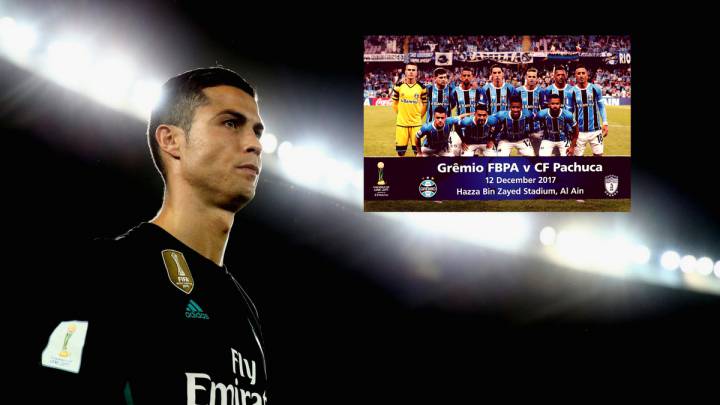 Real Madrid and Gremio face off in the final of the Club World Cup today (18:00 CET), in a duel for global bragging rights that will be watched across the planet.
Gremio squad's 78.9m-euro price tag below Cristiano Ronaldo's
The market values of the Real and Gremio squads point towards a mismatch in the showpiece event in Abu Dhabi, however: according to figures provided by the football statistics specialists Transfermarkt, the Brazilians' entire first-team group is worth 78.9 million euros - less than Cristiano Ronaldo alone.
The Portuguese striker is valued at 100m euros, with Gareth Bale and Toni Kroos the next-highest priced assets - 80m and 70m, respectively - in a Real Madrid squad boasting an overall market worth of 743.8m.
Real Madrid's market value (Total: 743.80m euros)
Cristiano Ronaldo: 100m
Gareth Bale: 80m
Toni Kroos: 70m
Karim Benzema: 60m
Sergio Ramos: 40m
Isco Alarcón: 40m
Luka Modric: 40m
Marcelo: 38m
Raphael Varane: 35m
Carvajal: 32m
Casemiro: 30m
Marco Asensio: 30m
Mateo Kovacic: 25m
Theo Hernández: 20m
Keylor Navas 18m
Dani Ceballos: 17m
Lucas Vázquez: 15m
Marcos Llorente: 15m
Nacho Fernández: 15m
Jesús Vallejo: 15m
Kiko Casilla: 6m
Borja Mayoral: 2.5m
Achraf Hakimi: 300k
Half of Gremio's squad valued at under 1m euros
At 20 million euros, Luan is Gremio's most valuable player, followed by Barcelona target Arthur on 15m. And while a perennial Real reserve such as Kiko Casilla would, says Transfermarkt, still fetch 6m, Gremio mainstays Ramiro and Geromel have respective price tags of 5m and 4m.
What's more, half of the Porto Alegre outfit's squad do not reach the 1m-euro mark.
Gremio's market value (Total: 78.9m euros)
Luan: 20m
Arthur: 15m
Ramiro: 5m
Geromel: 4m
Grohe: 3.5m
Everton: 3.5m
Cícero: 2.5m
Kannemann: 2.25m
Jailson: 2m
Oliveira: 2m
Fernandinho: 2m
Lucas Barrios: 1.75m
Maicon: 1.75m
Michael Arroyo: 1.5m
Michel: 1.5m
Edilson: 1.5m
Bruno Cortes: 1.5m
Bressan: 1.25m
Paulo Víctor: 1m
...
The rest are valued below 1m euros.
Real Madrid vs Gremio live online
You can follow all the build up and minute-by-minute coverage of the Club World Cup final between Real Madrid and Gremio with AS English.



Mundial de Clubes
*Update 16 de diciembre de 2017