Barcelona 4-0 Deportivo La Coruña: match report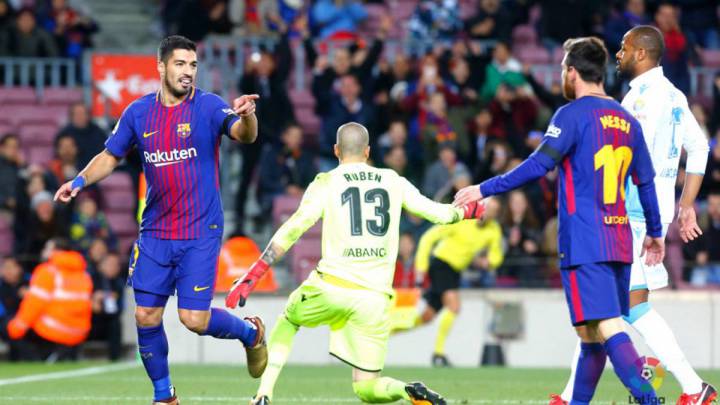 Barcelona vs Deportivo La Coruña: as it happened
90'   Full-time! Barcelona worth the four goal win and Depor slightly naive in their approach perhaps? Excellent prep for Barcelona ahead of El Clásico.
90'   Barcelona not getting that fifth. They're trying though. Andre Gomes dispossessed in the penalty are this time.
86'   Messi drives forward and beyond Schar but the Swiss defender keeps chasing and gets a foot in to put it out for a corner.
83'   Suárez through on goal now and he hits the post. Again!
79'   Messi put through again, He misses yet again. He drives this one forward.
77'   Barcelona might not be done yet.
75' They get it too! Alba played through by Suárez and he shoots but it hits the post. Comes back out to Paulinho and he makes no mistake. It would have been hard to.
73'   Barcelona want another!
70' Messi penalty is saved! Ruben denies him with a strong, reaching hand. Messi left standing motionless. 
69'   Penalty! Suárez wins it as Valverde takes him down. 
68'   How did Suárez not score. He was clean through and Ruben closes him down as the Uruguayuan tries to go around him. The keeper gets a hand to the ball and Depor survive.
67'   And the ball comes back to him and he strikes but misses again.
67'   Messi hits the post again from the free.
66'   Free for Messi. Outside the box and in a lovely position.
65'   Aleix Vidal kneed in the back by Schar. Free to Barcelona.
63'   Replay shows Schar did kick Suárez' foot but Mateu Lahoz not giving it.
62'   Suárez down in a heap in the penalty area. Mateu Lahoz just looks at him. He remains down and looks in pain but nothing doing. Depor break but lose out.
61'   Paulinho fouls Lucas Perez.
59'   Suárez moves forward and Ruben gets there just before him to smother the ball.
57'   Sidnei moves forward now and he plays it to Colak but his clipped pass into the danger zone is cleared. Depor still attacking but they can't do anything.
56' Andre Gomes replaces Andres Iniesta as Valverde looks to protect his star midfielder for Clásico.
54'   Carles Gil drives a strike towards goal and Ter Stegen dives but it hits the side netting.
52'   Then a very tight offside call on Depor. Just inches in it.
52'   Lucas Perez with a very tame penalty shout. He gets goalside of Vermaelen, just about, before they get entwined and he falls over. No penalty.
49'   Nice preperation for Barcelona for El Clásico.
47'   Just like that! Luis Suárez scores. A lovely ball across the box and into Suárez' path. Suárez slots home. Simple as that.
46'   We are back underway for the second half!
45'   Half-time as the Barcelona players explain to the ref, as politely as they can, that is was a goal!
45'   Would have been goal of the year, maybe? Suárez strikes, it's saves and he followed up with a Rabona. Saved by Ruben on the line but it looked like it might have been a goal. Ref says no though.
43'   Depor persist with their tactics, which they kind of have to now. Still nothing doing for them.
41'   GOAL! Paulinho. Messi yet again. He drives out to the left, strikes off the post and it comes back out to the Brazilian. He makes no mistakes. Depor all over the place.
39'   Free for Barcelona but it's miles out. He clips it towards Alba but it doesn't make it to him at the back post.
37'   Messi moves forward with plenty of options either side of him. He plays it to Suárez, who plays it back to him, and Messi curls one off the crossbar. So close!
35'   That goal was all Barca needed to settle things down, which they have. Depor relying on early commotion but that goal makes it so difficult for Depor. Keep pushing forward and risk conceding another? Or cool off and you have no chance of scoring. It's a conundrum many have faced at the Camp Nou.
33'   Tough task now for Barcelona.
31'   Schar drives forward but the ball gets lost between his feet and he loses it. 
30' GOAL! It was only a matter of time really. Messi through and he plays it to Suárez and all he has to do it pass the ball into the net. Pass in from Iniesta, Messi chests it down and plays it to the goalscorer.
29'   And another corner. Messi kicks it off Sidnei.
28'   Messi with the ball at an awkward angle and Ruben saves yet again. Corner.
27'   BArcelona keep pushing forward. Ball comes across from the left and Bruno taps an Aleix Vidal shot over the bar.
27'   Messi, Messi, Messiiiii. He takes it out left and drives a shot towards Ruben but he saves. Paulinho can't get to the rebound.
26'   Really neat from Colak but they end up giving the ball away. Barca back on it! 
25'   Suárez released again and Sidnei covers and steals the ball in front of him! Great recovery.
24'   Some lovely flicks here form both sides. Still no goals though.
23' Vidal officially replaces Alcácer.
23'   Aleix Vidal ready to replace him. He gets stripped.
22'   We carry on as Alcácer's replacement is warmed up properly.
21'   He will need to be replaced.
20'   Paco Alcácer down and looks to be hurt. He isn't getting up and looks over to the bench.
20'   After a strong start by Barcelona, the game has evened out and Depor not right back in it.
18'   Adrian with a cross into the box but Barca beat it away. Luis Suárez chasing down a long back and gets too close to Schar and catches him with an elbow. Lucky not to get a yellow.
17'   Ball over the top to Lucas Perez and Ter Stegen out off his line. Gathers and starts a counter.
16'   Iniesta fouls Guillherme. 
15'   Lucas Perez breaks now but his cut-back is cut out by Barcelona. Wide open is this one!
14'   Alba with a lovely pullback to Messi. We've seen Messi score that goal tens of times before! Ruben equal to it this time. 
13'   Honourable approach from Depor but this might end in tears. The game is wide open.
12'   And Depor drive forward and win a corner.
11'   Ball over the top to Suárez but he can't control ot. Ambitious pass in any case.
10'   Carles Gil breaks. He has nobody with him and he turns back around. Depor keep it and Borges strikes but Ter Stegen would save that in his sleep.
9'   Guillherme with an effort. Nope, he was miles out and that was miles off.
8'   Depor playing with fire early on! They are wide open. Sergi Roberto looks to thread a ball through the middle but Depor get it away.
6'   Alcácer offside. Suárez with the ball in the back of the net. Offside though. What a pass from Messi.
6'   Patient build-up from Barca. 
5'   Barcelona not giving Depor a kick of it so far.
4'   Chance! Suárez makes his way through on goal, he plays it out wide when he runs out of space and it is pulled back to Messi. He drives over with the side of his foot.
2'   Depor pressing Barcelona in the middle of the field. A little too excited that time though as Lucas Perez pushes Iniesta to the ground.
2'   iniesta chopped down early by Navarro. Free to Barcelona.
1' We are underway!
Ready for action!
Depor, of course, beat Barcelona 2-1 the last time they played. You could argue that Barcelona lost the title with that loss. A revenge mission tonight?
Both sets of players in the tunnel and ready to head out at the Camp Nou.
The links with Griezmann won't go away. This report suggesting Bartomeu has met with his family. 
Since Cristóbal Parralo has taken over Depor, he has managed eight games. Three wins, four losses and a draw in that time. 1-0 win over Leganés the highlight, but that was a long time ago now.
Barelona have an excellent chance to seperate themselves from the pack tonght. Valencia were beaten by Eibar and while Atlético beat Alavés, Valverde's men could be six points ahead of the chasers before El Clásico kicks off next Sunday.
Busquets is not risked by Valverde. As we were saying, he is one booking away from a suspension and Mateu Lahoz and him don't have a great relationship. Valverde with three in midfield including Paulinho, Rakitic and Iniesta.
Deportivo la Coruña team news: Ruben, Juanfran, Schar, Sidnei, Navarro, Guillerme, Borges, Colak, Gil, Lucas, Adrian.
Barcelona team news: Ter Stegen, Sergi Roberto, Piqué, Vermaelen, Alba, Rakitic, Iniesta Paulinho, Suárez, Messi, Alcácer.
Florin Andone has been frozen out since Lucas Perez returned to Coruña in the summer. Andone has even wondered aloud as to whether he should have bothered staying. The striker scored 12 goals last season but has scored just two during this campaign. 

Ernesto Valverde has a massive decision to make over Sergio Busquets today. If he plays him, he risks losing him to suspension if he's booked. And if he doesn't, he loses Busquets calming influence at the base of Barca's midfield. The other problem is that Busquets has been booked 11 times in 23 games with Antonio Mateu in charge. Risky business.
Deportivo pair Fernando Navarro and Rubén will have been keeping an eye out for this match when the fixtures were released. Both learnt their trade at La Masia before continuing their careers elsewhere. 
Good morning! Join us for all the build-up to this evening's LaLiga clash at the Camp Nou!
Barcelona vs Deportivo live stream online: LaLiga match preview
In the wake of Valencia's defeat to Eibar on Saturday, Barcelona host strugglers Deportivo La Coruña with the chance to extend their lead at the top of LaLiga to six points.
Barcelona
After being held to successive LaLiga draws by Valencia and Celta Vigo, Barça got back to winning ways last time out with a 2-0 victory at Villarreal, courtesy of goals by Luis Suárez and Lionel Messi.
They now welcome a Deportivo side who have not won at the Camp Nou since the reign of Javier Irureta, when strikes by Albert Luque and Sergio González earned a 2-0 triumph back in October 2003.
It's a game that offers the Blaugrana the opportunity to establish an 11-point gap between themselves and Real Madrid ahead of El Clásico next Saturday, with their arch rivals not in action this weekend due to their involvement in the Club World Cup.
Ernesto Valverde is without Gerard Deulofeu, who picked up a knee injury in training on Friday, joining Rafinha Alcántara, Ousmane Dembélé and Samuel Umtiti on the sidelines, while Barcelona's coach has again opted to omit the out-of-favour Arda Turan.
However, Andrés Iniesta and Javier Mascherano are both back in the Barça squad after returning to fitness.
Meanwhile, Sergio Busquets will have to watch his step against Deportivo, as the midfielder is just one booking away from a ban that would rule him out of the trip to the Bernabéu.
Deportivo La Coruña
Adrían López's winner against Leganés last weekend saw relegation-threatened Deportivo register a LaLiga victory for the first time since the end of October - three vital points that preserved some daylight between the 17th-placed Galicians and the drop zone.
That triumph was only their second in Primera since coach Pepe Mel was sacked two months ago and replaced by 'B' team boss - and former Barcelona player - Cristóbal Parralo, who is yet to engineer a significant upturn in results, with the side actually one place lower than when Mel departed.
Despite their winless run away to Barça, however, Depor can take heart from the fact that they have come away with draws from two of their last three visits to the Camp Nou.
Costel Pantilimon, Gerard Valentín, Fede Cartabia and Florin Andone are unavailable to Parralo due to injury, but fit-again Luisinho is back in the squad.
Barcelona vs Deportivo La Coruña live stream online: betting odds
The bookies are not optimistic of Deportivo breaking their 14-year hoodoo at the Camp Nou, with an away win valued back at 20/1, and a home victory fetching altogether shorter odds of 1/10.
Place your bet on Barcelona vs Deportivo La Coruña.