Real Madrid: Cristiano stung by Florentino's Neymar flirtation
"Would I like to retire at Real? It's not down to me; I'm not the one in charge," was Cristiano Ronaldo's message to Florentino Pérez in Abu Dhabi.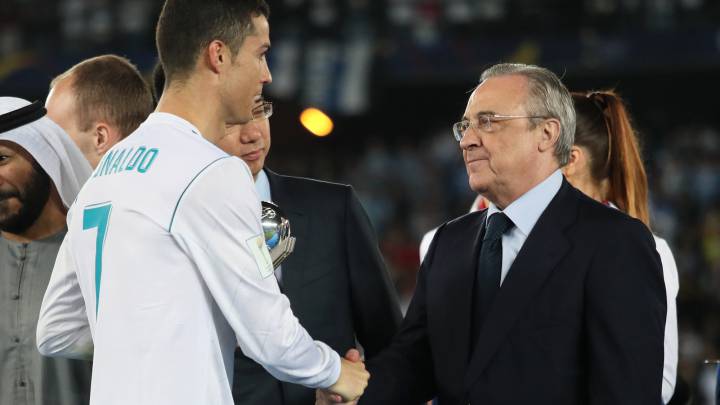 Cristiano Ronaldo continues to pile up records and match-winning goals that lead Real Madrid to silverware success, but there's something rankling with the Portuguese striker. As he faced the media at the Zayed Sports City Stadium after being named man of the match in the Club World Cup final on Saturday, he appeared relaxed and happy; however, his expression hardened when he was asked whether he'd like to finish his career at Real: "If possible, I would... But it's not something that's down to me; I'm not the one in charge at the club. We'll see..."
It was a pointed response aimed squarely at club president Florentino Pérez. Cristiano has not enjoyed perceived insinuations by Pérez that the 32-year-old is approaching his sell-by date at Real Madrid, or that they have been accompanied by the chief's increasing flirtation with Paris Saint-Germain forward Neymar.
Cristiano not amused by Pérez's Ballon d'Or gala remarks
At the Ballon d'Or gala in Paris last week, Cristiano said that his plan was to remain a Real player until the day he hangs up his boots. Minutes later, Pérez was interviewed by the ceremony's host, David Ginola. "For me, he's the most complete player since [Alfredo] Di Stéfano; he's his heir," he said. "When he's gone, there will be a new age at Real Madrid, just as there was after Di Stéfano." As he listened to Pérez, the star's face was a succession of frowns and raised eyebrows.
Ronaldo also irritated by Real Madrid chief's Neymar flirtation
Pérez's public courting of Neymar has stung Cristiano, particularly so soon after his fifth career Ballon d'Or win. "Being at Madrid would make it easier for Neymar to win it [the Ballon d'Or]," was Florentino's wink to the former Barcelona man in an interview on Spanish radio station Cadena SER on the evening of the gala. "Madrid is a club that gives big players what they need." Speaking to Cadena Cope, meanwhile, he said: "Signing Neymar? It's not a bad idea." Pérez's undisguised fluttering of his eyelashes has wounded Cristiano's pride.
It's a cold war in which coach Zinedine Zidane, who has continued to wax lyrical when talking about his goalscorer-in-chief, finds himself in the role of neutral country. "The best in history? Yes, I think so," he said before Los Blancos' LaLiga thumping of Sevilla, and maintained his discourse in Abu Dhabi on Saturday: "I'd be happy if he renewed tomorrow," he said, adding: "It's fundamental that he stays with us until the end, that he's here until he retires." The peacemaker has work to do...
---



LaLiga Santander
*Update 17 de diciembre de 2017