Jordi Alba on Real Madrid guard of honour, El Clásico and Neymar
The Spanish defender spoke after the Deportivo win about his reasons for not giving his Madrid hosts a tribute and why he is enjoying life post-Neymar.
Following Barcelona's comfortable victory on Sunday against Deportivo, Jordi Alba spoke about his reasons for not wanting to give the guard of honour to rivals Real Madrid as well as enjoying more freedom with Neymar no longer being at the club.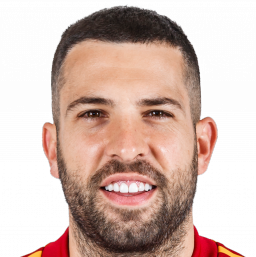 Neymar leaving, more Alba attacking
Almost as soon as the game was over the focus immediately turned to the next match: the small matter of El Clásico at the Santiago Bernabéu on Saturday afternoon. The Barcelona full back spoke into the microphones of Spanish programme El Transistor of the station Onda Cero and confessed that he feels "more liberated and has more confidence" so far this campaign. The reason for this freedom has been the departure of Neymar Jr who, he said, was holding him back from attacking down the wings, something we've become very accustomed to.
El Clásico is different
The questions quickly moved to the upcoming game at the Bernabéu and Alba acknowledged that the team will turn up in Madrid "targeting the win," although he knows that their opponents are another type of challenge:
"We come into this game at the Bernabéu in a good place but against Real Madrid it is always a different and complicated match".
Messi: "It'd be nice to win el Clásico for a happy Christmas"
Barça's guard of honour for Madrid
The defender also spoke about an issue that has created some controversy, that regarding whether or not Barça will stand in a two-row guard of honour to welcome the Club World Cup champions onto the field. And Alba has his reasons to suggest this should not happen:
"We'll see what happens on Saturday but I think the guard of honour should be done in competitions in which we have played, and we have not played in the Club World Cup [2017]."
Winning importance of El Clásico
Finally, Alba spoke about the value to the title challenge if Barça were able to come away from the capital with all three points, stating that it would be practically decisive:
"A victory at the Bernabéu would not rule out Madrid...but it would be a important blow".