REAL MADRID-BARCELONA | RIVALDO
Rivaldo: "In today's game, I'd be up for the Ballon d'Or with Messi and Cristiano"
The Brazilian gave his prediction for El Clásico: 2-2 and says LaLiga has dropped in quality: "It's not normal for a player to score more goals than there are games..."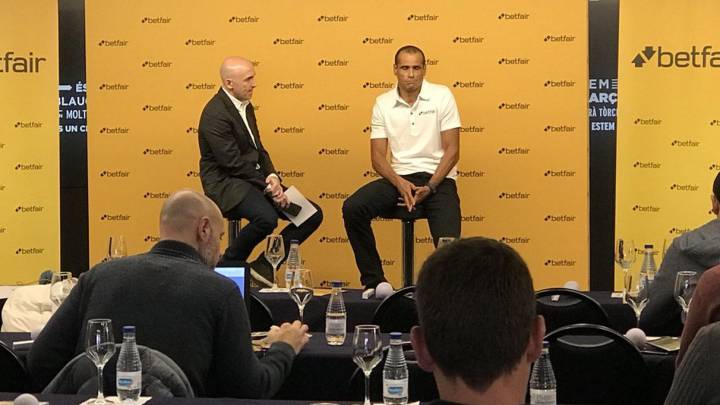 Vitor Borba Ferreira Rivaldo chatted to AS collaborator Julio Maldonado Maldini this afternoon to discuss Saturday's Clásico at the Bernanéu - Rivaldo doesn't see either side as favourites and his gut feeling tells him it will end in a 2-2 draw. "Madrid are the defending champions but there are no favourites. Barça can win at the Bernabéu just like Madrid have done at Camp Nou", Rivaldo mused.
LaLiga has lost quality - Rivaldo
For the Brazilian, who won the Ballon d'Or in 1999, the level of football has dropped in recent years: "When you've got players who score more goals than there are games in a league competition, that's not normal. Betis paid 60 million euros for Denilson. I don't know of any team that could do that now apart from Madrid, Barça or Atlético. I think that before, the average level of most teams was higher than it is today. I only won the Ballon d'Or once but I think if was still playing today, I would have won it more than once. I don't want to create any problems but today, I would be competing with Messi and Cristiano to win the Ballon d'Or. They are tghe best players in the game snd they make a difference but when when they are scoring three or four goals in a match, it means that the quality of the team you are playing against is lower. LaLiga has lost quality".
"I understand why Neymar left Barcelona"
Another topic which Rivaldo spoke about was Neymar, who he defended for quitting Barça for PSG: "I don't think he went just to become the best player in the world but because they offered his a great contract, he spoke to his close circle about and decided to leave. I did the same whe I was in A Coruña. I think he made the right move in leaving". He didn't rule out Neymar ending up at Real Madrid one day, but not for a while: "Madrid are willing to sign him, but you never know. If he does end up joining Madrid it won't be for a while yet".
With 24 years as a professional behind him ("I still train every day. I've never smoked, I don't touch alcohol, I don't like nightlife or clubbing. You have to look after yourself to be a footballer"), Rivaldo gave his answer when asked whether Barça should perform the guard of honour for Madrid this weekend: "I'm out of the loop and I'm no longer a Barça player. I don't know what decision the board have taken on it. If they have to do it, then they'll do it. It's a sign of respect".



LaLiga Santander
*Update 19 de diciembre de 2017
LaLiga Santander
*Update 19 de diciembre de 2017