Independiente coach Ariel Holan resigns following threats from barra brava
The 57-year-old coach led El Rojo to Copa Libertadores victory against Flamengo, but has now resigned out of fear for the safety of his family.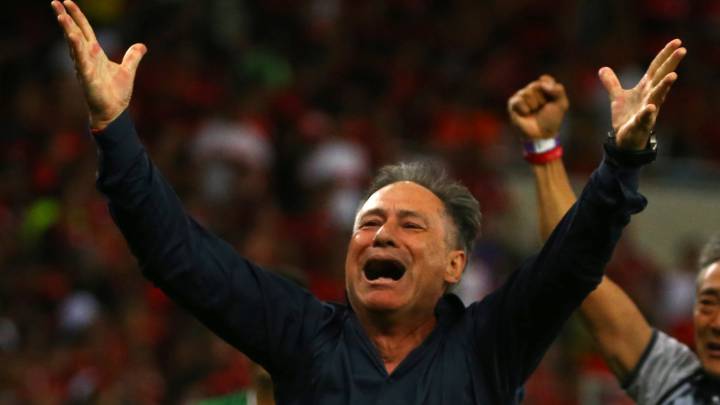 They say a week is a long time in football. On 14 December Ariel Holan managed Independiente to a 1-1 draw against Flamengo in the Maracana, sealing a two-legged victory in the Copa Sudamericana. On 20 December, Holan resigned from his role at the club in light of threats from Pablo "Bebote" Álvarez, the leader of the club's barra brava.
Ariel Holan ambushed after training
The problems began on 20 October. As he left a training session, Holan's car was surrounded by three other cars and two motorcycles. Bebote Álvarez demanded $50,000 to finance the group's travel to Paraguay, ahead of the Sudamericana quarter-final against Nacional in Ascunción the following week.
Holan refused, and Álvarez has been in custody since 27 October. Yet the 57-year-old – who began his career coaching hockey teams – is still concerned for the safety of his family.
In an open letter to Independiente supporters, Holan stated that "my absolute priority is the safety of my family and their tranquility. That is not negotiable."
Barra bravas continue to plague Argentine football
The term barra brava is often translated to 'hooligan' in English. But in reality, the barra bravas are far more organised, and are deeply embedded in to Argentine politics and culture. In an article for ESPN, Buenos Aires based writer Sam Kelly described the extreme elements as "organised crime groups who identify themselves with a club".
The barra bravas plague many Argentine clubs, but Independiente have had particular problems in recent years. Javier Cantero was elected as the president of Independiente in 2011 with the stated aim of stripping the barra brava of their influence. By 2014, his position had become untenable and he resigned.
Ariel Holan leaves Independiente on a high following victory in the Copa Sudamericana. But that triumph is heavily stained by the malevolent groups that continue to blight club football in Argentina.