Ter Stegen: "It really annoyed me when Ramos scored against us in the 89th minute"
The Barcelona 'keeper told El País about his side's slump in form following defeat in the Spanish Super Cup, and other matters ahead of El Clásico.
Marc André Ter Stegen, Barcelona's in-form goalkeeper, has given an interview to El País ahead of El Clásico at the Bernabéu on Saturday. The Germany international talked about the press' perception of Barça, their style of play, and Real Madrid's forward line.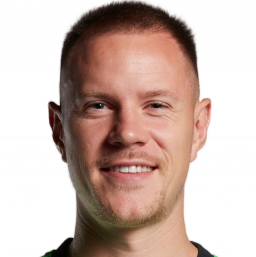 You'll be thinking about Real Madrid, right?
"They're our next rival, yes."
What has changed since the defeat to Real Madrid in the Super Cup?
"Maybe the press didn't want us to have a good season. I don't know. But after losing that title, we knew that we had to work as hard as ever and all push in the same direction under Valverde, who I think has already left his mark on the team."
Does it hurt to concede a goal to Real Madrid more than to other teams?
"It hurts the same as the rest. But if there is one that annoyed me a lot, it was the one from last year, when Ramos scored against us in the 89th minute. That left me feeling really bad."
Does the Real Madrid attack worry you?
"The two teams facing each other are perhaps the best in LaLiga and the world. We already know who we will have up front, and we must be aware of their attack, and of all of them… But also of our way of playing, that's how we usually have the best chance of winning."