Iraq 2-1 Qatar: 2017 Gulf Cup of Nations match report, goals
Iraq won the showdown in Group B of the Gulf Cup of Nations wafter going a goal down against Qatar as they go into the driving seat of their group.Russia vs Egypt live: World Cup 2018 Group A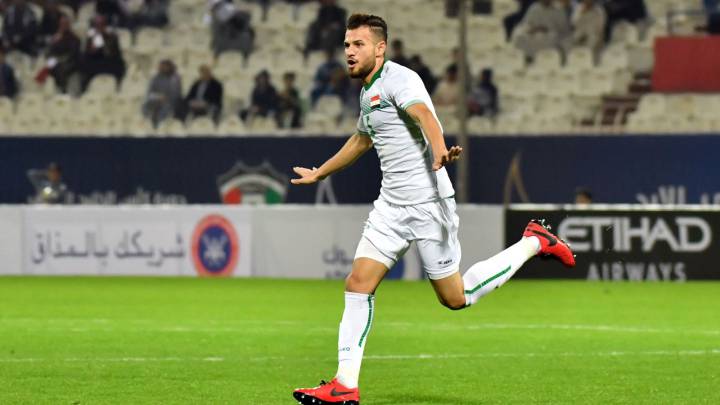 Iraq 2-1 Qatar: match report
Iraq shook off an early one-goal deficit to dominate Qatar and deserve victory in a showdown of Group B's favourites at the Gulf Cup of Nations in Kuwait.
Iraq started with much more intensity but were a goal behind after 17 minutes when Qatar broke on the counter. Hassan Khalid teed up Almoez Ali and he drove a rasping shot beyong Jalala Hassan Hachim.
As the first half grew older, it looked like Iraq were running out of options. Aymen was proving a handful up front but too often, their creativity mustered up half-chances for their attackers.
Just before the end of the first 45, Iraq were awarded a free from downtown and Ali Faez Atiyah, the centre-half, stepped up and sent it screaming past Saad Al Sheeb. It was what Iraq deserved and they could finally start thinking about the victory in the second half with the equaliser on the board.
An inspired substitution saw Ali Husni come on after 65 minutes. He slotted home the winner just second later and Iraq had completed the comeback. Qatar pushed on for the equaliser but impotence in front of goal continued and they were left wanting as the ref blew the whistle and Iraq grabbed all three points in the Group B encounter.
Iraq vs Qatar live stream online: as it happened
90'+4' That's it as the referee blows full time. Great comeback win for Iraq.
90'+4'   That's surely it now for Qatar. A foul after a set-piece and Iraq have the chance to kill some time and the game off.
90'+4'   Free for Qatar now.
90'+2'   And they will have time to take it. Headed clear.
90'   One last chance for Qatar but Afif has it robbed off his toe. Corner.
90'   Iraq in no hurry to take a throw.
88'   Iraq with another effort. They look more like getting their third than Qatar look like getting the leveller.
86'   Three on one break for Iraq! They have their opponents well and truly outnumbered but it makes its way to Ali Husni, looking for his second, and he takes it too wide before Al Sheeb saves. 
84'   Aymen down in a heap now after a challenge. Referee says the two Qatar defenders around him got the ball.
83'   Most of the possession is out around the middle of the field though. Iraq proving themselves to be a very organised unit.
82'   Corner come sin and Iraq drive it clear! Definitely increasing pressure being felt on Iraq's goal.
80'   Hamad Al Obaidi wins it back and drives forward. He plays it inside to their big man up top but Iraq manage to get it off him. 
79'   Nope. Still nothing doing for Qatar. They have improved though and a little bit of fear creeping into Iraq's game but not massive chances yet.
76'   Ball headed towards Hachim but he covers it and hits the ground. 
74'   Qatar unable to get back into this one. They've really failed to build any sustainable way of attacking Iraq.
70'   Free for Qatar now. It lands to Mohammed Muntari, another substitute, and he drives it way over the bar. He throws his hands on his head as he knows he should have at least hit the target.
67'   Hassan Khalid looks to make something happen at the edge of the box now. He plays it out wide but the shot is blocked. 
65'   Cross arrived in from Humam Tariq and the substitute just slots it home. He was unmarked. Very shabby from Qatar.
65' Iraq take the lead. Ali Husni just came on as a substitute and gives his side the lead! 
62'   Another chance. Qatar this time. They win a throw in the end.
60'   Iraq qith a free from way out on the left and they send it towards goal. Al Sheeb comfortable underneath it.
58'   Abdelkarim Hassan hits the ground after being caught in the eye during a tackle. Iraq kick it out of play and are given it straight back. What can they conjur up with this attack.
56'   Hamad Al Obaidi fouled by Abdulraheem with the ball in the air. Qatar starting to exert their dominance slightly more obviously now.
54'   Free for Qatar. Comes in menacingly but Hachim punches it away.
52'   Attwan down injured now after being caught by Miguel Correia's studs on the top of his foot.
51'   Ball sent into Iraq box but they deal with it well. They counter but more hit-and-hope than what they have been relying on up to this point.
48'   Iraq nearly go ahead. Dangerous cross in from the trigh and Aymen gets a head to it. He headers it into the ground and it bounces over the bar. 
46'   We are back underway!
45'+2'   Hits the wall and the referee blows the full-time whistle.
45'+2'   Qatar with a chance. Free from close range. It is just inches outside the penalty area.
45'   It was Ali Faez Atiyah with the strike and what a beauty it was!
45'   He finished from the free. It was miles out and he strikes finally beating Al Sheeb. He had no chance.
45' WHAT A FINISH! 
45'   So, so close! Al Sheeb rejects a header from Aymen. Really good save and Qatar foul when it comes back out. One last chance before the break.
44' Ahmed Yasser booked for the foul for that free.
44'   Free comes in and it's headed straight at Al Sheeb.
44'   Free for Iraq as Mohannad Abdulraheem is fouled. 
43'   Half-time approaching now. 
40'   Iraq still pushing for a way through but still nothing happening.
37'   A free comes in and Al Sheeb called upon again to box away. Corner.
35'   Another one sent in towards Aymen but Al Sheeb is off his line and gathers. The big striker has come close in the first half a number of times.
34'   Hussein Ali fouls Afif now way out in the corner. Comes flying in from Khalid and it nearly makes its way through the crowd onto a Qatari player. Iraq get it away thoigh.
31'   What a strike. Comes in from Ali Mhawi and just misses the goal. Al Sheeb was at full stretch but he wasn't needed. So close.
31'   Aymen down the left and he pokes it towards goal but he was at too tight an angle and Al Sheeb saves easily.
29'   Cross comes in and it's headed back to Al Sheeb by his centre-half.
27'   Qatar looking increasingly dangerous on the break but another counter is stopped. Some of the sting taken out of Iraq´s challenge but they're still pushing forward when they can.
Almoez Ali takes off again but he's stopped this time and dispossessed. 
24'   Free now for Qatar just outside the penalty area. Very, very close to being a penalty. Khalid, who assisted for the goal, send it towards goal but it hits a bidy and out. 
22'   It's sent in and Al Sheeb comes out to fist it away. He gets to it through a wall of bodies and manages to get it out of the penalty area.
21'   Free for Iraq from the right.
20'   That's tought for Iraq to take after the pressure they had applied to Qatar's goal. One quick break and the whole thing collapses. Uphill for them from here.
17' WHAT A FINISH! Qatar with a counter and Almoez Ali absolutely buries it. 
16'   Throw for Iraq after some more pressure. They send another cross in, from Yasser this time and it's cleared again. Iraq getting closer.
14'   Iraq take the corner and this time they are offside from the rebound. Good pressure from the underdogs.
14'   Another try. Cross came in from the left and it took a wicked deflection, nearly catching Al Sheeb out. He scrambles to it and puts it put for a corner.
13'   Effort from Iraq. Their first one at goal. Aymen the man with the final hit and from outside the box he drives it wide of the post. 
12'   Iraq continue to look dangerous. Humam Tariq flicks one into the box but it's beaten away again. 
11'   Saad with a mazy run before he's fouled in the middle of the field. 
9'   Aymen playing on the last defender's shoulder, and beyond, gets called for offside. 
7'   I Iraq break free down the left and a cross comes in but that's cleared before they make their way down the right with Aymen Hussein. They give it away as they try to move forward and Hussein Ali pushed a defender in the back and Qatar are back in possession.
 +6'   Qatar pushing high up the field and force the poor touch from Iraw in defense. Throw-in.
 +5'   Qatar slowly taking control of this one. They want a penalty. Nicely worked into the box and Afif goes down under a challenge from Iraq's Ali. Looked like he was caught but referee says no.
 +3'   Qatar with the first proper chance though. Ismaeel Mohammad with the strike as it goes just wide. Looked like it took a deflection but it was just wide!
 +2'   Free to Qatar as they launch an attack. Iraw with a lot of intensity early on. They're trying to catch Qatar cold. 
 +1' We are underway and Iraw with a very early half-chance. Al Sheeb gathers though in Qatar's goals.
Just a few minutes away from kick-off in Kuwait City.
Qatar starting XI: Al Sheeb, Almahdi Ali, Abdelkarim Hassan, Pedro Miguel Correia, Ahmed Yasser, Hamad Al Obaidi, Karim Boudiaf, Hassan Khalid, Ismaeel Mohammad, Almoez Ali, Akram Afif
Qatar are undefeated in their last 6 matches and Iraw have failed to win any of their last six.
This is set to be quite a physical affair, but Qatar are ready for it.
Iraq starting XI: Jalal, Mhawi Alaa, Ibrahim Ahmed, Rebin, Bahjat Ali, Mahdi, Ali Hussein, Saad, Tariq Humam, Hussein Ayman, Abdul-Raheem.
An interesting look at Iraq's Ali Adnan's move to Udinese and whether he has been the key to their recent resurgence.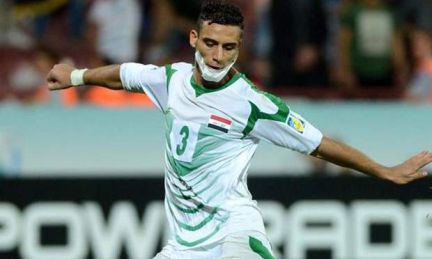 The venue for tonight's game is Al-Kuwait Stadium in Kuwait City. The last Gulf Cup held here was in 1974 when Kuwait beat Saudi Arabia 4-0 in the final. Qatar were beaten in the semi-final of that tournament by Saudi and Iraw were not yet involved. 
Qatar knew their first test wouldn't all that stressful and they put the game to bed after the first 20 minutes. They won't like how Yemen grew into the game though and had a number of chances to maybe nick one or two back. Iraq will be a far sterner test with the two teams vying for top spot in Group B.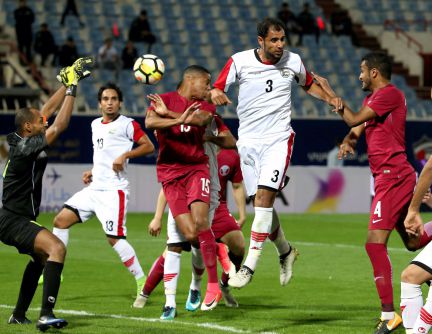 Why not get yourself prepped for Iraq vs Qatar with a perusal of our match preview and guide to the game's betting odds, which are both below?
Good morning! Join us for the build-up to today's Group B match-up between Iraq and defending champions Qatar!
Iraq vs Qatar: Gulf Cup Group B match preview
Qatar can guarantee themselves a semi-final place with victory over Iraq in what is a match-up between two three-time Gulf Cup winners today. After thumping Yemen 4-0 in their Group B opener, Felix Sánchez's tournament holders sit top of their section, two points clear of Iraq and Bahrain, who drew 1-1 on Saturday.
Mohannad Abdul-Raheem's 89th-minute equaliser against Bahrain on Saturday ensured that Iraq remain firmly in the hunt for a last-four place but, with the Bahrainis expected to beat Yemen in the group's other clash today, Basim Qasim's side are likely to need three points to keep themselves inside the two qualification spots going into Friday's final round-robin fixtures.
Iraq vs Qatar live stream online: Gulf Cup betting
Qatar are the bookies' favourites to claim the three points at the Al Kuwait Sports Club Stadium, but not overwhelmingly so: the 2022 World Cup hosts are valued at 29/20, with Iraq not far back on 11/5.