LaLiga players out of contract at end of 2017/18 season: the list
From 1 January 2018, players whose contracts are up at the end of the current season will be free to negotiate with other clubs...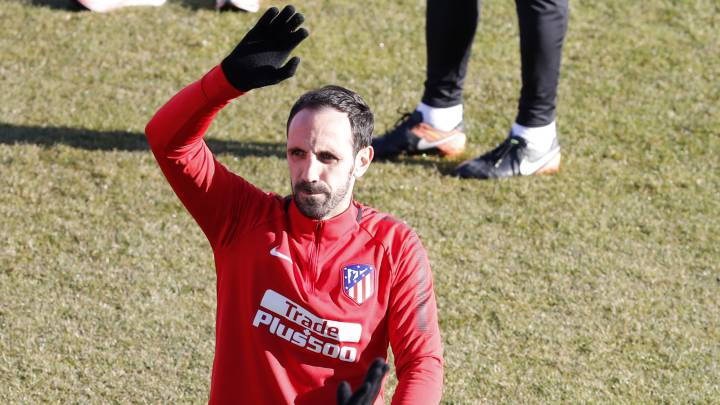 As of 1 January, every player whose contract is up at the end of June 2018 will be free to talk to other clubs, in line with Fifa regulations.
Among the players in LaLiga whose deals expire in the summer are big names such as World Cup-winner Fernando Torres and current Spain internationals Kepa Arrizabalaga and Juanfran Torres.
Many on the list are negotiating renewed terms with their respective clubs, but it also includes footballers set to become enticing free agents.
With eight, Las Palmas have more players entering the final six months of their contract than any other LaLiga club.
LaLiga players out of contract in June 2018:
ATHLETIC BILBAO
Arrizabalaga (23, goalkeeper)
Etxeita (30, defender)
Saborit (25, defender)
Bóveda (29, defender)
M. Rico (33, midfielder)
Aketxe (24, midfielder)
Sola (31, forward)
ATLÉTICO MADRID
Moyá (33, goalkeeper)
Juanfran (32, defender)
Gabi (34, midfielder)
Torres (33, forward)
BETIS
D. Giménez (34, goalkeeper)
Amat (25, defender)
Barragán (30, defender)
CELTA VIGO
S. Álvarez (31, goalkeeper)
DEPORTIVO LA CORUÑA
Rubén (33, goalkeeper)
F. Navarro (35, defender)
B. Gama (30, midfielder)
EIBAR
Riesgo (33, goalkeeper)
Lombán (30, defender)
Ramis (29, defender)
Juncá (23, defender)
D. García (27, midfielder)
P. León (30, midfielder)
ESPANYOL
Pau López (23, goalkeeper)
S. Sánchez (31, defender)
S. García (34, forward)
GETAFE
Guaita (30, goalkeeper)
Cala (27, defender)
Gorosito (29, defender)
Molinero (32, defender)
S. Mora (38, midfielder)
Lacen (33, midfielder)
GIRONA
Bono (26, goalkeeper)
Iraizoz (36, goalkeeper)
Granell (29, midfielder)
Amagat (32, midfielder)
LAS PALMAS
D. García (35, defender)
B. Herrera (24, defender)
Macedo (27, defender)
J. Castellano (30, defender)
Hernán (27, midfielder)
Toledo (21, midfielder)
Momo (35, midfielder)
Tannane (23, midfielder)
LEGANÉS
Mantovani (33, defender)
E. Morán (28, midfielder)
O. Ramos (29, midfielder)
Szymanowski (29, forward)
El Zhar (31, forward)
Guerrero (27, forward)
LEVANTE
Postigo (29, defender)
P. López (34, defender)
MÁLAGA
C. Castro (33, midfielder)
REAL SOCIEDAD
Toño (30, goalkeeper)
C. Martínez (31, defender)
X. Prieto (34, midfielder)
Canales (26, midfielder)
SEVILLA
Krohn-Dehli (34, midfielder)
VALENCIA
Robert (24, forward)
VILLARREAL
Bonera (36, defender)
Rukavina (33, defender)