Marcelo having fun in Brazil, dressed up as a woman
The Real Madrid defender posted some entertaining photographs on Instagram of himself, son Enzo and friends on the beach dressed up as women.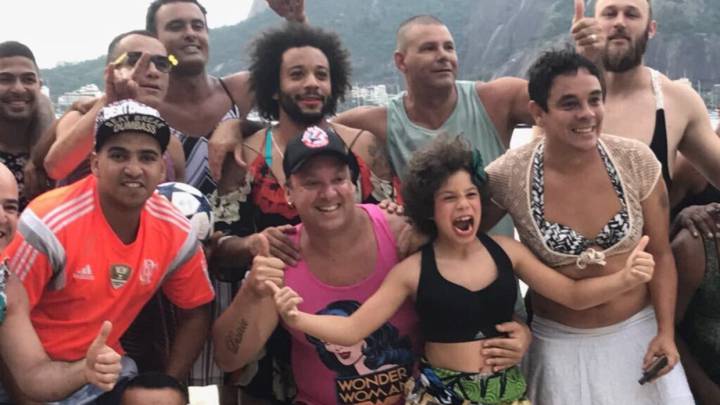 Real Madrid left-back Marcelo saw out 2017 dressed up as a woman on a Brazilian beach together with his son Enzo, family and friends.
The Madrid player is enjoying a few days' holiday back home and is clearly having fun. He shared some entertaining photographs on Instagram of himself wearing a dress, bikini and red lipstick, larking around and laughing with his mates on a beach in Botafogo
Marcelo's first Christmas in Madrid, with Roberto Carlos
During an interview for Real Madrid TV programme Campo de Estrellas, Marcelo spoke about spending his first Christmas in the Spanish capital. He'd not long joined from Fluminese as a promising young full-back, and he was warmly welcomed by the player he had idolised since he was a boy - Roberto Carlos.
Marcelo was proclaimed the player to take over from RC3 as Real Madrid's first choice left-back and the two forged a great friendship: "I was tipped to become Roberto Carlos' successor. And because he knew that, he always treated me, my wife, my brother-in-law and my grandad as though we were his family. I used to watch him play on TV and I'd be in awe, open-mouthed at the things he'd do", Marcelo remembered.
Roberto Carlos even invited the teenage Marcelo to spend Christmas with his family in Madrid: "He said to me: 'Look, in the Christmas holidays, you won't have time to go back to Brazil because we only get five days, why don't you come over to mine and spend Christmas with us".