Diego Costa: "I have a good understanding with Torres and Griezmann"
The centre-forward has returned to Atlético after three years at Chelsea. He was unveiled before the fans and the press at the Wanda Metropolitano.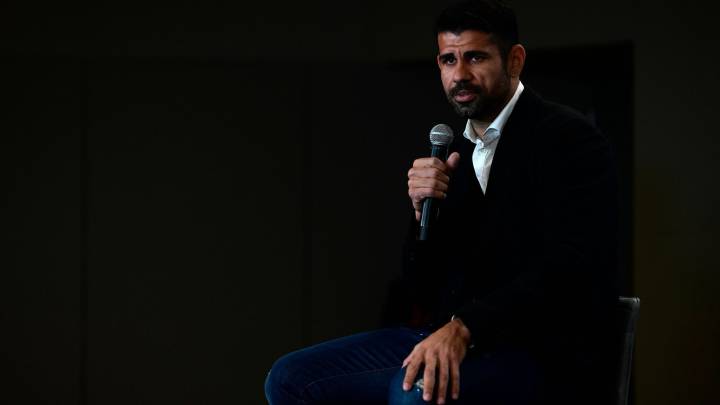 Atlético de Madrid president Enrique Cerezo weclomed Diego Costa to "his home" as the striker was officially unveiled at the Wanda Metropolitano this morning. The player, who has shed 10 kilos through a strict training regime which has included activities such as boxing, said that he has been waiting for this moment to arrive.
Costa raring to go with Atleti
How are confronting this second spell at Atleti?
Physically, I'm in much better shape than when I first arrived. I'm dying to bget back playing and helping the team.
How long have you been waiting for this moment?
A long time. I've been training hard and the only thing on my mind was reaching the moment when I will be able to play. I need to play - I'm tired of so much training.
How has it been watching the team without being able to play?
I've suffered just like fan - you suffer more watching the team from the stands. The team is looking good, even though we're out of the Champions League but we've still got a chance of doing something nice this season and that's what we'll be battling to do.
Chelsea is a great club, says Costa
What did you learn from your time at Chelsea?
I didn't learn English, which is a bit of a shame. I was really happy there, the people were great, the fans, my team mates were all great... They helped me a lot, and made my life much easier. Chelsea is a great club. I have a real fondness for them and all of the memories I have of my time there are good ones.
Your last game for Atlético was the Champions League final, but you were forced to quit the field after just a few minutes with a hamstring injury. Do you think it might have ended differently if you'd played the whole game?
We'll never know what might have been. That was a very painful day for all of us at Atleti, but I don't have any feelings or desire to get my revenge, just the chance to be in there again, in the final with Atleti. We want to be among the elite.
Being with the Spain squad at next year's World Cup is another challnge for you?
First I have to do well with Atlético. If I am playing well and scoring goals it will be easier to make Lopetegui's list.
Development in the Premier League
In what ways did you game improve in England?
I think that over time you always learn and improves all aspects of your game - both on and off the pitch. I hope I can utilize all of the things I learned in England in LaLiga.
Have you managed to forge an understanding with Atlético's other strikers?
I have a good understanding with Torres, Griezman, Gameiro, Correa. The forwards are all doing well. I'm not just going to suddenly come into the team and be God. You go through ups and downs. I'm ready to play, I'll play alongside whoever the coach selects. There's a lot of competition. The other forwards are scoring a lot of goals and that competition is good.