Copa del Rey
Celta 1-1 Barcelona: Copa del Rey, last 16 match report, goals, action
A Jose Arnaiz goal was cancelled out by a Pione Sisto strike in the first half as the rain fell on Balaídos in the Copa del Rey first leg between Celta and Barca. Valencia-Barcelona: Copa del Rey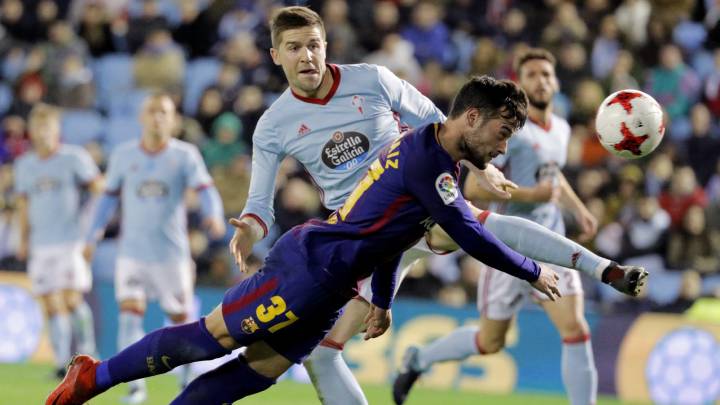 Celta Vigo 1-1 Barcelona: match report
King's Cup holders Barcelona still have work to do if they are to remain in the competition after being held to a 1-1 draw at Celta Vigo in a last-16 first-leg game on Thursday.
Barca forward Jose Arnaiz, who usually plays for the reserve side, poked in Andre Gomes's low cross to complete a sweeping counter-attack and put Barca ahead in the 15th minute, scoring for the third Cup game in a row.
Denmark international Pione Sisto levelled for Celta in the 31st, smashing the ball into the roof of the net on the rebound after Iago Aspas had hit the underside of the crossbar.
Barca's record signing Ousmane Dembele came on in the second half to make his first appearance since rupturing his hamstring in September and nearly scored the winner, but his low shot was saved by Celta goalkeeper Sergio Alvarez.
Barca hit the woodwork twice, Sergio Busquets crashing a shot against the bar and Sergio Roberto striking the post in stoppage time while Turkish international Emre Mor went close to grabbing a winner for Celta.
Barca have now failed to win on their last three visits to Celta's Balaidos stadium, losing 4-3 and 4-1 in their last trips in La Liga.
Coach Ernesto Valverde made seven changes to the Barca side that beat Real Madrid 3-0 in their last game while Celta, coached by former Barca assistant Juan Carlos Unzue, fielded a full-strength team.
The second leg at the Nou Camp takes place on Jan. 11.
Celta Vigo vs Barcelona live stream online: as it happened
90'+3' GAME OVER! Perfectly poised for the return leg. 1-1 it ends in Balaídos.
90'+3'   Emre Mor strikes over the bar.
90'+1'   Three minutes to find a winner for either side. Sergi Roberto almost does. He hits the base of the post from a Semedo cross. 
88'   Looks like a stalemate here. The torrential rainfall not helping ambition. 
88'   Iago Aspas with the foul, or offside, as it looked like he had picked the ball up in a lovely position. 
87'   Aspas absolutely launches a shot at Cillessen. He can't gather and parries it away. 
85'   Ping pong outside Barca's box. They can't get it away. they eventually do and break. Dembele though on goal and he gets dispossessed by Mallo. Lashing down rain now in Vigo.
82'   Maxi Gomez with a nice chance from the right of the box. Blocked! Jozabed follows it up with an effort and the less said about it the better. Very, very wide.
81'   No, wait! it's johny. Lots of confusion now as nobody knows what's going on. Maybe Johny was hurt in the last exchange and they had to change the sub. It's Johny for Roncaglia.
81' Roncagli on for Fontas.
80'   Rakitic strikes from distance and Sergio saves.
79'   Rakitic threads one through to Dembele. He toe pokes it towards goals but it's saved and put out for a corner.
77'   Dembele catches Jozabed with an arm to the head as he fends him off. Free for Celta. 
75'   Aleix Vidal off for Sergi Roberto. The last change for Ernesto Valverde.
73'   Emre Mor drives a shot just wide of the post. Another lovely move that sets him up and he drives this one wide with Cillessen stretching late. Aspas involved again. Brilliant stuff from him.
71' Dembele on along with Rakitic for Paulinho and Jose Arnaíz.
69'   Mor almost scored with his first touch. Some nice link-up play but he goes too far out to the right. Cillessen not troubled with that.
69'   Celta needed that change. Sisto and Wass were exhausted.
67' And that gives Celta a chance to make a change. Sisto and Wass off for Emre Mor and Brais Mendez.
67'   Semedo fouls Johny. 
66'   Gomes flicks one into the box but Sergio grabs it with ease and no Barca players putting him under pressure.
63' 63' Yellow for Andre Gomes for a foul as the ref plays on. Aleix Vidal follows it up with another foul and he stops play to book the Portuguese.
63'   Pione sisto a few inches offside as he is put through on goal. Barcelona growing in confidence in this one. Celta seeing less and less of the ball. 
61'   Ball rolls out to Busquets outside the box. He drives a shot towards goal. Plenty of power, a little curl too, but it rattles the crossbar and out for a restart! What a goal that would have been.
59'   What a cross from Semedo. Perfect ball as Denis Suárez arrives at the back post and misses it. That was a sitter. Should be 2-1 to Barcelona.
57'   Anothe rdangerous cross, from Semedo this time, headed clear by Hugo Mallo. Corner for Barcelona.
55'   Barcelona looking dangerous and the ball eventually comes in and bounces near the back post. Arnaíz throws his noggin at it and heads just wide! Very vlose. Lethal ball in around the back.
52'   Lovely cross like a laser beam to Sisto in the centre. He misses it though and Barcelona break. If he made contact with that, it would have been some goal!
51'   Suárez puts Arnaíz through for a one-on-one and he manages to get to it first. Sergio gets out to blocked him. Corner. 
49'   Aspas put under pressure as he tries to counter for Celta and he coughs up possession.
47'   Celta with plenty of the ball to start the second half.
46'   Sergi Roberto and Ivan Rakitic warming up for Barca though.
46'   No changes for either side.
46'   Action!
Sergi Roberto with a big hug for Sergio Gomez in the tunnal before the teams emerge for the second half.
Nearly ready for action in the second half. 
45'   Half-time at Balaídos. Aspas complaining to the referee as we head in. Referee explaining something to him. They both turn for the tunnel.
45'   Andre Gomes from downtown as he tries to curl one around Sergio Alvarez. Over the bar.
43'   Digne and Aspas end up on the ground from a long ball. Both are saying they were fouled. Referee says neither of them were as play continues.
42'   Paulinho strikes. Corner as it comes off Fontas.
42'   Jozabed nearly sneaks through but his pass inside is blocked away twice.
41'   Wass with a strike from very deep.
40'   Sisto with the ball outside the box, loses it, battles back to win it again and Semedo gets back to get a foot in and back to Cillessen. 
38'   Aspas looked to have been fouled by Piqué twice in quick succession but referee doesn't give either. They win it back and break. They look so dangerous against this Barca side, it was the same in LaLiga too.
35'   Sisto fouled by Semedo now. Still in shock over the goal.
32'   Aspas had given up on the play. He went to fix his socks and everyone thought the play was dead but not Sisto! what a strike that was.
32' Celta are level. Maxi Gomes crosses and Aspas missed from point blank range as it hits the crossbar. Sisto gets it out wide and absolutely buries it into the back of the net.
31'   Really nice move by Barca that sets Digne away but the pass to him is too heavy.
29'   Gomes with another cross across goal but nobody there to meet it this time.
27'   Chance for Celta as Sisto races in behind and flicks it up in the air. Piqué heads away and Paulinho breaks. Celta win it back again. Nice tempo to this one now after a lull following the goal.
26'   Fontas booked for a foul on Jose Arnaiz. He slides in late and certainly gets a chunk of the attacker's ankle.
25'   Sisto gives away a throw. 
24'   Digne gets himself into trouble as Wass steps between him and the ball and then Aspas nearly dispossesses him fully. He survives with the ball back to a teammate.
22'   Wass goes down under a tackle from Vermaelen and wants a free. Vermaelen says no and so does the ref.
21'   Gomez out to Aspas as he pulls back for Wass after skipping beyond Pique. Cleared by Barcelona as Wass lines up the shot.
18'   Barcelona in control now with Celta pushing further and further back.
17'   Another effort but Paulinho's effort is blocked and Celta put pressure on Barca. Piqué fouled by Maxi Gomez.
16' Barcelona break. Gomes cross to the middle, Aleix Vidal misses it and Jose Arnaiz buries it.
16'   Nice ball from Lobotka into Wass in the penalty are but he wasn't expecting it. he tries to flick it and it bounces off his shin.
14'   Ball over the top to Semedo is too long as he wrestles with Jonny. He fouls him too.
13'   Barcelona wrestling back some control of this one.
12'   Chance down the right as Semedo crosses for Arnaíz and he heads over from an awkward angle.
10'   Chance for Maxi Gomez but he sees his shot blockes and put out for a corner by Semedo.
9'   Aspas through on goal! Semedo races back and get a foot on the ball. He foils Aspas at the last second.
7'   Celta with all the possession early on but no chances just yet. Forced long that time as Paulinho takes it down and loses it himself. Sisto cools thing down for Celta as they throw it around at the back again.
5'   That was the worst corner of all time by Sisto. gomes breaks and is fouled.
4'   Jonny with a dangerous cross to the back post. Aspas lurking and looking for his first of the year but Barca head clear. Corner.
3'   Suárez with a cross that Celta clear and the win a free up the field after the clearence.
2'   Reall intriguing game so far. Celta pressing high and always looking for that ball forward. Wass lobs one towards Sisto but Cillessen off his line quick to gather. He obviously took took it easy on the Christmas pusdding last week.
2'   Sisto on the left now. A nice move forward but his pass is jumped by Paulinho. 
2'  Andre Gomes passes forward to Denis Suárez. Celta pick his pass of and they start their own attack.
1'   We are underway at Balaídos. 
Jose Arnaiz starts tonight as he has been drafted in from Barcelona B. he has scored six goals for them this season despite the side's struggles and has scored 2 in 2 for Valverde's side in the Copa when called upon.
A very strong starting XI tonight for Celta. They play Real Madrid on Sunday. After knocking out Real Madrid last season in the same competition, is there a chance they can do the same to Barcelona this year.
So, Dembélé does not start but there is a place for Jose Arnáiz in the team. Some chances for others too with Messi out. Denis Suárez gets a rare start as does Lucas Digne and Jasper Cillessen.
Celta's starting XI.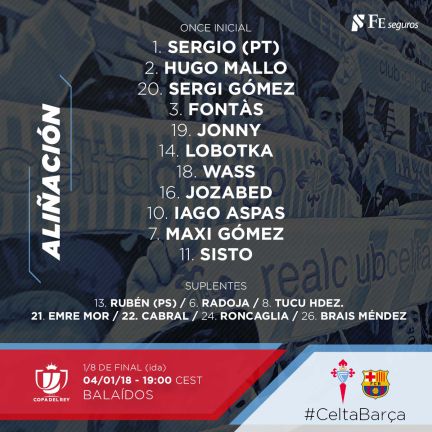 Barcelona starting XI.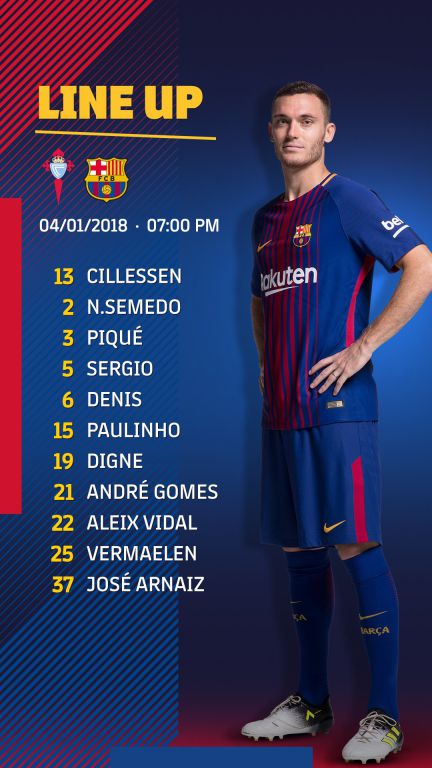 Iago Aspas has scored five in his last four and 11 in his last nine games in total! The man is on fire.
Celta versus Barcelona was one of the most exciting games that Barcelona played in this season. A 2-2 draw with Iago Aspas and Maxi Gomez creating plenty of problems for Barcelona's defense. Unzue's experience at the Camp Nou might have lead him to some insider information on how they play.
Cillessen will almost certainly take his place between the sticks for the visiting team as Ter Stegen sits out for the Copa. A striker he will not have to face will be Swede, John Guidetti, who looks set to join Alavés and has been left out of Unzue's squad.
Home fans will be looking to Iago Aspas to create something for their side, and he has a decent recent record against the blaugrana. The ex-Liverpool player has scored four times and provided two assists in his last four games in this fixture.
Whether Dembélé will start or not is yet to be seen but Valverde will be delighted to have the club's record signing back and available for selection. If they can add the much-rumoured Coutinho to their squad then what a mouth-watering attacking formation they would wield.
We have a little preview for you below but since that was written we can inform you that Ernesto Valverde has left behind a few Barça stars for this Copa tie, with Messi, Iniesta and Luis Suárez all given a rest.
If you're not on Central European Time, check out our handy guide to know when the action will get underway in your neck of the woods or, alternatively, stay with us and you won't miss a thing.
Hello and welcome to our build up to this potentially tasty Copa del Rey match as Celta Vigo welcome FC Barcelona to the Balaídos. We'll be bringing you news throughout the day ahead of our live coverage of the match which kicks off at 19:00 CET.
Celta Vigo vs Barcelona live stream online: match preview
It was only a month ago when Celta went to the Camp Nou and returned home with a very credible 2-2 draw so although the viistors will start favourites for this tie, they will certainly not be able to take it for granted and we can expect to see a strong line up from both managers.
Celta Vigo team news
The home side are currently coached by former Barca goalkeeper and assistant manager Juan Carlos Unzue and he will relish the opportunity to progress in the competition at their expense. And the biggest surprise in last season's competition was caused by the Galician side when they ousted Real Madrid - the same side that conquered league and Europe in their record-breaking campaign.
Celta reside in a congested mid-table position in LaLiga at the halfway stage, with their opponents having collected more than double their points haul already, and will be looking at the cup as a realistic source of silverware. One player who seems certain to miss out on that quest is Swedish striker John Guidetti who is on the verge of a loan-to-permanent move to Alavés and has been left out of the squad. The noisy home fans will be looking to Iago Aspas and Maxi Gomez to provide a threat against their illustrious guests.
Barcelona team news
Holders Barcelona are riding high in LaLiga and despite several question marks over their early season performances, have been able to pick up points as others have dropped them, and now find themselves at the start of the new year with an upturn in form - seen before the break with their 0-3 hammering of bitter rivals Real Madrid - to take them to new heights at home and abroad.
A bonus for Ernesto Valverde is that he should be able to welcome back striker Ousmane Dembele, who has been sidelined since September, who has been cleared to make his comeback in this clash. The French international has not played since tearing his hamstring at Getafe on September 16, just three games into his Barca career following a 105-million-euro move from Borussia Dortmund that could rise to as much as 145 million euros.
"After a lengthy recovery process from an injury to the femoral biceps on his left thigh, the 20-year-old Frenchman is now available for Valverde," Barcelona said on Tuesday.
How the Catalan giants choose to line up though, with a home game against Levante awaiting them on Sunday, will be interesting to see.
---
Celta Vigo vs Barcelona live stream online: betting odds
Some punters may see value in going for a Celta win in the first leg seeing that you can get back 4.5 times your stake but if you're confident in a narrow Barça win, either 0-1 or 0-2 can be found at 10/1.
Check out all the odds and bet on Celta Vigo vs Barcelona.