Numancia 0-3 Real Madrid Copa del Rey: as it happened, goals
Real Madrid grasped control of their Copa del Rey tie with late goals from Isco and Mayoral, after Gareth Bale had opened the scoring in the first half.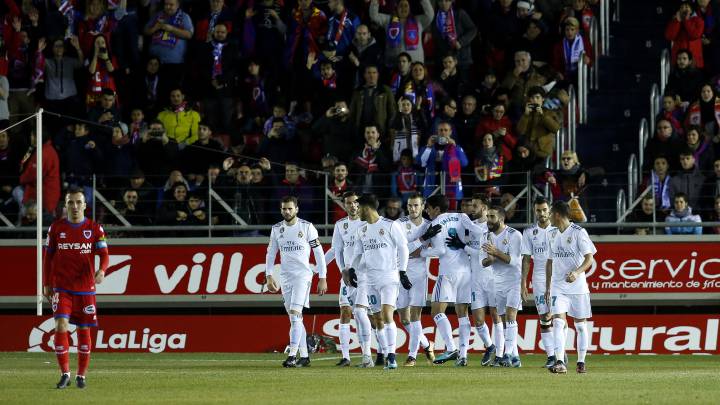 Real Madrid took a significant step towards the quarter-finals of the Copa del Rey with a comfortable victory against Numancia.
The Segunda División outfit have a reputation as giant-killers after reaching the last eight themselves in 1996. But with the second leg at the Bernabéu to come next week, that will almost certainly be beyond them this time.
Gareth Bale opened the scoring in the first half with a calmly-taken penalty after Carlos Gutiérrez tripped Lucas Vázquez in the box. Pape Diamanka received a second yellow card on the hour mark, reducing the home side to ten men. Despite the numerical disadvantage, they nearly drew level in spectacular fashion, Iñigo Pérez rattling the bar from 45 yards after stealing possession.
Los Blancos took advantage of their opponents' bad luck. Vázquez won another penalty with three minutes remaining and Isco thrashed the ball in to the top corner. Then, in the first minute of added time, Borja Mayoral nodded a third goal at the far post.
Numancia 0-3 Real Madrid: as it happened
90'+3' FULL TIME. Late goals from Isco and Mayoral seal a comfortable victory for Real Madrid, who held a first-half lead thanks to Gareth Bale's penalty. 
90'+1' GOOOOOOL! Borja Mayoral finally finds his scoring touch! The 20-year-old hovers at the near post and directs Carvajal's deep cross in to the corner. 
89' GOOOOOL! Isco doubles Madrid's lead, firing emphatically in to the top corner. 
88'   PENALTY TO MADRID! The visitors have another spot kick, and it's Lucas who wins it again. He was tripped by Mateu. Isco to take... 
86' Achraf for Asensio is the final substitution for Real Madrid. 
84'   Isco exchanges a one-two with Lucas, dances in to the box, and blast the ball over from seven yards. He did all the hard work... 
83' Unai Medina is booked for grabbing a handful of Kovacic's shirt. 
81'   Borja Mayoral takes Kovacic's pass in to his stride in the six-yard box only to fluff his shot. The lineseman had incorrectly hoisted his flag, but Mayoral didn't know that at the time. 
80'   Iñigo Pérez, who has been excellent since coming on, sends a devilish delivery to the far post. Higinio is a whisker from turning it in to the net. 
79'   Casilla rushes out of his box to intercept a through ball aimed towards Higinio. 
76'   NUMANCIA HIT THE BAR! The home side are inches from a remarkable equaliser. Iñigo Pérez nabs the ball off Llorente, glances up, and chips the ball over Casilla from 40 yards. It clangs off the bar and hits the ground one yard from the line. 
75'   Dani Nieto sits on the turf and shakes his head after being penalised for blocking the run of Theo. The No.23 can have little complaint. That was 'savvy'.
74' That is Ceballos' final contribution. Isco comes on in his place for the final 15 minutes. 
74'   Ceballos rifles a low shot towards goal. Munir throws himself forward and smothers it. 
72'   Mateo Kovacic cuts the ball back across the six-yard box on the slide. Amid strong suggestions that the ball had crossed the line, Jesús Vallejo attempts a subtle flick and fails to connect. 
71'   Numancia have a free-kick 30 yards out... Iñigo Pérez lashes the ball straight in to Borja Mayoral's back. 
68'   Dani Nieto twists and turns on the right, getting the better of the sluggish Theo Hernández. The blonde winger clips a left-footed cross to the far post, which Higinio nods in to the side netting. 
67'   Mayoral darts towards the near post as Marco Asensio shapes to cross from the left wing, leaps, and watches the ball fly over his head. 
64' With the match becoming increasingly scrappy, Zidane takes off Bale, with Kovacic coming on. That was probably pre-planned as part of Bale's gradual comeback from injury. Presumably he'll be on the bench in Vigo, will start again against Numancia next week, and then he should be close to 100%.
63' Numancia respond by sending on Iñigo Pérez for Grego. 
63'   Madrid are now up against 10 minute and, really, they should now kill off the tie. 
60' Jesús Vallejo is booked for hauling down Diamanka, who is then sent off himself for a nasty challenge on Nacho. That was a second yellow for the Numancia midfielder, but it could equally have been a straight red as he planted his studs on Nacho's ankle. 
59'   Carvajal steams to the byline and keeps Munir on his toes with a smart shot from an acute angle. The right-back has suffered as a result though - it looks like his knee got caught under his body. He trots off with the physio and should be able to continue.
58'   Before kick-off Mayoral had scored a goal every 110 minutes so far this season, better than any other Madrid player. It hasn't gone well for him in Los Pajaritos, though. He tries to bring the ball down from a looping cross, and gets it stuck under his feet. 
57'   Llorente and Ceballos are providing rather sketchy protection for the Madrid defence. Numancia are finding plenty of space in the centre. 
53'   Carvajal miscontrols Ceballos' diagonal pass in to the path of Lucas. The two players both go for the ball and Lucas' shot cannons off Carvajal's leg and high over the bar. 
52' Higinio is quite rightly booked for an outrageous dive in the box. He moved in to the vague proximity of Nacho and himself to the floor. The Numancia bench erupts in protest, but that was a very good spot from the referee. 
51'   There are plenty of Numancia players waiting in the box for Dani Nieto's delivery. Casilla shatters their dreams with a clean take. 
48'   The ball almost falls for Nacho eight yards out after Numancia fail to clear Asensio's corner. By the time the Madrid centre-half shoots, a defender has arrived, and Nacho ends up conceding a foul. 
46' The second half is underway! 
Numancia make a half-time change. Luis Valcarce (who has only been on the pitch for 25 minutes, goes back off. Marc Mateu comes on. 
Espanyol and Levante are drawing 1-1 at the break in the other Copa del Rey clash taking place. 
The home crowd whistle as the referee leaves the pitchl. The locals don't think Madrid's penalty should have been given, and think they should have had a spot-kick of their own. For me, the referee got both decisions correct. 
45'+1' 45'+1' That'll be that for the first half. Madrid go in with a lead, and they look good for it. 
45'+1'   Dani Nieto dances through a gap between Bale and Asensio, and wins a free-kick 30 yards out. He dusts himself down and curls it to the far post, where an onrushing red shirt heads it well over. 
45'   Unai Medina sends Gareth Bale head-over-heels with a last-ditch slide tackle. The Numancia right-back shaved the ball with a stud and so it's a corner rather than a free-kick, which comes to nothing. 
44'   Diamanka knocks the ball past Ceballos and scoots around the other side of him. The referee adjudges that the Numancia player was using his hands a little too much, and Madrid are off the hook. 
41'   Diamanka gets right underneath Dani Nieto's outswinging corner and sends his header in to the crowd. He was unmarked and should have done better. As he walks away with his head down, you sense he knows it. 
39'   Madrid take the free-kick swiftly and Marco Asensio takes aim from the edge of the box with that devilish left foot. His shot has plenty of whip and dip and fizzed just wide of the near post.
38' Pablo Larrea commits a cynical foul on Gareth Bale as the No.11 charges in to opposition territory. That's a yellow card. 
35' GOL GOL GOL! Gareth Bale strides forward, stutters slightly, and strokes the ball in to the bottom-left corner. Munir had already dived the other way. 
34'   PENALTY TO REAL MADRID! Lucas nutmegs Gutiérrez, who catches his shin with a clumsy challenge. 
31'   Dani Nieto feels Theo Hernández tickle him in the box and promptly hurls himself to the ground. To say he was 'looking for it' would be an understatement. He had his magnifying glass out. No penalty. 
29'   Llorente flops to the floor after a challenge from Valcarce, the referee blows his whistle, and Asensio will deliver the free-kick. It's a tremendous inswinging cross that goes all the way through to Mayoral at the far post. The stand-in No.9 does his best impression of Karim Benzema and blasts it over the bar. That's a really bad miss. 
27'   Dani Ceballos shapes to curl a free-kick in to the box, but instead squares the ball to Llorente on the edge of the box. His first-time shot cannons back off a defender, and his half-hearted appeal for handball is waved away by the referee. 
25'   Asensio tries to find Mayoral with a deft back-heel on the edge of the box. It's too incricate and the Numancia defenders cut it out with ease. 
23'   Madrid are enjoying a lot of possession, but are huffing and puffing when it comes to the final ball. Most of this team are bit-part players, and it's showing. They're a touch rusty. 
20' Numancia captian Adrián Ripa limps off with what looks like a muscle strain, and Luis Valcarce trots on in his place. There's a warm round of applause for the outgoing player. 
19'   Lucas Vázquez toe punts the ball in to the side netting after latching on to Theo's ball in  the left channel. A distinct lack of a left foot from Madrid's No.17. 
17'   Gareth Bale cuts in from the right, lifts his head, and dinks a ball over the top in to the path of Asensio's diagonal run. The Mallorcan stretches, but can't quite get a toe on it, and the ball runs through to Munir in the Numancia goal. 
15'   Numancia have grown in to this match after an apprehensive start. 
13'   What a save by Casilla! Higinio fires a shot across goal and it whooshes past the post. A goal kick is given, but the replays reveal the 'keeper tipped it around the post. 
12'   NUTMEG! Pablo Larrea absolutely bamboozles Llorente with a dragback through his legs inside the box. He forces the corner, which bobbles behind off a Real Madrid player. Nukancia float the ball in again, and this time, Casilla claims. 
The Marco Asensio fan club are in town...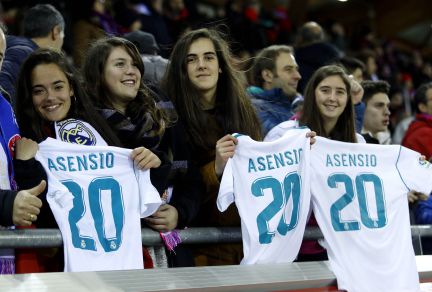 8'   Numancia look slightly incoherent in terms of their approach. Pablo Larrea is dropping deep and the two centre-halves are splitting when they have possession. That suggests the home side are looking to play out from the back. But on a couple of occasions they have bypassed those options and lumped the ball straight up to the half-way line. 
6'   Bale... In to the wall! The Welshman slices the rebound and the home side thump it clear. 
5'   Marin receives the ball just outside the box and kills it with a neat touch. His second touch lets him down however, as he attempts an elaborate back-heel that goes straight to Theo. Madrid then bomb forward and win a free-kick 30 yards out. In the absence of Ronaldo, Bale stands over it. 
5'   Zidane's reserve side are dominating possession, and Numancia look happy for them to have it. 
3'   Gareth Bale meets Carvajal's cross at the far post and cushions a header back across the six-yard box. He's looking for Mayoral, but the 20-year-old striker is not in the right place at the right time. 
2'   Real Madrid have set up in a 4-2-3-1, with Bale on the right and Asensio in the hole behind Mayoral. 
1' Peeep! We're underway in Soria. 
The teams are gathering in the tunnel... out they come! 
The teams have filed back in to the changing rooms after completing their warm-ups. Not long now... 
Numancia XI: Munir, Ripa, Dani Calvo, Higinio, Pere Milla, Gutiérrez, Medina, Grego, Larrea, Nieto, Diamanka. 
Gareth Bale is handed a first start since September. Dani Carvajal is suspended for the visit to Celta Vigo on Sunday, and therefore keeps Achraf out of the team at right-back. 
Real Madrid XI: Casilla; Carvajal, Vallejo, Nacho, Theo; Vázquez, Llorente, Ceballos, Asensio; Bale, Mayoral.
In Julio Álvarez, Numancia have a player in their ranks who came up through the youth system at Real Madrid, although he never made a senior appearance for the club. The 36-year-old - who represented Venezuela at international level - has not played at all this season due to inury. 
Celta Vigo vs Barcelona is underway up in Galicia... if you're lining up a Copa del Rey double-header, you can follow that match live with Robbie's coverage. The home side have made a bright start. 
Real Madrid are reportedly close to agreeing a deal to bring Athletic keeper Kepa Arrizabalaga to the Bernabéu but there seems to be little scope of any further January reinforcements arriving. A quick glance at Madrid's potted history of winter transfer dealings, with a couple of notable exceptions, suggests that may not be a bad idea.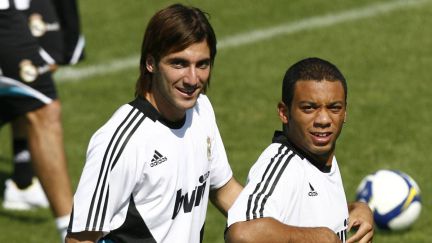 There will be no Cristiano Ronaldo in Los Pajaritos this evening, the Portuguese earning a rest for the opening leg amid rumours that he has received several succulent offers to abandon the Bernabéu this summer.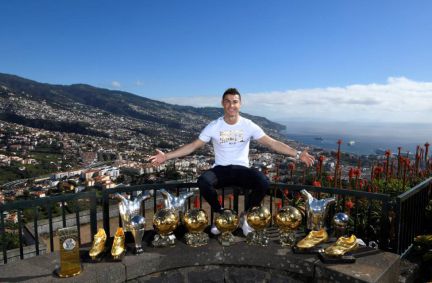 Meanwhile, in case you missed it earlier this am, reports abound that the aptly named Athletic keeper Kepa Arrizabalaga has penned an agreement to join Madrid. We sincerely hope he takes to wearing his given name on the back of his shirt for considerations of brevity.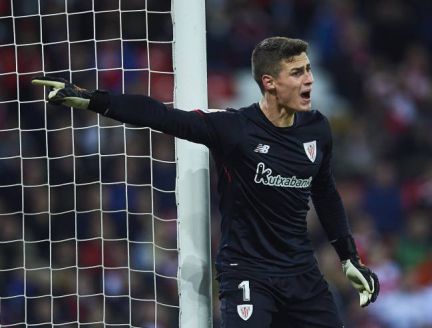 As ever, we've compiled a handy guide as to how and where to watch this evening's game. We're assuming there won't be any tickets left on the gate if you happen to be in Soria so why not tune in and join us for the action?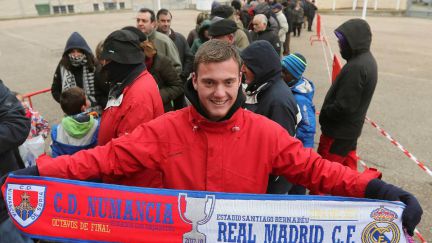 Hello and welcome to our live coverage of the Copa del Rey last 16 first leg game between Numancia and Real Madrid from Los Pajaritos.