Zidane: "I don't need another goalkeeper"
"Right now I don't need a goalkeeper. If there are changes in June, we'll sit down and talk and maybe we might sign one..." the Real Madrid coach said about Kepa.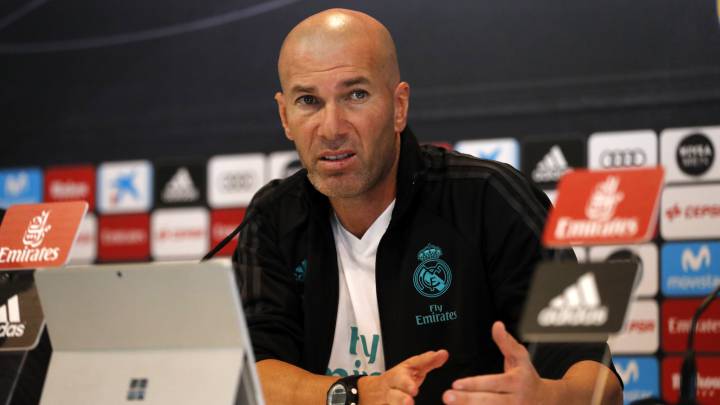 Zinedine Zidane discussed tomorrow's trip to Vigo where his Real Madrid side are guests of Celta. The coach told reporters that he wouldn't see it as an inconvenience if the club entered the window transfer market but insisted that he doesn't need a goalkeeper... Zizou also spoke about Cristiano's future and the reported interest from PSG in signing him: "I can't see him playing at any other club that isn't Real Madrid"
What are your thoughts on Celta?
They're one of the league's top sides and they're doing well, they work well; they habe good players and we know it'll be a difficult game. But well try to give them a good game.
Don't you like signing players in this transfer window?
I don't mind. I've only been a coach for two years, maybe it would be better to ask me later on in my career... It's not an inconvenience to sign someone in January.
Did the Three Kings (or Father Christmas) bring you anything?
No, for me, nothing. It's for children in Spain, isn't it? I didn't get anything but it doesn't matter. I'd rather win trophies.
Cristiano wants to stay at Real Madrid, says Zidane
Can you imagine Real Madrid without Cristiano?
No. Not at all, he's a Real Madrid player and he wants to end his career here. I can't see Cristiano at any other club that isn't Madrid.
What do Madrid lose when Ramos is out?
We lose a lot - he's our leader, our captain. We want him always to be with us. But at the same time, these things happen - he felt a pinch on Thursday, we did a scan and the results showed he had something and we didn't want to take any risks. We've got a lot of games to get through, the season is long and we need him fit - let's hope he's not out for long.
Which line of the team needs strengthening?
I'm happy with the players I've got, as always. And I only ever speak about my players.
But do you think any specific area need reinforcing?
I don't need anything. As a coach I don't need a goalkeeper, right now I don't need another keeper. But later, if things change in June when we sit down to talk about the squad, maybe there will be positions where we will sign players. In the last two winter transfer windows we haven't brought in anyone. There'll come a time when we can discuss it properly but right now I don't see any reason to bring anyone in. That's why I only speak about the players I have, out of respect for them.
If someone does arrive, will another player leave?
I've already said that I don't want any player to leave. But up until the 31st anything could happen, that's how the market is. As of the moment, I don't want any changes - I'm happy with my squad. This time last year we didn't have those questions, we were fine and playing well. As soon as a team isn't playing as well people start talking about new signings… but that's not how I see it.



LaLiga Santander
*Update 6 de enero de 2018