Celta Vigo 2-2 Real Madrid LaLiga: as it happened, goals
Gareth Bale scored a brace for Madrid after Daniel Wass has chipped the home side in to the lead. Maxi Gómez then secured a deserved point in the final stages.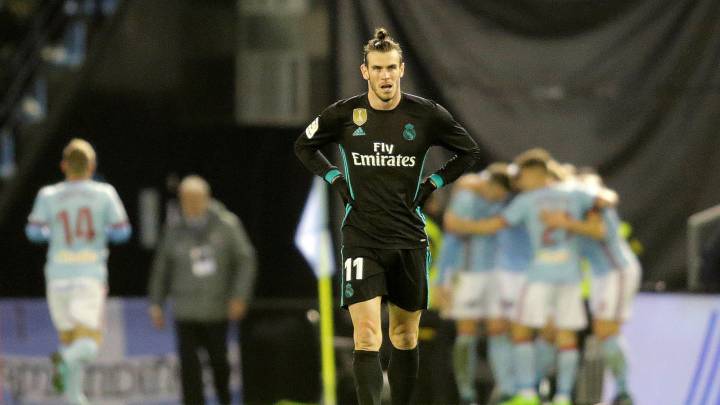 Gareth Bale scored twice on his first LaLiga start for Real Madrid since September but could not prevent his side dropping two points against Celta Vigo.
Daniel Wass applied a deft touch to chip the ball over Keylor Navas' head and open the scoring for Celta after 33 minutes. By that point, Iago Aspas had already rattled the post with a close-range volley.
The match quickly swung back in Madrid's favour. As he did against Fuenlabrada and Al Jazira, Bale hauled the visitors in to the ascendancy with two goals in two minutes. Aspas won a penalty with 20 minutes remaining, darting around Keylor Navas and drawing a foul from the Costa Rica international. Yet Navas redeemed himself by saving Aspas' subsequent spot-kick.
The game remained open and Maxi Gómez took advantage. As the Madrid players waited for a foul that never came, the barrel-chested Uruguayan headed Wass' cross in to the net to secure a deserved draw for the Galicians.
Celta Vigo 2-2 Real Madrid: as it happened
90'+3' FT. Maxi Gómez earns a deserved point for Celta with a bullet header eight minutes from time. 
90'+2'   Vázquez flashes a low ball across the six-yard box, causing momentary panic until Lobotka lashes it clear. 
90'+1' Celta substitution: Jozabed replaces the excellent Daniel Wass.  
90'   Is that Madrid's last chance over there, going begging? Lucas Vázquez shoots straight at Rubén from inside the box. He was alone when the ball fell to him, and although he caught it well, it needed more direction. 
87' Iago Aspas is caught somewhere between fury and disbelief. He darts passed Marcelo and writhes on the ground when the referee waves play on. His complaints are justified but he receives a booking for protesting. 
86'   Either team could win this. It's completely open. 
84' Asensio replaces Bale. That's Madrid's third and final change. 
84'   Real Madrid react. Marcelo lays the ball to Ronaldo, who lashes a shot in to the side netting. 
82' GOL GOL GOOOOOL! Maxi Gómez heads Celta level from point-blank range. Aspas plays it wide to Wass as the Real Madrid players protest for a foul on Marcelo. The No.18 chips the ball in to the centre and Gómez thunders it home. Varane holds his hands up. He was left with two men to mark.  
81'   Jonny loses the ball on the half-way line, allowing Kovacic to thread a ball through to Ronaldo. He looks up as he races on to the ball and shoots first time... straight at Rubén. 
79'   Zidane has sought to sure up the midfield with those changes. Bale goes to the left of a midfield five, Lucas to the right, and Ronaldo plays as the No.9. 
76' Zidane makes a double change of his own: Lucas and Kovacic come on for Isco and Modric. 
75'   Modric pokes Achraf in to space on the right. The full-back has plenty of time to pick out Ronaldo on the far side, but the only player he can find is wearing a light blue shirt. 
74'   Tucu Hernández is alone by the penalty spot as Hugo Mallo's cross bends in. The Argentine heads it towards the top corner, but too high. 
73' Souble substitution for Celta: Emre Mor and Lobotka replace Sisto and Radoja. 
72' NAVAS SAVES! Aspas' shoots hard and low, but Navas stops it with a firm right hand. Superb save. 
71' PENALTY  TO CELTA VIGO! Navas takes down Aspas, who will take it himself. The 'keeper is booked. 
69'   Jonny looks for a free-kick after a run from the half-way line results in a coming together with Modric. The referee remains unmoved. Celta come forward again and Iago Aspas flicks a backheel in to the arms of Navas. 
67' Hugo Mallo kicks out at Gareth Bale and catches him just above the knee. The Celta captain goes in to the book for his troubles. 
64'   Rubén dives down to his left to block a Cristiano Ronaldo header. 
62'   The game is still completely open with half an hour remaining. You'd be brave to bet where the next goal will come from. 
60'   Iago Aspas fights, fights, and fights some more for the ball. He lies on the ground just inside the Madrid box, and swivels like a breakdances to find Hugo Mallo, who whistles a shot over the bar. 
58'   Raphael Varane has a little outing from the back. The No.5 breaks towards the box and passes the ball to his right with the outside of his foot. Ronaldo is waiting. He can't control the ball, however, and Jonny dashes clear. 
56'   Achraf nips through a gap between Hernández and Jonny, winning a free-kick by the corner flag. It's taken quickly to Isco, who drifts in to the box and curls a left-footed effort just over the bar. 
54'   Madrid plough forward on the right flank through Achraf. The Morocco international looks up and arrows a pass to Ronaldo, who is waiting on the edge of the box. He swipes at the ball and sends it over the bar and half way back to Madrid. Ronaldo has operated in Bale's shadow this evening. 
53'   Sisto is at it again. He turns Achraf inside and out before chipping the ball in with his left foot. Nacho, once again, positions himself well to avert danger. 
51'   Nacho drops back in to the defensive line to clear a tantalising cross from Pione Sisto - the leading assist provider in LaLiga. Maxi Gómez was waiting to pounce at the far post. 
49'   Isco floats in from the left and hits a low shot that's easy for the 'keeper to tame. 
46'    A loose clearance from Rubén falls straight to Bale. He never quite gets the ball under control and Celta clear.
46' The second half is up'n'running. 
Madrid are back out on the pitch, and Celta are milling about in the tunnel. 
Considering this is only Bale's second start since the end of September, he looks incredibly sharp. The challenge for Zidane will be to not overuse him and risk further injury. 
45' HT. Wass put Celta ahead with a deft dink, but two goals from Gareth Bale mean Real Madrid are in the ascendancy at the break. 
45'   Now Modric upends Aspas. Los Blancos are getting feisty. 
44' Casemiro is the first player to be booked (death, taxes, and so on) for a rugged shoulder barge, bordering on an elbow, on Hugo Mallo. The Brazilian over-ran the ball and was overzealous in his attempt to win it back. 
43'   Aspas' anaemic delivery is headed clear by the first man and Marcelo surges forward with the ball but overhits his through-ball to Ronaldo. 
42'   Celta will have the chance to whip a cross in to the box after Nacho clatters through the back of Aspas. 
38' GOOOOOOOOL! Gareth Bale scores again! Isco threads a curling pass through the Celta defence, Bale jabs out his left leg to subtly change the direction, and it settles in the corner. Two goals in two minutes for Bale on his first league start since September. 
37'   Iago Aspas knocks the ball from his left foot to his right foot in the blink of an eye, leaving Kroos for dead. The Celta talisman is probably in the best form of his life. 
36' GOOOOOOOOOL! Gareth Bale slides the ball in to the bottom corner to draw Madrid level! It all stems from Maxi Gómez losing the ball on the edge of the Madrid box. The visitors charge forward, Kroos slips the ball through to Bale, and he strides forward and guides it past Rubén in to the bottom corner. 
35'   Celta Vigo lead and it has been coming. 
33' GOOOOOOOOOL! Delightful finish from Daniel Wass! Hernández picks out Wass in acres of space on the left (a rather large dereliction of duty from Marcelo) and he calmly waits for Navas to edge of his line, before dinking it over his head. 
31'   Tucu Hernández steps across Isco to prevent him gliding past and concedes a foul. His real name is Pablo Hernández, but like all players who come from the Tucumán region of Argentina, he is simply given the 'Tucu' tag. Tucu Correa down at Sevilla is another example. 
29'   Celta are very good at creating situations in which Sisto, Gómez, and Aspas can gallop at the Madrid defence. The home side have the upper hand as we approach the half-hour mark. 
26'   Casemiro lets fly with a shot that corskcrews through the air from 30 yards, forcing Rubén in to a flying save. 
25'   Aspas, to Gómez, cut back to Wass... wide! The blonde midfielder drags his shot past the post and a fine attacking move goes to waste. 
24'   Ronaldo crumples under the challenge of Cabral and grins as the referee tells him to get up. That should have been a booking for diving. 
21'   Celta are pressing the Madrid like men possessed. Sisto in particular looks like he has a rather large, stingy bee in his bonnet. 
19'   Bale forces a corner with a flurry of Ronaldo-esque stepovers. madrid work it short, and Isco eventually overhits a cross. Casemiro stretches for it, but can't prevent it bounding out for a throw-in. 
17'   Toni Kroos makes an overlapping run! Really! He does so as Marcelo dashes inside and crosses to Bale at the back stick. The Welshman leaps, but not enough. He does a backwards rolly-polly over the line and the ball follows him out for a Celta goal kick. 
15'   Cristiano Ronaldo looks poised to latch on to Bale's cushioned header inside the box, but Cabral somehow nips goal-side and clips it clear. Good defending. In any case, the linesman had hoisted his flag for offside. 
13'   CELTA HIT THE POST! Pione Sisto twists and turns on the left before switching play to Hugo Mallo. The full-back shapes a gorgeous cross to Aspas, who clips it against the post . Tucu Hernández then fires the follow-up wide. Aspas will be disappointed, but the pace of the cross and the awkward height made it a tricky chance. 
10'   Maxi Gómez really puts himself about. The burly forward rumbles down the wing with Nacho in pursuit. He thinks he's won a corner by playing the ball off Nacho's leg, and then throws his arms up at the linesman after he gives a goal kick. Up at the other end, Marcelo fires a dipping volley over the bar. An end to end start. 
8'   Good chance for Iago Aspas to score his 12th goal of the season as Hernández plays him through in the left channel. But Raphael Varane, never a man to be outpaced, gets back and blocks his shot inside the box. 
7'   Gareth Bale displays his brutish strength and pace by steamrollering Cabral. He tries to cut in from the byline but, off balance, takes a heavy touch, allowing Rubén Blanco to claim. 
6'   The ball isn't running particularly smoothly on the pitch due to heavy rain in Galicia. There'll be no zipping passing tonight.
4'   Achraf robs Tuvu Hernández of the ball on the flank and plays a swift pass through to Bale. The No.11 wastes no time in helping it on to Ronaldo, who shoots first time from the edge of  the box, straight in to the 'keeper's arms.
2'   Real Madrid go straight on the attack. The ball bobbles around the box but doesn't fall for Cristiano Ronaldo. The visitors then work the ball out to Marcelo, who hangs the ball up to the far post. Bale leaps alongside Cabral, and the ball falls kindly in the six-yard box for the Celta defender to wallop clear. 
1' Off we go! Real Madrid, dressed in black, get the match underway under the lights at Balaídos. 
Celta Vigo look set to line up with a 4-3-3 formation. Sisto and Aspas will support Maxi Gómez, the big, bustling Uruguayan.
The teams are gathering in the tunnel... and here they come! 
Balaídos is filling up nicely with 5 minutes until kick off. Celta have received fines from LaLiga this season for not filling their stadium enough. With Real Madrid in town, that won't be a problem. 
Cristiano Ronaldo and Gareth Bale have not been in the starting line-up together for 104 days. The last time was against Borussia Dortmund on 26 September. Madrid won 1-3 in front of the Yellow Wall and Bale, in particular, ran riot. 
Real Madrid could yet be active in the January transfer window, and Valencia could be without another young star as a result. Los Che have already lost teenager Rafa Mir to Wolves, and Madrid are retaining their interest in Ferran Torres.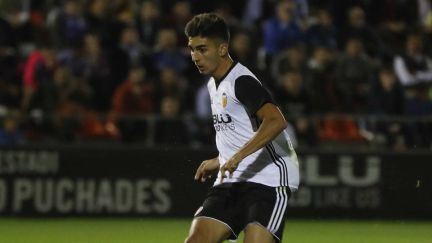 Iago Aspas has scored more goals in LaLiga this season (11) than the Real Madrid BBC combined (8).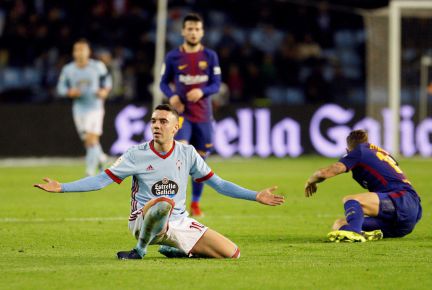 TEAM NEWS! 
Celta Vigo XI: Rubén; Mallo, Roncaglia, Cabral, Jonny; Wass, Radoja, Hernández, Sisto; Aspas, Gómez. 
The main news is that Gareth Bale starts for the first time in LaLiga since a 0-1 defeat to Real Betis on 20 September. As expected, Achraf and Nacho come in to the defence in place of Carvajal (suspension) and Ramos (injury).
Real Madrid substitutes: Casilla, Vallejo, Theo, Lucas, Asensio, Mayoral, Kovacic. 
Real Madrid XI: Navas; Achraf, Varane, Nacho, Marcelo; Casemiro, Modric, Kroos, Isco; Bale, Ronaldo. 
Real Madrid have ostensibly been moving closer to a move for Athletic Bilbao goalkeeper Kepa. Yet in his press conference ahead of this match, Zinedine Zidane insisted: "I don't need another goalkeeper". This will be an interesting thread to follow through January.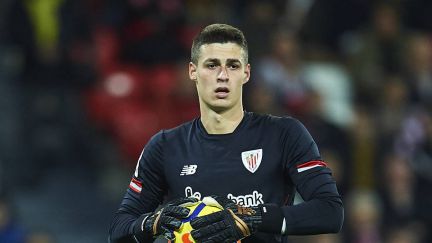 "As things stand, very few people remember that Gareth Bale was Real Madrid's best player before his ankle injury." Guillem Balague has had his say on Bale, and the role he can play for Los Blancos in 2018. Read the full piece here.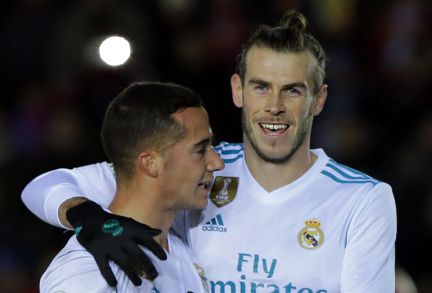 Barcelona have applied further pressure on Madrid with a comfortable victory at home to Levante. Here's a report of the action from that match. 
Hello and welcome to our live coverage of Celta vs Real Madrid. It feels rather early to be speaking of 'must-win matches'. The Christmas decorations have only just come down. But Madrid have no room for error.