Zinedine Zidane: I know I won't be Real Madrid boss for 10 years
"I want to show that I can also be a good coach when the going gets tough," the Real Madrid boss has told France Football.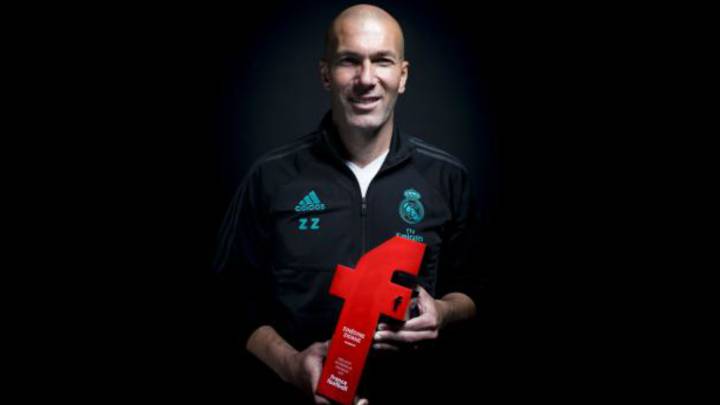 Zinedine Zidane has given an interview to the magazine France Football, which has named the Real Madrid boss as its French coach of the year for 2017.
Zidane, who has been in charge at the LaLiga giants since January 2016, discusses his future in the Bernabéu dugout, admitting: "I know I won't stay for 10 years."
Zidane speaks to France Football:
His status: "Zinedine Zidane isn't a player at Real Madrid anymore. That Zidane no longer exists. Now it's down to Zinedine Zidane the coach to carve out a career. I'm not protected by what I've done as a player at this club. I know that one day it [the coach's job] will come to an end at Real Madrid, so I make the most of it and I do everything I can to be successful. I say to myself: 'If I've got 10 days left here, then I'm going to live those 10 days to the max; if it's six months, I'll live those six months to the max.' I don't think beyond that. I know I won't stay [in the job] for 10 years."
Managing the pressure: "External pressure doesn't affect me. I've wrapped a shield around myself; nothing can bother me. I have many responsibilities [as Real Madrid coach]. But when I get home, I switch off. I know that many coaches aren't able to take their minds off the job, but I do have that ability. I go home and I get together with my wife or with my sons and I go to see a show or to have dinner. I cut myself off [from work], because that's fundamental."
Proving his ability to come through testing times: "I want to show that I can also be a good coach when the going gets tough. Difficulties don't frighten me; I'm ready for that. People might think that everything comes easy to me, that I do it all by instinct, but they'd be wrong. Be it as a player or as a coach, I've always worked hard."