Zidane talks tough on Real Madrid crisis in press conference ahead of Numancia game
The Real Madrid coach was in spirited mood as he defended his squad, and himself, ahead of the Copa del Rey match against Numancia.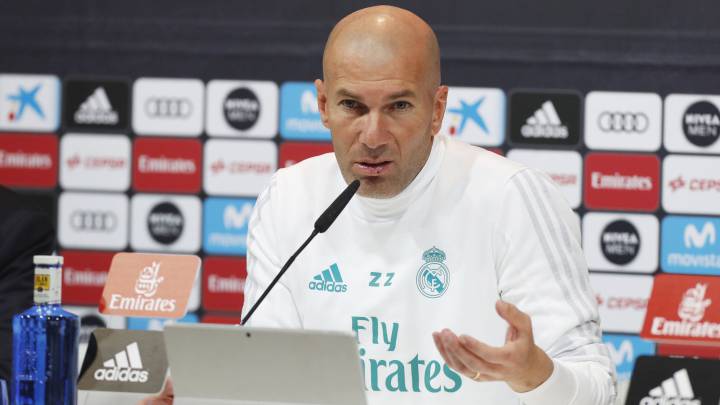 A very serious looking Zinedine Zidane arrived an hour and a half late to face the press ahead of tomorrow's Copa del Rey second leg against Numancia, with Real Madrid in crisis after Sunday's draw against Celta Vigo leaving them 16 points behind Barcelona (with a game in hand), and rumours that the French coach was standing up to president Florentino Pérez with his comments that he doesn't need a keeper, while Madrid appear to be on the cusp of signing Athletic goalie Kepa.
The first questions focused on the lengthy chat Zidane had with the entire squad after the Celta game. The French coach refused to say what had been said but admitted the chat had been "longer than normal". As to the solution to the problems, Zidane was clear: "When things don't go as want them to, we need to work harder. The players think the same, we need to work harder. It's not physical or mental; it's a bit of everything. We need to put more effort in. There's no other solution."
Asked whether the chat was important Zidane managed a wry smile, laughing that when he organises a chat it's because "it's vital". "I don't do it just because I fancy a chat, obviously". Zidane also admitted his side had performed poorly in the second half against Celta Vigo, but insisted the solution was "work, and more work".
Zidane: We're not blaming one or two
As to whether players who are not performing need to be dropped, and the squad shaken up Zidane was blunt: "You say players aren't great and need to be dropped. But I see it differently. People need to be helped. We're all in the same boat. I'm not kicking anyone out of the boat. If things are difficult it's everyone's fault, not one or two. As you said we've had two incredible years. It's important to say that to people. I'm not going get rid of players who three months ago were great. Right now, we're going to work harder and try and do things better. But, for example, people say that against Celta we were terrible, but we played some nice football. It's true the second half was bad. We're going to work harder".
Real Madrid signing Kepa
Zidane was then asked about his comments that Real Madrid don't need to sign a keeper: "We don't need anyone. I don't want anyone. I believe in my squad. There are times in a tough season, when the press want to say [it's time to change]... it's not what I think. We've got everything still ahead of us. Let's see what happens at the end of the season. That's when we analyse things and decide if we need a change or not." When the matter was brought up again, focusing on whether Zidane was really just defending his squad, or because he genuinely feels no signing would improve things, the Frenchman had this to say: "I say it because I believe in the squad. Why would I change [my opinion] in two or three months? What annoys me is that the press are saying that I'm challenging the president and the club. I'm not. I'm part of the club. Real Madrid is Real Madrid. It's the main thing. I'm just a person who works for the club. I believe in my squad, to the death. And I believe in what I do. Until the club gets rid of me".



Copa del Rey
*Update 9 de enero de 2018