Five Real Madrid players in UEFA '2017 team of the year'
Zidane's side features heavily with: Ramos, Marcelo, Kroos, Modric and Cristiano making the ideal team with just Messi representing FC Barcelona.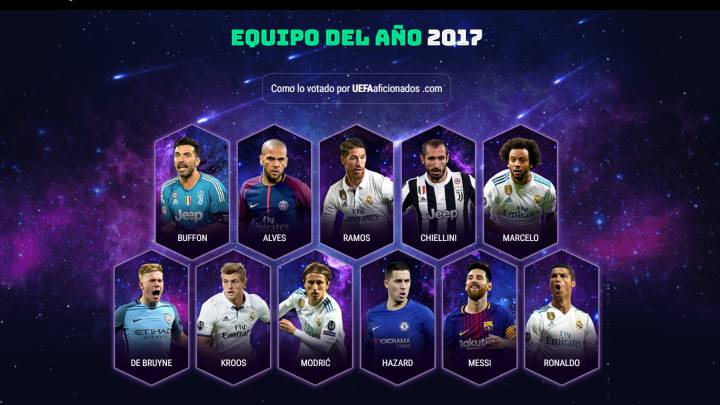 Amid talks of a current crisis at the club, Real Madrid are still reaping the awards for their successful 2017 with Zidane's side featuring strongly in the announcement of Uefa's perfect team of 2017 where no less than five Madrid players have been selected. Sergio Ramos, Marcelo, Kroos, Modric and Cristiano Ronaldo join the eleven which is also composed of: Buffon (Juventus), Alves (Juventus / PSG), Chiellini (Juventus), De Bruyne (Manchester City), Hazard (Chelsea) and Barcelona's Lionel Messi. The team was selected from a shortlist by UEFA.com users via a voting system.
Ramos tops the poll
Madrid captain Sergio Ramos was the most voted player being selected by 588,315 users , some 73,7% of the total vote. The Camas born defender was followed by Marcelo with 30,000 fewer votes securing a total of 558.495 (70% of the total). Argentine striker Messi was third on the podium with 477.036 (59,8%) with Cristiano in fourth place (444,430, 55,7%).
Over 798,000 individuals participated in the voting process with the bulk of traffic hailing from Europe (46%) followed by Asia (25%) and the age profile of the majority of the voters ranged from 18 to 34 years of age.