Hierro: "Real Madrid need to appeal for calm"
The director of the Spanish football federation is a legend at Real Madrid and he spoke about the club's recent woes along with other aspects of Spanish football.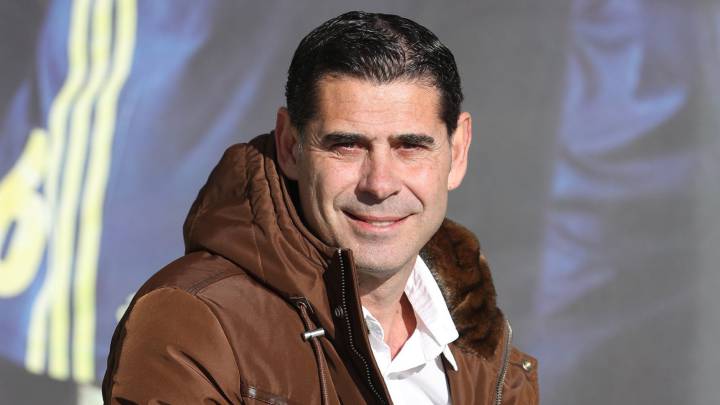 Fernando Hierro, the new sports director of the Spanish football federation, is enjoying his new role. The former Real Madrid defender said the Spanish national team would make Krasnodar their base in Russia before the questions started to flow and he was asked about Spanish players playing in different leagues, Real Madrid problems of late and Diego Costa's return.
How do you think Zidane is living this current crisis on the bench at Real Madrid?
He has the same player that he had a few months ago when they were winning titles. You have to appeal for calm and good judgement. People can get used to winning things easily. There is a day when they will stop winning. But that doesn't mean you throw everything to the wing. Spanish football is admired around the world. The clubs have won many titles and the world admires that. We have to take care of that heritage. We are only in January and the last couple of years with Zidane were spectacular, but that is the immediacy of football clubs. This is Real Madrid. We have to be smart in our judgement because they are the same players, the same trainer and the same philosophy.
How do you see Spanish football?
The institutional state of Spanish football is not easy. We have to reflect and decide between everyone where we want to go because we have some of the best teams in the world, the best players and one of the best teams that qualifies for all of the big tournaments so we have a big responsibility.
De Gea, Silva, Morata. Do you still think that the mixture of players that are at the top level outside of Spain with the elite in LaLiga is the perfect combination for success on the international stage?
Spanish footballers are very intelligent and they can adapt to any country and style of play because technically and tactically they are very good. We see it in the Premier League with Cesc when he arrived at Arsenal later with all of our guys at Liverpool and now with Silva, an exemplary footballer. He is one of the top Spanish marksmen. Silva doesn't just play and make plays, he is also a historic goalscorer.
did you expect such a good return from Diego Costa to LaLiga?
Diego has loads of character. He is a very important player. And when more players make the selection of the team difficult, all the better. Diego Costa will never stop competing. To have him back is fundamental for us. He is a player with loads of enthusiasm. He transmits everything his club likes and he gives us fantastic options. He is within out possibilities and it will be Julen Lopetegui who will decide on that.