Uefa's Team of the Year 2017 includes five Real Madrid players. It's no surprise, and there's little arguing with the quintet, who are: Sergio Ramos, Marcelo, Toni Kroos, Luka Modric and Cristiano Ronaldo. Who would take any of them out of the XI? The line-up is completed by Gianluigi Buffon, Dani Alves, Giorgio Chiellini, Kevin De Bruyne, Eden Hazard and Lionel Messi. It was chosen in an online poll involving 800,000 football fans from across the world, going on all the games they've watched, all the column inches they've read, and all the discussions and debates that they've had. It seems a fair team to me. Real, the winners of the Spanish league (the best in the world), the Champions League, two Super Cups and the Club World Cup, feature more than any other side. That's only logical.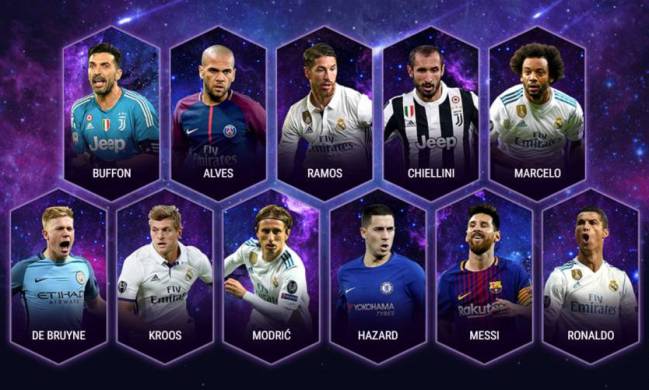 How many of Real Madrid's five would be in the Uefa XI now?
What makes it all so noteworthy is that, all of a sudden, this group of players has crumbled. If the team were picked on the evidence of recent weeks, Marcelo wouldn't be in it, chiefly due to his sluggishness when it comes to tracking back. Kroos and Modric, who just aren't running matches like they were, perhaps wouldn't be in there either. As for Cristiano, he's having good days and bad days. That feeling of supreme potency, that his presence is as good as worth a 1-0 headstart, whatever the game, has gone up in smoke. Of the five, really the only one left standing is Ramos; he remains his uncompromising self, the team's leader, a defender who is good on the ball and in moments of need joins in the attack in search of an improbable goal which, in his case, feels positively probable.
Zidane's happy camp has become an all-too comfortable one
It's not easy to explain why Real Madrid have gone backwards in this manner. Football is, as they say, a funny old game. Zinedine Zidane was right to set his players free from the suffocating methods of Rafa Benítez, but the model he created has suddenly descended into a cozy environment in which everybody loses. Nailed-on starters who are too comfortable, subs resigned to being understudies. That's Real Madrid right now. Based on current form, no-one would go for five Real footballers in Uefa's XI, yet it's notable that several of the other six would keep their spots. That's the issue facing Zidane: he has great players at his disposal, but they've gone missing. Perhaps because it's a World Cup year. He now has Gareth Bale back; can he jump-start the side? Just maybe.