Real Madrid 0-1 Villarreal LaLiga: as it happened, report, goals
Pablo Fornals scored a late goal to seal Villarreal's first ever league victory on Real Madrid's home turf, causing pressure on Zidane to increase.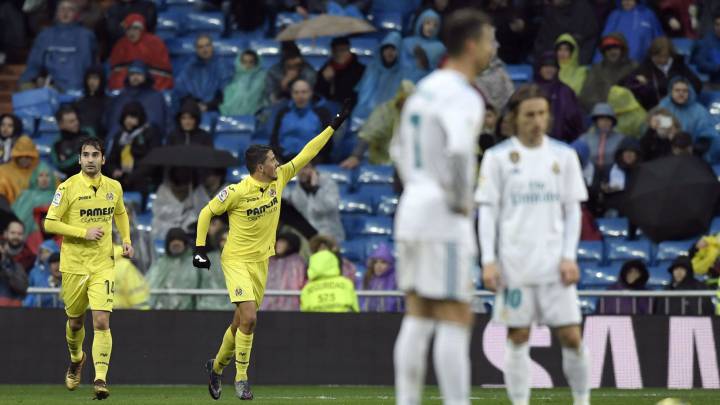 Whistles cascaded down the stands at the Santiago Bernabéu. Zinedine Zidane stood with his hands in his pockets as the rain fell and the Villarreal bench celebrated.
Pablo Fornals' 88th minute chip secured an historic first victory for the Yellow Submarine at the Bernabéu and intensified the toxic atmosphere that engulfs Real Madrid. Los Blancos remain in fourth place in LaLiga, just one point ahead of Villarreal. If Barcelona win at Real Sociedad on Sunday evening, Madrid will fall 19 points behind the leaders.
The Champions League last-16 tie with PSG is quickly assuming the role of a pregnancy in a faltering marriage. Zidane needs to turn the gloomy atmosphere around. Quickly.
The home side dominated swathes of the match and attempted 28 shots - more than any other side in LaLiga in 2017-18. But the outstanding Sergio Asenjo was equal to everything that came his way. Cristiano Ronaldo was wasteful, missing several solid chances to find the breakthrough.
Villarreal has looked dangerous on the counter-attack all afternoon - despite the absence of recently-sold striker Cedric Bakambu - and when Madrid left themselves exposed following a corner, the away side bombed forward. Keylor Navas blocked Enes Ünal's initial shot, but could only watch, his face forlorn, as Pablo Fornals followed up with a dainty chip.
Real Madrid 0-1 Villarreal: as it happened
90'+3' FT. Whistles pour down the stands at the Bernabéu as Villarreal secure their first ever league victory against Real Madrid. 
90'+3'   Asenjo gathers Modric's cross with 30 seconds remaining. 
90'+2'   Crucial, flying touch from Álvaro to prevent the ball breaking for Ronaldo. Bonera goes down with cramp as Madrid wait to deliver a corner. 
90'+1'   Álvaro hoofs the ball clear inside the Villarreal box and they try to break forward for a second. The move breaks down with Fornals. 
90'   Three minutes of added time.
90'   Zidane stands with his hands in his pockets, his expression somewhere between fury and resignation. 
87' GOOOOOOOOOOOOOOOL! Villarreal lead from a Madrid corner!! The away side surge forward on the counter-attack and Ünal shoots straight at Navas. The ball drops out for Pablo Fornals and he dinks the ball delicately over Navas' head. 
87'   Lucas Vázquez dances past a challenge on the left side of the box. He cuts the ball square and finds... Asenjo. 
85'   Trigueros blocks Asensio's snap-shot at the near post after good work from Marcelo on the left. Villarreal keep hanging on. 
83' Final change for Villarreal: Serbia international Antonio Rukavina replaces the excellent, elegant Castillejo. 
82'   Mario Gaspar sticks out a leg to make an important interception, with Asensio lurking behind him. 
80'   Real Madrid keep probing, they keepìng looking for openings. Modric races on to Lucas's cut-back and blazes it over the bar from just inside the box. 
76' Carlos Bacca trots slopes off the pitch after a hard shift up front. Eres Ünal takes his place. 
74'   Carvajal twists, turns, crosses... and it's over Ronaldo's head. The half-chances keep coming, and they keep on going, too. 
72'   Casemiro swirls a shot from 35 yards that has Asenjo scrambling across his goal-line. It ultimates bounces wide, but is close enough to draw an 'oooh' from the crowd. 
71' Madrid appear to have adopted a 4-3-3, with Asensio on the left, Ronaldo central, and Lucas on the right. 
70' Zidane makes a double change: Lucas and Asensio replaces Bale and Isco. 
68'   Asensio is stripping off on the touchline. On the pitch, Carvajal fizzes a tantalising cross towards Bale and Ronaldo at the far post. Somehow, it drops perfectly for Mario - who is standing between them - to clear. 
66'   Ronaldo picks up the ball on the left... and you know the drill. He dips inside and fires a daisy-cutter at goal. Asenjo stoops and smothers. 
65'   Madrid are moving on top, but still look short of ideas and vulnerable to the counter-attack. Marcelo shouts in to the air and recoils in frustration as Mario Gaspar blocks his cross. 
63'   Ronaldo stutters inside along the edge of the box, looking for a bit of space to shoot. He can't find any, and so lays the ball to Modric. Asenjo is equal to his low drive. 
62'   Castillejo glides down the right and finds Bacca, who has darted to the near post. Bacca swivels under pressure from Nacho and shoots in to the side-netting. 
61'   Keylor Navas flops down to his left to smother Carlos Bacca's deflected shot. The deflection took the sting out of the effort, rather than deceiving Navas. 
59'   Isco carries Madrid forward and Villarreal lack defensive cover. He lays the ball out to Ronaldo, who looks for Bale at the far post. But his pass is loose and the move breaks down. 
58' Dani Carvajal goes in to the book for a foul on Bacca, and Castillejo will whip in a cross from the left. 
57'   Villarreal players are dischuffed in the extreme as the referee blows for a foul, rather than playing advantage, when yellow-shirted players are gunning it forward. 
55'   Modric scampers in to the box and tries to square the ball. Álvaro sticks to him every step of the way and gets his toe in to send the ball out for a corner. Villarreal clear and emerge on the counter attack. The visitors are really missing the pace of Bakambu in attack. There's nobody to take advantage of the space when they counter. 
52'   Toni Kroos watches a deep cross fall out of the moody sky and volleys the ball at goal. He catches it well, but naturally, Asenjo is equal to it. 
51'   Mario Gaspar surges in to space from right-back, plays the ball wide to Castillejo, and continues his run in to the box. Castillejo stabs the ball to the centre with the outside of his left boot, but Madrid scramble it clear. 
50'   The ball appears to be magnetically attracted to Sergio Asenjo this afternoon. He plucks Marcelo's deflected cross out of the air. 
48'   Cheryshev almost makes an immediate impact against the club he developed at as a youth player. He races on to Bacca's cushioned lay-off, beats Nacho, and with just Navas to beat, drags his shot wide. That was a big chance, and a big let-off for Madrid. 
47'   Pablo Fornals seizes on Carvajal's loose ball and strides towards goal. The right-back makes up for his error with a sturdy block on Fornals' shot. 
46' The second half is up and running. 
Half time change for Villarreal: Denis Cheryshev - formerly of Real Madrid - comes on for Raba.
The teams are filtering back out in to the rain for the second half. 
Real Madrid appear to have given out waterproof ponchos to fans. There are a lot of soggy looking people in the Bernabéu.
Real Madrid had 18 shots in the first half (eighteen!). Only two for Villarreal. 
45'+1' HT. 
45'   Ronaldo is thwarted by Asenjo from very close range after Isco rolled the ball across the face of goal. Ronaldo claims he was tripped by Mario just before shooting, and he has a decent case. If he had gone down rather than shooting while off balance, the decision may have gone his way. 
44' Bacca kicks out at Casemiro and they exchange a few tense words. The referee gets his yellow card out for the first time this afternoon and brandishes it in Bacca's direction. He'll be suspended for Villarreal's next match. 
43'   Well played Isco and well played Bale. The former drives through the centre and lays the ball off to the latter on the left. Bale cuts inside and whistles a shot just beyond the far post. 
42'   Kroos robs Fornals and releases Ronaldo in the right channel. Ronaldo slows up. He knows he's offside. 
38'   Isco drives the ball across goal. Bale hasn't had enough time to adjust his feet when he meets is at the near post, and the ball cannons wide off his shin. 
37'   Fornals is tripped midway through a ruleta, giving Villarreal the chance to deliver a cross. Álvaro meets Castillejo's delivery at the far post. Instead of heading the ball across the face of goal to Bacca, he goes for glory and finds only the hands of Navas. 
35'   Gareth Bale dives towards a cross at the near post and the ball ends up in Asenjo's arms. Ronaldo and Bale are furiously appealling for a handball against Álvaro, but it would have been harsh. The ball skimmed off Bale's head and hit from in the face/arm from a yard away. 
31'   Ronaldo again! Off the post! Once again, the magnificent Modric is the architect of a sweeping Madrid move. His ball to Ronaldo creates space for the No.7 who, bearing down on goal, lashes a shot against the joint between post and bar. 
30'   Now Real Madrid go close... very close, through Ronaldo. Luka Modric threads a ball through to him in the box and he tries to chip the onrushing Asenjo, and does so. He beats the 'keeper but also beats the post. 
29'   Superb chance for Carlos Bacca and Villarreal. Pablo Fornals shapes an inch-perfect pass through the Madrid defence and in to the path of the Colombian. His first touch is good, but Nacho dashes across to make an important block. 
28'   Casemiro stays cool in his own box, turning away from Raba and Bacca before finding Varane. 
26'   Álvaro sticks to Ronaldo on the right flank, watching the ball all the time. Ronaldo twitches his legs and tries to drive inside. The visiting defender, however, has read him. 
24'   Villarreal could really do with a pacy, strong striker as an outlet. Bakamb... who?
22'   Ronaldoooo! The No.7 hits the target with a free-kick! It's a devilish shot from 30 yards that skids off the top of the wall, and Asenjo parries it on to his bar and behind for a corner. Villarreal clear after some pinball in the penalty area, but Madrid keep coming back ar them.  
21'   Isco scampers along the byline and whips the ball across the six-yard box. Asenjo juggles the ball in the wet conditions, but manages to bring it in to the safety of his bosom. 
19'   The game is taking place in Villarreal's half. Madrid are still struggling to convert that positional dominance in to clear chances, though. 
19'   Marcelo nearly makes me swallow my words. He unleashes a fierce shot from 30 yards, forcing Asenjo in to an acrobatic save. 
17'   Marcelo is being whistled by the Bernabéu crowd. A psychologist I am not, but I doubt that will help him. 
15'   Trigueros trips Kroos near the corner flag.The German dusts himself off, wipes his brow, and prepares to deliver. It's a tame cross and Villarreal clear. 
14'   GOOOOO... No! Gareth Bale nods the ball in at the far post, after Ronaldo had headed Kroos' corner back where it came from. The Welsh international strayed narrowly offside and the linesman, correctly, raises his flag. 
13'   Cristiano Ronaldo is walking gingerly after picking up a knock on his ankle.
12'   The Bernabéu takes a sharp intake of breath as Toni Kroos concedes possession in the centre-circle. Raba rumbles forward and looks for Bacca's diagonal run. Carvajal tucks in well and clears the danger. 
11'   Marcelo tries to clip the ball down the left to Gareth Bale... his contact is thin and it's straight out for a throw. 
9' Isco has a go with the same routine: in from the left, shot. It's blocked as far as Nacho, whose dragged shot is going wide of the post. Bonera doesn't realise and sticks out a leg. For a moment, the perspective makes it look like it's flying in to the net. It's actually just a corner. And the visitors clear it. 
8'   Ronaldo picks up the ball on the left, drops a shoulder, cuts inside, shoots. His familiar routine. His shot is straight at Álvaro. He clips it clear. 
6'   Castillejo, with his flop of blonde hair trailing behind him, flashes  a teasing cross through the 'corridor of uncertainty'. Varane clears straight in to a Villarreal player, causing the ball to bounce in to Navas' arms. Could have gone anywhere, as they say. 
5'   Bale is pressing high up the pitch with good intensity. Ronaldo... well, a little less so. 
4'   Fornals and Bacca combine well on the right-hand side, giving the Colombian a snap-opportunity to shoot. Varane coasts across to block, and Villarreal are forced to work the ball back.
2'   Smart turn from Gareth Bale to turn away from Bonera by the penalty spot, but his touch is slightly heavy and the ball runs through to Asenjo. 
1' Villarreal get us underway in Madrid! Their spell of possession lasts about 15 seconds until Mario Gaspar lumps the ball over Castillejo's head and out of play. 
Here come the teams! 
It's a big afternoon for Villarreal striker Raba. The 22-year-old will make his fourth league start for the club alongside Carlos Bacca. He was sent off for an over-zealous challenge on Sergio Busquets when Barcelona visited Castellón in December. He'll have to keep his temperament in check at the Bernabéu. 
Real Madrid are never far from a big headline. The one to break yesterday, according to Der Spiegel, was that Madrid tried to sign Lionel Messi for €250 million in the summer of 2013, before ultimately going on to sign Gareth Bale. Read the full story.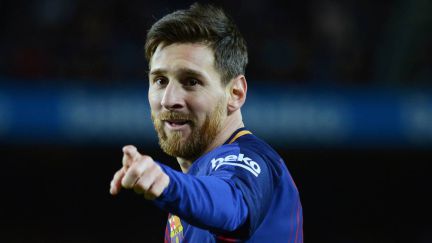 Casilla, Vallejo, Theo, Lucas, Asensio, Mayoral, and Kovacic make up the Real Madrid bench this afternoon. Zidane hasn't given himself a great deal of options to change the game. Asensio, perhaps. But the scintillating form he showed in August is a long way behind him. 
Zinedine Zidane has left Dani Ceballos out of his squad today. According to Betis manager Quique Setién, the midfielder wants to return to the Benito Villamarín.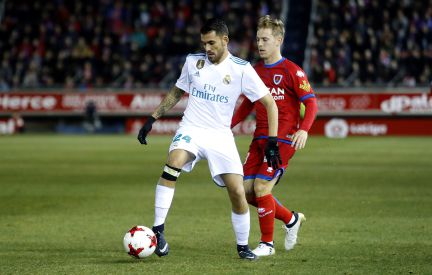 TEAM NEWS!
Villarreal XI: Asenjo; Mario, Bonera, Álvaro, Costa; Castillejo, Rodrigo, Trigueros; Fornals; Raba, Bacca.
Real Madrid XI: Navas; Carvajal, Varane, Nacho, Marcelo; Casemiro, Kroos, Modric; Isco; Bale, Ronaldo.
13 January has been a successful day for Villarreal in LaLiga. They've played twice, won twice, and scored nine goals in the process. 
Gareth Bale's first goal for Madrid was against Villarreal. It was on his debut, no less, back in 2013. He had a lot less hair back then. Watch Gareth Bale's debut goal. 
Hello and welcome to our live coverage of Real Madrid vs Villarreal. It's a crisp January day in the Spanish capital. Festive decorations have only just been taken down from shop windows. Yet Madrid are already out of the title race. Not mathematically, but even the most glass-half-full Madridista would garner much hope of a comeback. The home side are desperately in need of a victory to lift spirits.